Overview: 260 Queens Quay W Unit 1202 (Harbourpoint II) is a spacious 1-bedroom condo with a full-sized kitchen, den and renovated bathroom in Toronto's scenic Waterfront neighbourhood.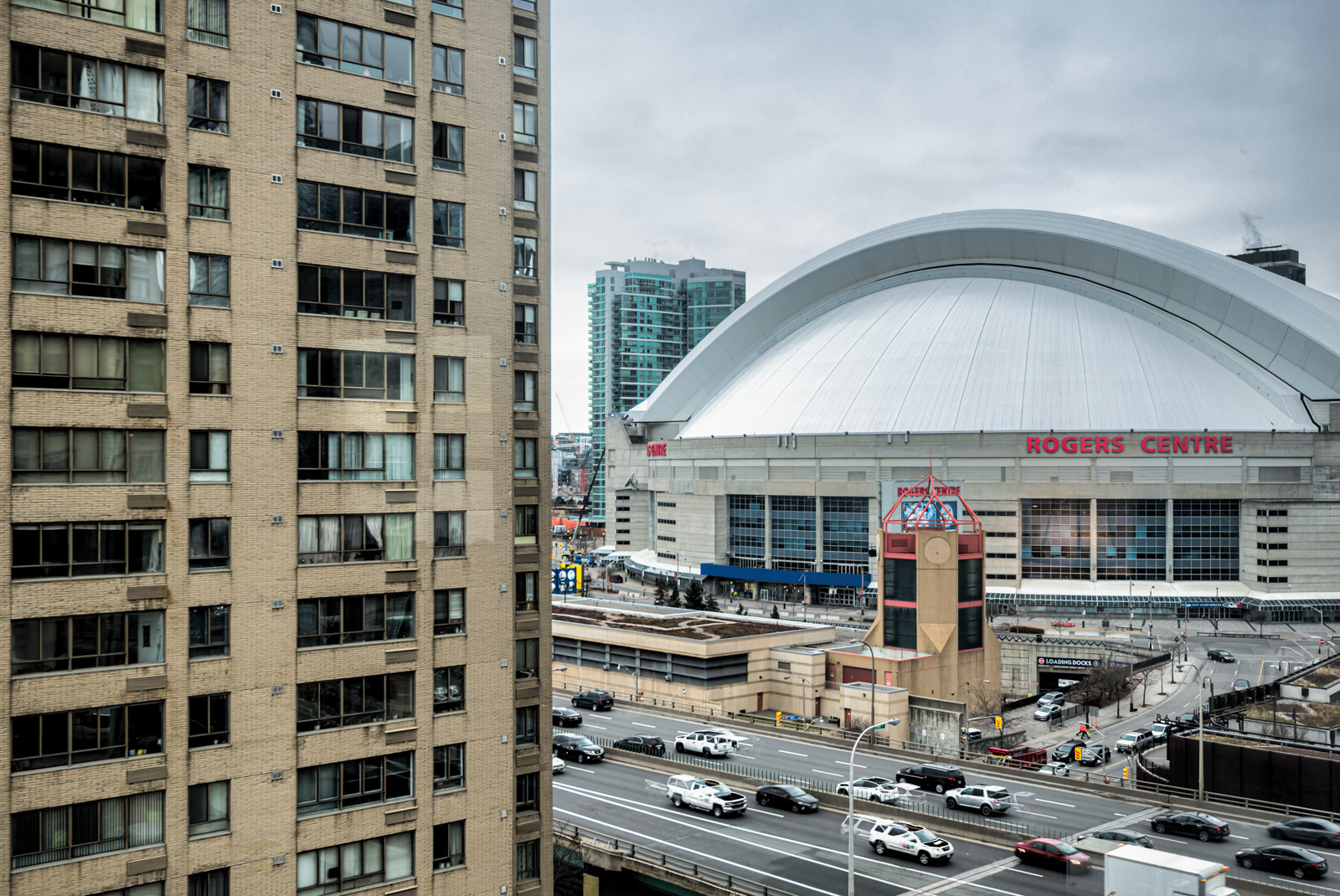 Building Name: Harbourpoint II
Address: 260 Queens Quay W – Unit 1202, Toronto, ON M5J 2N3
Neighbourhood: Toronto Waterfront
Developer: Huang and Danczkay
Architect: Northgrave
Property Manager: T.S.E. Management Services Inc
Year Built: 1987
# of Storeys: 30
# of Units: 217
Parking: N/A
Locker: N/A
Size: 1020 sq. ft.
Rooms: 1 Bedroom, 1 Washroom + Den
Leased: $2,500
Agent: Wins Lai, Living Realty Inc., Brokerage
Harbourpoint II – Building Details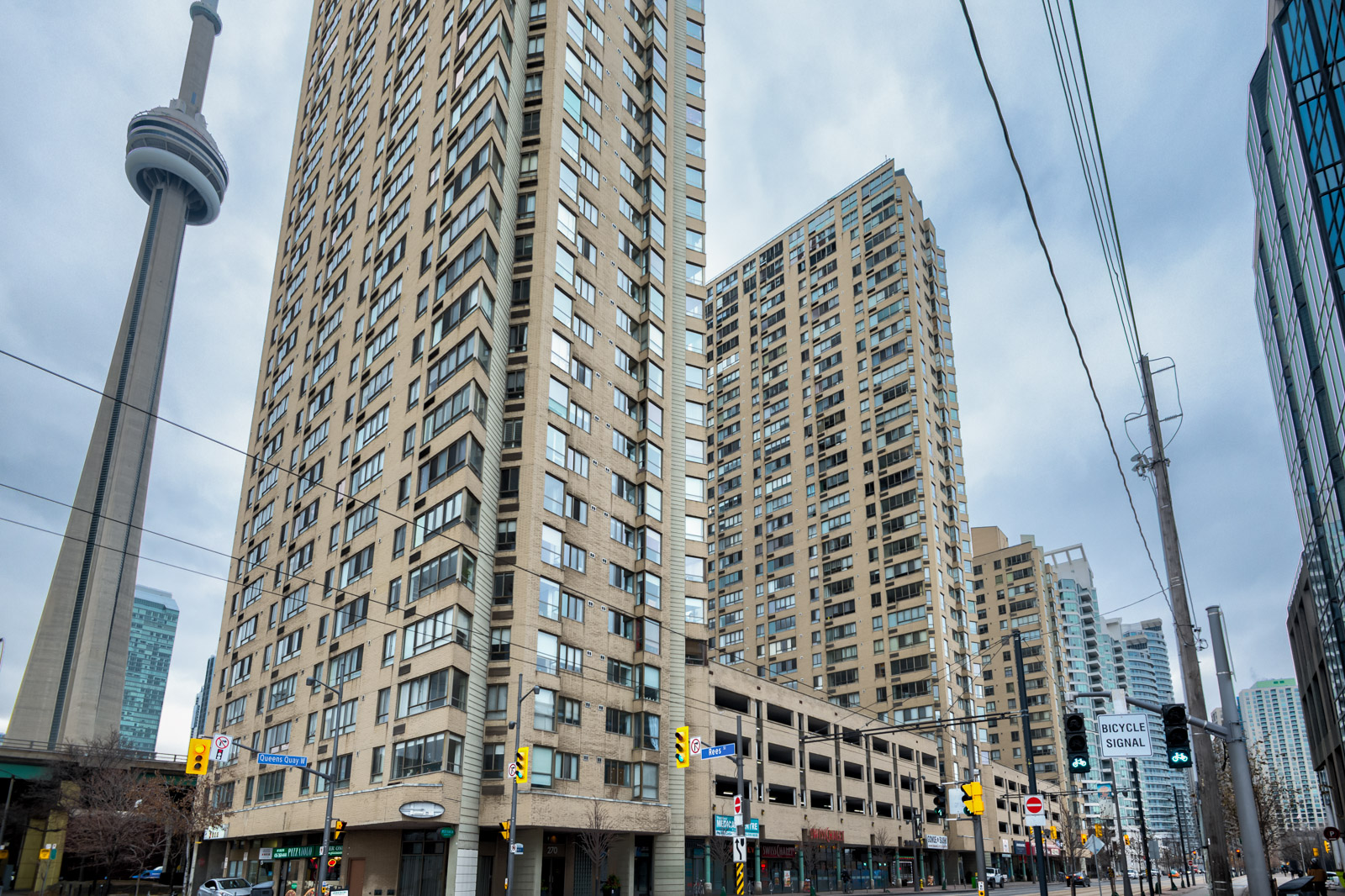 Harbourpoint II combines the thrill of downtown living with the beauty of the Toronto Waterfront.
Modernist by design, the beige-brick condo rises 30-storeys in perfect rectangular form.
Inside, residents are treated to world-class amenities such as a gym, tennis court and sauna, while outside the city's greatest attractions await.
Parks, beaches, restaurants, cafes, museums, galleries, stadiums and airports—the Toronto Waterfront has it all.
260 Queens Quay W Unit 1202 – The Space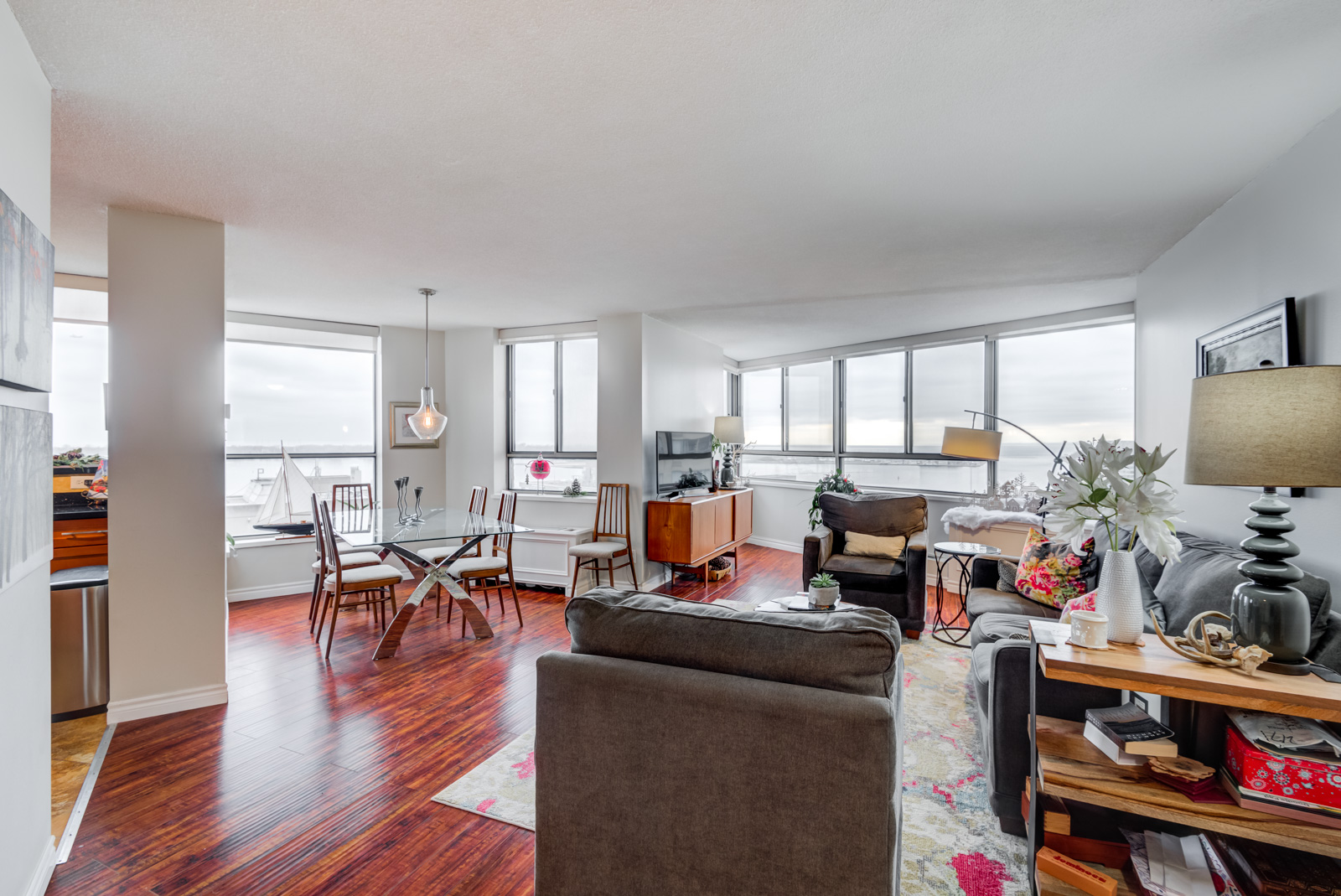 Unit 1202 is a 1-bedroom, 1-bath apartment with open-concept living and dining areas.
Although the condo was built back in 1983, recent renovations bring it into the 21st century.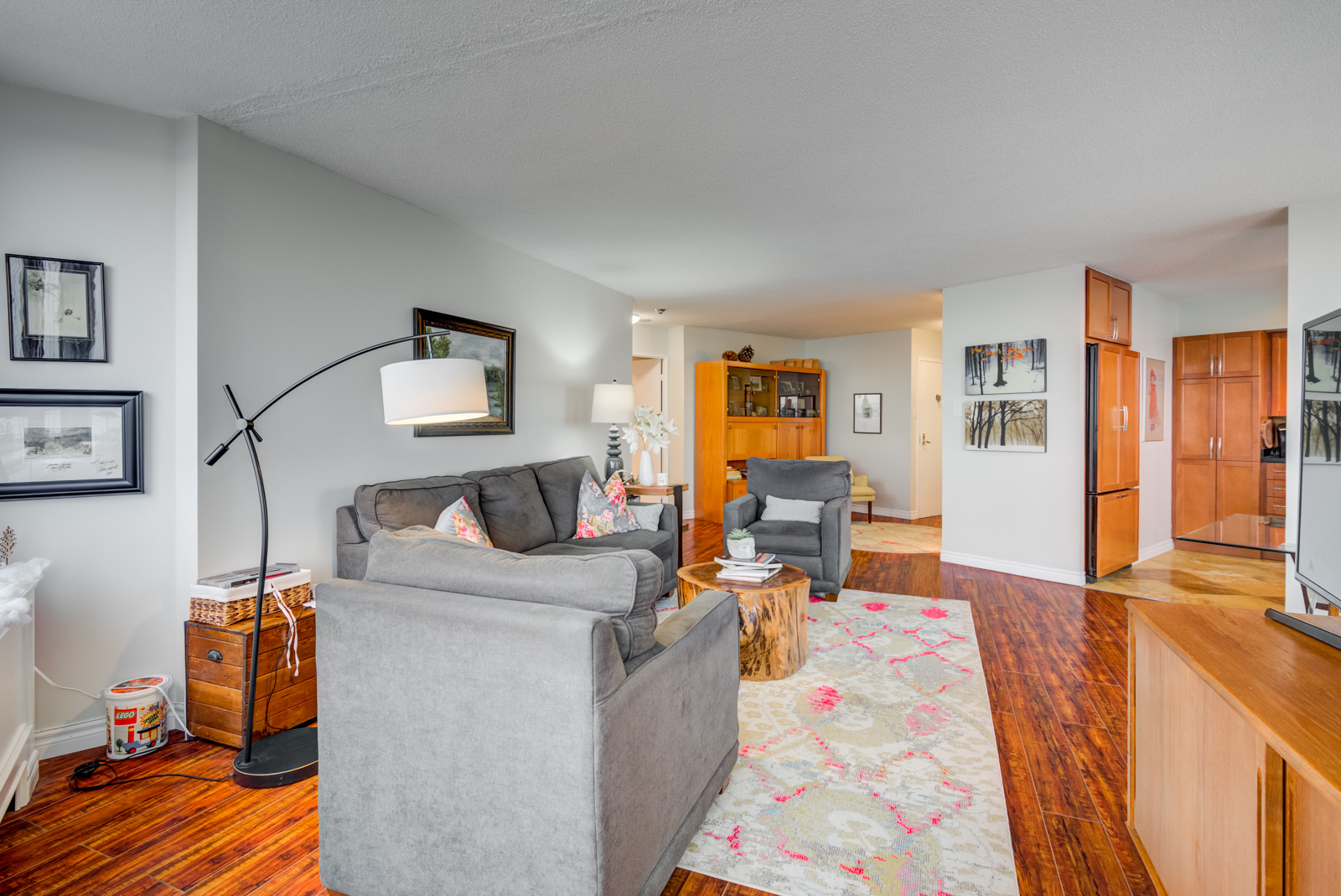 Large windows supply ample views and sunlight, causing the floors to shine even on overcast days.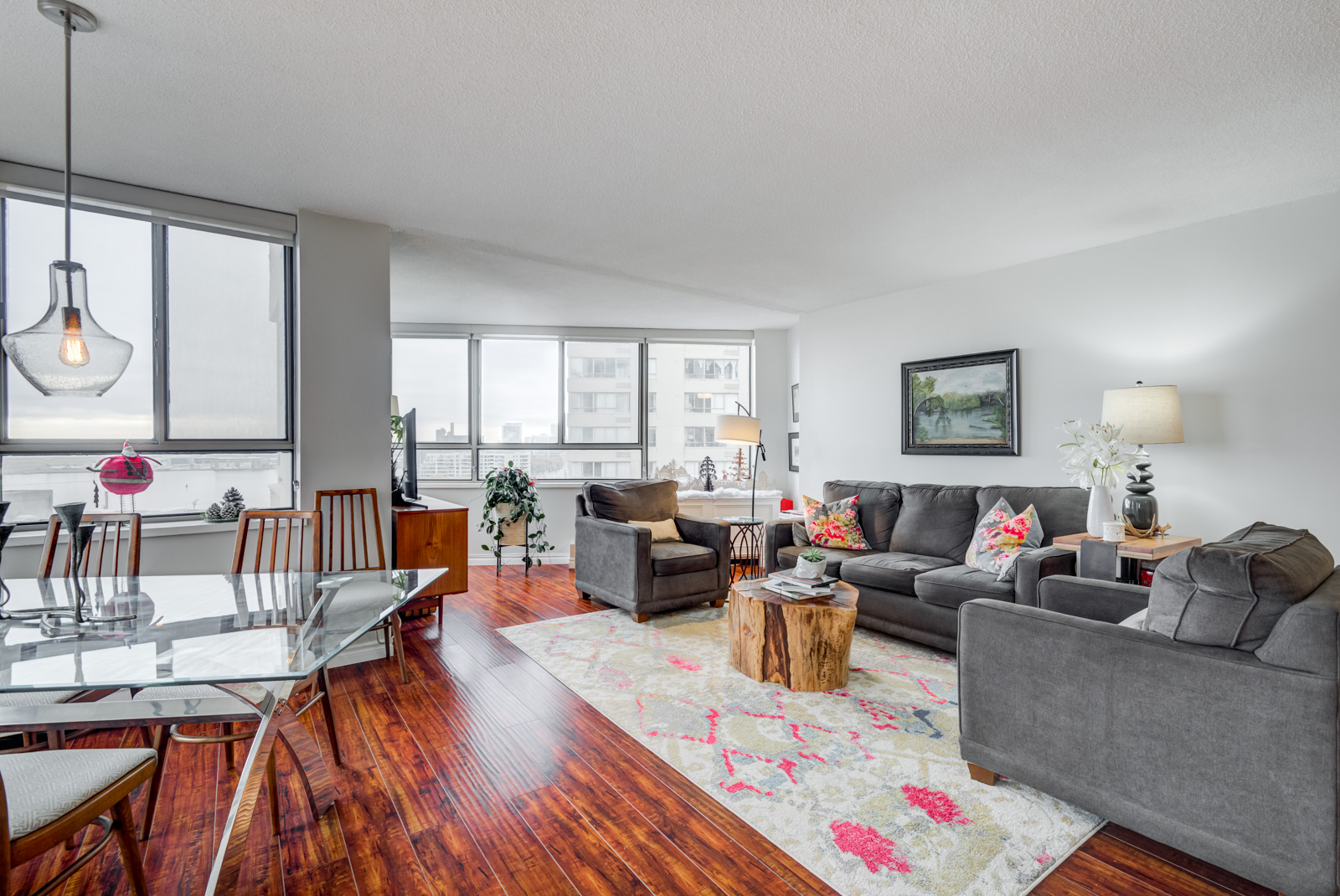 Unit 1202's living room is massive, with enough space for sofas, armchairs and sectionals.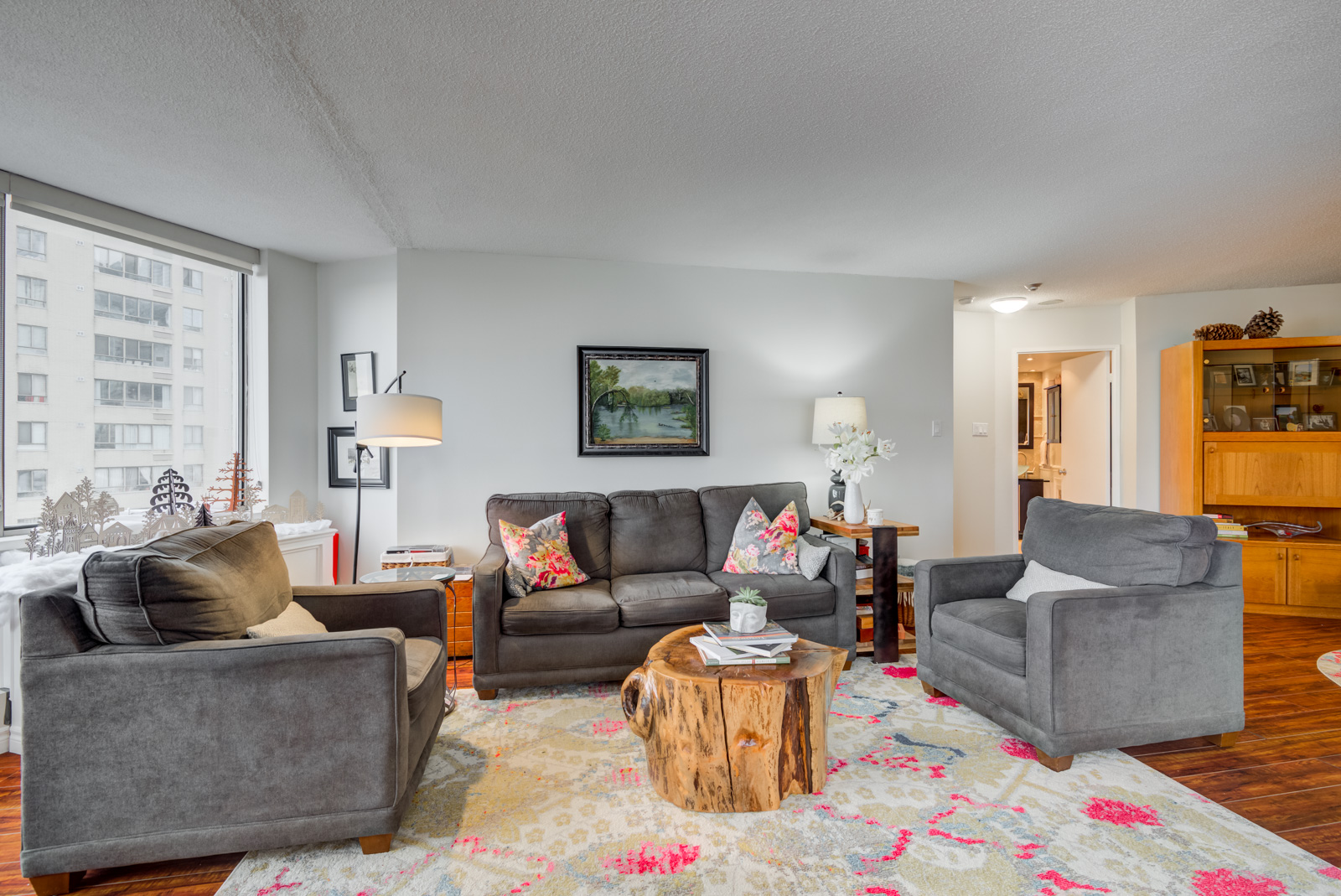 Another room that benefits both from windows and conversations is the dining area.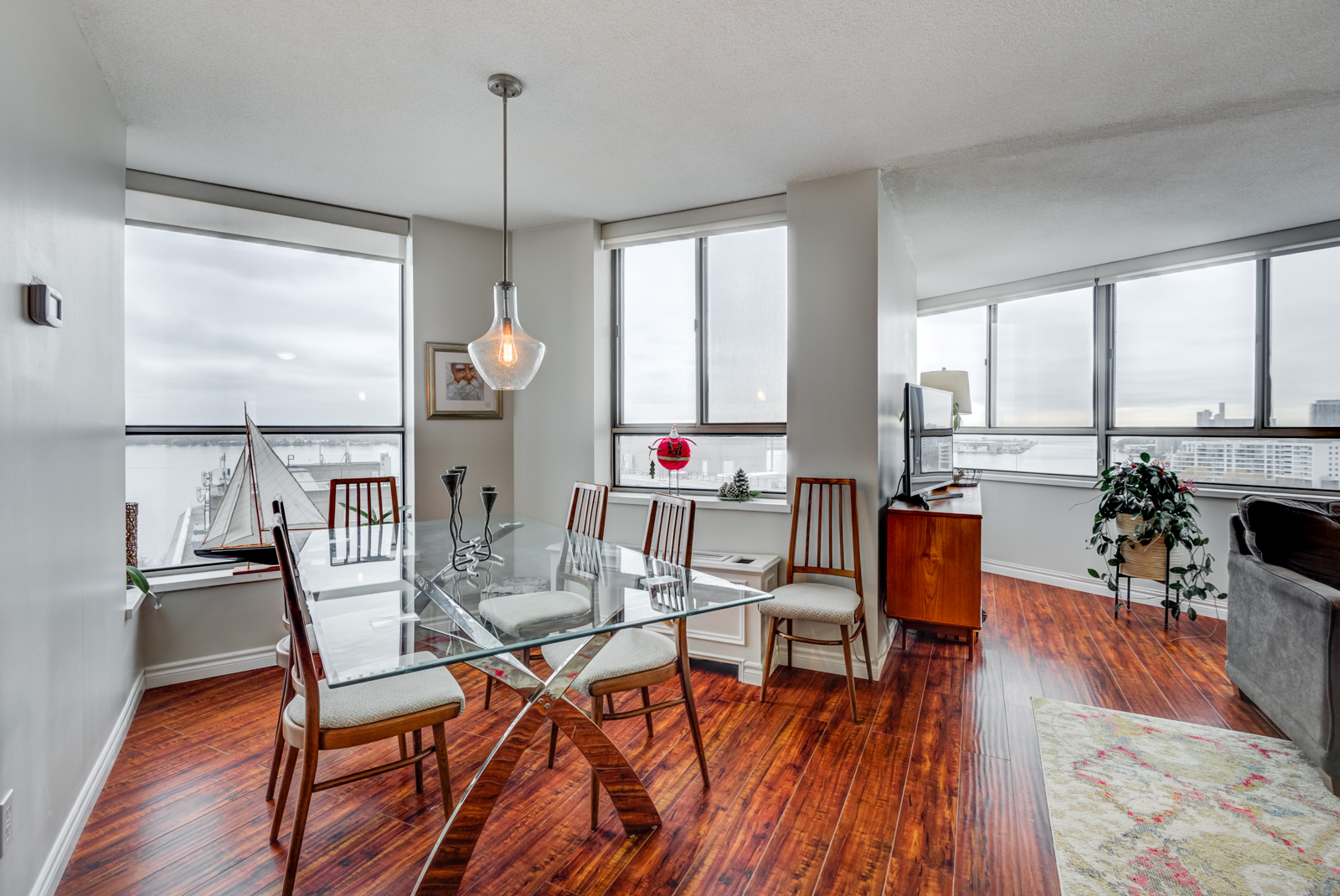 While the dining area is open-concept, it's in its own little corner (making it more of a dining nook).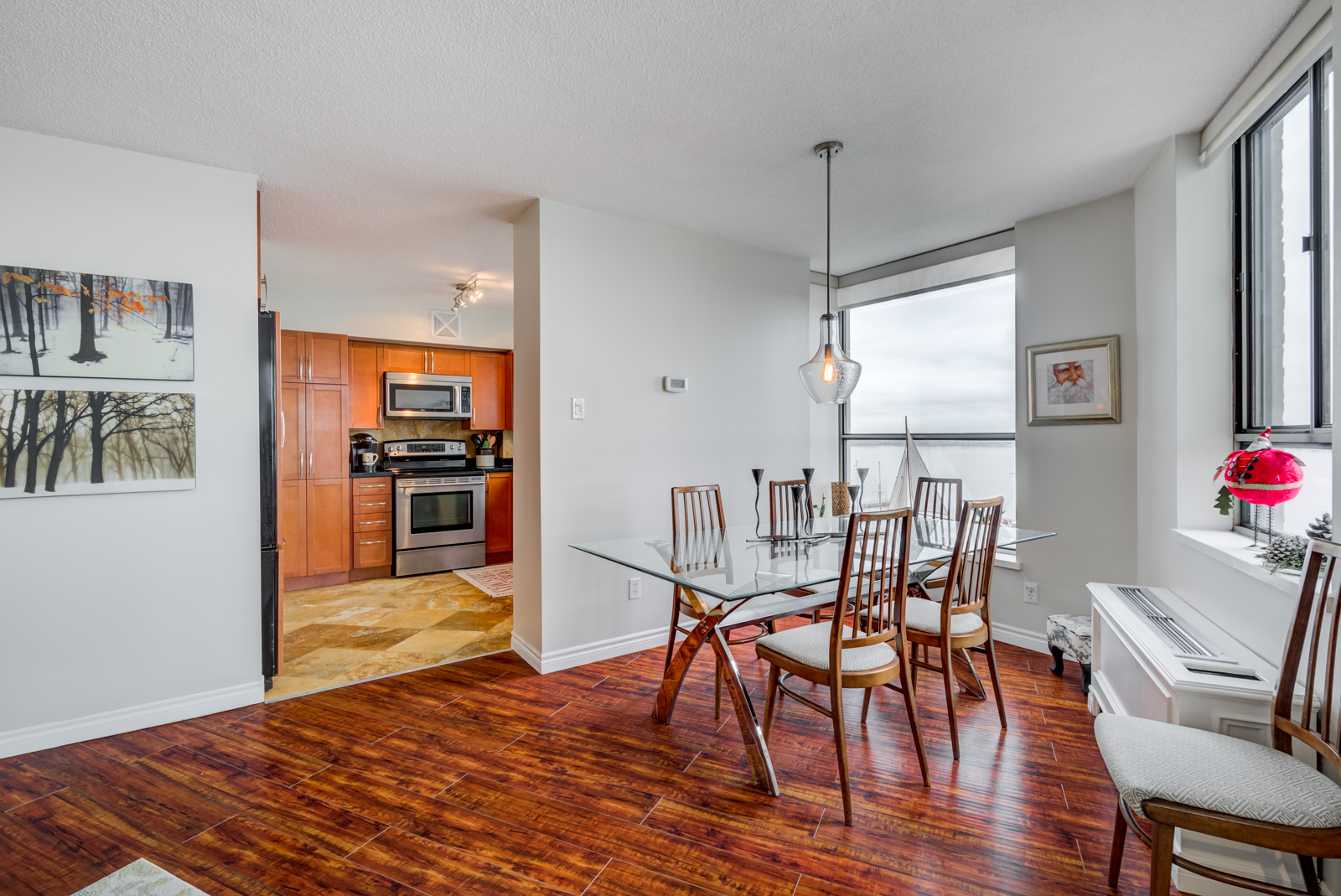 260 Queens Quay W Unit 1202 – The Kitchen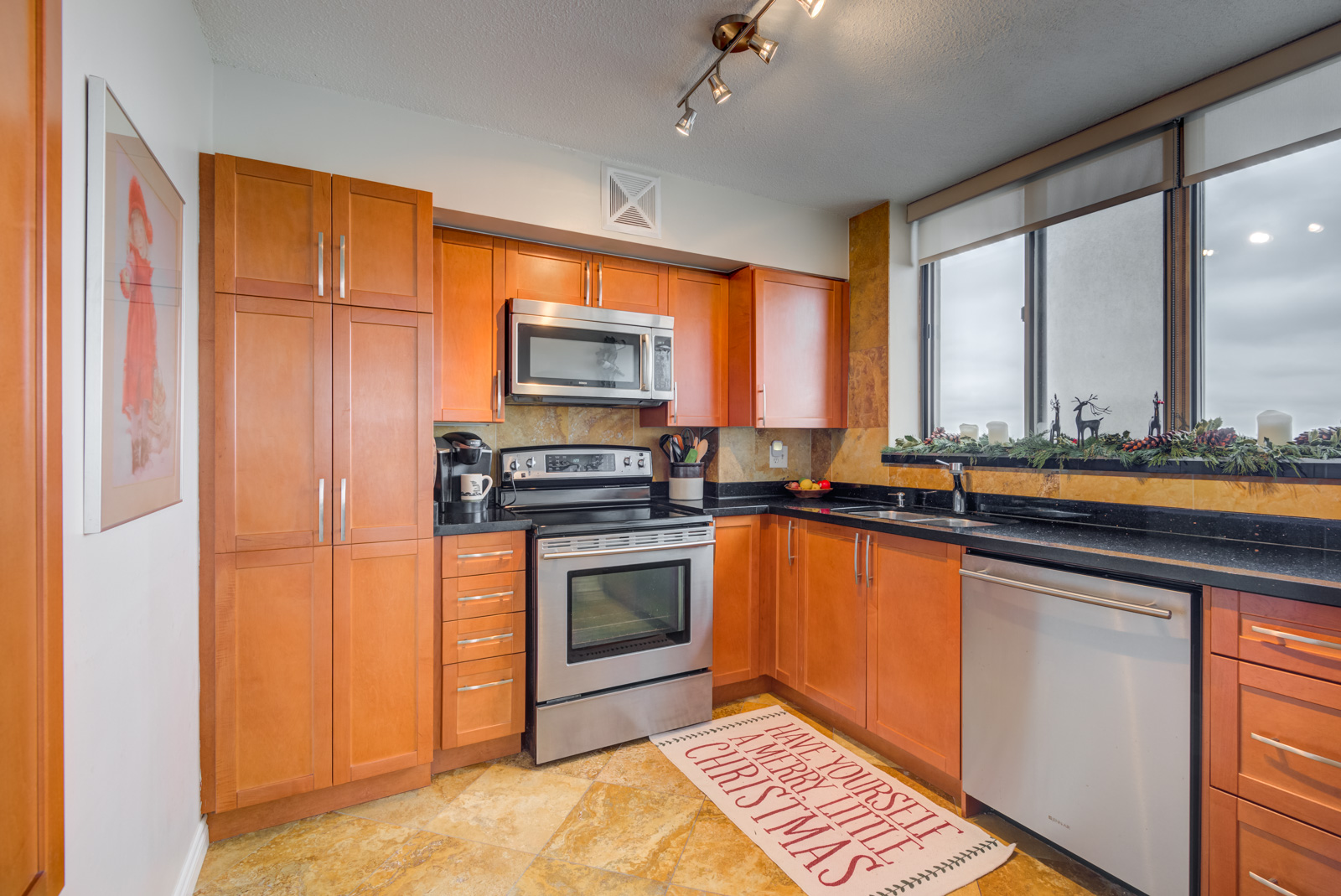 That's because its sheer size, along with multiple drawers and cabinets of orange oak, creates an impression of grandeur.
Unit 1202's kitchen also boasts slate tiles and counters of black granite, a heat and scratch-resistant surface that's perfect for cooking.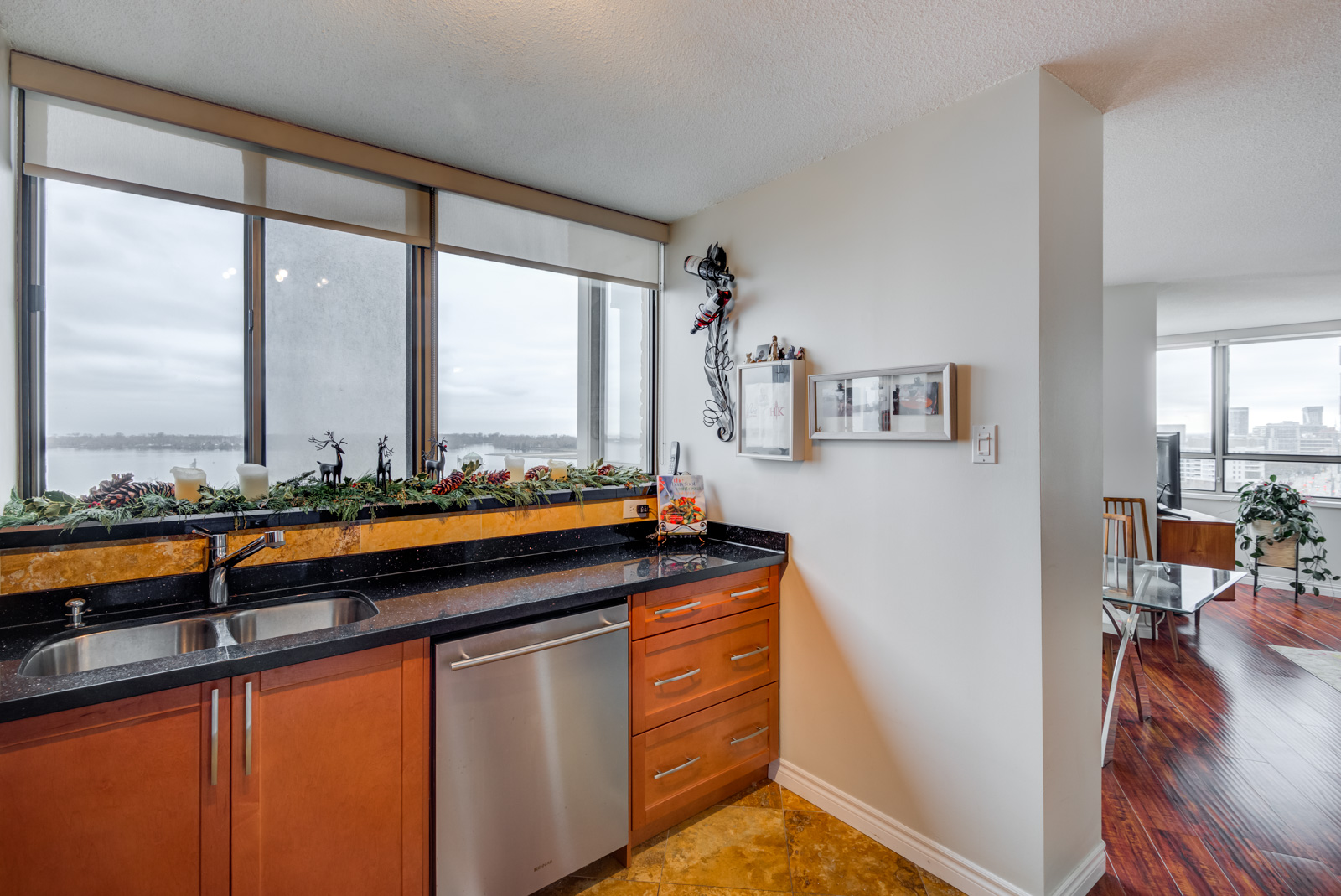 Unit 1202 comes with the following appliances:
An integrated stainless-steel European fridge

A stove, range hood, dishwasher and microwave

A stacked washer and dryer
260 Queens Quay W Unit 1202 – Master Bed & Bath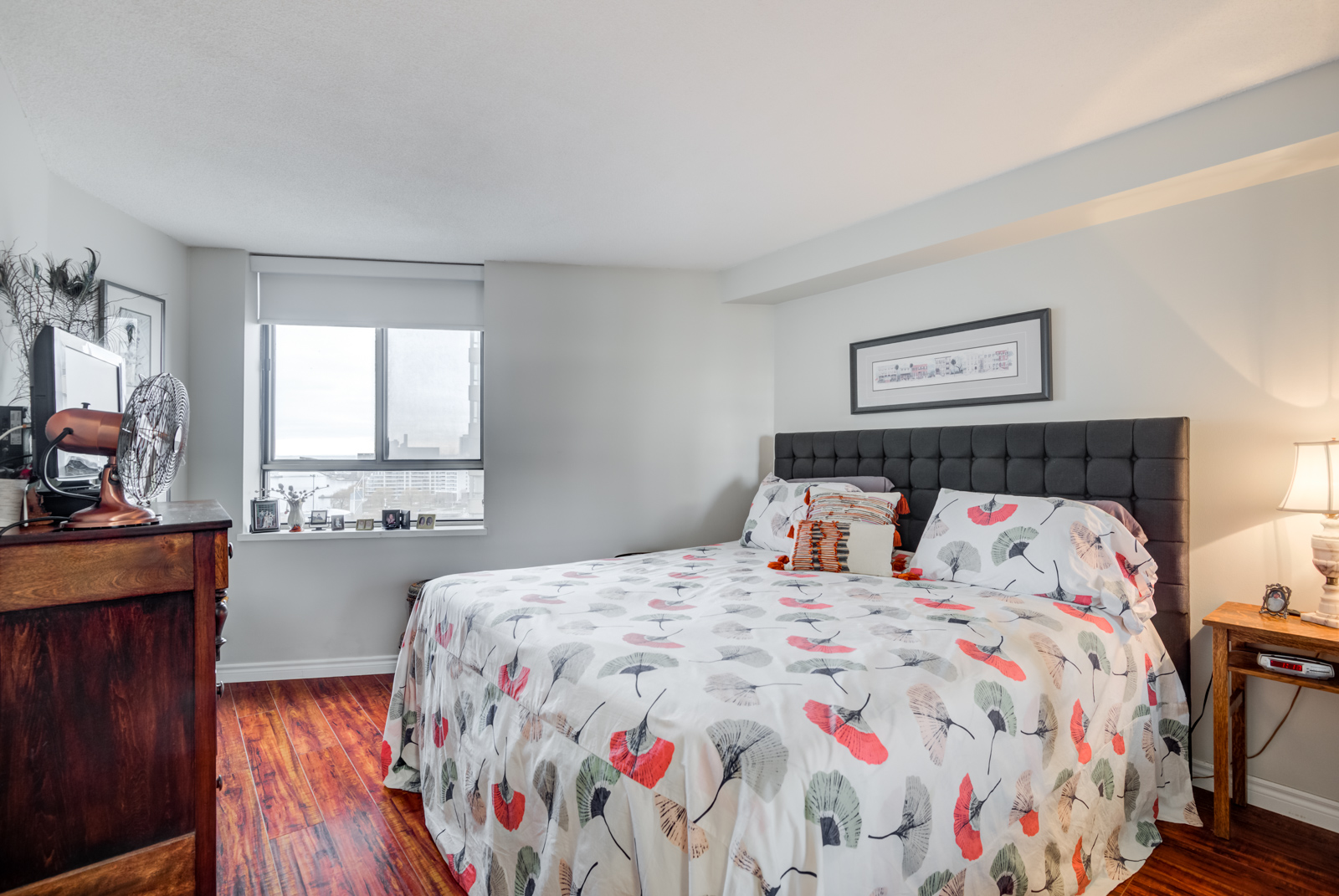 Cool gray walls, warm red floors, high-ceilings and plenty of space, the master bedroom is charming yet practical.
In fact, as the image above shows, it can fit a king-sized bed and still have room left over!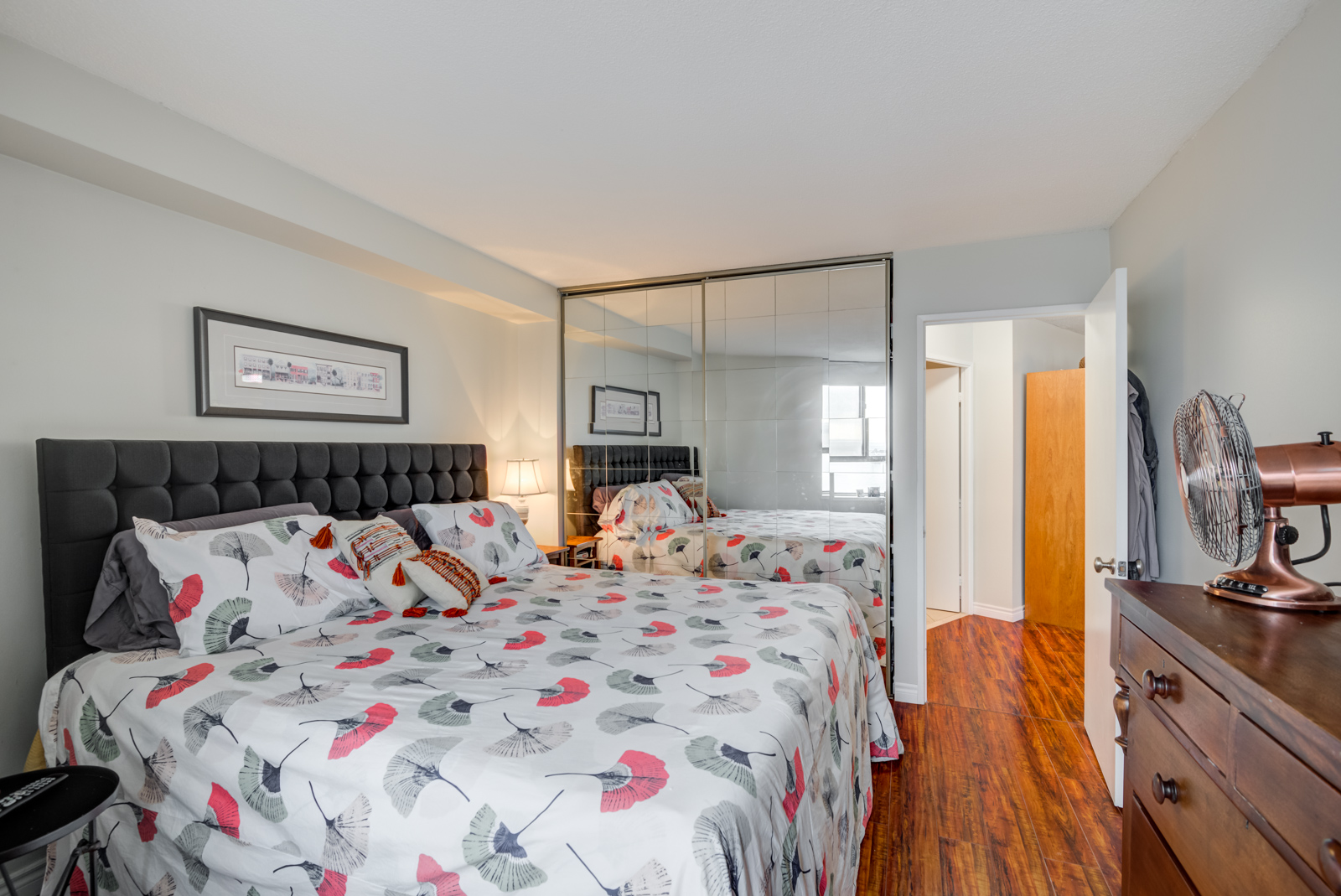 Then there's the ensuite bath…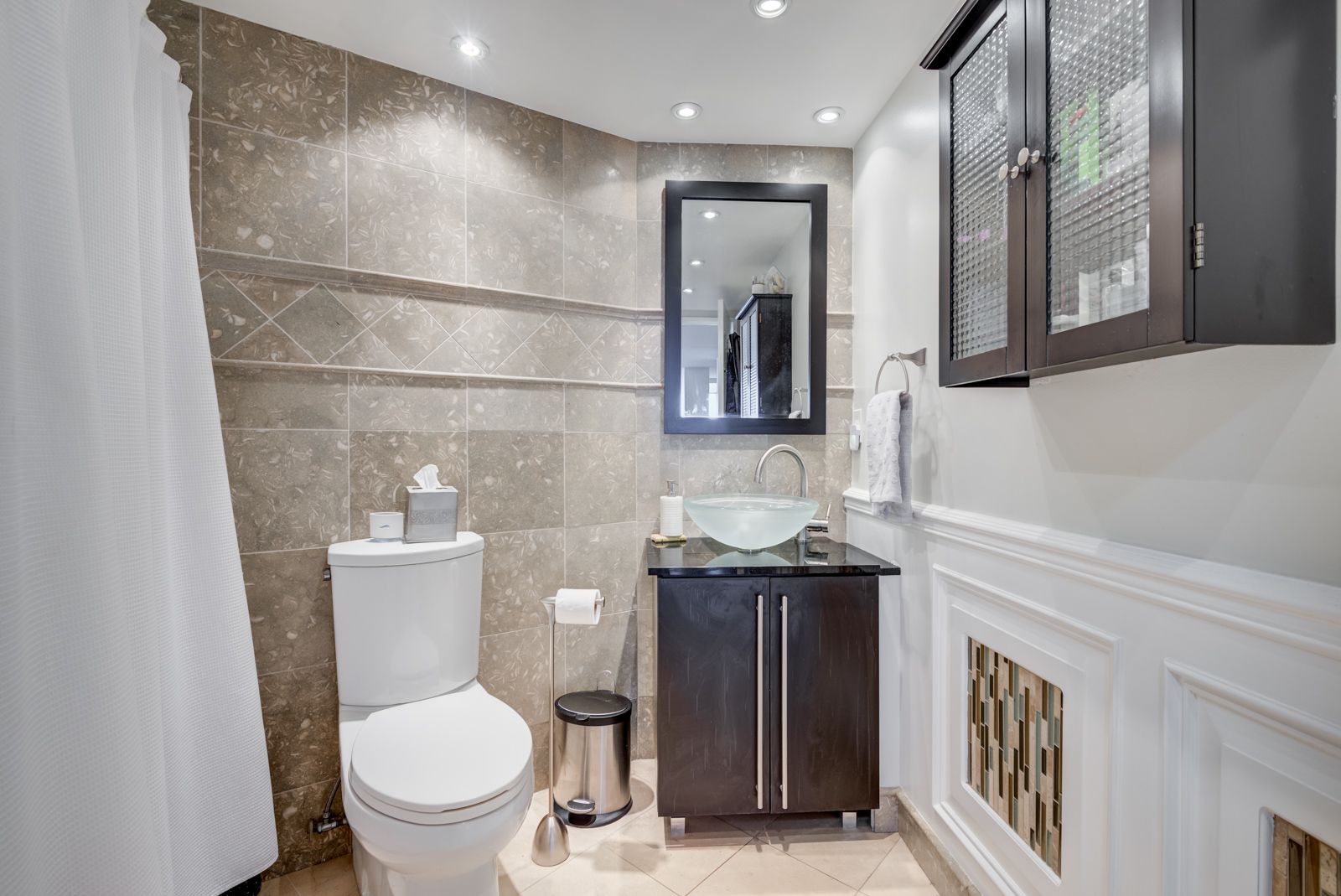 Newly renovated, the 4-piece bathroom is decked out in ceramic floors, elegant wainscoting, and custom tiles and a vanity.
It also features a medicine cabinet, pot-lights, and a vessel sink bowl of gorgeous glass.
260 Queens Quay W Unit 1202 – Den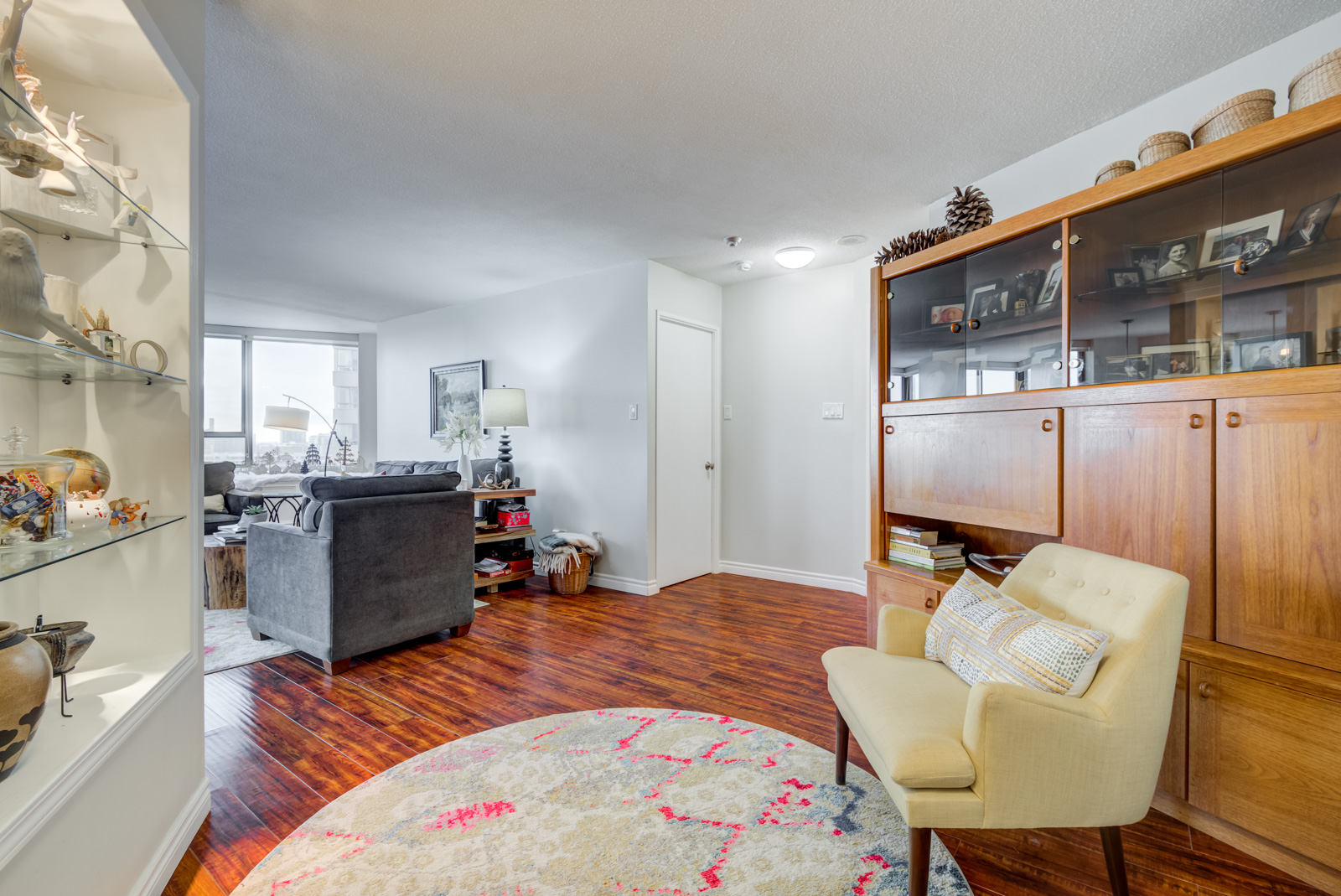 While the den in the photo above is used mainly for display purposes, it can serve other roles.
For example, a few chairs and tables can transform it into a social space.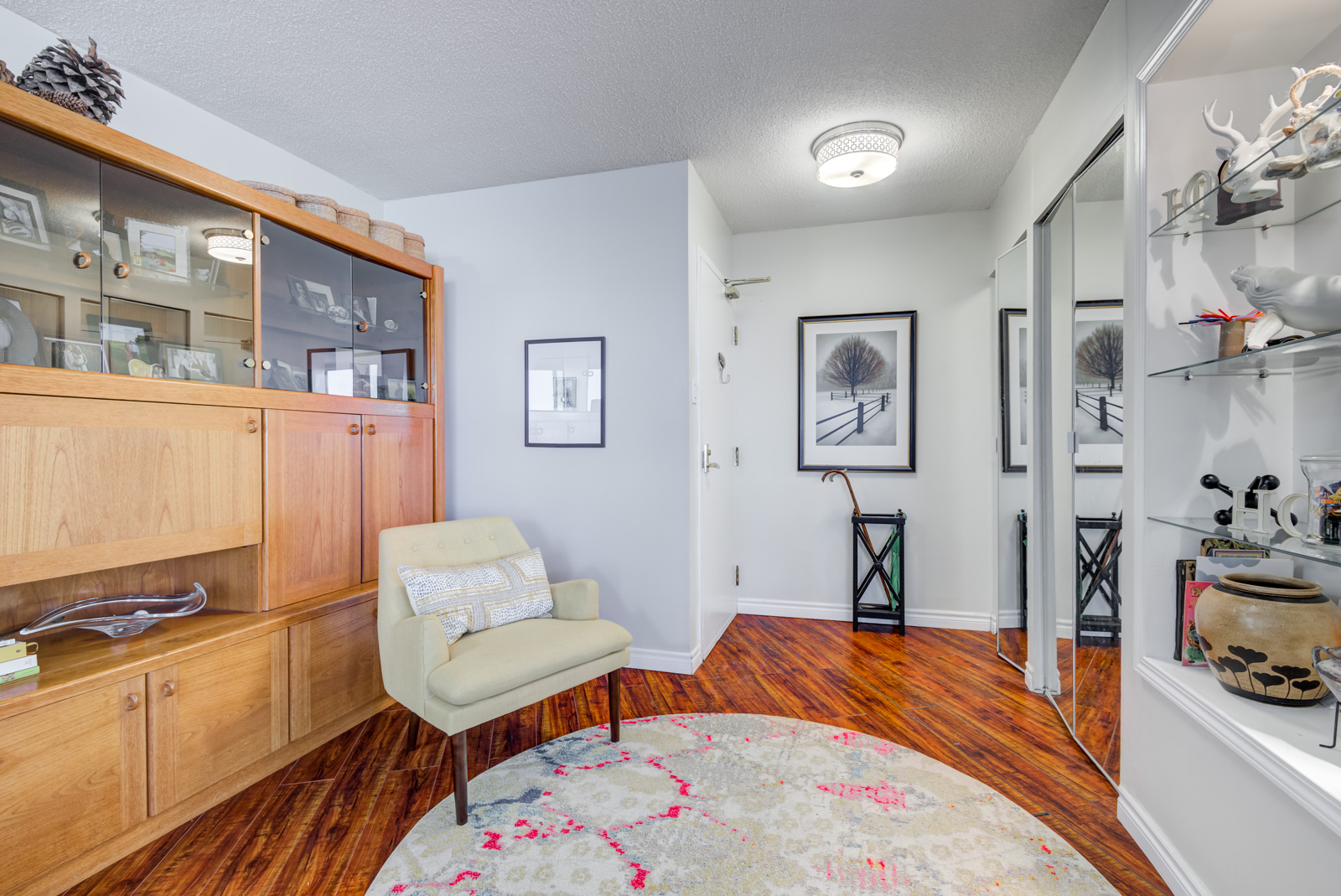 Or a small writing desk and chair can convert it into an office or study.
Harbourpoint II – Amenities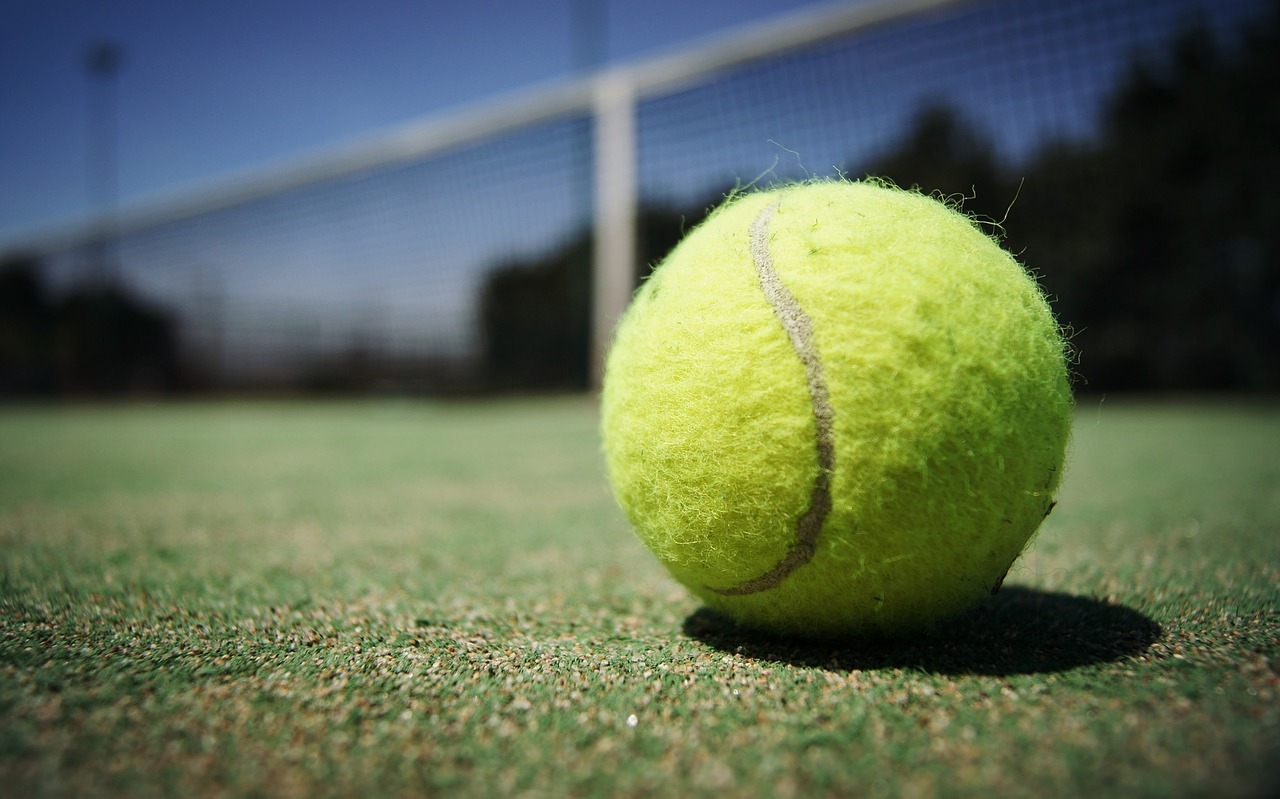 Habourpoint II flaunts the following amenities:
24-hr concierge and security

Tennis court, gym and sauna

Rooftop deck and BBQ area

Rec centre and visitor parking
About The Waterfront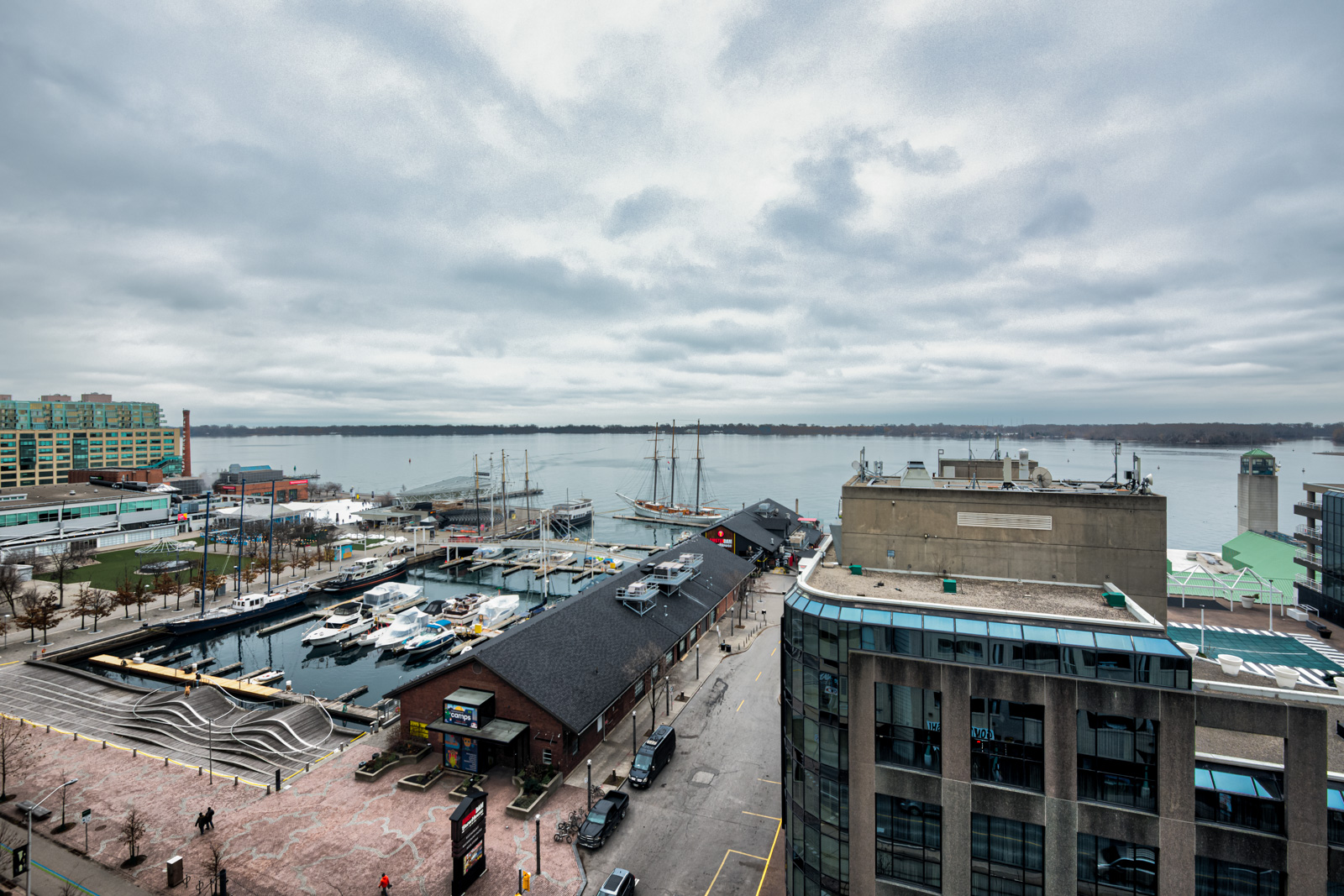 Being so close to the Waterfront opens up a world of possibilities.
From picturesque patios by the lake to summer festivals and ferry rides to the Islands, there's always something to do.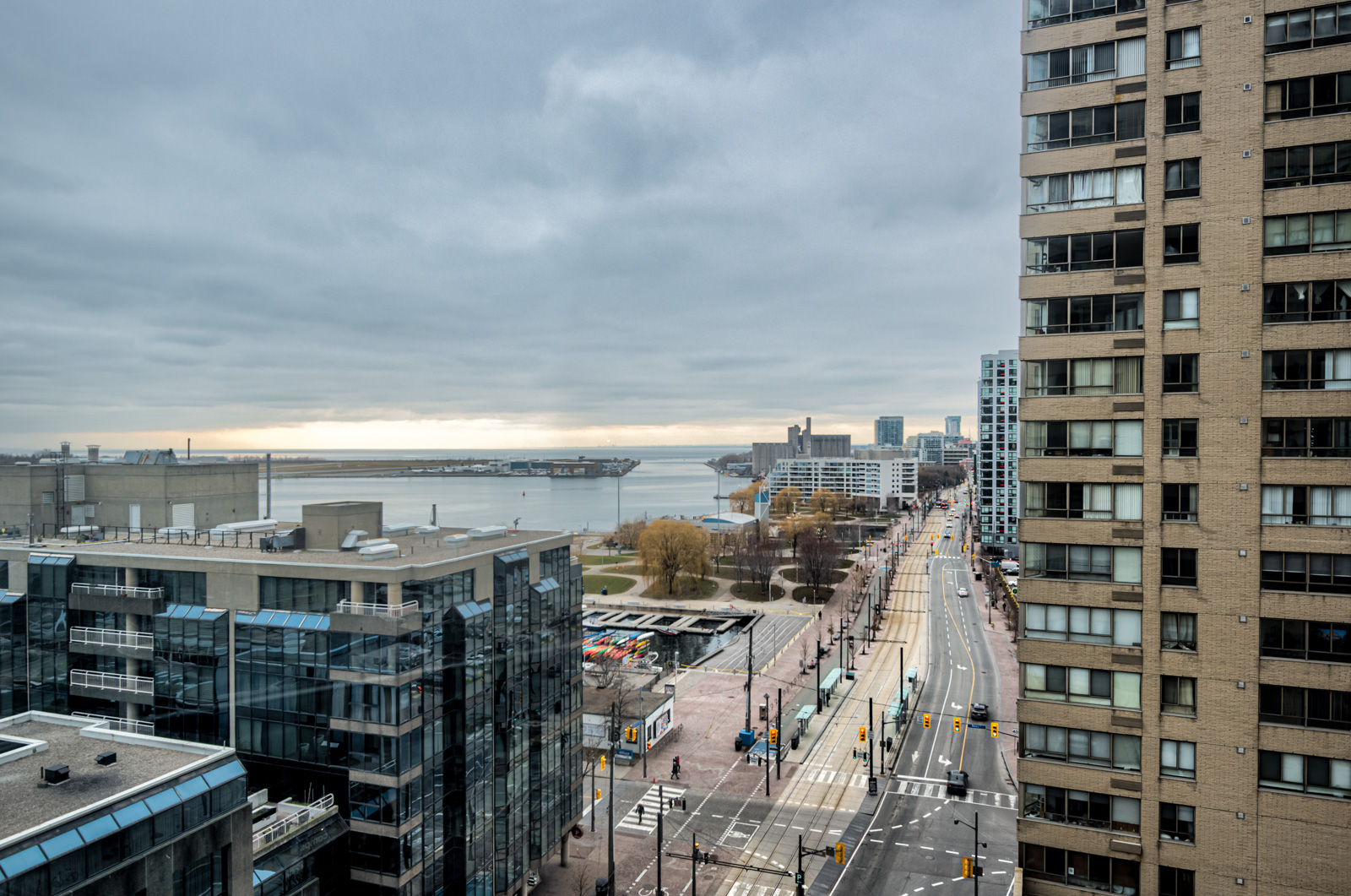 But the Waterfront isn't just a place to play.
It's also a neighbourhood with a robust economy, state-of-the-art schools, and amazing family-friendly spaces.
In fact, over the last several years the Waterfront has seen a population explosion of around 52%.
As a result, countless shops, bars, cafes, restaurants, schools and community centres are being built.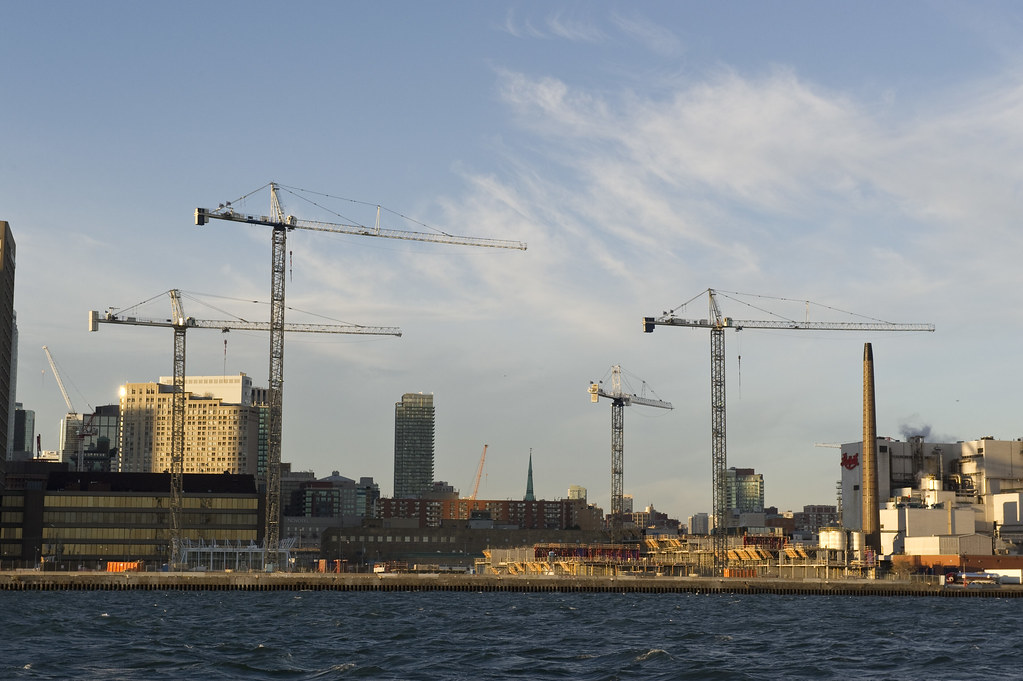 According to TorontoLife:
There are as many cranes on the waterfront skyline as there are clubs on King West.
The Waterfront is growing, and growing fast.
To learn more about this exciting neighbourhood, including the best places to drink, dine, visit and experience, check out this in-depth guide.
Other Location Highlights: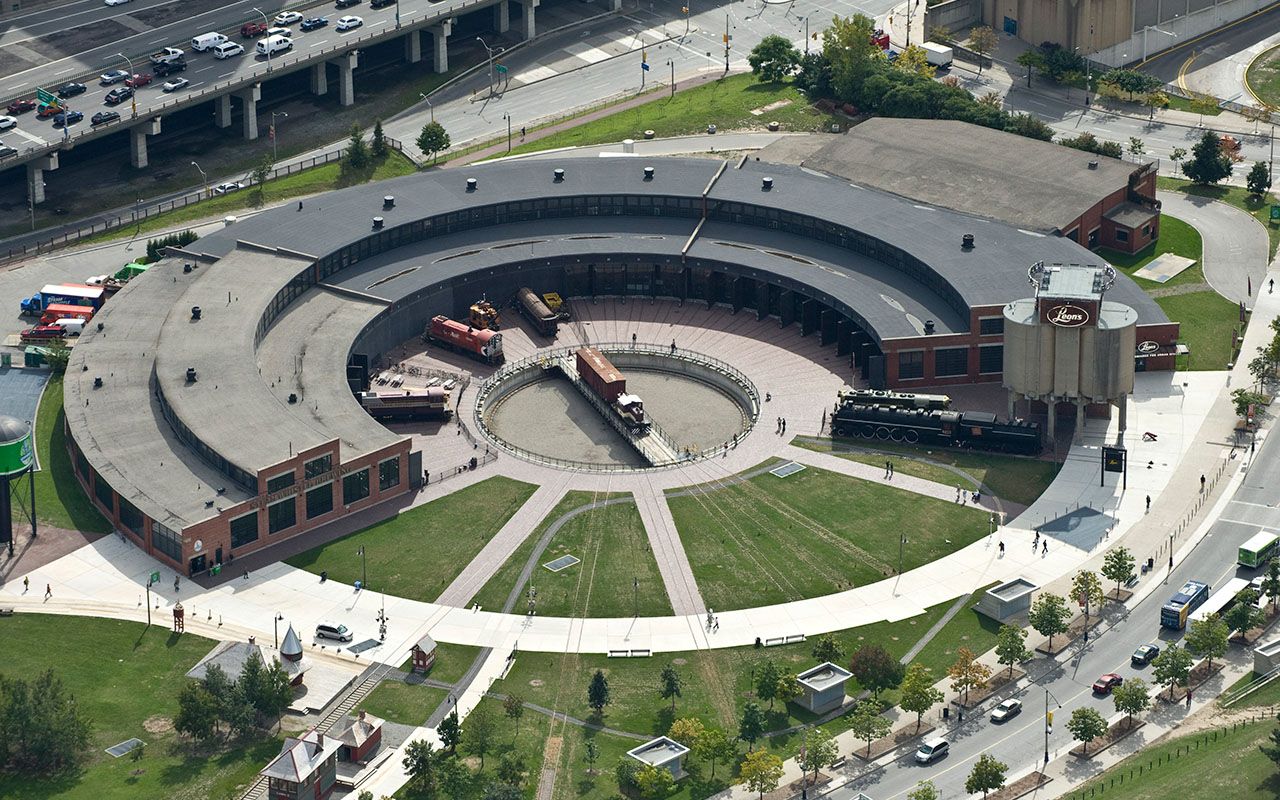 The WOW Factor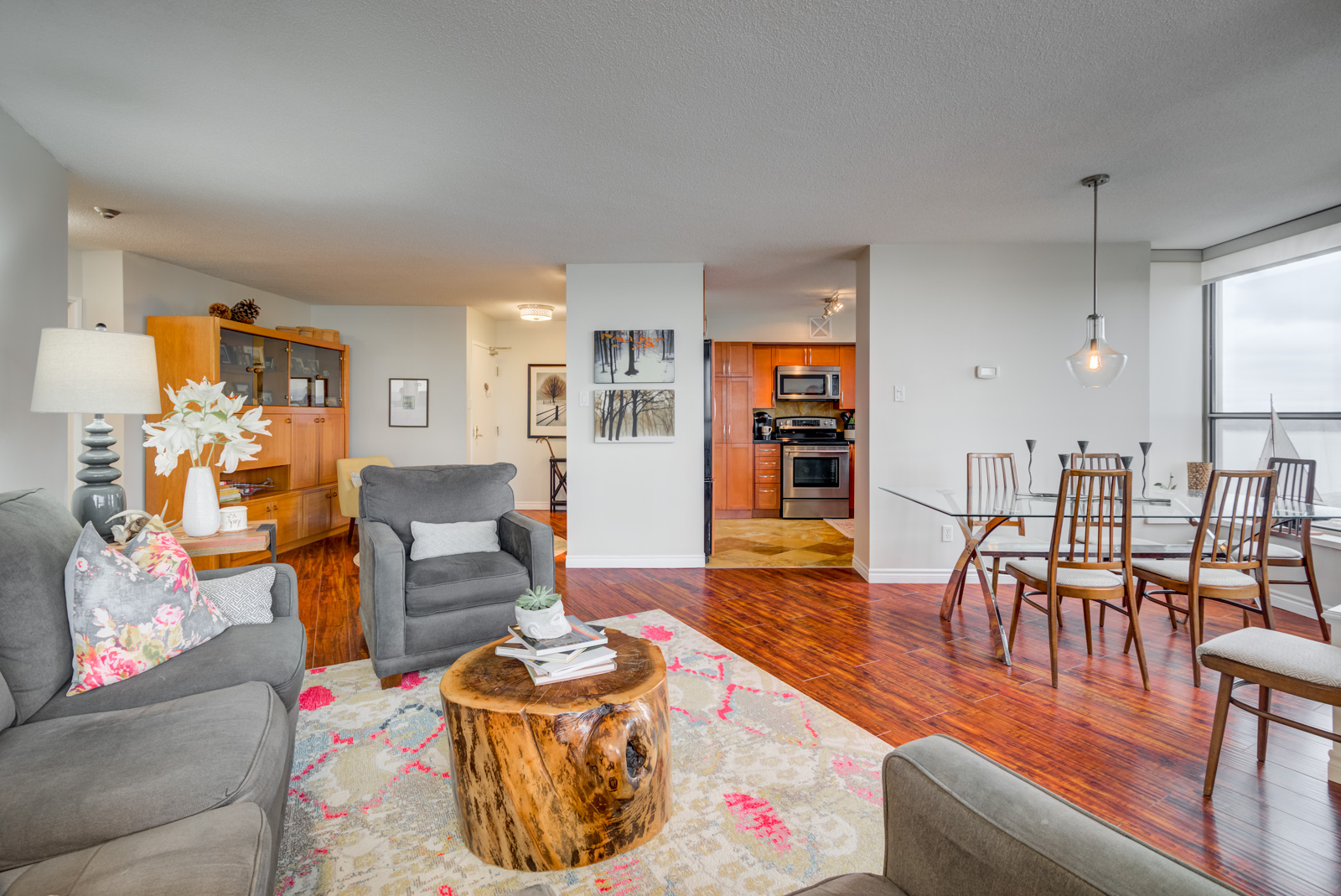 The condo features a large bedroom, a renovated bathroom, a versatile den, and a full-sized kitchen with high-end finishes.
Along with incredible amenities, its greatest luxury is its location on the Waterfront.
As TorontoLife declares:
…the neighbourhood has plenty to attract young professionals who are keen to ditch their cars and live, work and play…
Live, work and play. That's what the Waterfront is all about.
Want to know more about 260 Queens Quay Unit 1202? Take the Virtual Tour or contact me below for more details.