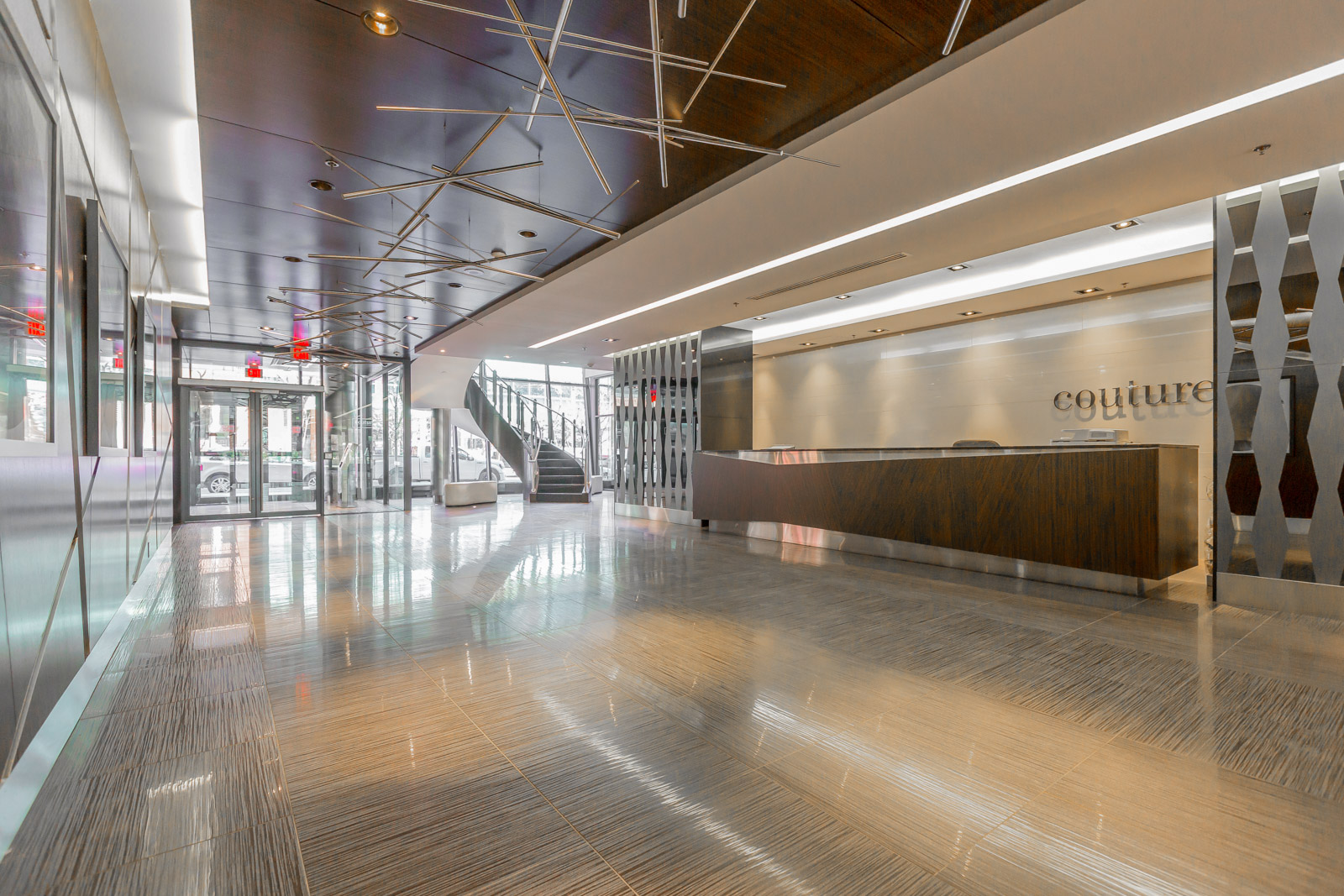 Building Name: The Couture
Address: 28 Ted Rogers Way PH4305, Toronto Ontario, M4Y1T5
Neighbourhood: Church-Yonge Corridor (Near Yorkville)
Developer: Monarch Group
Architect: Graziani + Corazza Architects
Interior Designer: Mike Niven Interior Design
Property Manager: Brookfield Condominum Services
Year Built: 2013
# of Units: 476
Parking: Underground (1 unit)
Locker: Yes (1 unit)
Size: 634 sq. ft.
Sold: $670,000
Rooms: 1 Bedroom, 1 Bath + Den
Agent: Wins Lai, Living Realty Inc., Brokerage
Building Details
28 Ted Rogers Way is a penthouse suite offering spectacular views of the CN Tower and Lake Ontario.
The slender building soars 42-storeys and reflects its surroundings in a brilliant glass facade, which acts almost like a mirror.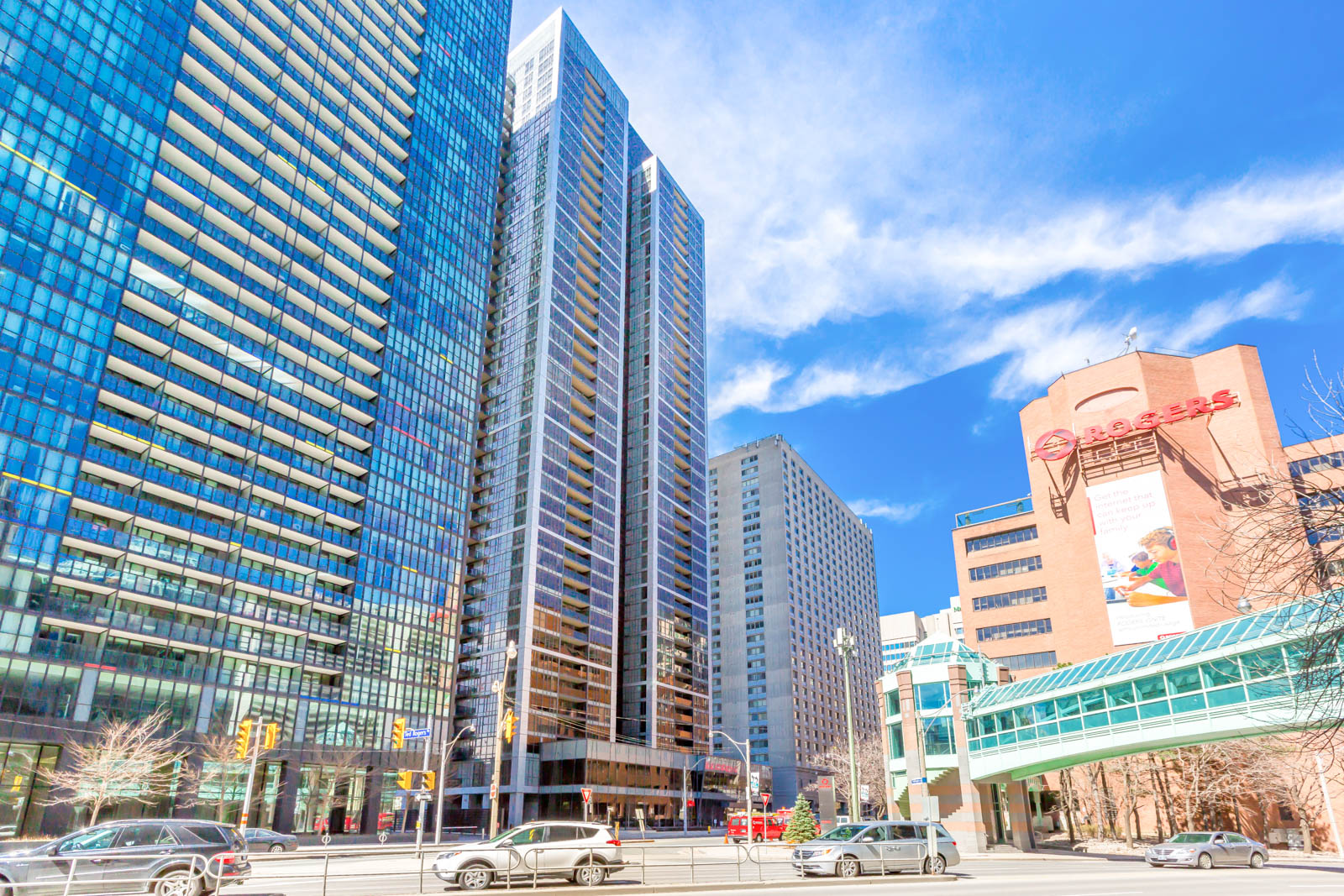 The condo is close to both Yorkville and the intersection of Yonge and Bloor, putting it at the very heart of Toronto's shopping district.
Along with designer retail, you'll also find the city's best restaurants, bars, clubs, attractions, and entertainment.
The Space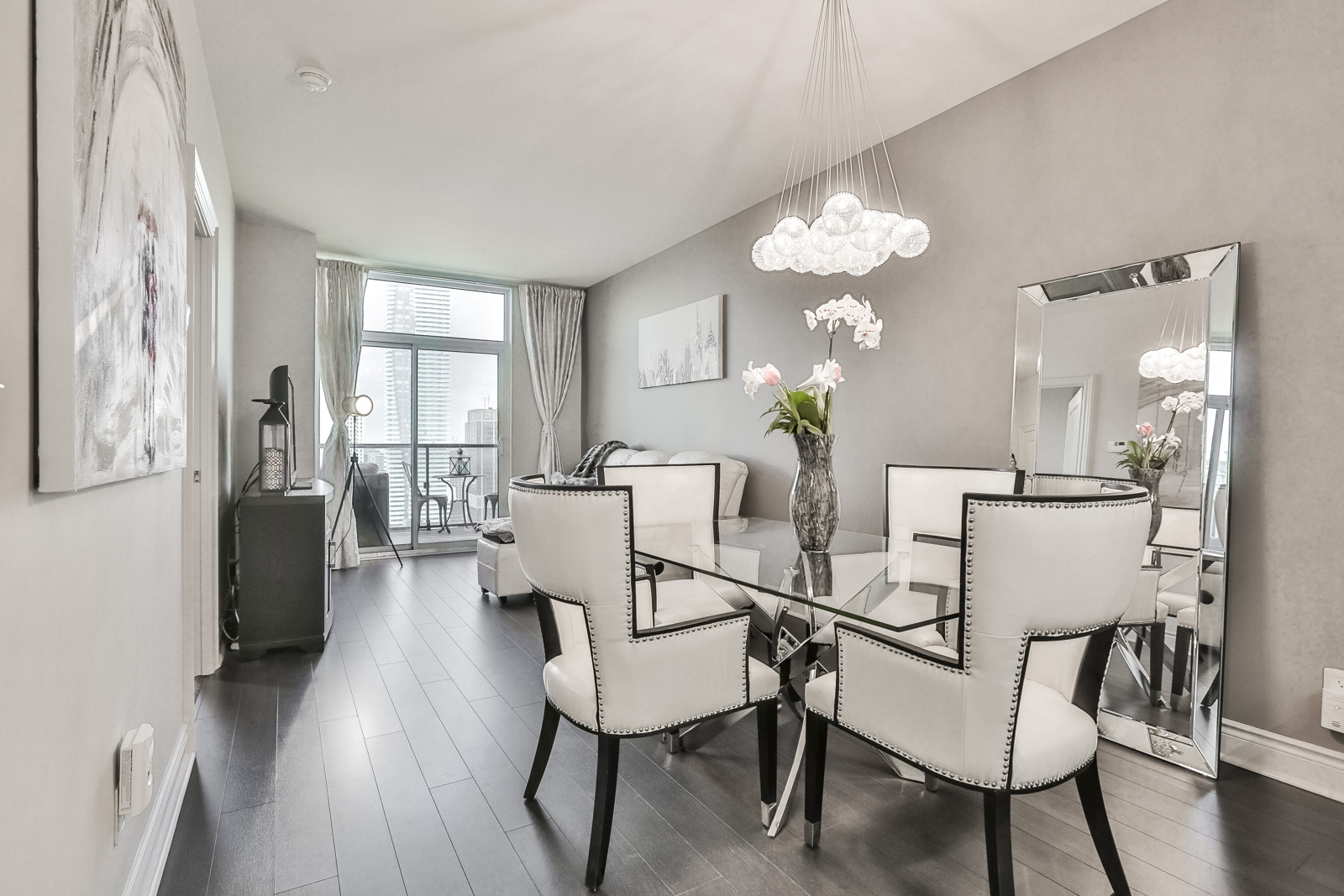 28 Ted Rogers Way has 1 bedroom, 1 bath, and a den which can be converted into a second bedroom.
With its matching colour scheme, elegant lighting, and engineered hardwood floors, residents are in for a visual treat.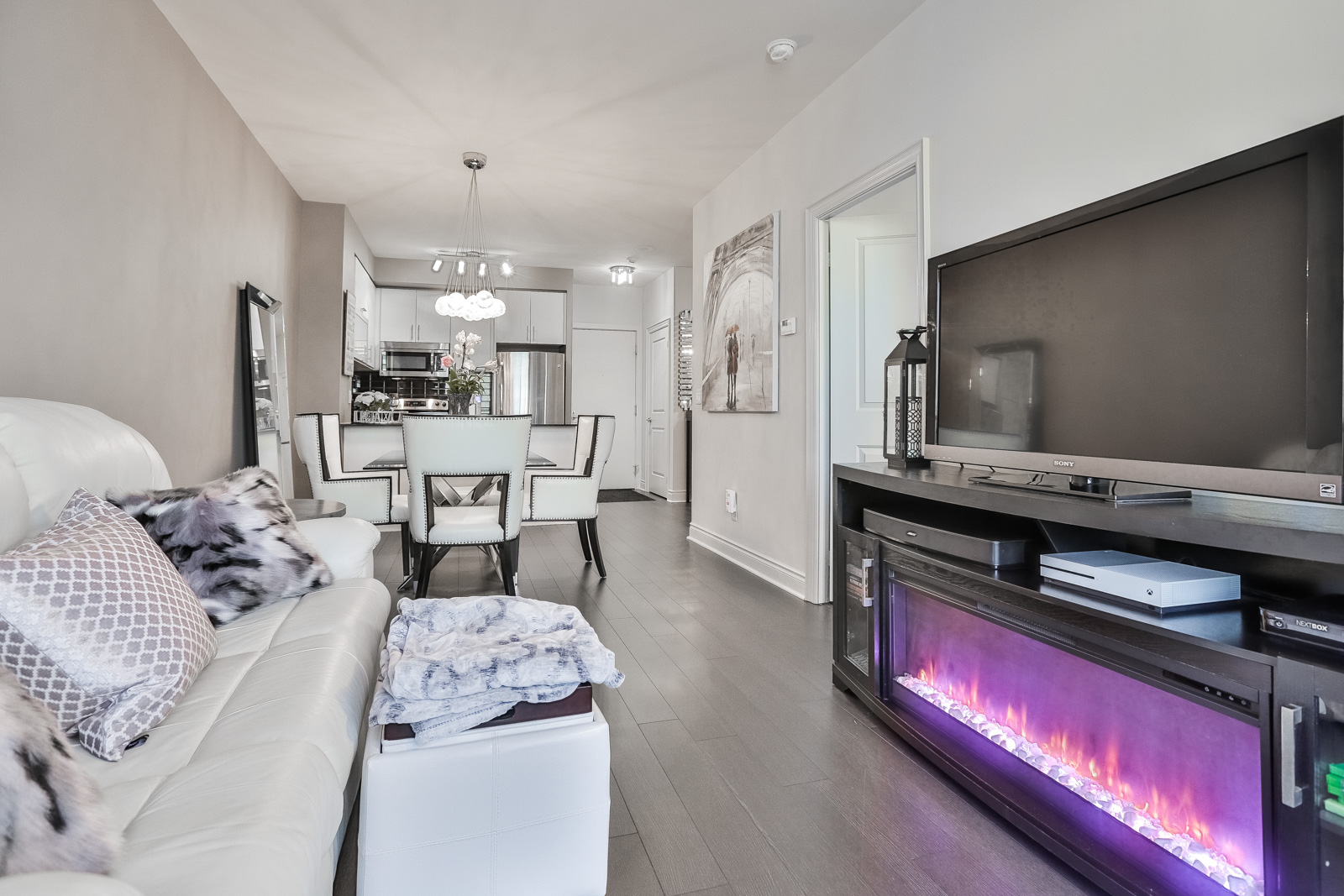 The living room offers beautiful views of Toronto, and thanks to the walk-out balcony, plenty of sunlight.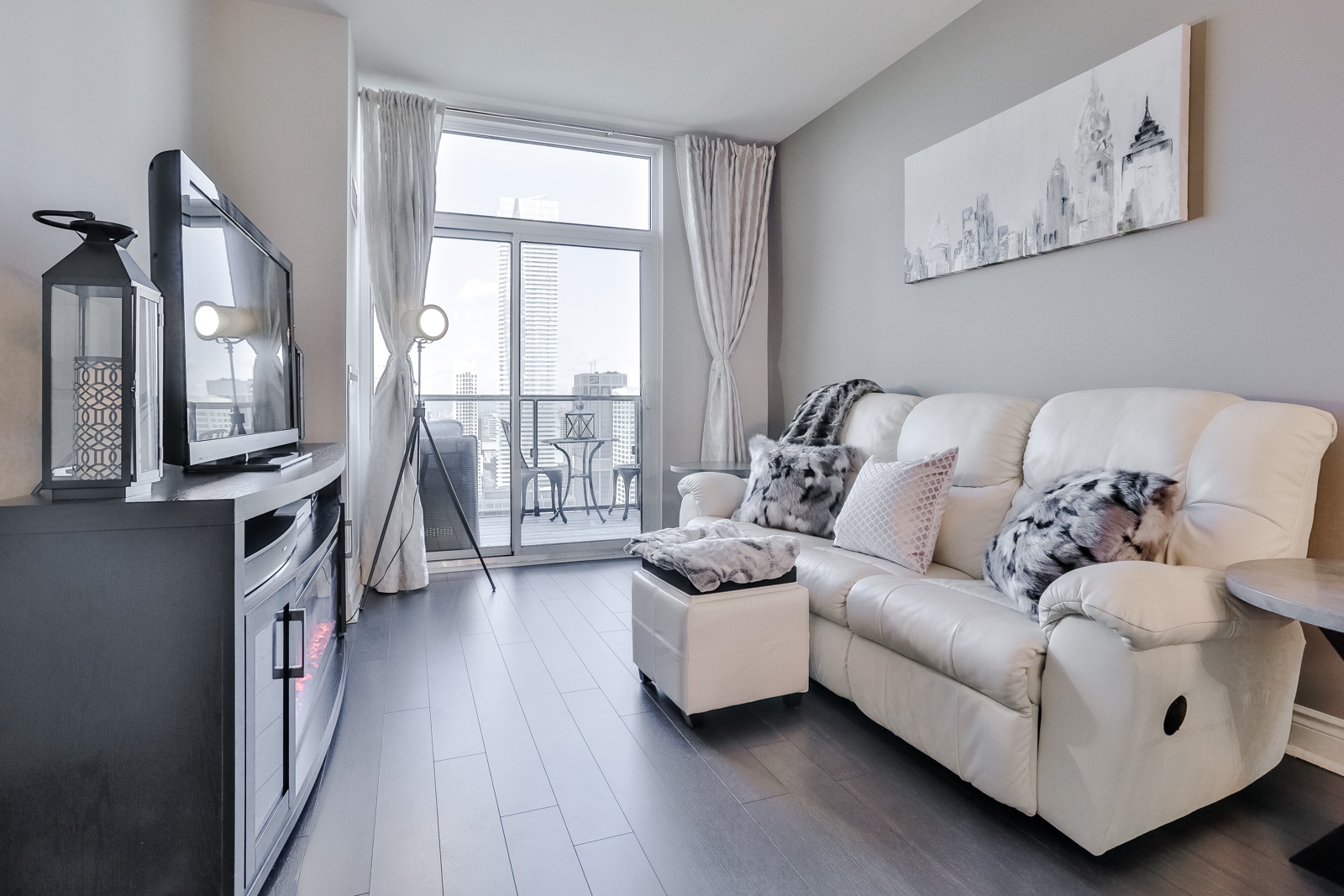 The dining room is understated and refined, while the pendant lamps add some artistic flair.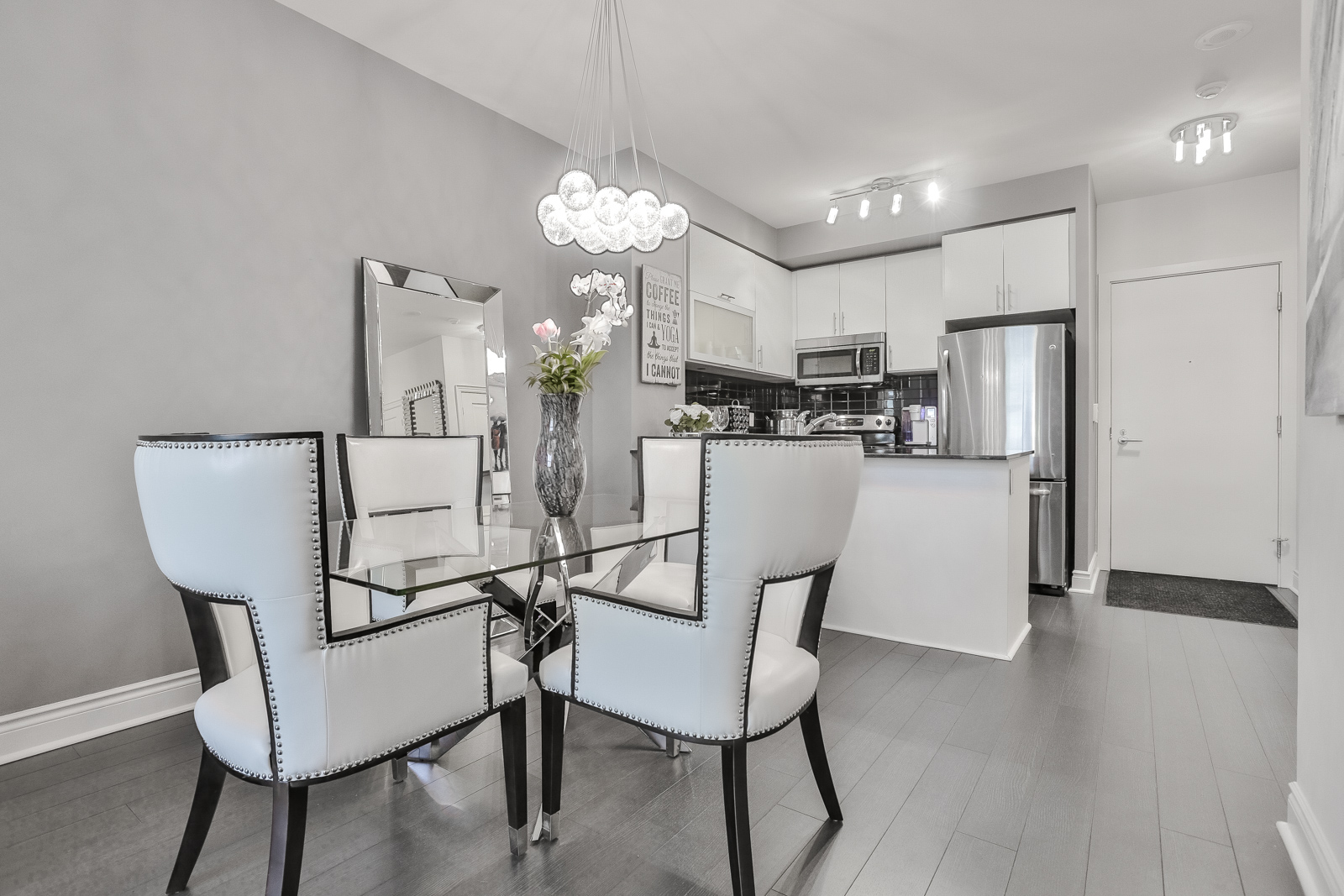 The Kitchen
28 Ted Rogers Way has a gorgeous gourmet kitchen.
But it's not the breakfast bar or track-lighting that sets it apart. Rather, it's how the colours all complement one another, from the black tiles, chrome faucet, granite countertops, and silver appliances to the gray walls, floors, and cabinets.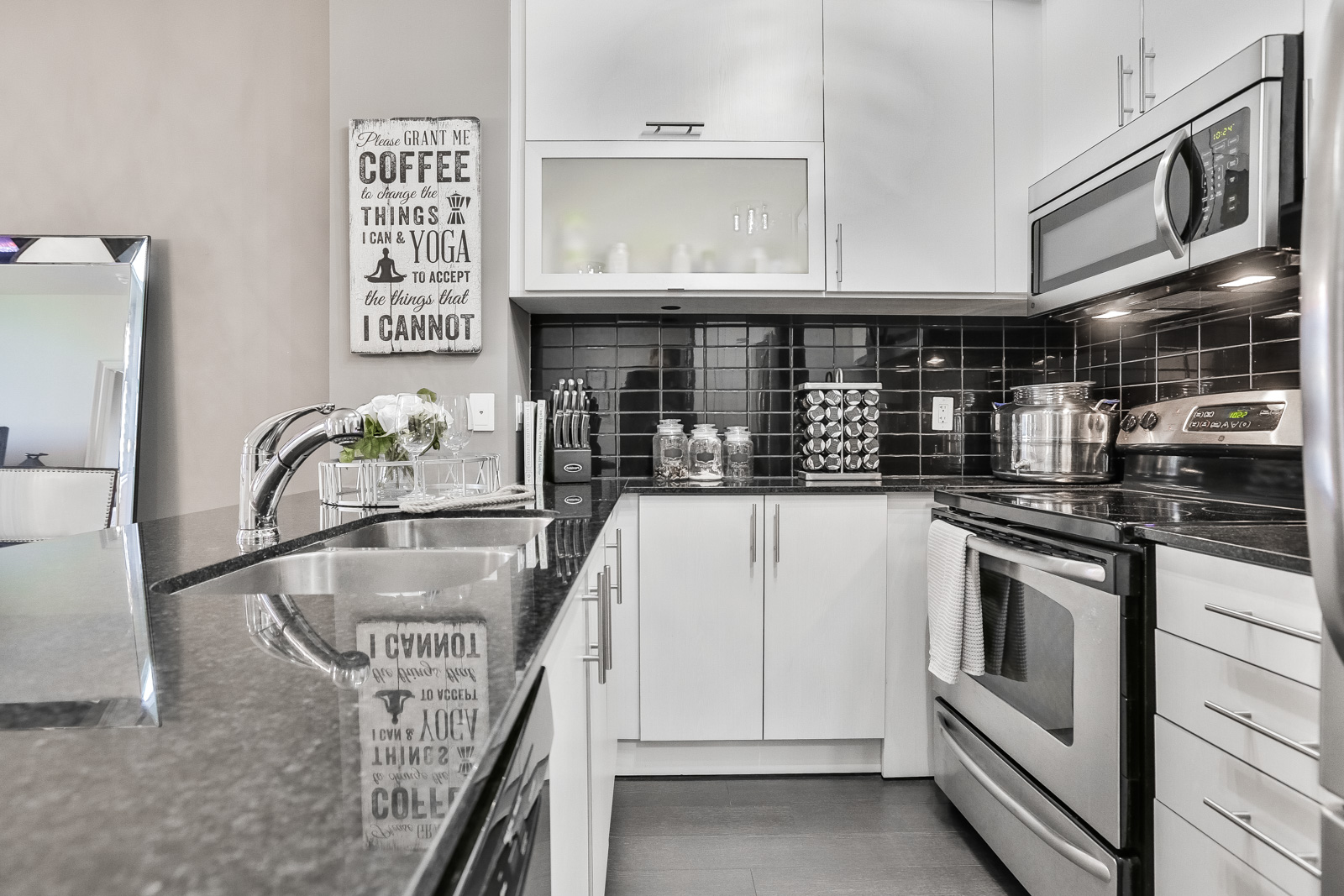 28 Ted Rogers Way comes with the following appliances:
A stainless-steel fridge, stove, microwave and dishwasher

A brand new front-loading washer and dryer from Samsung
Bedroom
Couture's master bedroom is opulent yet elegant.
Gray walls and floors exude tranquility, while the large windows offer thrilling views of Toronto.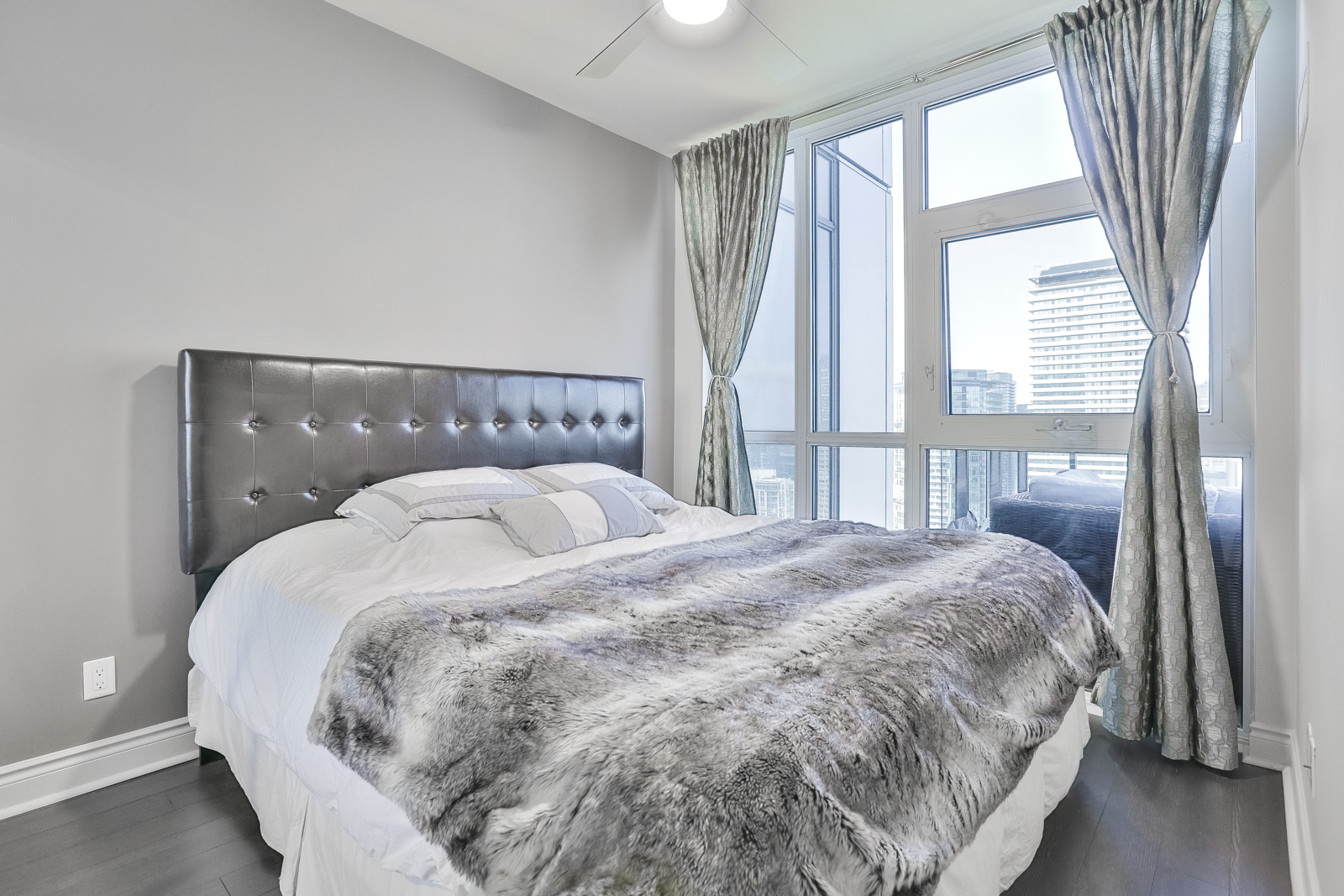 The master bedroom also has a ceiling-fan and giant closet with mirror-doors.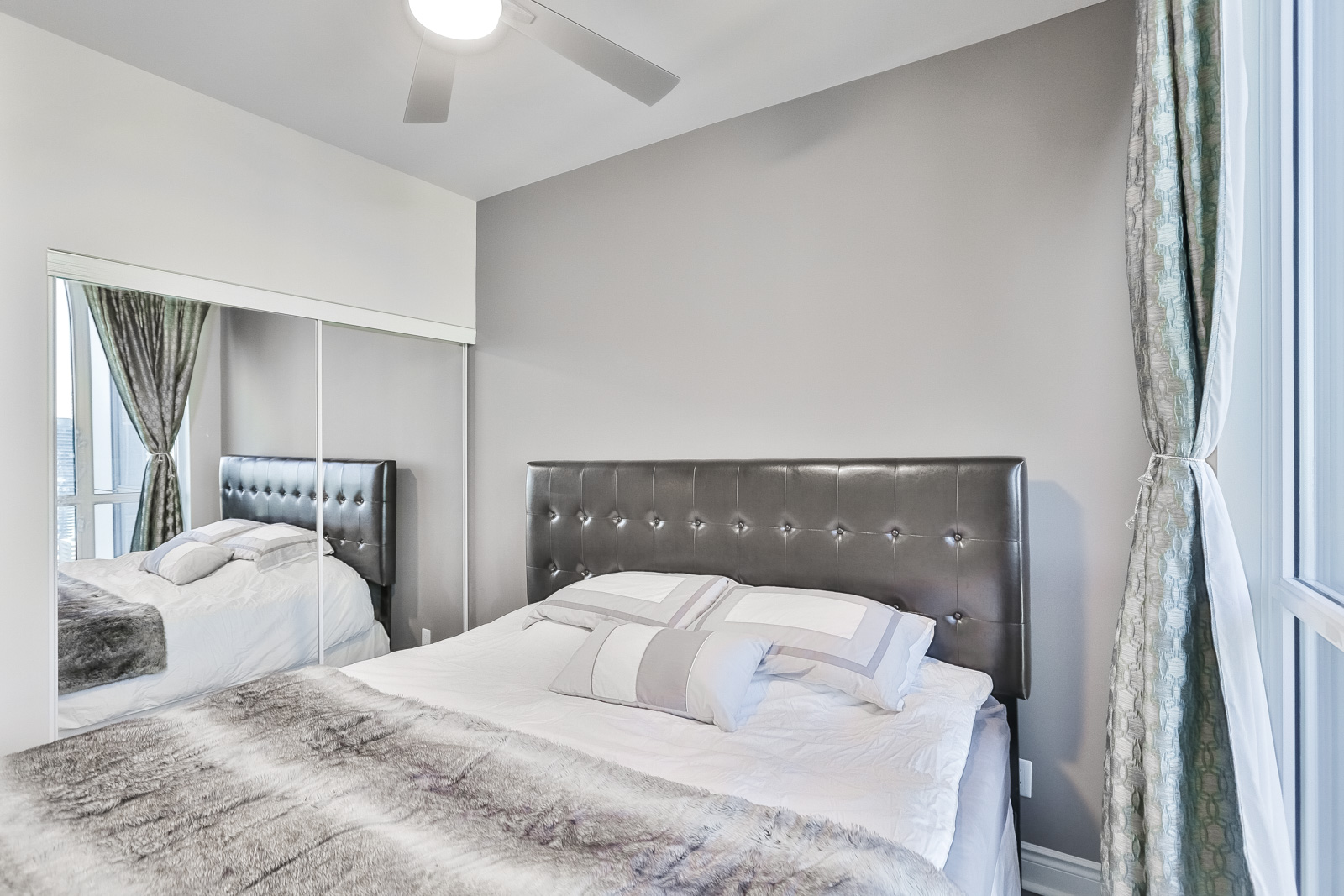 Washroom
Like the rest of 28 Ted Rogers Way, the bathroom is visually dazzling.
It uses clean lines, neutral tones, and minimalist décor for a simple and uncluttered look.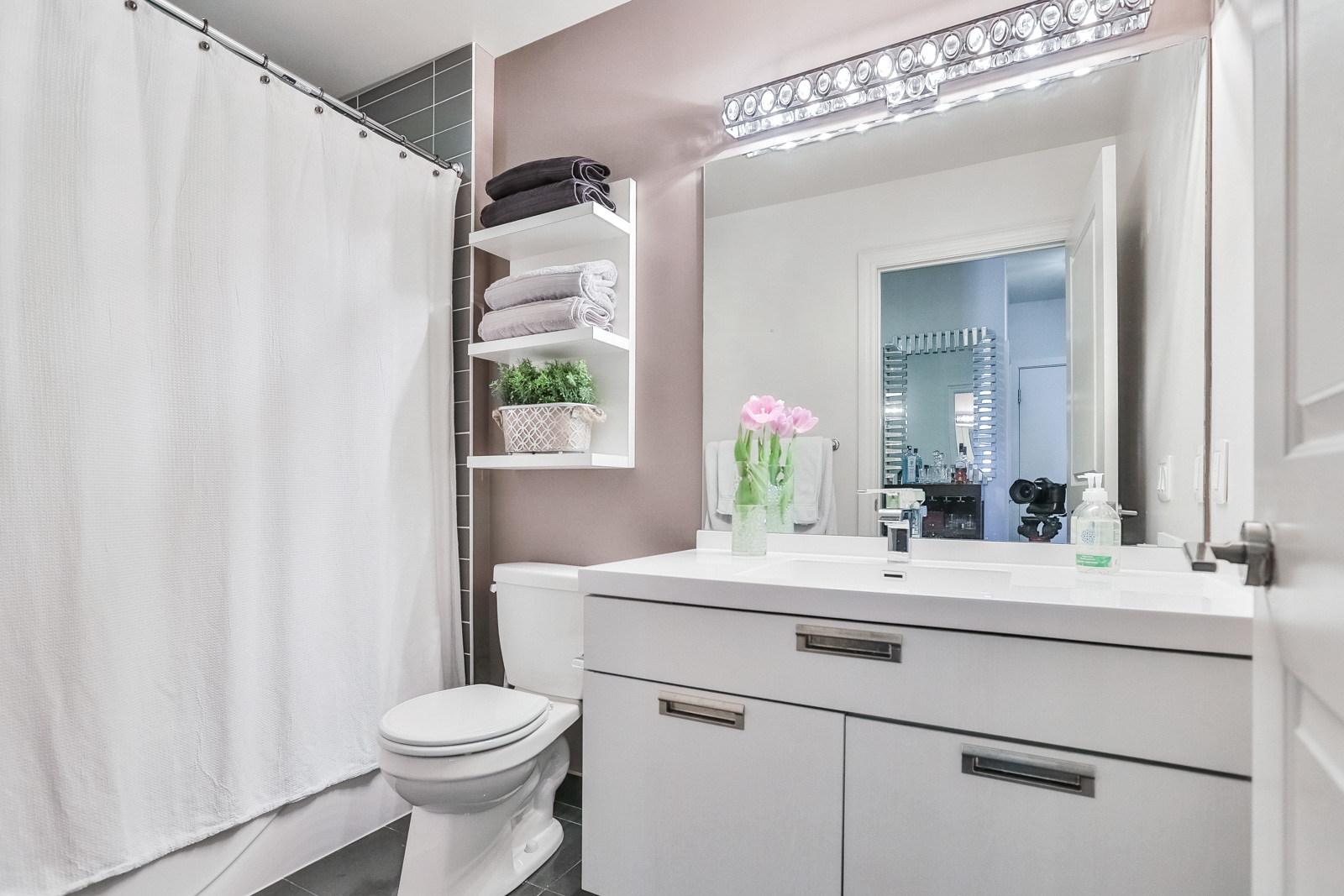 Den
Another of Couture's highlights is the den.
In addition to being spacious, it gives off the same air of grandeur and luxury as every other room.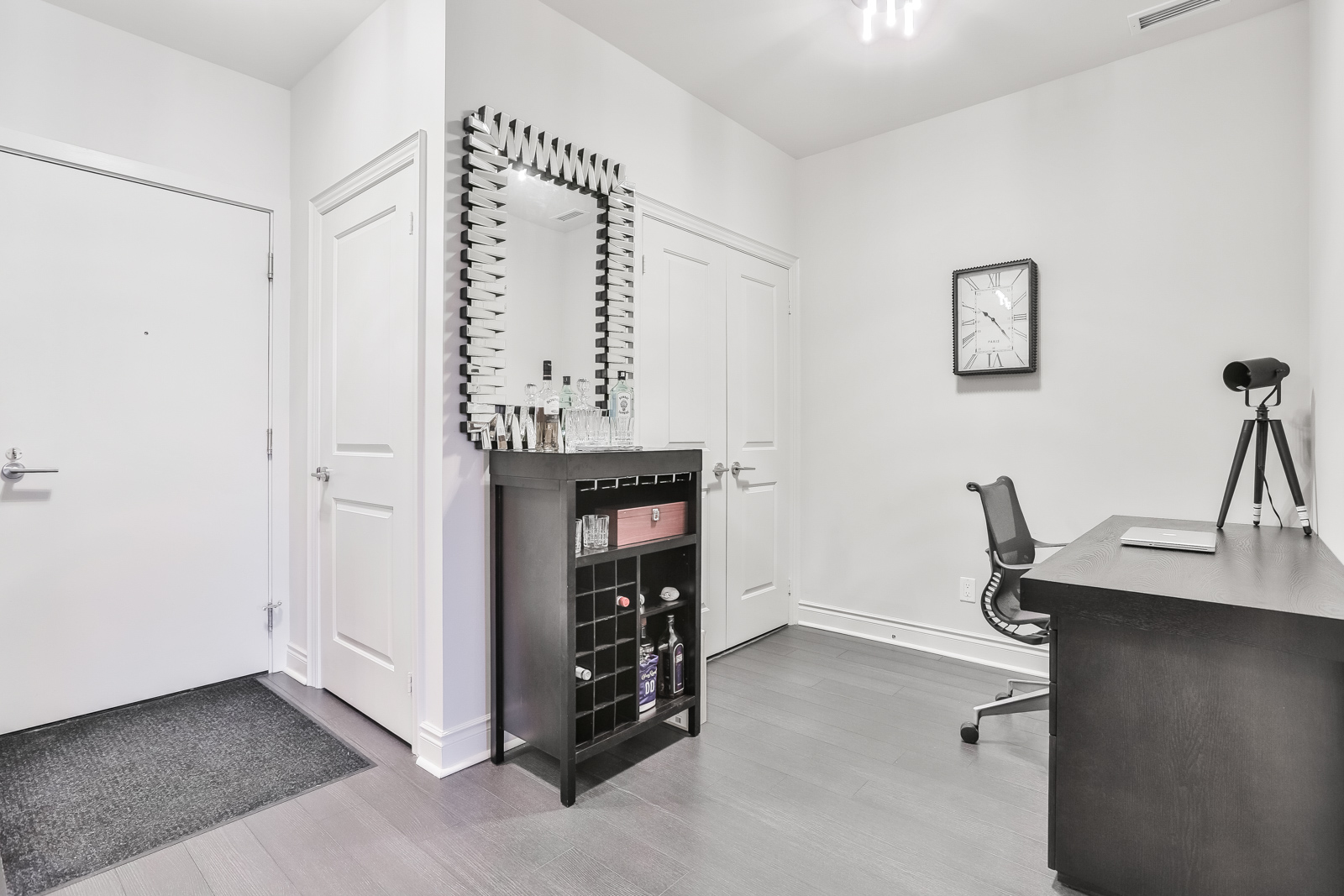 Balcony
One of the first things you'll notice about the balcony is how the floors are made of hardwood rather than concrete.
Furthermore, the use of glass panels creates a continuous, unbroken view of the city.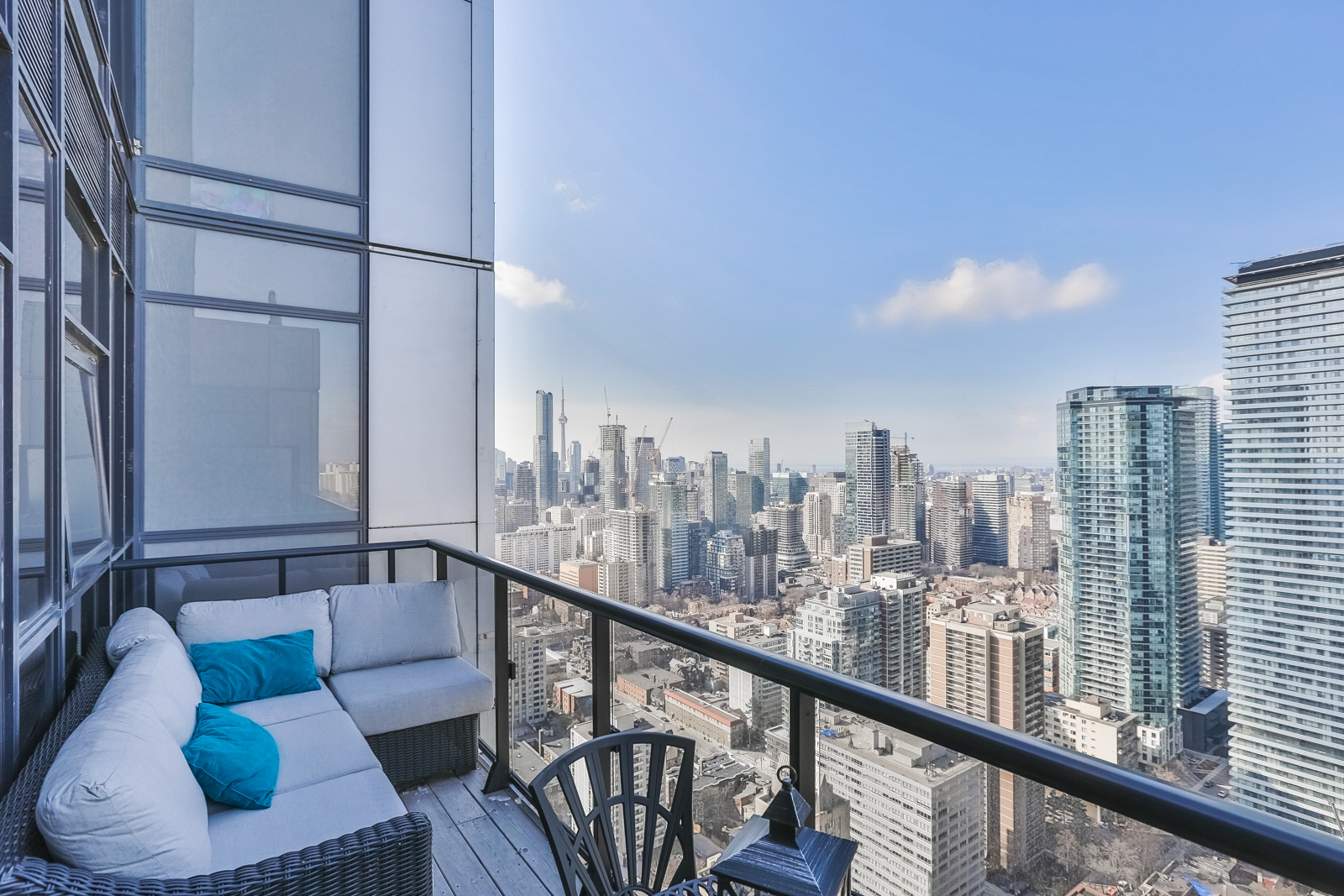 Finally, there's enough space for a coffee table, chairs, beanbags, and sectional seating, all of which lends a casual charm.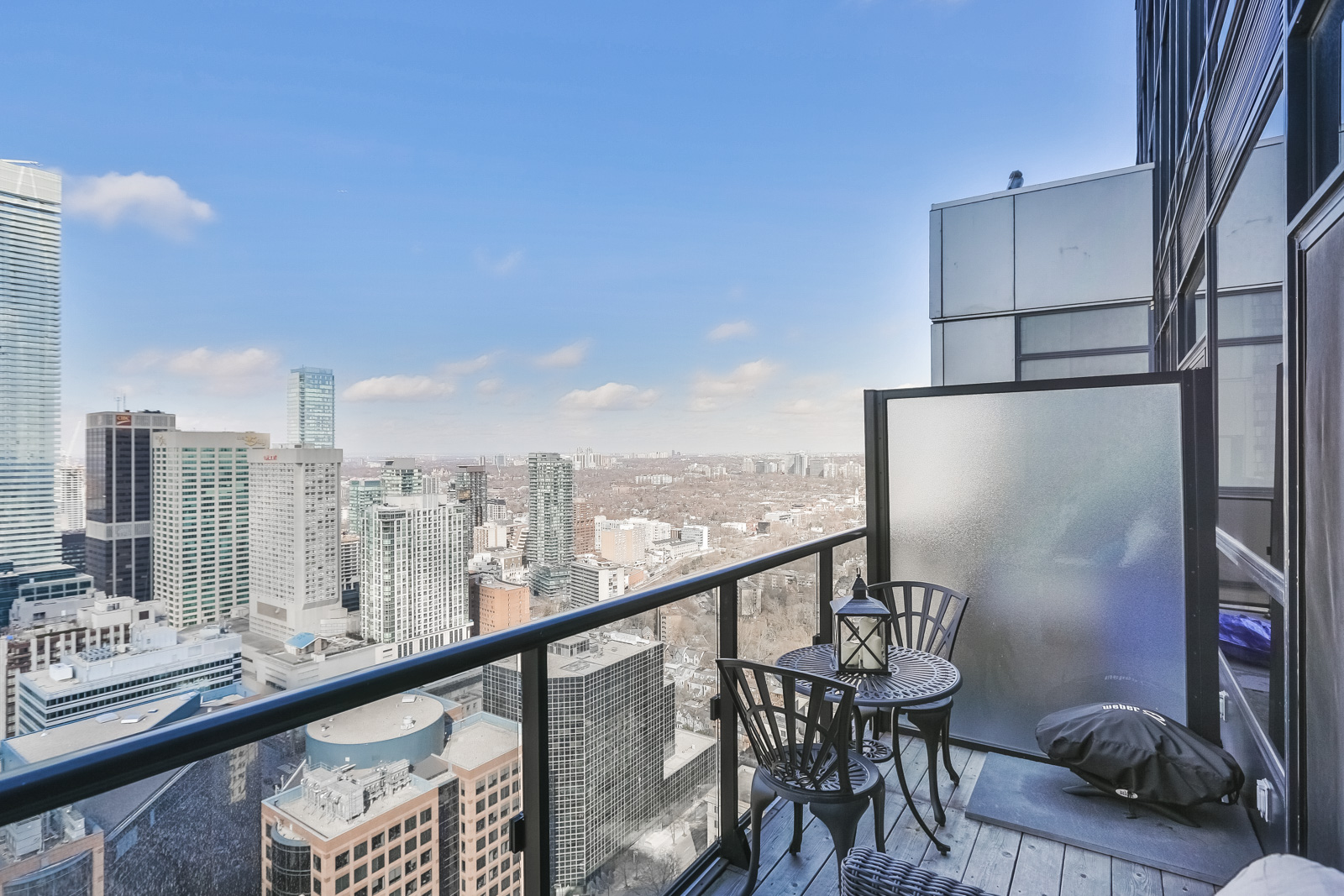 28 Ted Rogers Way – Floor Plans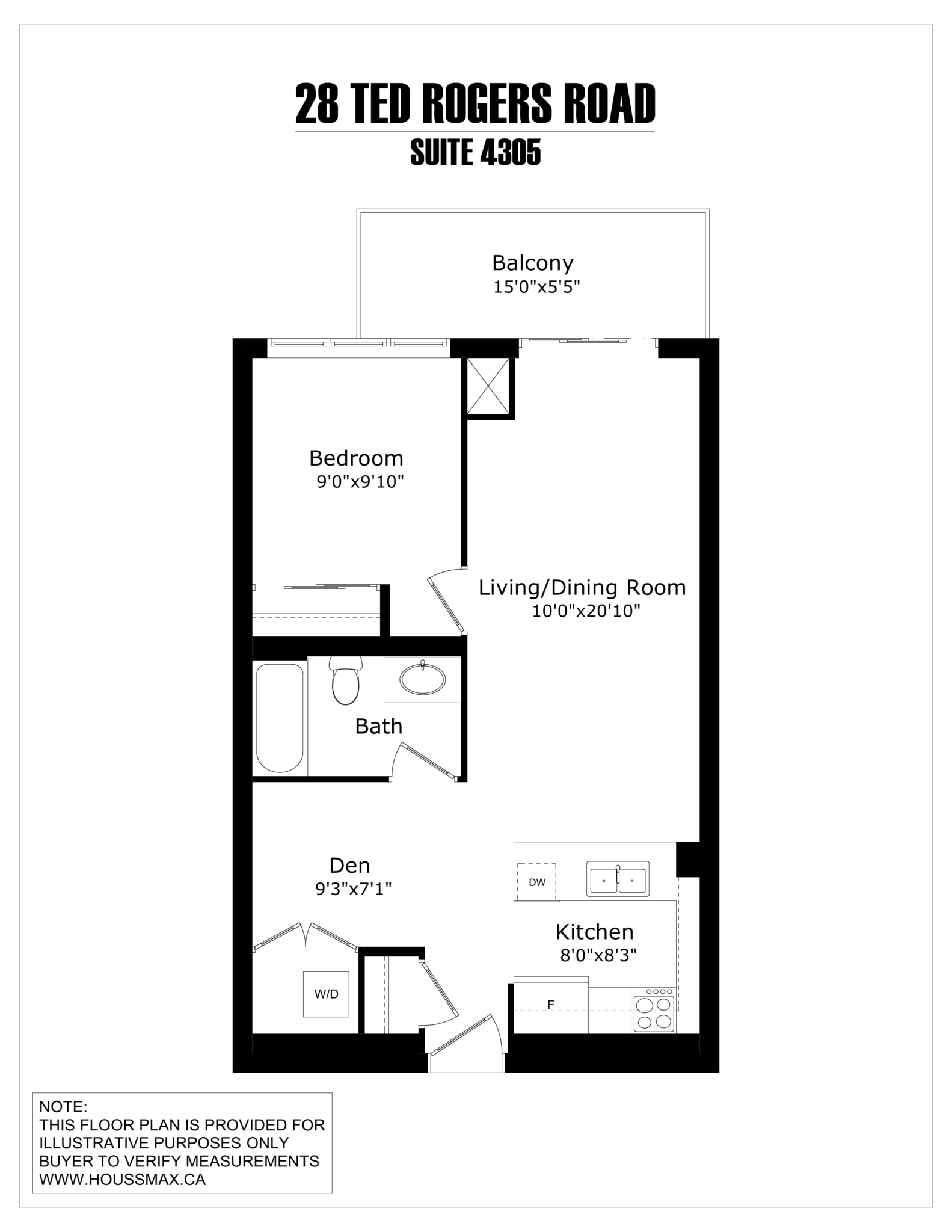 Amenities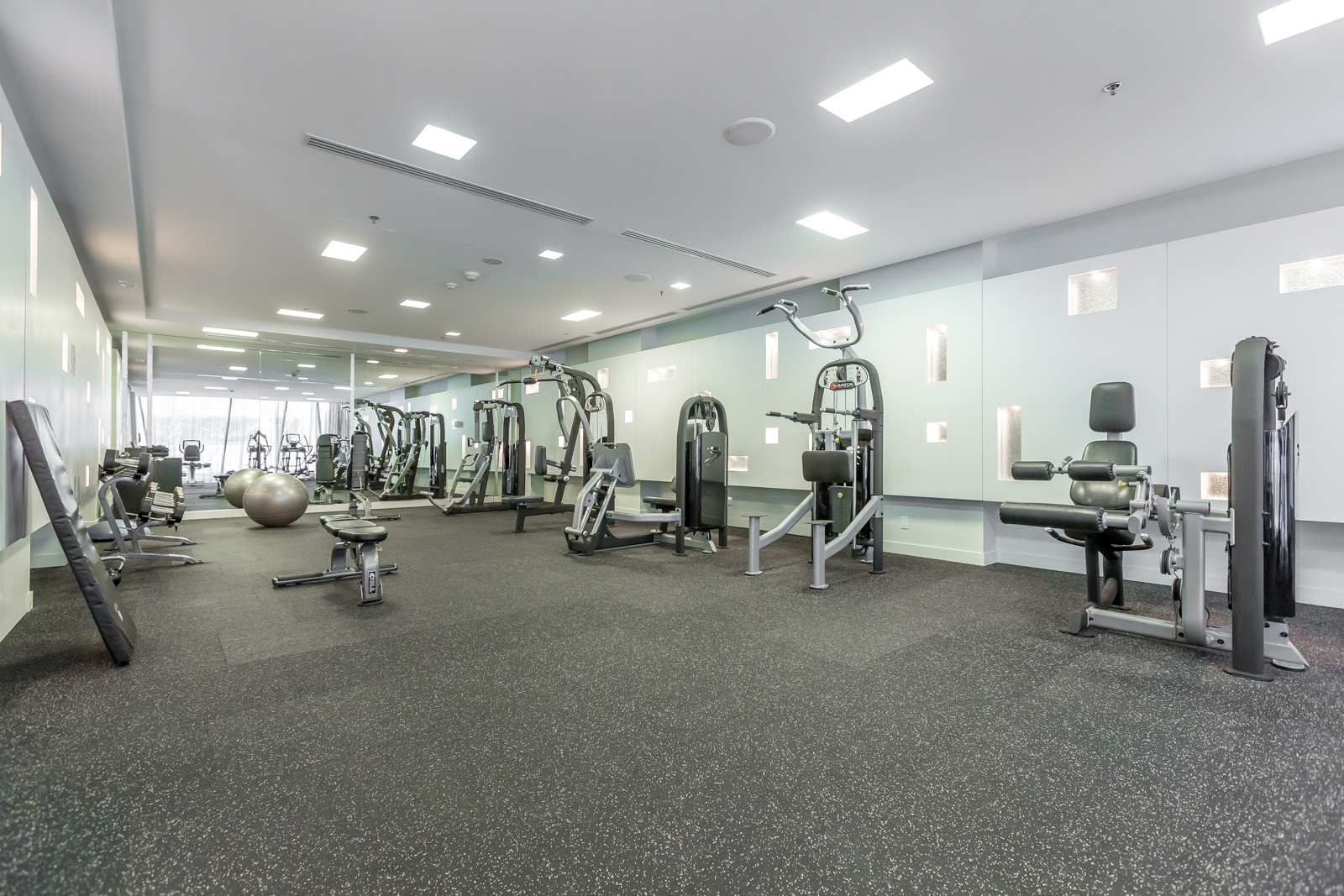 28 Ted Rogers Way has amazing amenities for everyone, including:
An indoor pool, sauna, hot tub, and Jacuzzi

An exercise room and Yoga studio

A party room and media centre

A meeting/function room

A visitor lounge and guest suites

A parking garage and high-speed elevators

24-hour concierge and security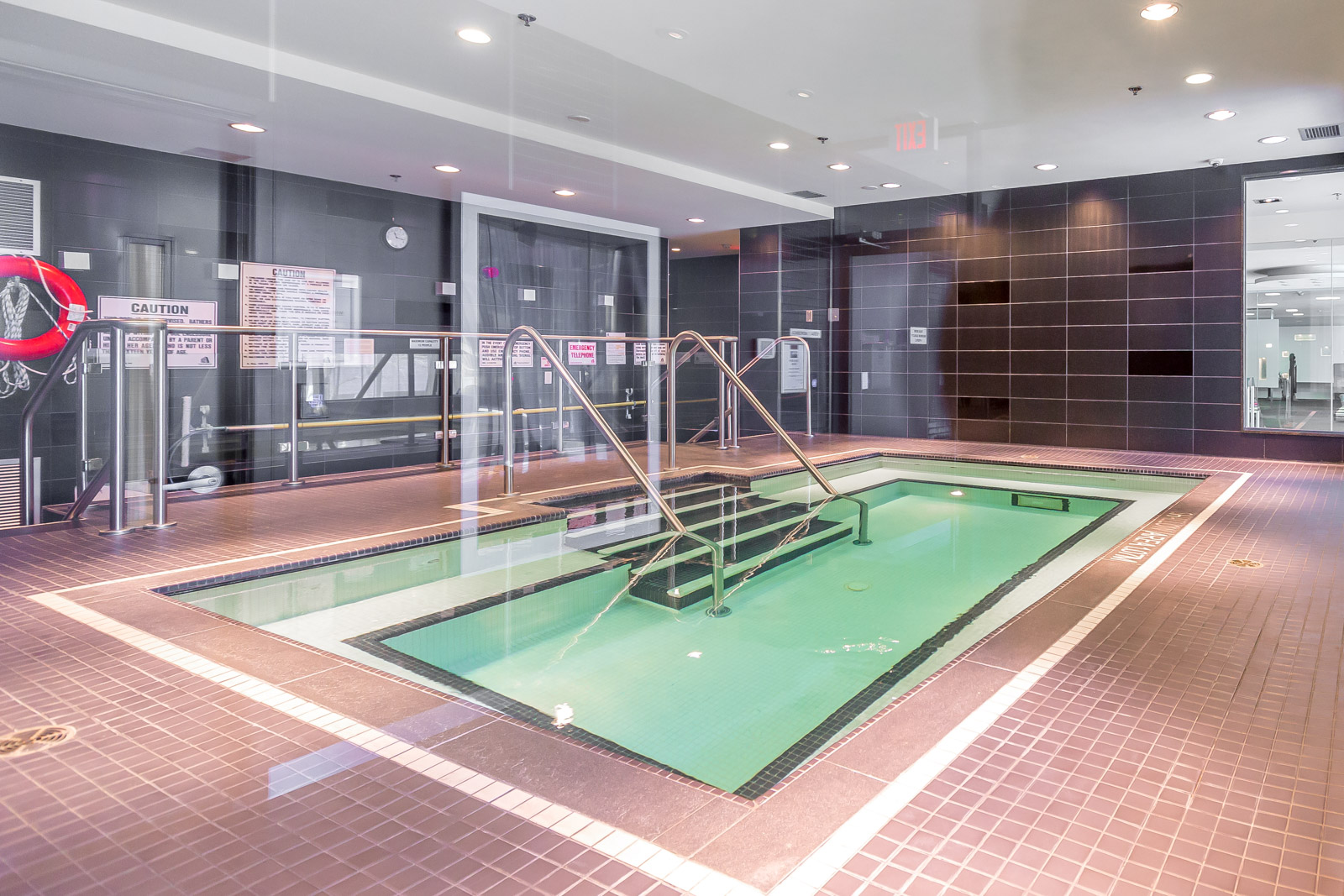 About Church and Yonge
28 Ted Rogers Way lies in the Church-Yonge Corridor, minutes from the excitement of Yonge and Bloor and the stately swank of Yorkville.
Because of its location, residents are a short walk from Toronto's best retail, entertainment and culinary hotspots.
For example, 7 West Cafe is an 8 minute walk from Couture. Open 24/7, 365 days a year, it serves some of the best appetizers, salads, and sandwiches in Toronto.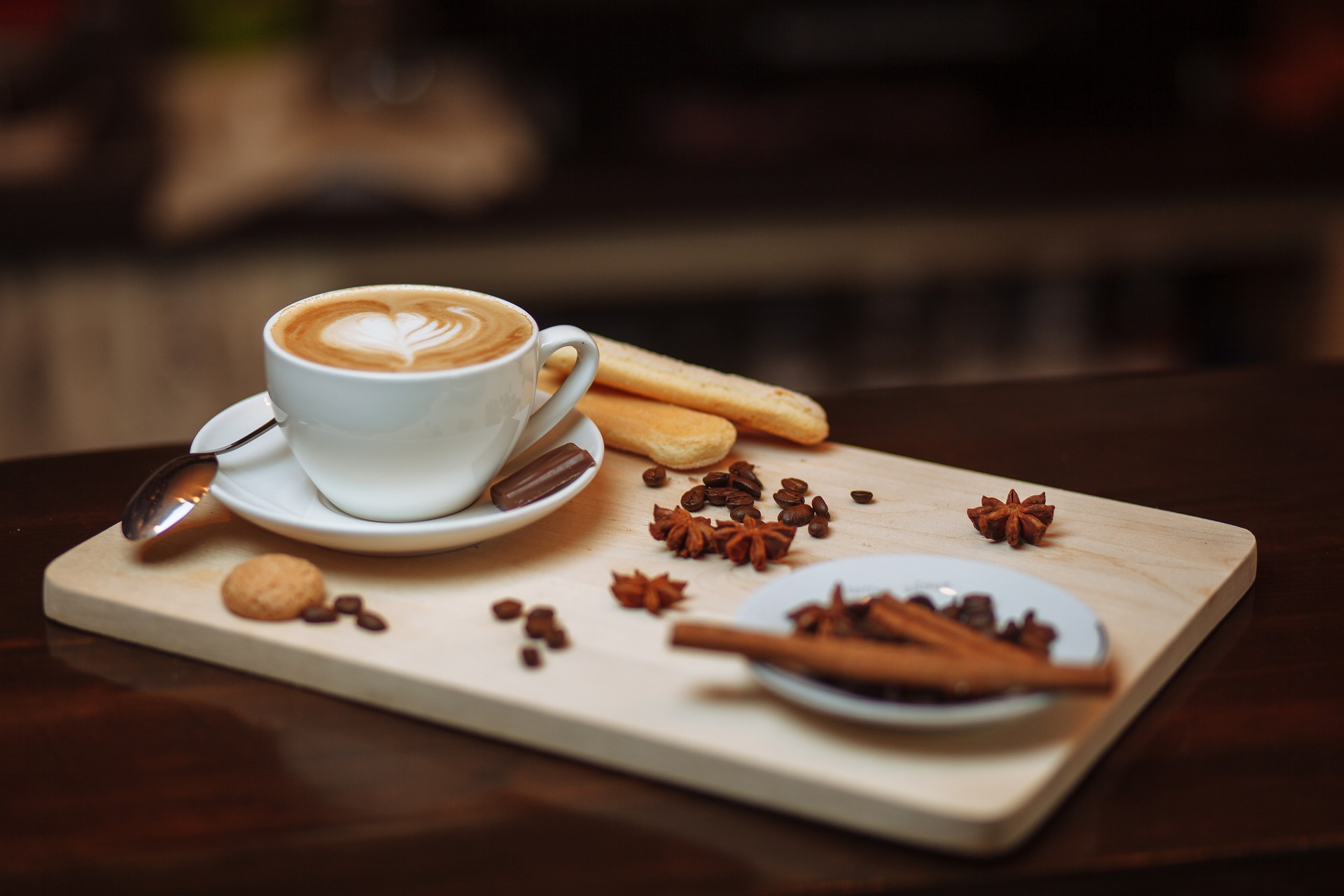 Love shopping? Yorkville's boutique-lined streets are just 5 minutes away, offering the best in designer and original brands.
Yorkville is also home to an incredible array of salons, spas, cafes, restaurants, and music shops.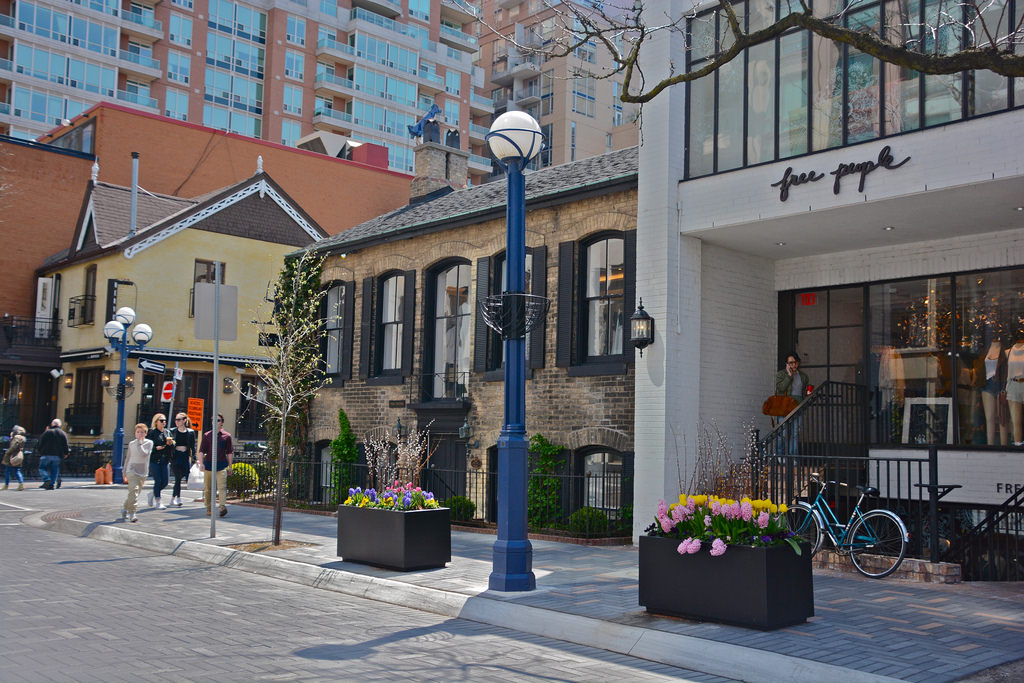 Other Location Highlights:
The WOW Factor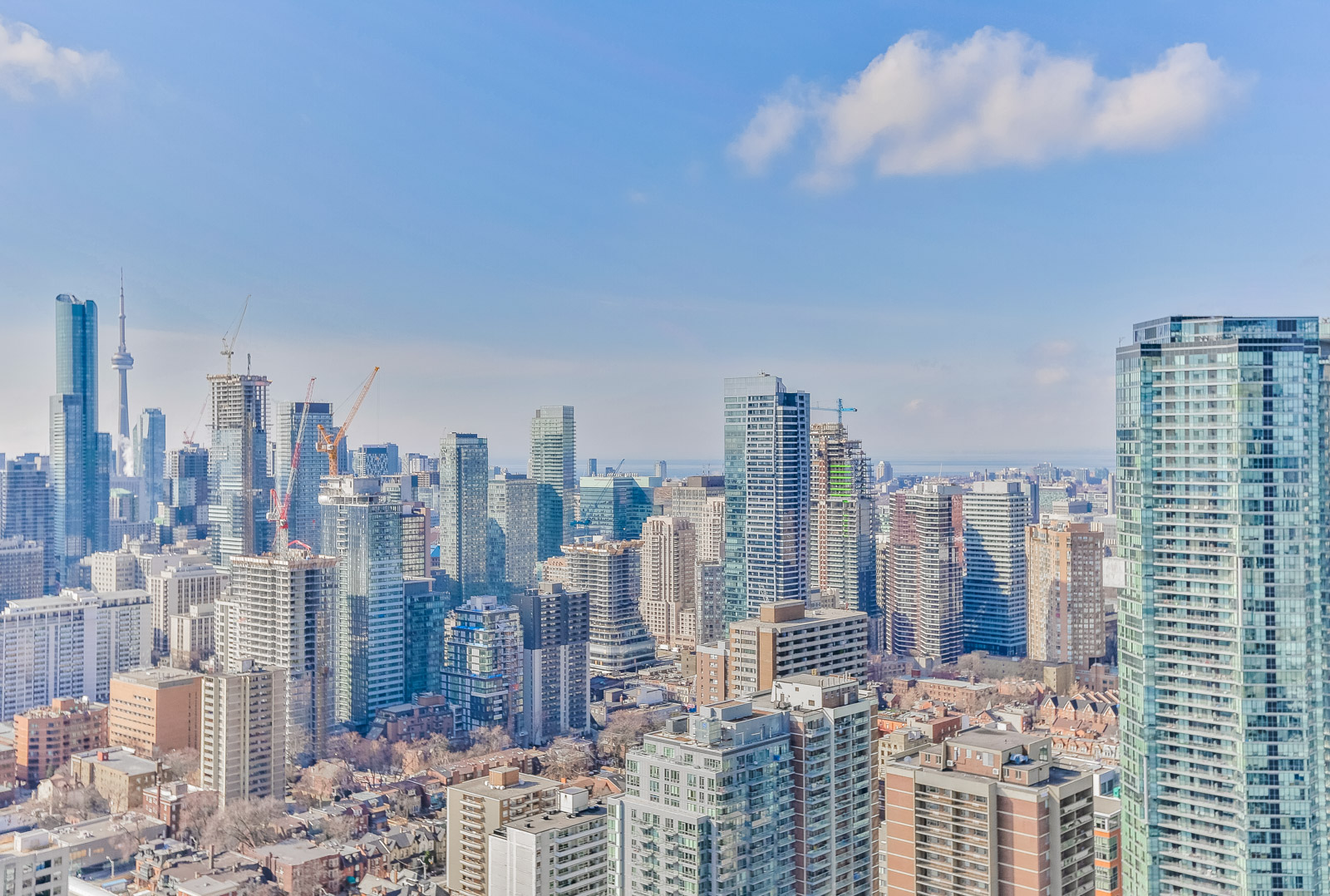 Elegant. Sophisticated. Refined. These words fail to capture the full beauty and luxury of 28 Ted Rogers Way.
The single bedroom penthouse suite has the perfect kitchen, the perfect bedroom, the perfect washroom, the perfect balcony, and the perfect location.
All that, plus a den you can convert into a second bedroom.
As featured on the Toronto Star
As featured on the Toronto Star
Want to start your new life at 28 Ted Rogers Way? Contact me below for more details.