Overview: a look at the August 2021 GTA housing market, including key sales data, future trends, and advice for home buyers and sellers.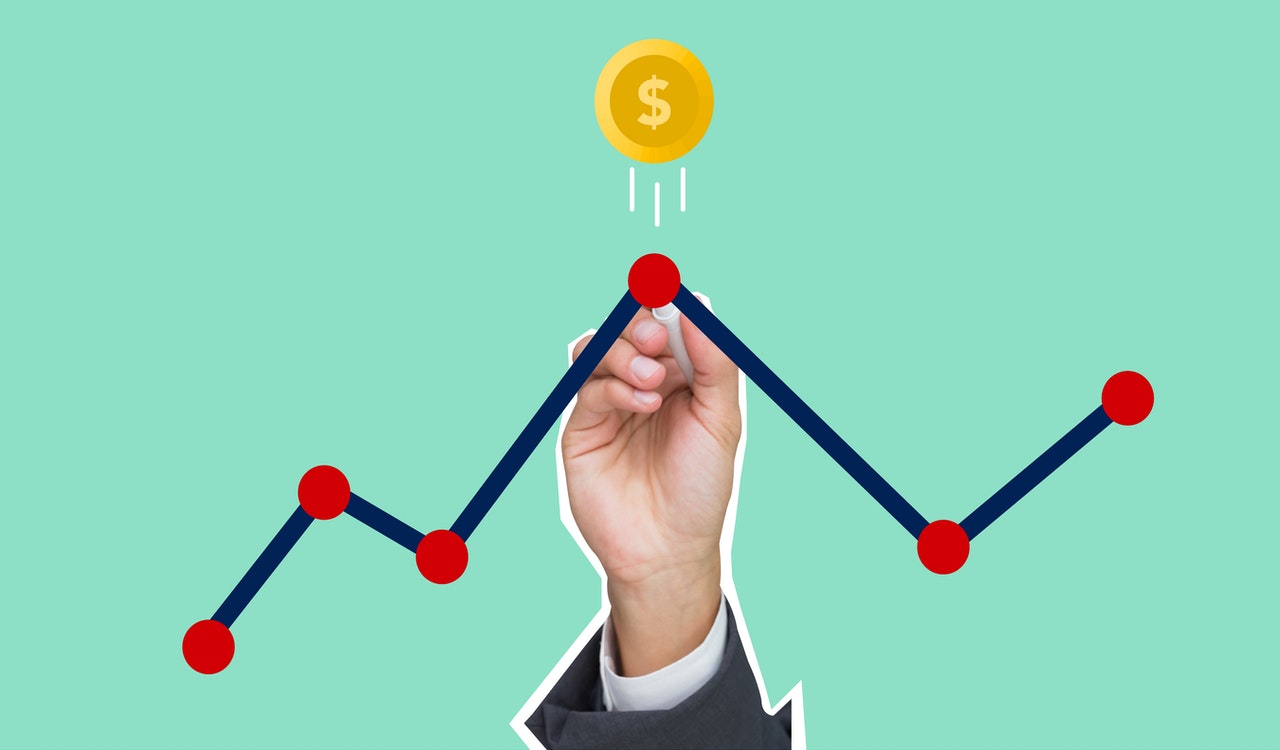 On one hand you had headlines like this from BNN Bloomberg:
Toronto housing at 'crisis point' as prices surge
On the other hand, you had headlines like this from Daily Hive:
Number of new home listings in the GTA hits a 10-year-low
These dual headlines capture the state of the August 2021 housing market, one that saw a mix of surging prices and record-low inventory.

So where does this leave buyers and sellers?
Let's take a look at the housing data…
August 2021 Housing Market Numbers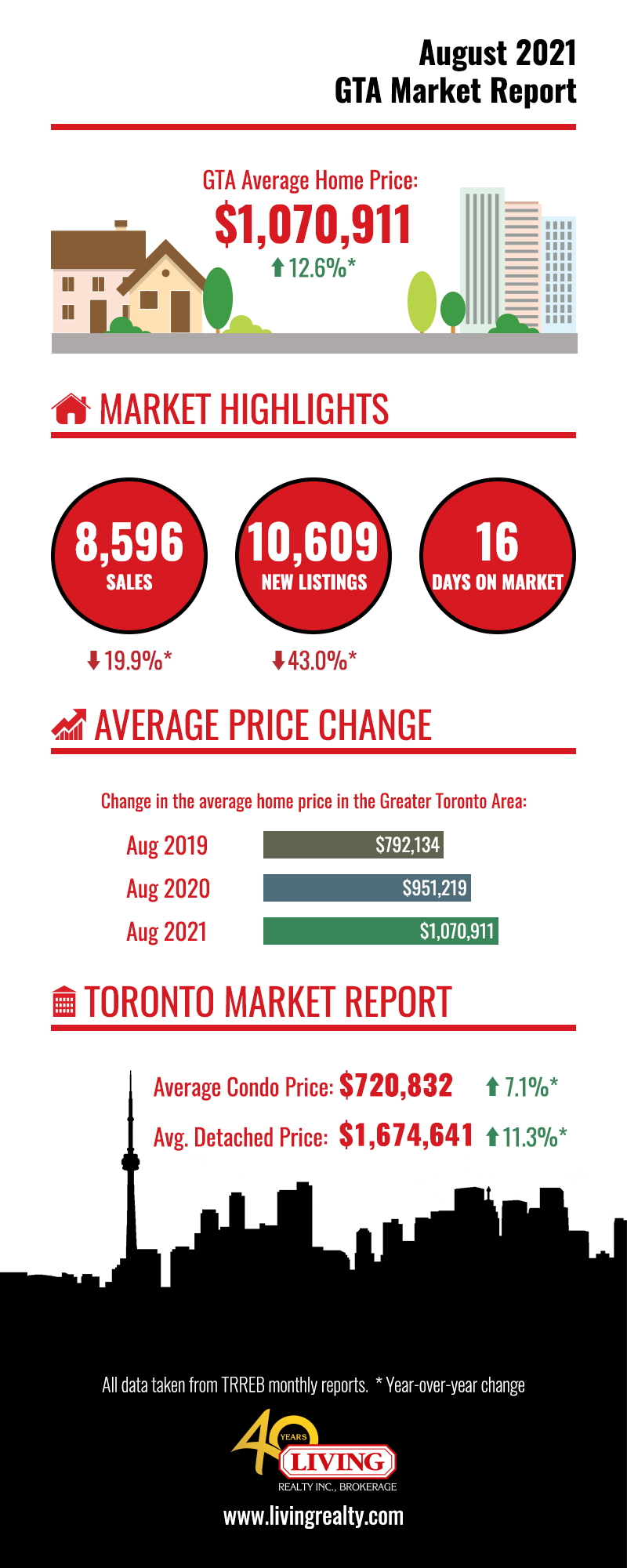 Here's how August 2021 compares to August 2020:
GTA home prices: up 12.6% to $1,070,911

GTA home sales: down 19.9% to 8,596

New listings: down 43% to 10,609

Toronto condo prices: up 7.1% to $720,832

Toronto condo sales: up 13.2% to 1,738
Why were sales and listings down?
According to Zoocasa:
August has a reputation for being slower in real estate, as buyers and sellers take a break from their house hunt to enjoy the last of summer. In the GTA, this year was no different…
But why did prices jump 12.6% if sales dropped 20%?
Daily Hive has the answer:
Low inventory levels have plagued the GTA real estate market over the past year, fueling stiff competition and bidding wars…
Given the dramatic plunge in listings, buyers faced much tougher competition, leading to fierce bidding wars and higher home prices.
Home sales and prices were also very different in the freehold and condo markets.
Houses Vs Condos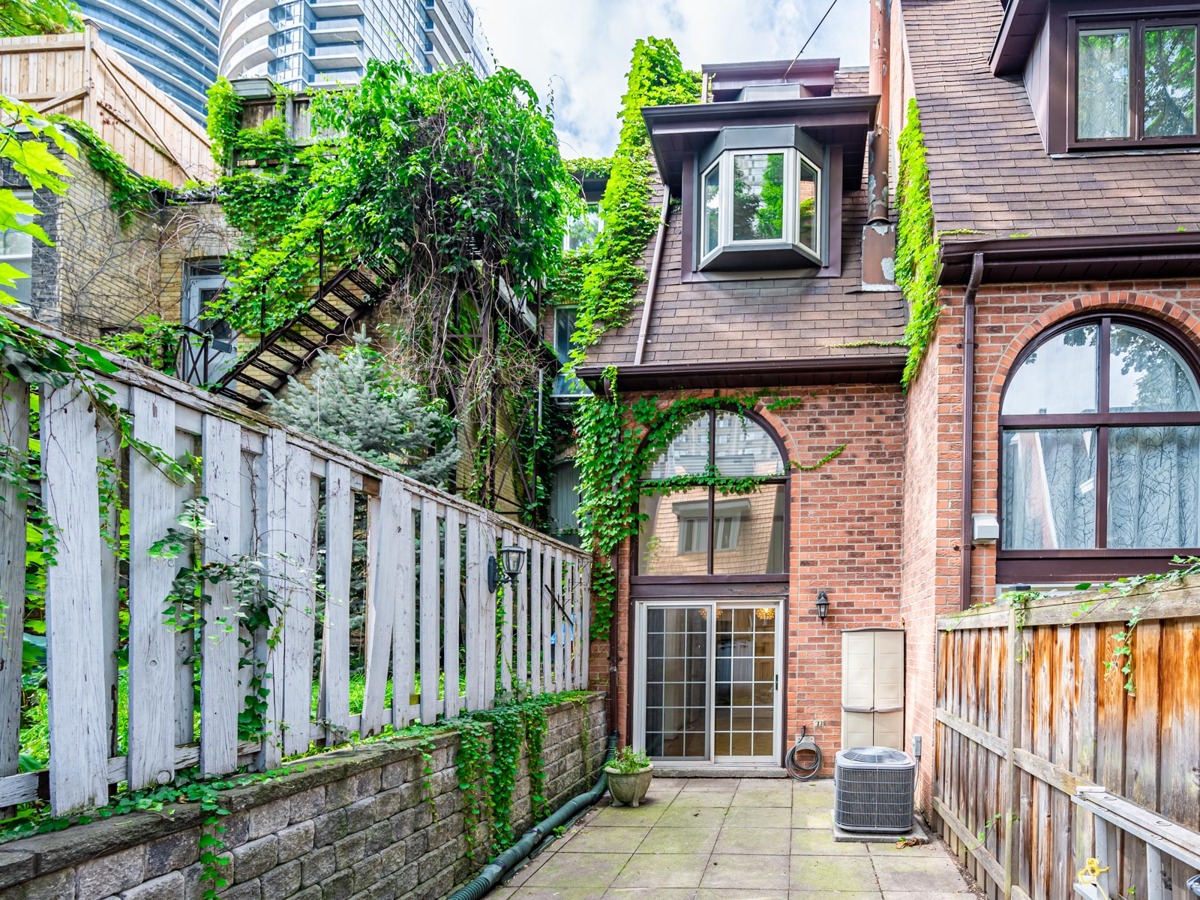 Last year a COVID-fueled exodus drove buyers to the suburbs, but that trend may be reversing.
Here's a breakdown of GTA home sales by property type:
Detached home sales: down 31.5%

Semi-detached home sales: down 29.3%

Townhouse sales: down 19%

Condo sales: up 11.3%
Condos were the only housing type to post an increase in sales.
Why are condos in such high demand?
Simple: because they remain the most affordable option for buyers.
According to the National Post:
…the price of detached properties has become "basically unaffordable…" Meanwhile, the lower price of condos combined with a revived sense of value in city living is creating "a sure-fire recipe for increased activity in the condo space."
So the high price of detached homes is forcing buyers back to the condo market.
Another reason is that, as the economy reopens and people return to offices, having a condo in the city relieves the stress of long commutes.
Advice For Sellers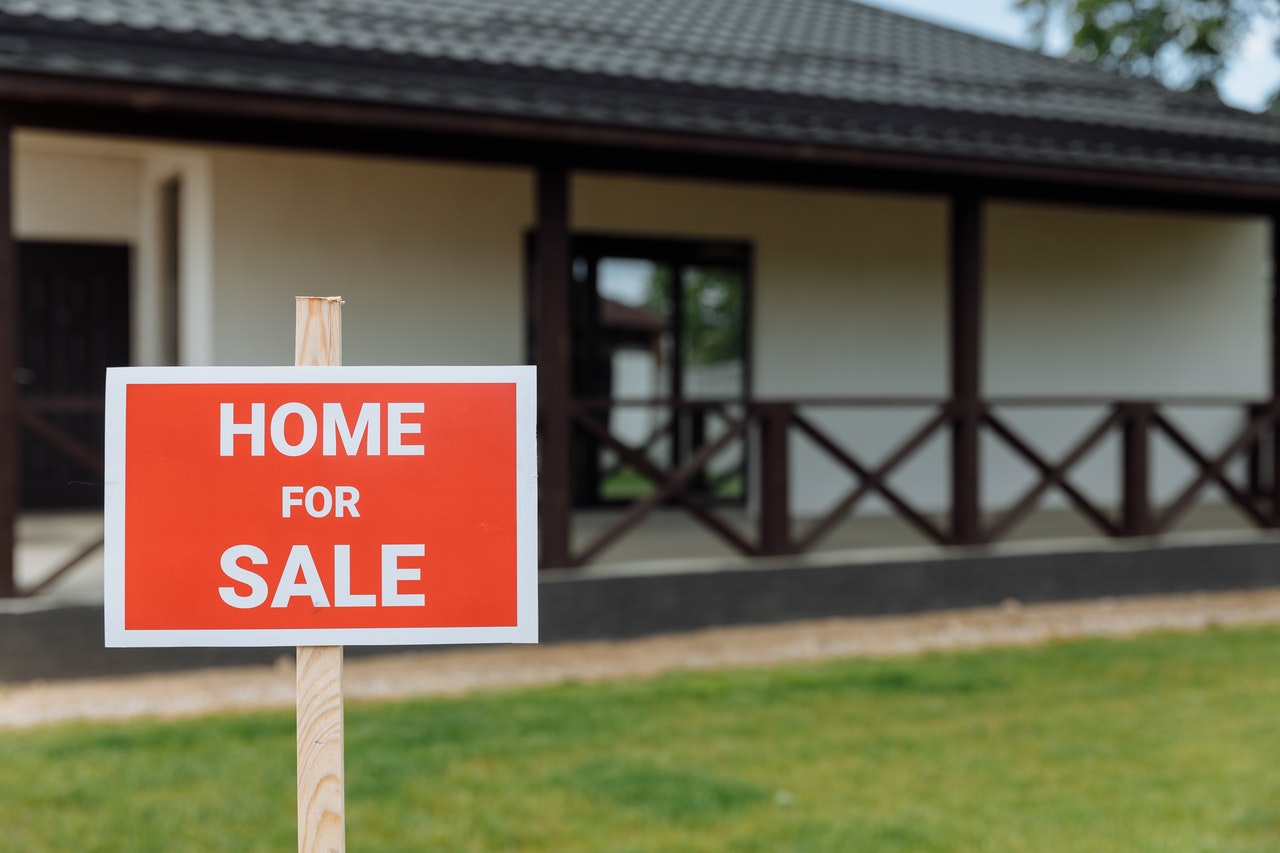 The short answer is yes.
blogTO reports:
…the data shows that there is still record high demand, tight supply and historically strong sales, leaning toward a seller's market with conditions that will keep prices high…
As the name implies, a seller's market tends to favour sellers.
Because there's less inventory, eager buyers will resort to bidding wars to secure a property.
The result is big profits for home sellers.
And as the August 2021 numbers reveal, condo owners stand to benefit most, since they had the only housing type with a sales increase.
However, sellers should be careful not to over-price their properties.
As The Globe and Mail warns:
Sellers, meanwhile, are expecting exorbitant amounts. Sometimes their obstinance can backfire.
In other words: set a reasonable price and ask your real estate agent for advice.
Advice For Buyers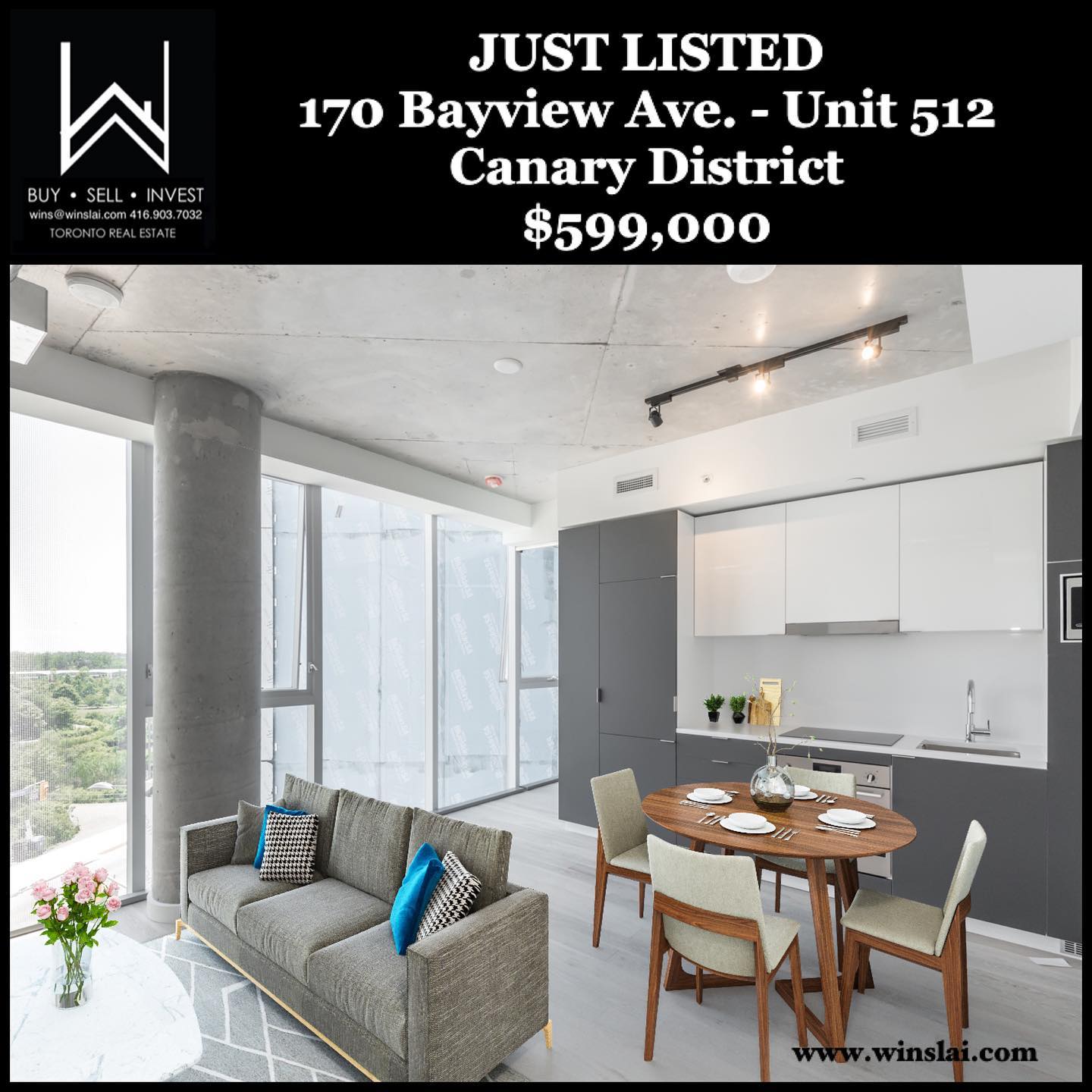 No, because prices are expected to rise this year and well into 2022.
TRREB predicts:
As we move toward 2022, expect market conditions to become tighter as population growth in the GTA starts to trend back to pre-COVID levels…
Population growth, a supply crunch, and a scarcity of listings will all lead to higher prices.
The situation will only get worse once immigration resumes.
Canada is expected to welcome 1.2 million immigrants from now until 2023.
Since most immigrants settle in Toronto, the result will be a surge in housing demand, which coupled with ongoing supply issues, will breed fierce competition and higher prices.
So buyers should act fast, because prices and competition will only intensify with time.
But there is some good news for buyers.
Interest rates are still low (for now), condos are still affordable (for now), and there's a push for affordable housing.
For example: Toronto is introducing something called "Inclusionary Zoning."
Under the policy, condo builders are required to set aside a certain amount of affordable units for every project.
Finally, the upcoming federal election promises to make housing more affordable for first-time buyers.
Whether those promises become policy is hard to say, but at least every party shares the same goal: to make homeownership easier.
August 2021 Housing Market: Conclusion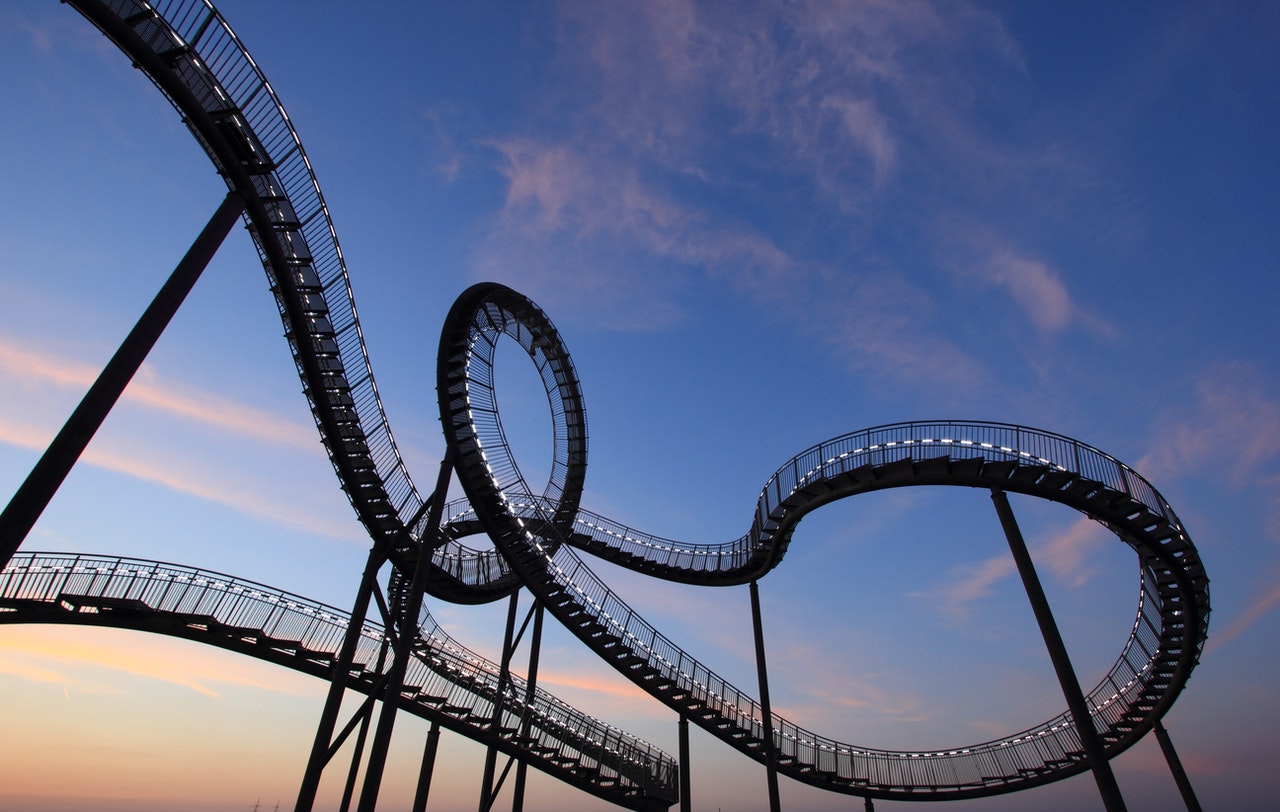 Prices were up while sales and listings were down.
After climbing to new heights the freehold market sank while the condo market soared.
And thanks to record demand and a 43% drop in listings, sellers raked in huge profits.
But despite the current seller's market, buyers have a lot going for them, from ultra-low interest rates to new housing policies.
Want to know more about the August 2021 housing market? Contact me below for details.
Wins Lai
Real Estate Broker
Living Realty Inc., Brokerage
m: 416.903.7032 p: 416.975.9889
f: 416.975.0220
a: 7 Hayden Street Toronto, M4Y 2P2
w: www.winslai.com e: [email protected]
*Top Producer (Yonge and Bloor Branch) – 2017, 2018, 2019, 2020