Overview: a look at the August 2022 housing market numbers for Toronto and the GTA, with a focus on condos, rentals, and the impacts of the latest interest rate hike.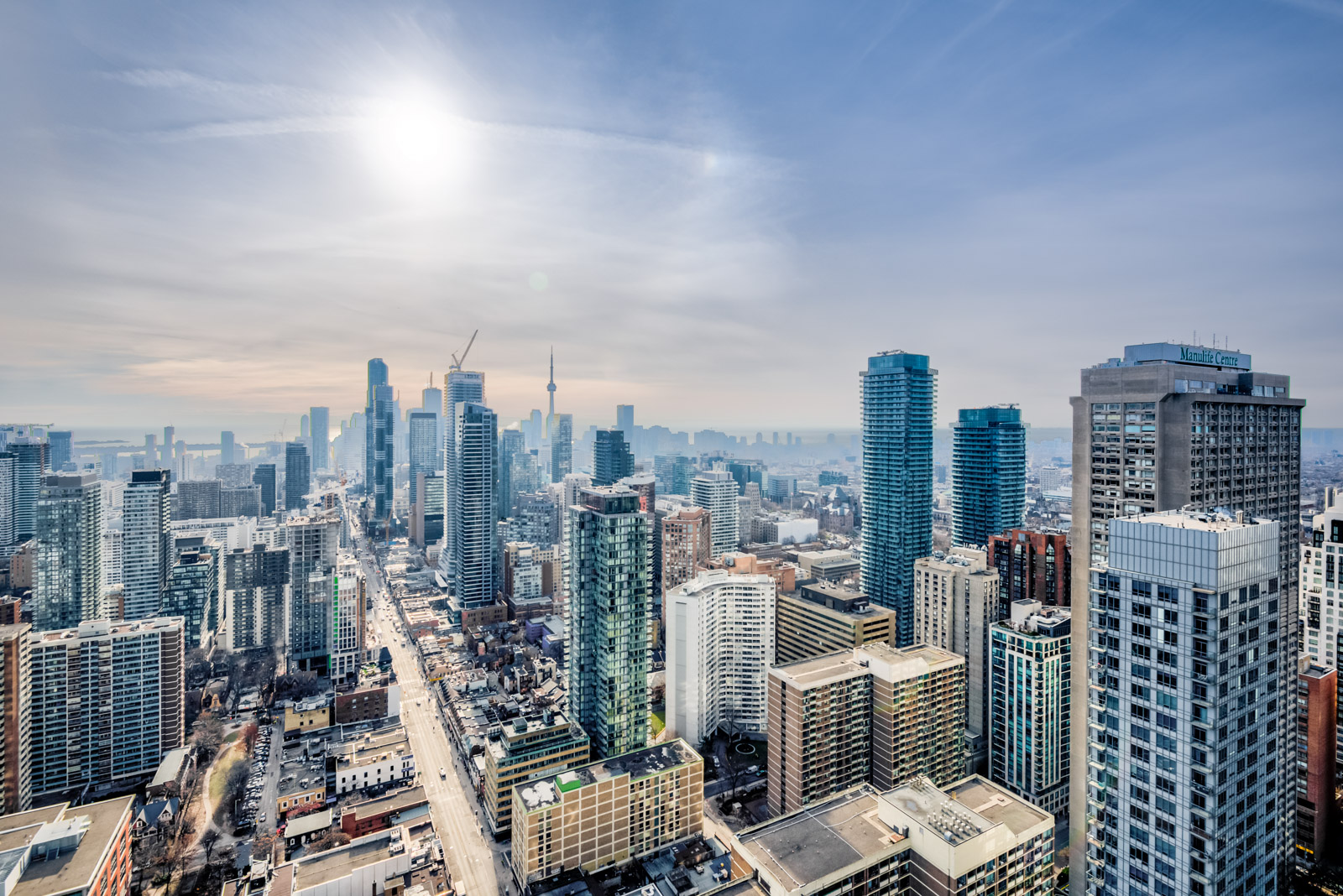 The following headlines sum up the August 2022 housing market:
Toronto Home Prices Drop 16% in Historic Five-Month Slump
Home prices and sales in August see month-over-month growth for first time since February peak
On one hand, Bloomberg reports that Toronto home prices fell 16% over 5 months, while The Star declares home prices are rising for the first time since February.
So which headline is true?
To find out, let's take a look at the August 2022 housing figures, including sales and prices, the rental and condo markets, and the impact of the latest interest rate hike.
August 2022 Housing Market Numbers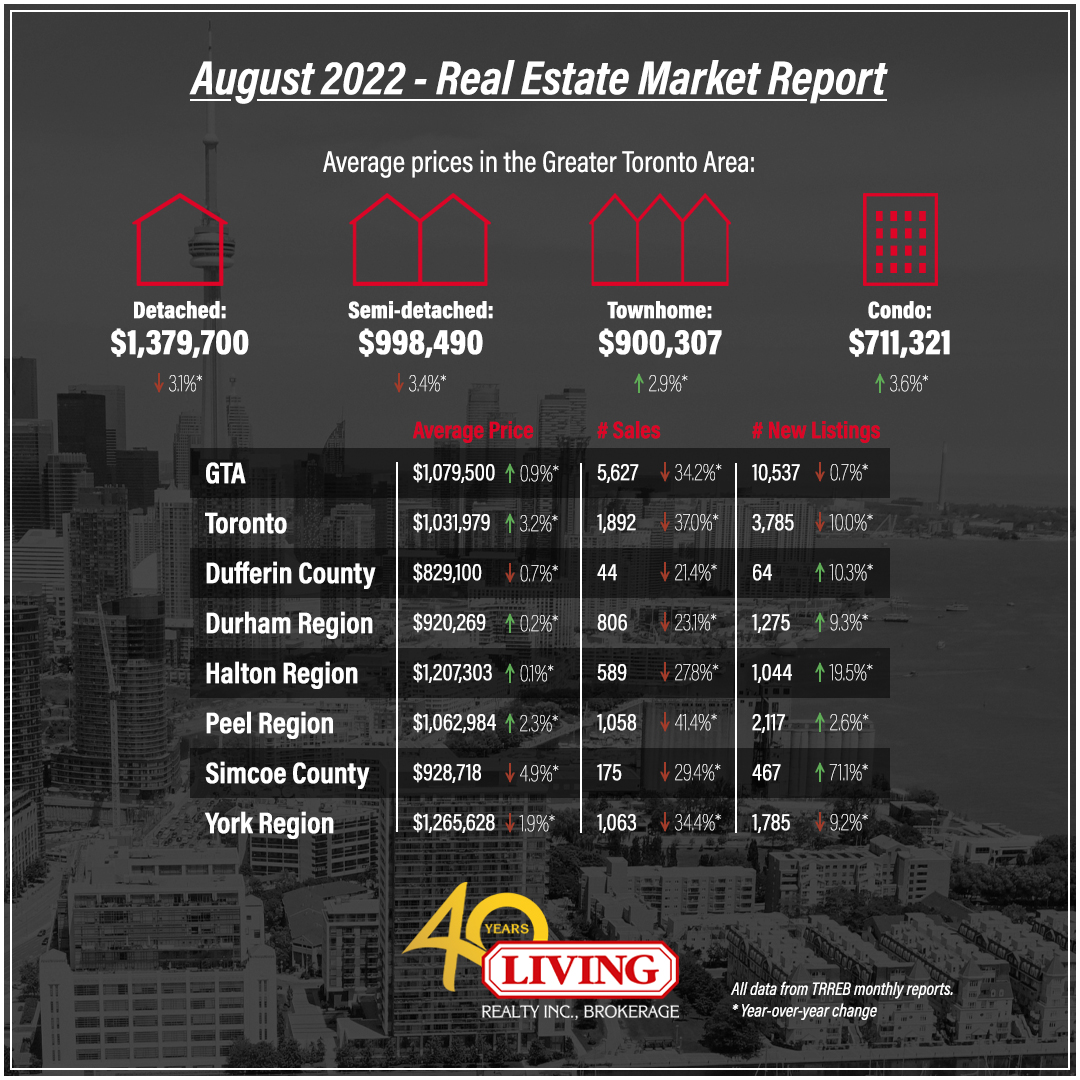 Here's how August 2022 compares to August 2021:
GTA home prices: up 0.9% to $1,079,500
Toronto home prices: up 3.2% to $1,031,979
GTA home sales: down 34.2% to 5,627
Toronto home sales: down 37.0% to 1,892
While home prices were up across Toronto and The GTA, sales were down.
If that's true, why did Bloomberg claim that Toronto home prices fell by 16%?
Because the 16% refers to the benchmark home price (i.e. the price of a typical home in an area).
Conversely, The Star was citing average home prices, which is the total dollar amount of all sold prices divided by the total number of units sold.
In other words: both headlines were true.
Although home sales plunged 34.2% year-over-year, they rose 13.6% month-over-month, and while new listings dropped 0.7%, showings and inventory edged up slightly.
What does all of this indicate?
According to The Star:
…an unexpected increase in showings and sales recently suggests home buyers are getting ready to restart the search that most of them paused in July and August.
But due to ongoing supply issues and project cancellations, they may face stiffer competition—and higher prices.
August 2022 Numbers By Property Type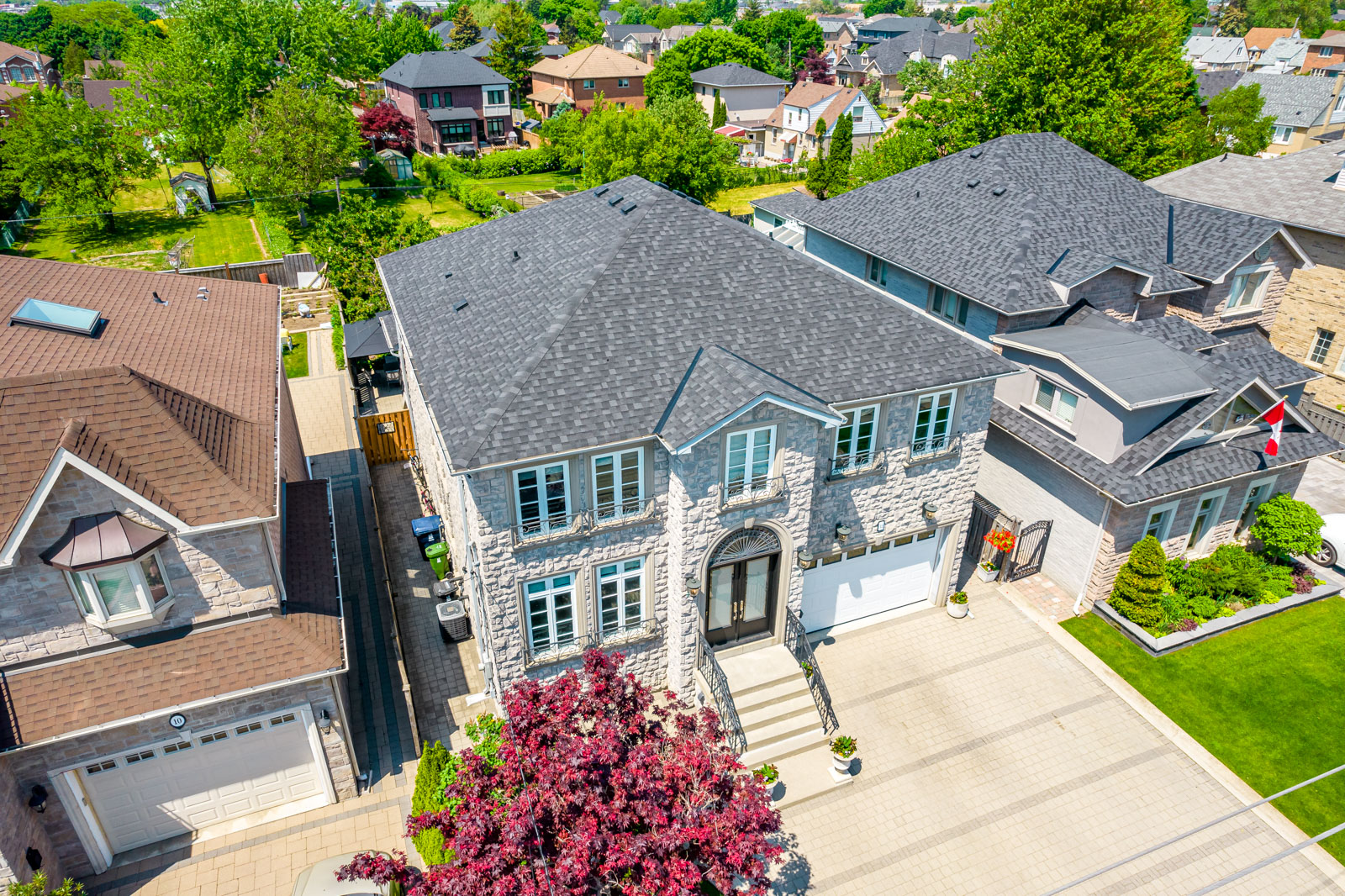 That dynamic appears to be reversing, as this year-over-year breakdown shows:
Detached home prices: down 3.1% to $1,379,700
Semi-detached home prices: down 3.4% to $998,490
Townhouse prices: up 2.9% to $900,307
Condo prices: up 3.6% to $711,321
Detached and semi-detached home prices fell year-over-year in August, while less expensive properties, such as townhouses and condos, made gains.
In fact, those looking to buy a detached home (i.e. families) are in luck.
As WOWA reveals:
The average sold price of a detached home peaked at $1,797,203 back in February 2022. This means that detached home prices in the GTA have since fallen by 23% in the past six months, a decline of over $417,000.
So detached home buyers paid $417,000 less in August compared to those in February!
Meanwhile, semi-detached homes dropped 3.4% to $998,490, falling below the $1 million mark for the first time since January 2021.
On the other hand, townhouse prices are up 2.9% year-over-year to $900,307, but down 0.4% month-over-month from July.
Finally, condos showed the strongest price growth of all property types, climbing 3.6% year-over-year to $711,321, but dipping 1.11% month-over-month.
Despite the year-over-year increase, condos still remain the most affordable option for first-time home buyers.
The Rental Market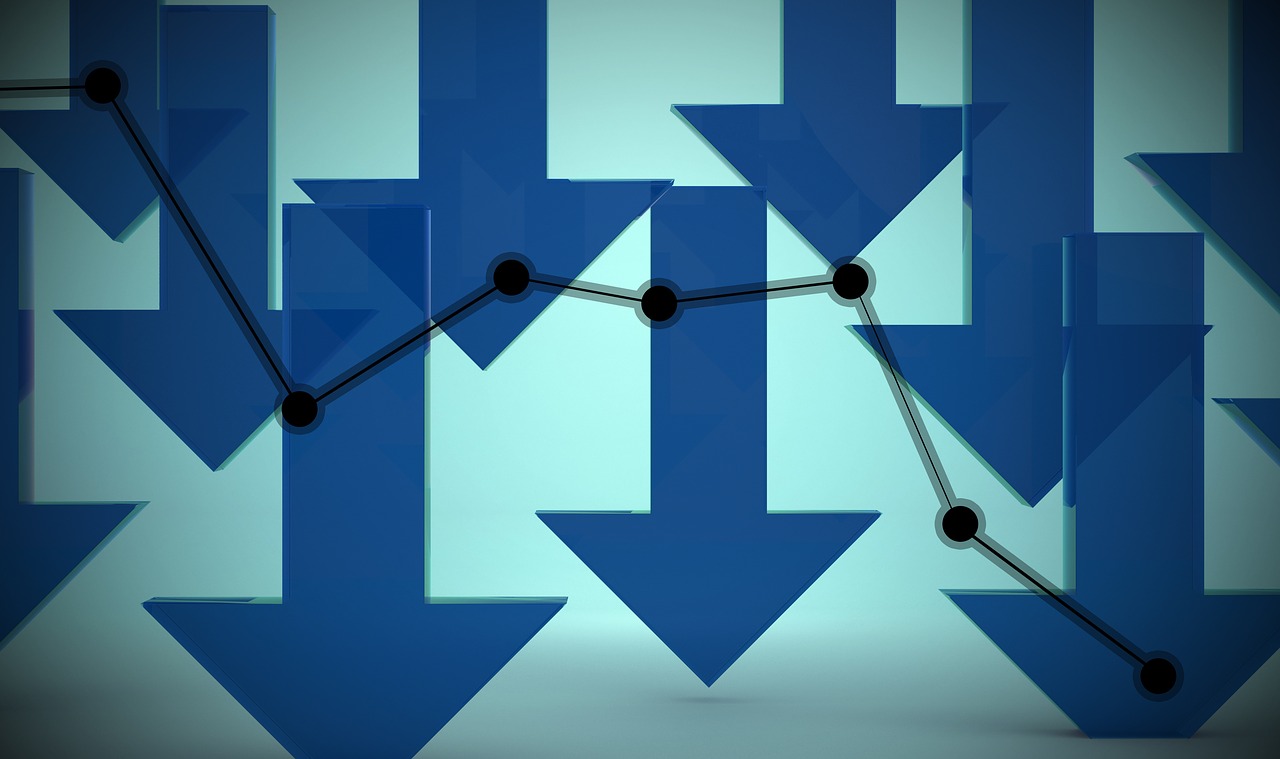 Whether month-over-month or year-after-year, the price of all property types has dropped over the last several months.
The cost of renting, however, only seems to be going up.
According to blogTO:
The monthly cost of a rental unit in the Greater Toronto Area (GTA) has been on a steady ascent since bottoming out during the pandemic, and the price to lease a unit in Canada's largest metropolitan area has now increased for six consecutive months.
As of August 2022, it costs $2,010 to rent a 1-bedroom unit in the GTA (or $24,120 per year).
In Downtown Toronto, that number shoots up to $2,375 (or $28,500 per year).
The cost of a 2-bedroom rental?
$3,035 per month, which works out to a staggering $36,420 per year!
Things are only expected to get worse.
blogTO goes on to say:
Following the rules of supply and demand, the sudden uptick in demand for rentals in the city means you can expect rental prices to continue on their upward trajectory.
The result is a shift towards short-term rentals, but as The Star points out, eventually those people will want to enter the ownership market.
The Impact Of The Latest Interest Rate Hike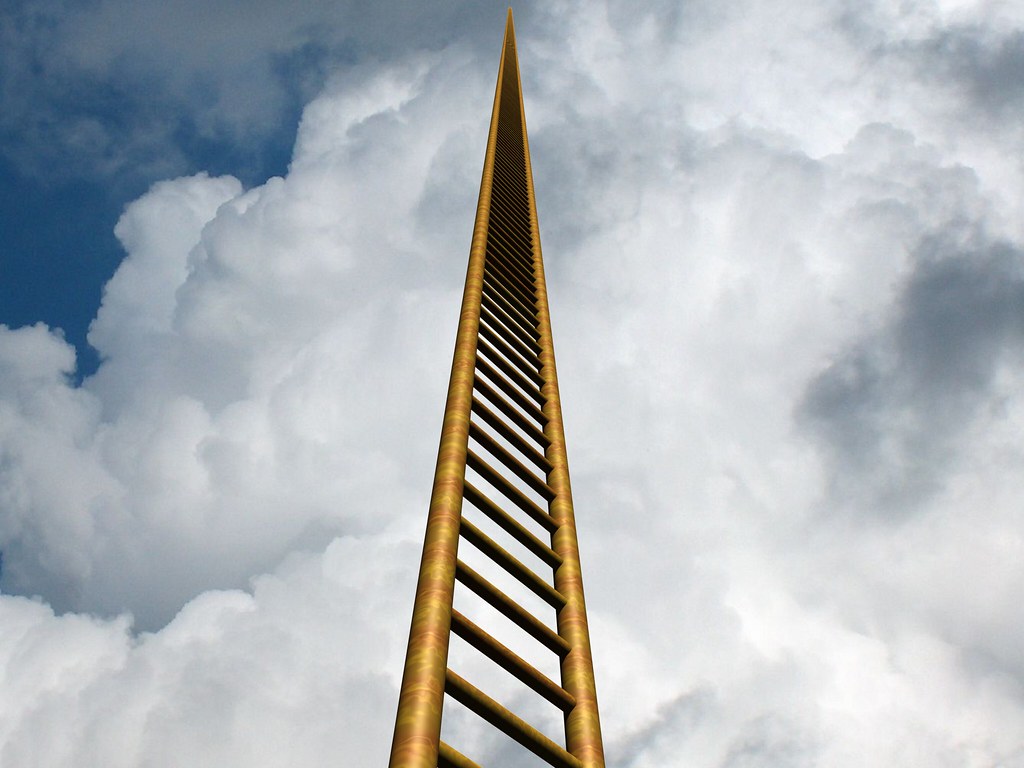 On September 7th, the Bank of Canada (BoC) raised its overnight rate by 75 basis points to 3.25%.
CBC News explains the significance of this move:
The bank's rate impacts the rates that Canadian consumers and businesses get from their banks on things like mortgages, lines of credit and savings accounts.
Higher interest rates mean higher mortgages.
As a result, home ownership becomes more expensive and may force buyers put their purchases on hold.
According to the BoC, this is already happening:
With higher mortgage rates, the housing market is pulling back as anticipated, following unsustainable growth during the pandemic.
Multiple interest rate hikes have caused home sales to plunge, prices to slow and the market to cool.
Interest rate hikes also affect your ability to qualify for a home loan and reduce your purchasing power.
In fact, for every 1% increase to interest rates the size of your mortgage decreases almost 10%.
And since interest rates have jumped from 0.25% to 3.25% in 2022, that means buyers are qualifying for 30% smaller mortgages.
Neither is the BoC done with rate hikes.
As CTV News informs:
The bank anticipates further increases to the policy rate will be needed to bring inflation lower to that two per cent target.
With 2 more rate hikes planned this year (October 26 and December 7), buyers can expect even higher mortgages the longer they wait.
Advice for Buyers & Sellers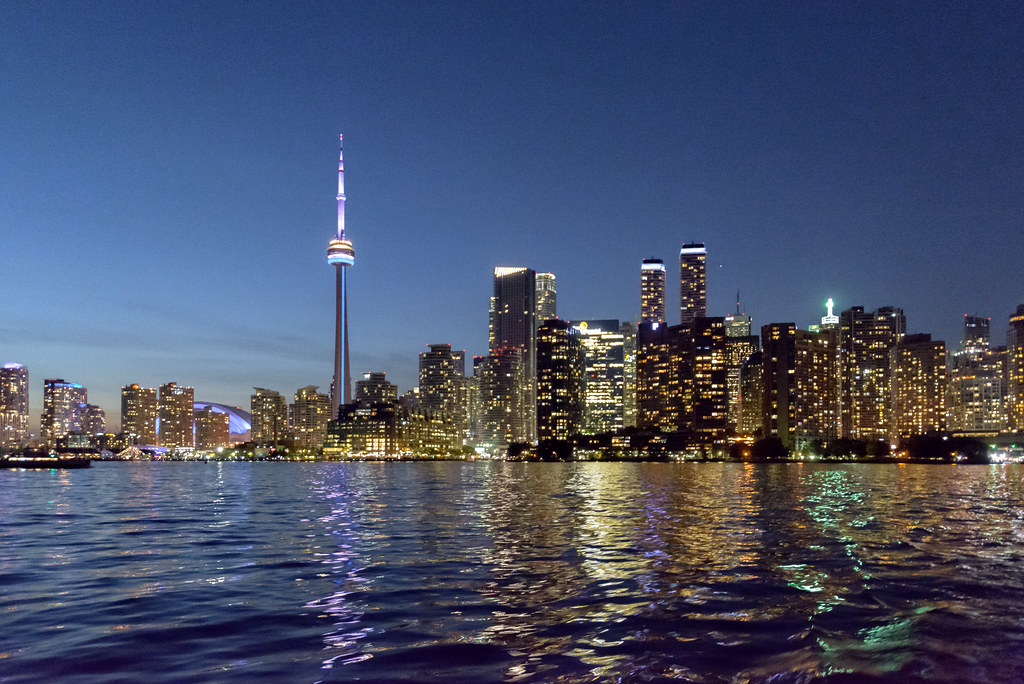 If you're considering buying a house, the time to do it would be over the next few months.
Detached homes are selling at a $417,000 discount as of August 2022, while semi-detached homes are back below a million.
If you're a first-time buyer with affordability on the mind, condos are the way to go.
At $711,321, they're almost twice as cheap as a detached house but growing in value.
Of course, you don't have to buy anything this instant.
By getting your mortgage pre-approved, you'll have up to 120 days to find your dream home.
Speaking of which, it's best to get your mortgage pre-approved as soon as possible.
That's because as interest rates rise, mortgages will only get more expensive.
While it's too late to get in before the September rate hike, you can still get ahead of the ones in October and December.
As for sellers, TD Bank predicts home prices could fall 20 to 25% in early 2023.
Throw in 2 more rate hikes, which will further cool the market, and it becomes apparent that sellers shouldn't wait to list their property.
But sellers also have plenty of reason to be optimistic.
An economist at TD offers the following forecast:
In the long term, TD remains positive on the outlook for housing because it predicts population growth should remain healthy, underpinning fundamental demand for housing.
Housing demand isn't going away any time soon, especially in Toronto and The GTA.
August 2022 Housing Market Conclusion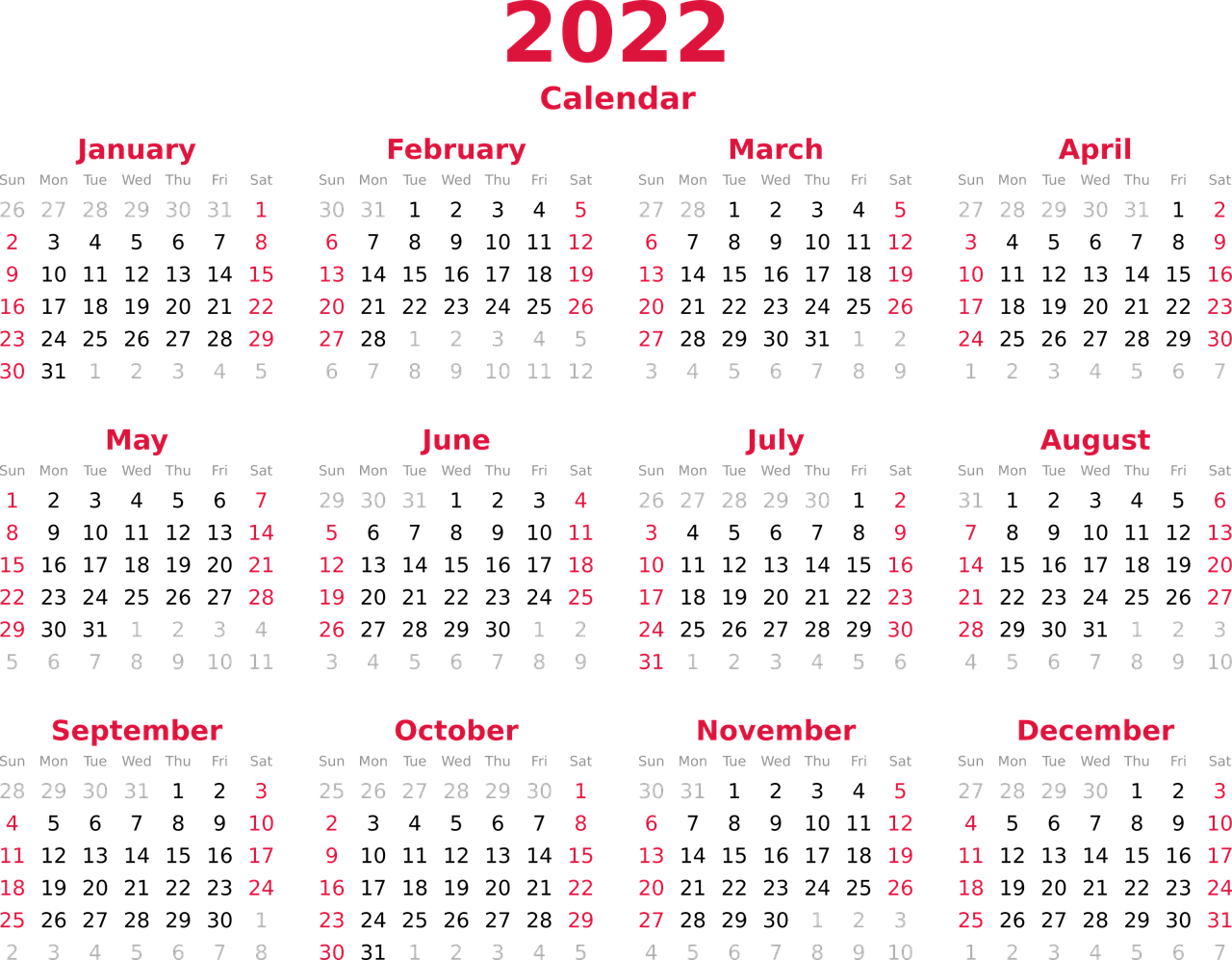 Despite average prices rising year-over-year certain properties lost value.
For example, detached and semi-detached homes experienced the biggest price drops, while less expensive properties like condos and townhouses actually made gains.
Things were more consistent in the rental market, with costs rising 6 months in a row (with no end in sight).
Although the latest interest rate hike will make mortgages more expensive, it will also serve to bring down prices, allowing new buyers to enter the market.
And if prices do fall next year, population growth is expected to keep housing demand strong.
Want to know more about the housing market? Contact me below for details.
Wins Lai
Real Estate Broker
Living Realty Inc., Brokerage
m: 416.903.7032 p: 416.975.9889
f: 416.975.0220
a: 7 Hayden Street Toronto, M4Y 2P2
w: www.winslai.com e: [email protected]
*Top Producer (Yonge and Bloor Branch) – 2017, 2018, 2019, 2020, 2021