Building Homes for less fortunate families in Costa Rica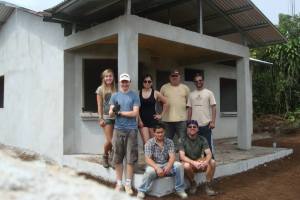 2013 was a good year. I made some money from helping people buy and sell real estate in Markham and Toronto, so I decided to treat myself to a vacation.
I thought about going to Asia, where I can shop till I drop, visit my friends and family, party all night, sleep during the day. I thought about going to a resort, where I can just binge eat, sleep on the beach, swim with the dolphins and snorkel with the fish. I thought about going to Peru, to see Machu Picchu. One of the seven wonders of the world. But then I thought to myself. What will I gain from going on these trips? I've already done all of these things before.
I was lucky that I grew up in a pretty good family. I never had to worry about shelter, food, clothing, education, and love. My family and friends were always there for me. I was also a shopaholic before, I had to make a purchase every time I walked into a mall. I had to have a new dress or outfit every time I was invited to a dinner party. Then I also thought to myself, what did I gain from doing all that? Well…it was fun, but it didn't change the world nor was it a new experience for me.
I wanted to do something different. I wanted to experience the other side of the world. I wanted to help others that are less fortunate than me. So I signed up for a volunteer program that built homes for families that didn't have homes in Costa Rica.
It was the best 2 weeks of my life and here's why. Life was simple!
It was my first time staying in a hostel and I met people from all over the world. Volunteers stayed there on the first day for training before they went to their homestay families. They all have their own stories, and it was interesting to learn from them.
My homestay family had a 4 year old child. This kid was so so simple. He didn't have the latest video game or electronic device, but he was happy. He was happy to have food on his table and safe drinking water. He was thankful to have crayons to draw with, trucks to play with. He was happy to go to school! Life was so simple!
At the job site, there were 2 workers, a boy that was 16 year old and a man that was in his late 50s. They were pretty much the project managers of the house. There were 4 other volunteers that were also helping out on the site, and we still keep in touch! I love them so much that I have to name all of them in my article. David from Calgary. Julia from Sweden. Kris and Wilf from England. We all came from different places in the world but there was only one goal. To build this house for the family in need.
It was hard work.
We woke up at 5:30am to get to the site by bus and left work at 3:00p.m. The most interesting thing is that everything was built without drawings. The project manager had everything in his mind. No sketch pad, autocad, no bluebeam, nothing. He must have done it for at least 20 years.
At the end of the work day, we would all go to our homestay family for dinner and go out to the local community meeting area to listen to concerts and walk around. Life was just so simple.
The trip really changed my life. I now don't think of working to only benefit myself. I think of working to benefit the world. I want to help make this world a better place. The feeling of helping others that are less fortunate than you just gives you a feeling of joy that is indescribable.
I encourage all my friends and friends with children to take them on this trip. It will really change your life!
Wins