Overview: a look at the October 2021 housing market, with a special focus on condos. Plus an analysis of GTA home sales, prices, inventory, and advice for buyers and sellers.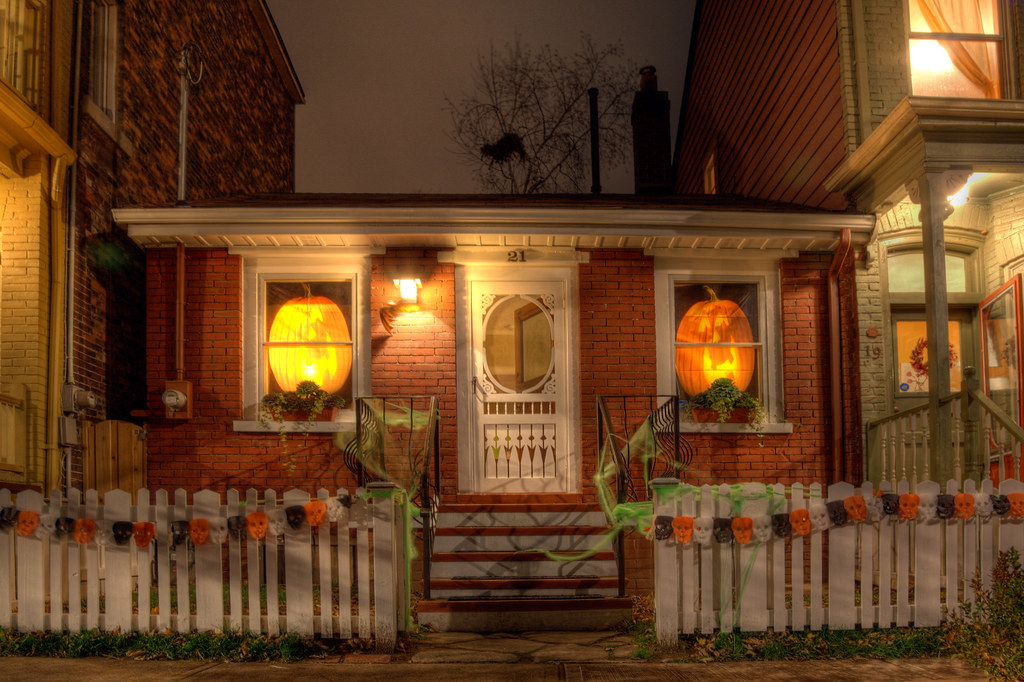 Like a zombie, Toronto home prices kept rising and rising.
It was an especially good month for condos, which posted double-digit gains in both home prices and sales.
But there were also some haunting numbers, including a drop in listings and inventory.
So let's take a look at the October 2021 housing market, the resurgence of condos, and how buyers and sellers can take advantage of current conditions.
Housing Market Numbers For October 2021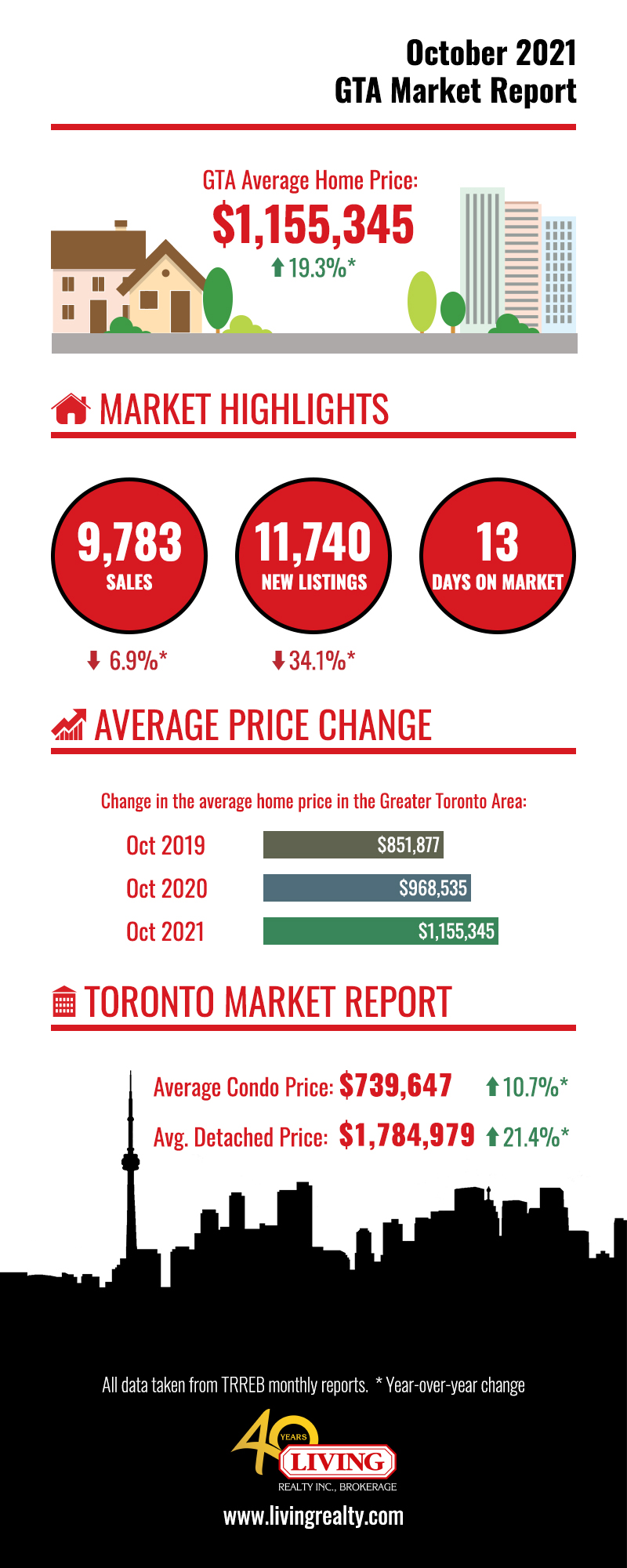 Here's how October 2021 compares to the same time last year:
GTA home prices: up 19.3% to $1,155,345

GTA home sales: down 6.9% to 9,783

New listings: down 34.1% to 10,609

Toronto condo prices: up 10.7% to $739,647

Toronto condo sales: up 33.7% to 1,913
The numbers reveal that prices were up but sales and listings were down significantly.
As BNN Bloomberg reports:
The average price of a home in the Greater Toronto Area (GTA) housing market climbed to an all-time high last month as competition among buyers continued to heat up.
The reason for so much competition?
Global News has the answer:
Prospective homebuyers in the Greater Toronto Area found dramatically fewer homes on the market last month than they did a year ago, pushing sales down and prices up.
In other words: the supply just wasn't there, causing home prices to soar.
The latest figures also highlight the housing market's biggest problem: lack of inventory.
According to the Toronto Regional Real Estate Board (TRREB):
The only sustainable way to address housing affordability in the GTA is to deal with the persistent mismatch between demand and supply. Demand isn't going away. And that's why all three levels of government need to focus on supply.
Until the gap between supply and demand is filled, home prices will continue to climb.
Hopefully, the federal government follows through on its election promise of building more homes, such as the $4 billion Housing Accelerator Plan.
October 2021 & The Condo Market Comeback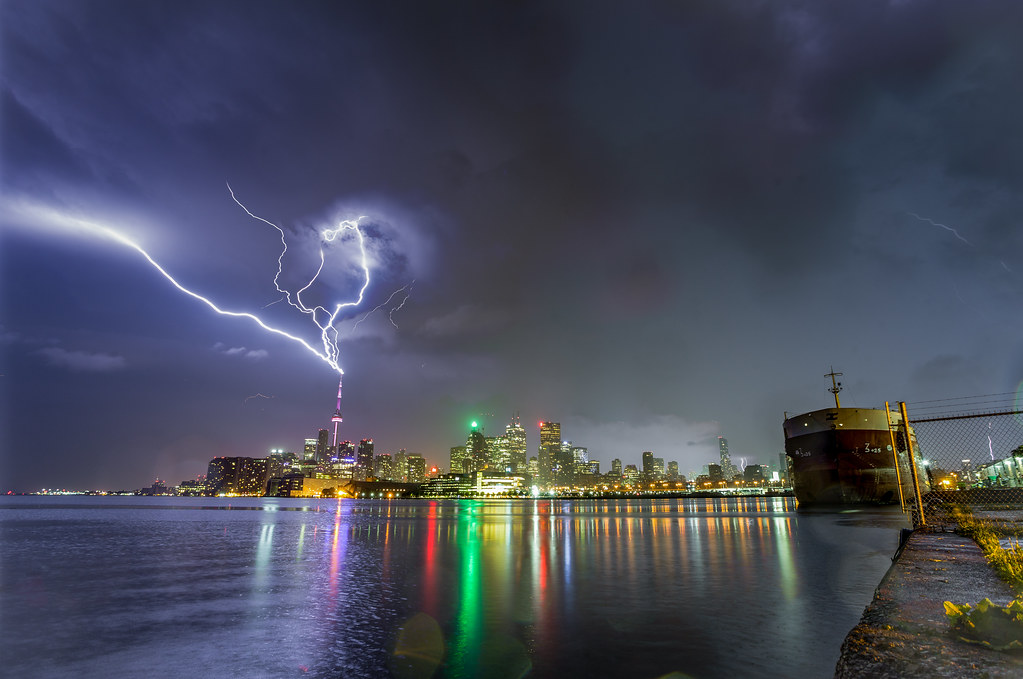 Here's a look at the GTA's October sales figures by property type:
Detached home sales: down 18.3%

Semi-detached home sales: down 17.1%

Townhouse sales: down 11.1%

Condo sales: up 28.9%
The Star sums it up nicely.
While sales in detached, semi-detached and town homes saw double-digit declines of between 11 and 18 per cent, condo sales soared nearly 34 per cent in Toronto and 20.5 per cent in the surrounding municipalities.
The silver lining here is that while condo sales have skyrocketed, condo prices have not.
For example: detached, semi-detached and townhouse prices rose 27.7%, 24.1% and 27.9% respectively across the GTA.
On the other hand, condo prices only grew 13%.
Why did condos have such strong sales but such weak price increases?
According to Better Dwelling, "The answer is inventory."
Simply put: there's way more condos on the market than single-family homes, meaning less competition and lower prices.
The Advantages of Condo Living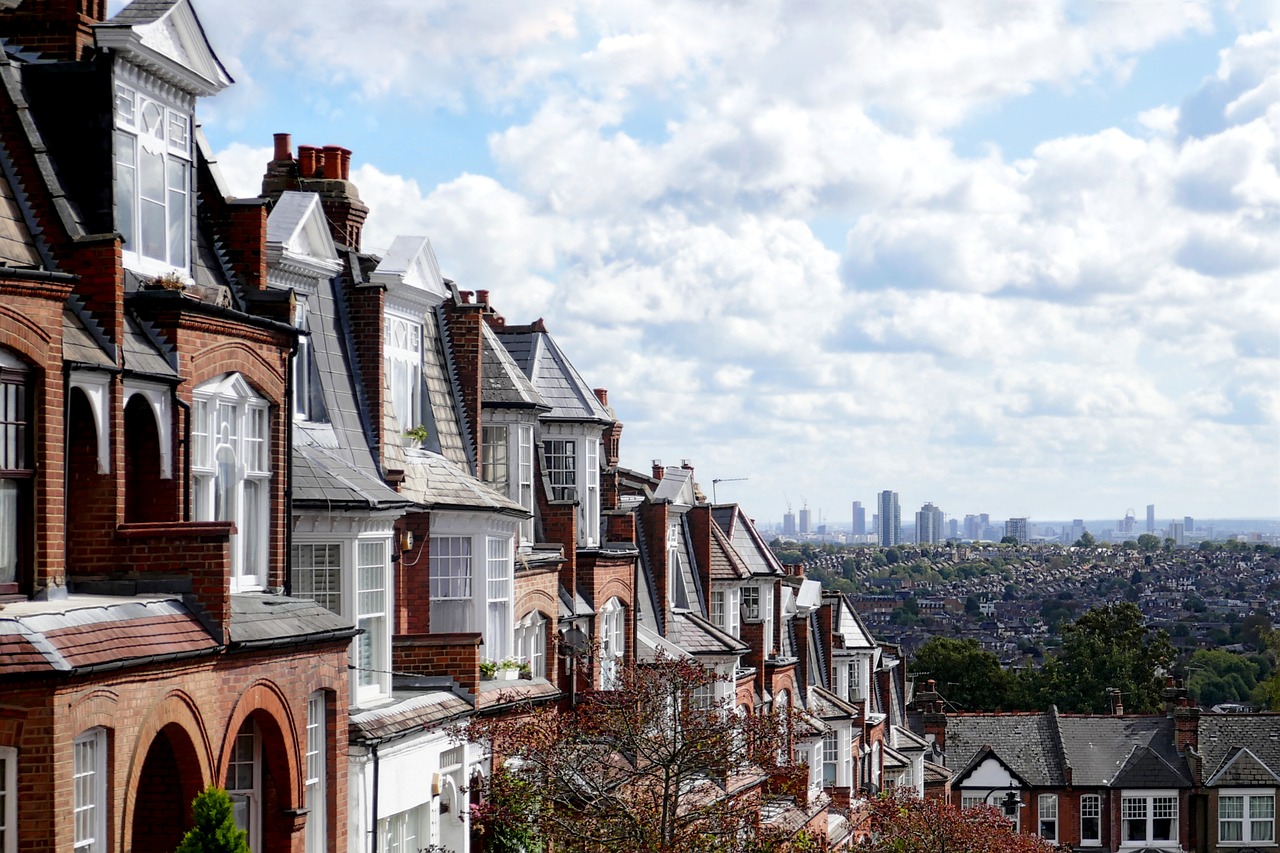 But you don't need to move to the suburbs for greater living space: you can find it right here in Toronto.
Take 388 Yonge St PH 7907, also known as Aura Condos—Canada's tallest residential building.
The penthouse was recently featured as condo of the week by TRNTO.
What makes it so special?
At a whopping 3,013 sq. ft., the 3-bedroom, 3-bath penthouse is almost twice the size of the average detached home!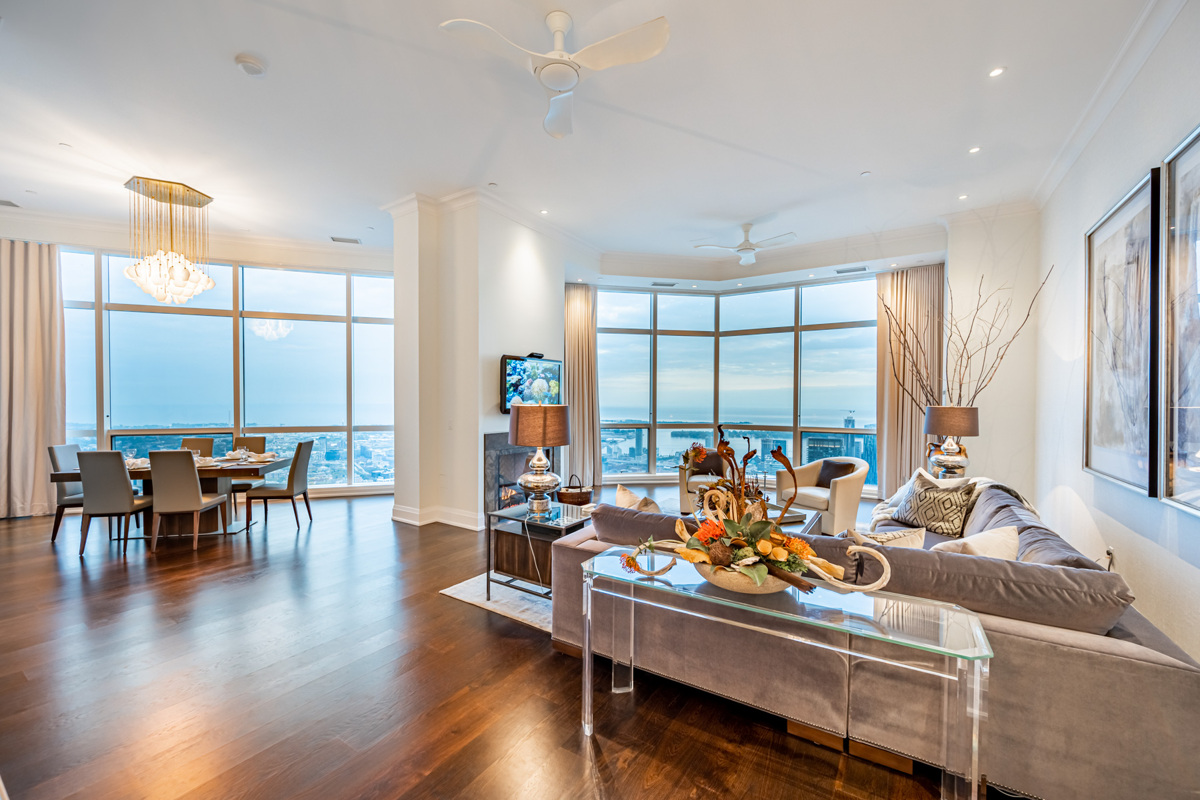 Houses are also known for their quality build and finishes.
PH 7907 is no different.
The penthouse has over $300,000 worth of upgrades and flaunts hardwood floors, marble finishes, designer wallpaper, motorized blinds, dual fireplaces, ceiling fans, and so much more!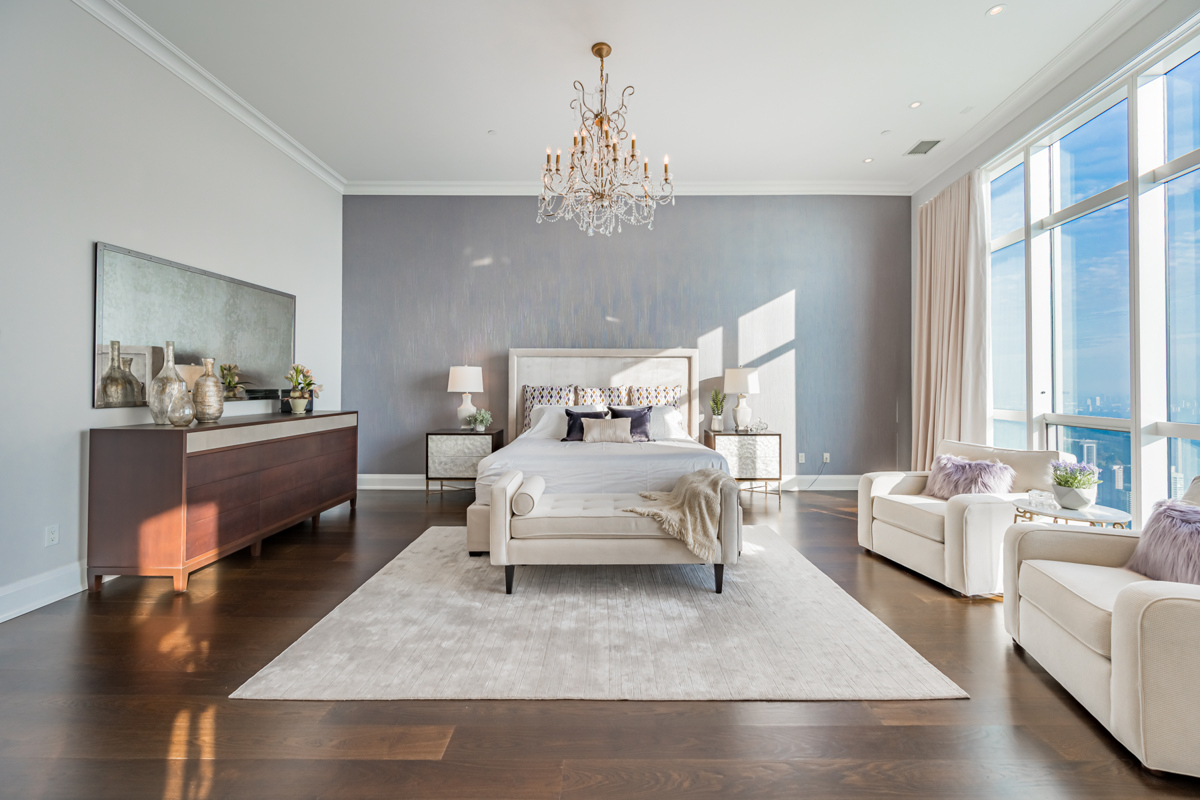 PH 7907 also has something most houses don't: amenities.
Aura's perks include a 40,000 sq. ft. gym, an indoor pool and sauna, multiple party rooms, a conference centre, and a 3-storey podium with over 150,000 sq. ft. of retail space!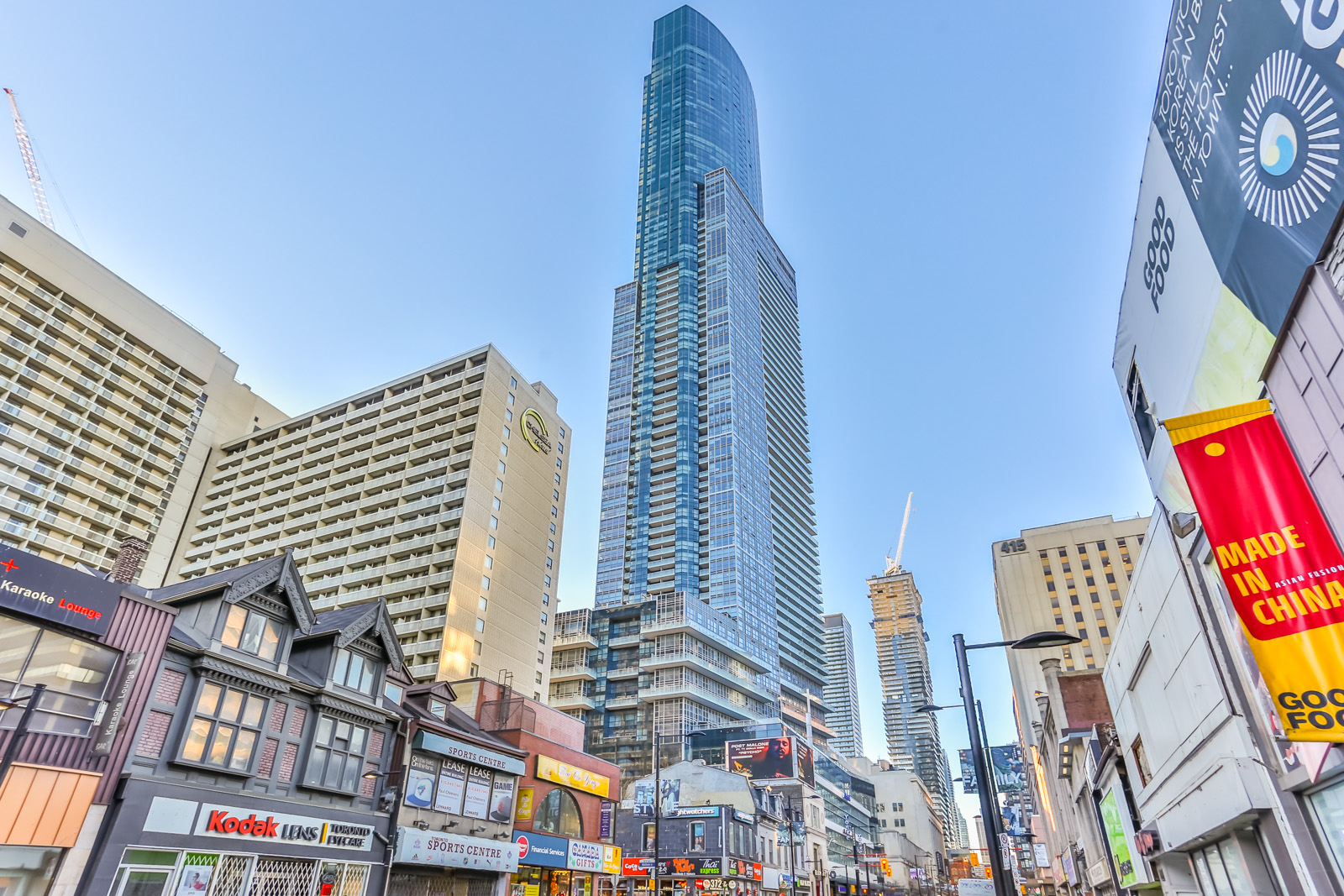 Another advantage of living at Aura is its downtown location.
A report from the CBRE ranks Toronto as the #1 city in North America for high-tech job growth.
So living in a city like Toronto provides job opportunities that the suburbs simply can't match.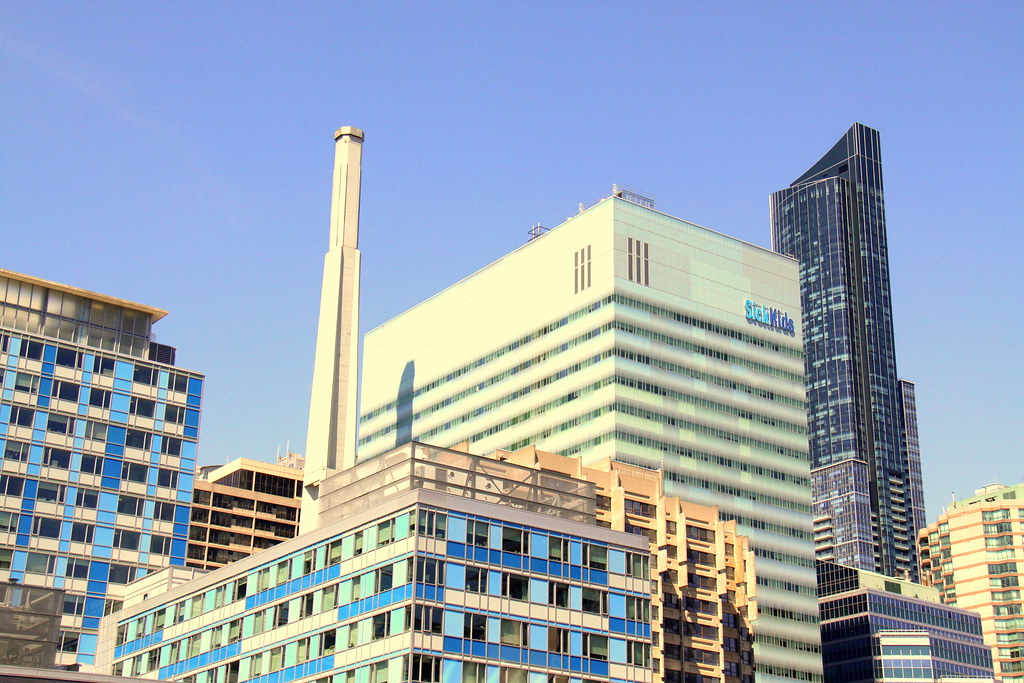 Advice for Buyers and Sellers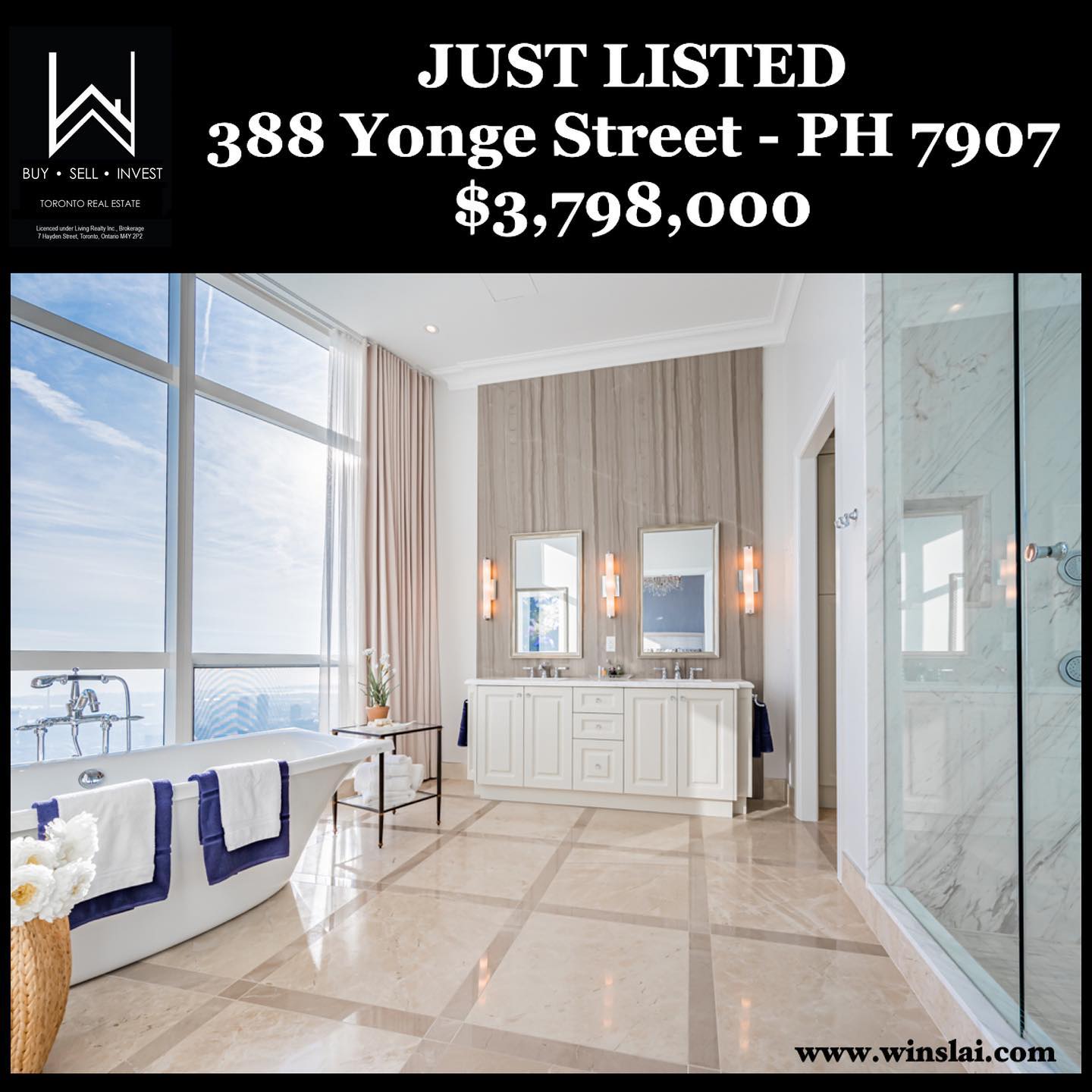 The holiday season offers a unique opportunity to buyers.
As Global News informs:
[People] will put off home sales and purchases as the December holidays near and…turn their focus back to Christmas…so it's a good opportunity for buyers to buy…
While others are focused on buying Christmas presents, you can take advantage of the reduced competition to find your dream home!
And if you're a first-time homebuyer, condos are the most affordable option.
blogTO reveals:
There is very little new single-family product making it to the market, which is driving prices to new records. In contrast, there are significant levels of new condominium apartment product being launched…
So competition and prices for low-rise homes is incredibly fierce due to limited supply.
Conversely, a condo boom is adding significant inventory to the market, causing prices to rise more moderately.
There's also never been a better time to sell than now.
New listings are down 5 months in a row, which according to TRREB has led to:
…more competition between people who wanted to purchase a home and that has sustained very strong price growth.
Limited inventory and greater competition have fueled "very strong price growth," which is great news for sellers.
TRREB goes on to say:
Whereas the lowrise segments of the market were already tightening up…the condo segment really started tightening this year, so now you have a scenario where every market segment is once again very much in a seller's market situation…
Detached, semi-detached, townhouse or condo, a seller's market means you stand to maximize your profits!
October 2021 Housing Market Conclusion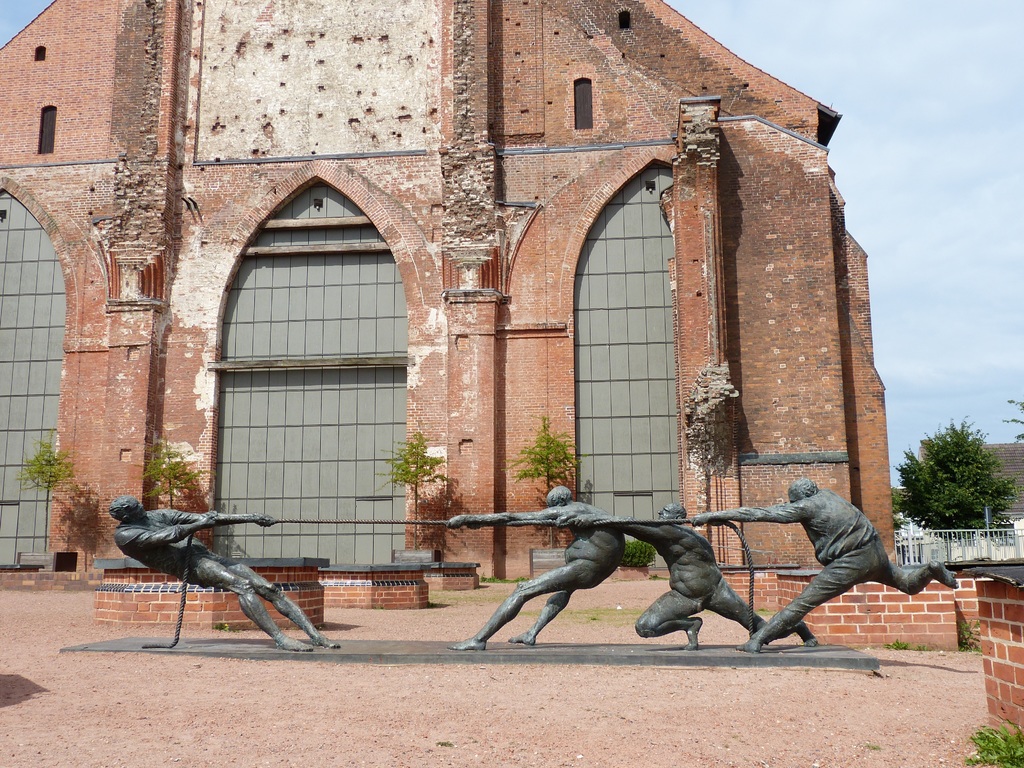 A lack of listings pushed up prices for all property types.
While low-rise home prices jumped over 20% across the GTA, condos only climbed 13%, making them the most affordable option for first-time buyers.
On the other hand, penthouses like 388 Yonge St PH 7907 are for those who want the very best in luxury living.
The 3-bedroom, 3-bath condo is spacious, gorgeous, loaded with amenities, and has an unbeatable Bay St Corridor location.
To learn more about 388 Yonge St PH 7907, check out this blog post.
To learn more about the October 2021 housing market, contact me below.
Wins Lai
Real Estate Broker
Living Realty Inc., Brokerage
m: 416.903.7032 p: 416.975.9889
f: 416.975.0220
a: 7 Hayden Street Toronto, M4Y 2P2
w: www.winslai.com e: [email protected]
*Top Producer (Yonge and Bloor Branch) – 2017, 2018, 2019, 2020