Overview: a look at Quayside, a revolutionary new condo development in Toronto's East End, and its commitment to sustainable design, affordable housing and more.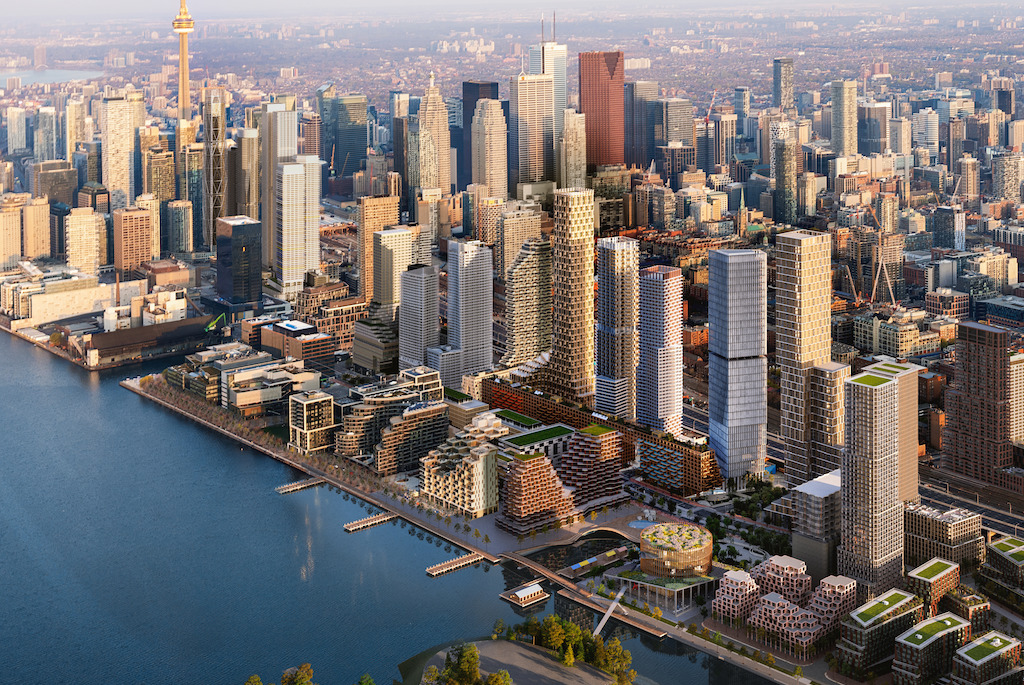 Almost 2 years after Google's Sidewalk Labs project was cancelled, a new development is being planned for the Toronto Waterfront: Quayside.
While Google's project is no longer moving forward, many of the core values remain the same.
Both developments focus on sustainability, community and technology, but with one key difference: affordability.
So when will Quayside be ready? What kinds of technologies will it use? And how will it transform Toronto's East End?
Let's find out…
Quayside: Project Details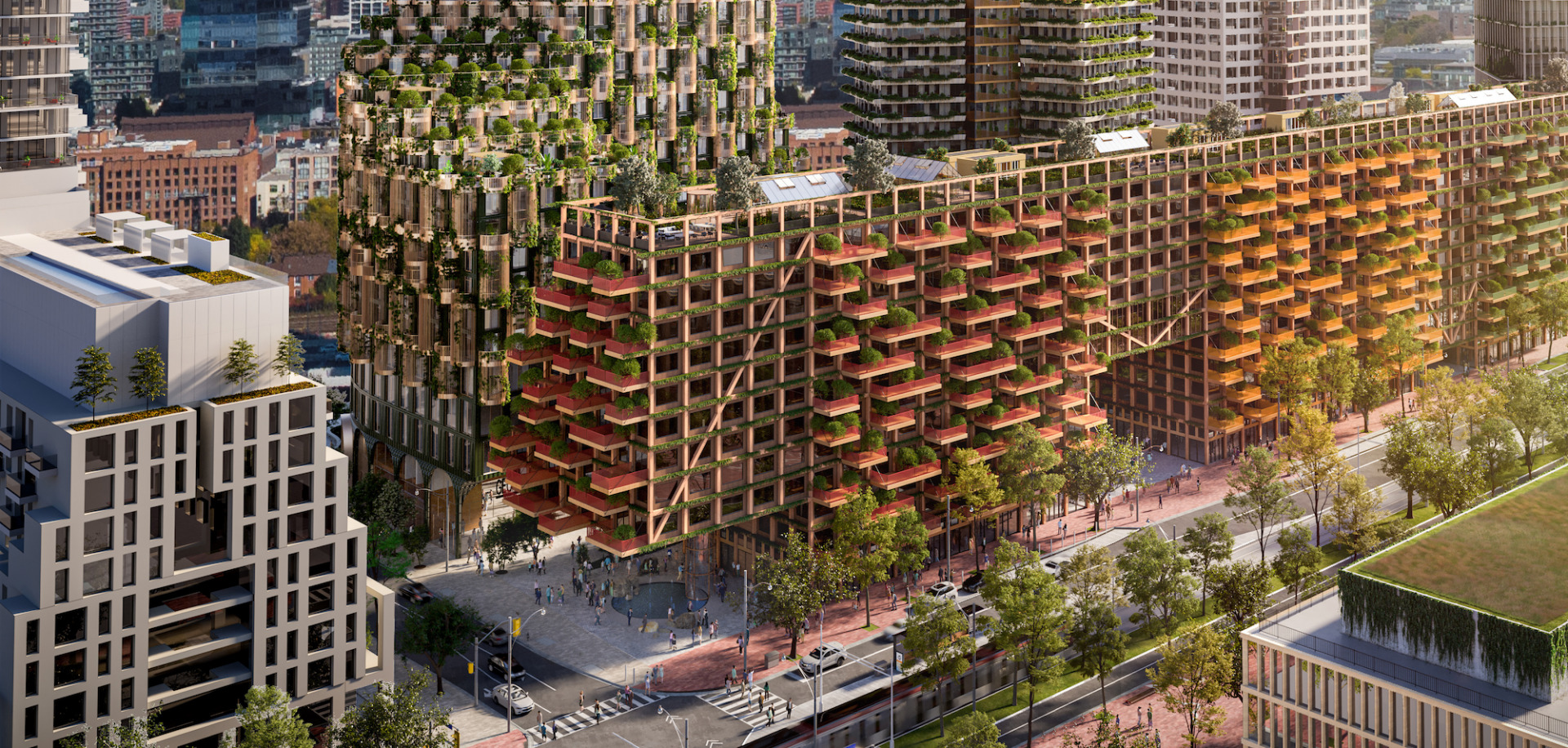 What: Quayside is a mixed-use community consisting of housing, retail, recreation, arts and more.
Where: Quayside is located on Parliament St and Lake Shore Blvd E, 1.5 km from the downtown core.
Who: the project is a joint venture between Waterfront Toronto, Great Gulf and Dream Unlimited.
When: construction starts in 2025 and is expected to finish by 2030.
Goal: to create a vibrant and sustainable community that serves people of all ages, backgrounds, abilities and incomes.
Highlights
Over 800 affordable housing units

Local and minority-owned businesses

Canada's first all-electric and zero-carbon community

A 2-acre forested green space and large urban farm

A multi-purpose venue with space for performing arts, Indigenous culture and education
Design & Architecture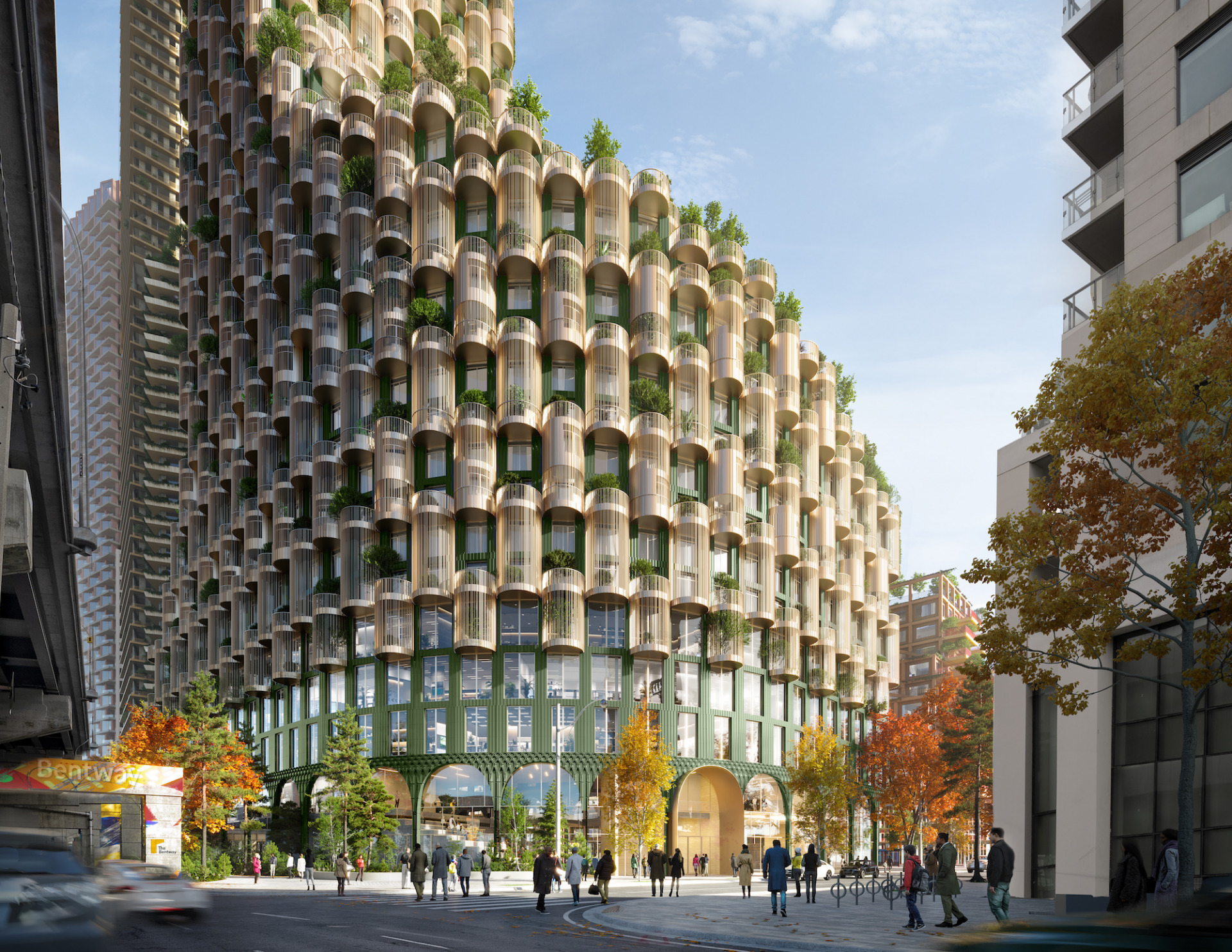 The project consists of 4,300 units spread over 5 high-rise towers and a smaller 12-storey building.
According to Daily Hive:
Renderings reveal that these towers would stand out from the typical Toronto landscape by utilizing interesting building shapes and a pleasantly overwhelming amount of greenery.
Quayside is headed by some of the world's top architects, including the UK's Alison Brooks and David Adjaye, and Denmark's Henning Larsen and SLA.
Their goal?
To create "visionary world-class architecture" in Toronto's East End with the Waterfront as its centrepiece.
To achieve this vision, the buildings will feature fantastic designs and state-of-the-art materials.
For example, the 12-storey Timber House promises to be one of Canada's largest mass timber buildings.
The structures will also be covered in rich foliage.
Azure Magazine describes this radical mix of nature and architecture thus:
Striking forms and elaborate facades trail with greenery. A long midrise block, built entirely of wood, terraces down to a lush "community forest" filled with people no matter the season.
It goes on to say that Quayside is "unlike any other development in Toronto."
Affordable Housing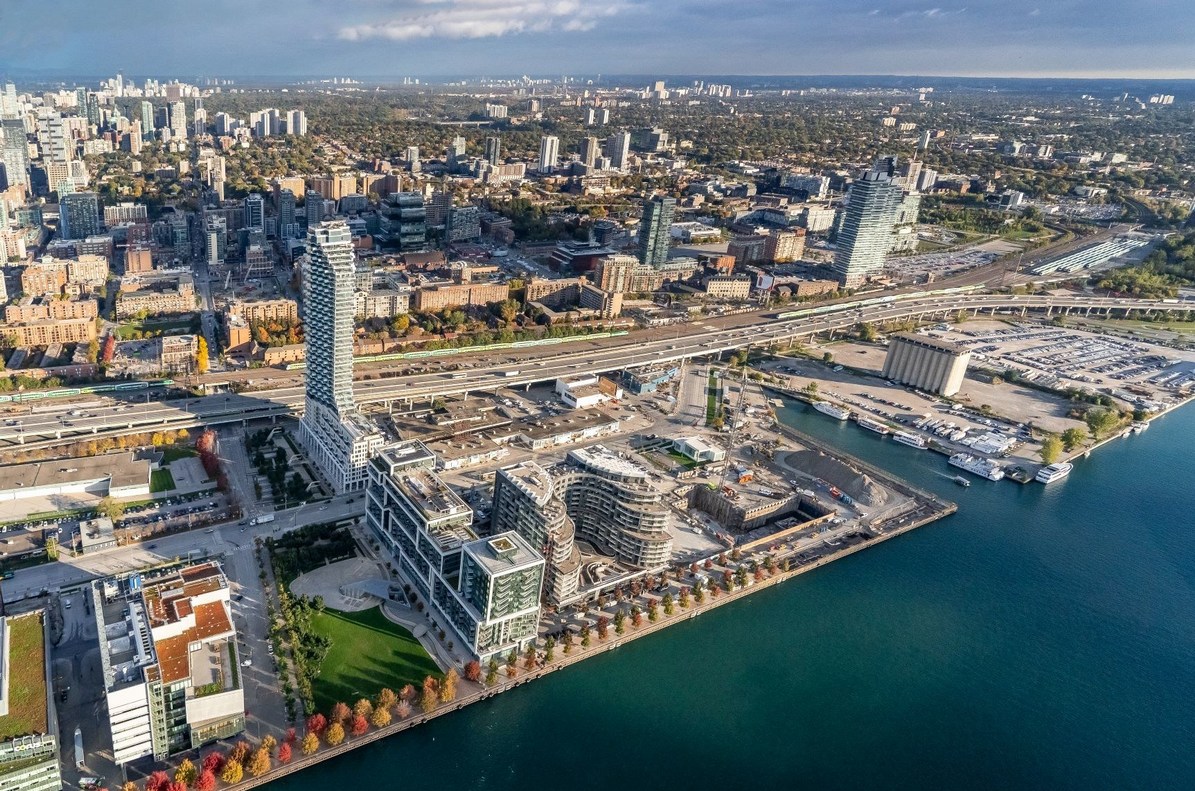 As blogTO reports:
Plenty of factors led to the winning bid's selection, most notably the inclusion of over 800 affordable housing units, more than doubling the amount Waterfront Toronto has already brought to the city.
In fact, Quayside will fast-track affordable housing to address the city's critical supply shortage.
Altogether, 25-30% of units are earmarked for affordable housing, while the rest are priced at market value.
Special consideration will also be given to senior citizens so they can age in place.
However, some may worry that affordable housing won't always remain affordable.
For instance, what if landlords eventually decide to hike rents?
Quayside addresses this problem explicitly.
…the affordable units will be owned by the city of Toronto and remain affordable in perpetuity, and the units will be incorporated in all the buildings.
In other words: the affordable units will remain affordable forever.
Sustainability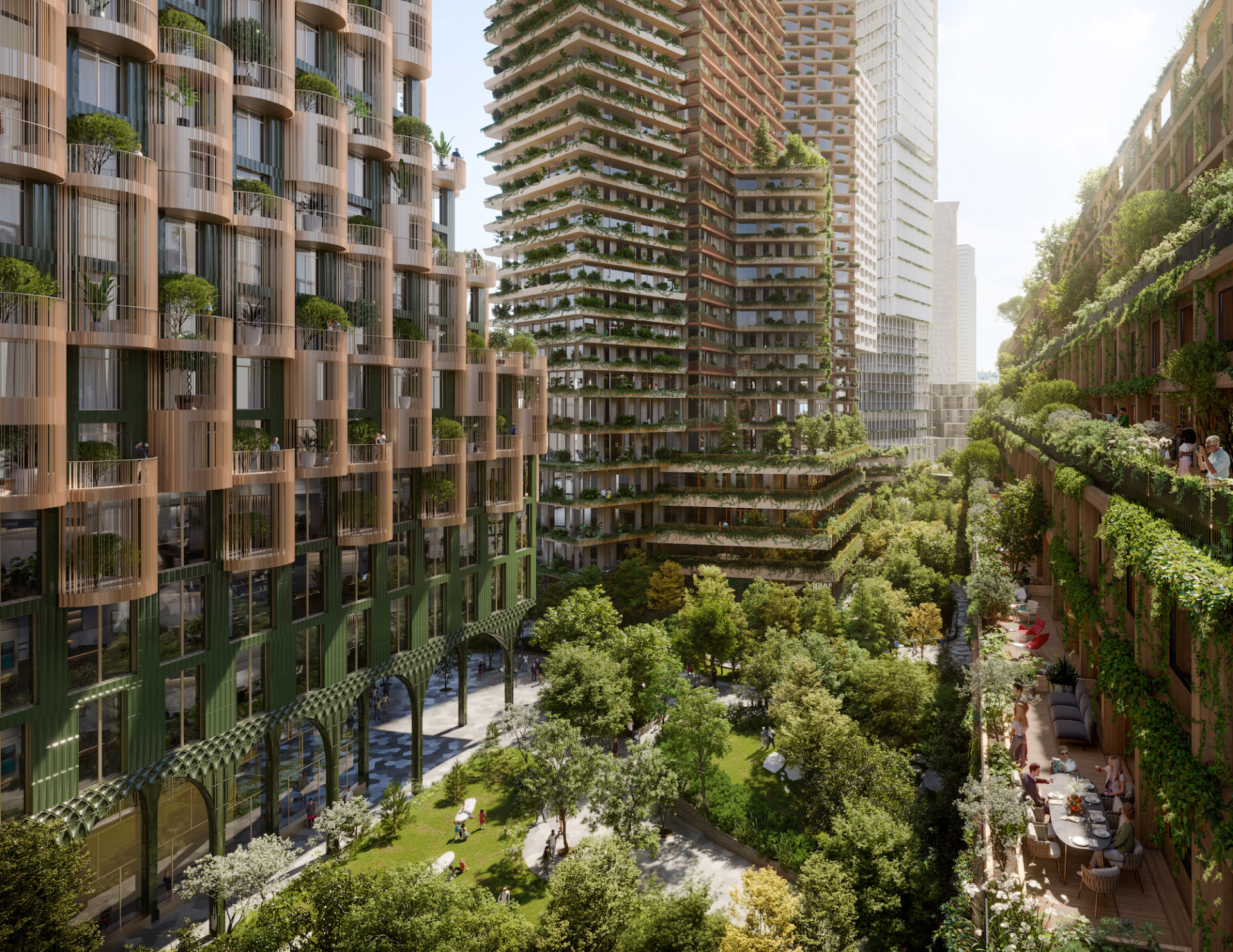 Sustainability is one of the most important principles behind Quayside.
According to Archinect.com:
All construction will have to meet or exceed the requirements of Waterfront Toronto's pathbreaking Green Building Standards.
That includes being able to handle extreme weather events due to climate change.
But Quayside doesn't stop there—it takes sustainability to another level.
As blogTO explains:
A wide range of outdoor spaces will be created, including a stunning two-acre forested green and an urban farm built atop what will be one of the country's largest residential mass timber buildings.
Besides the 2-acre forest and urban farm, Quayside will have community gardens and greenhouses.
It also aims to be Canada's first all-electric, zero-carbon community on a massive scale.
In order to achieve this goal, Quayside will use sustainably sourced building materials as well as geothermal heating and cooling.
Arts & Leisure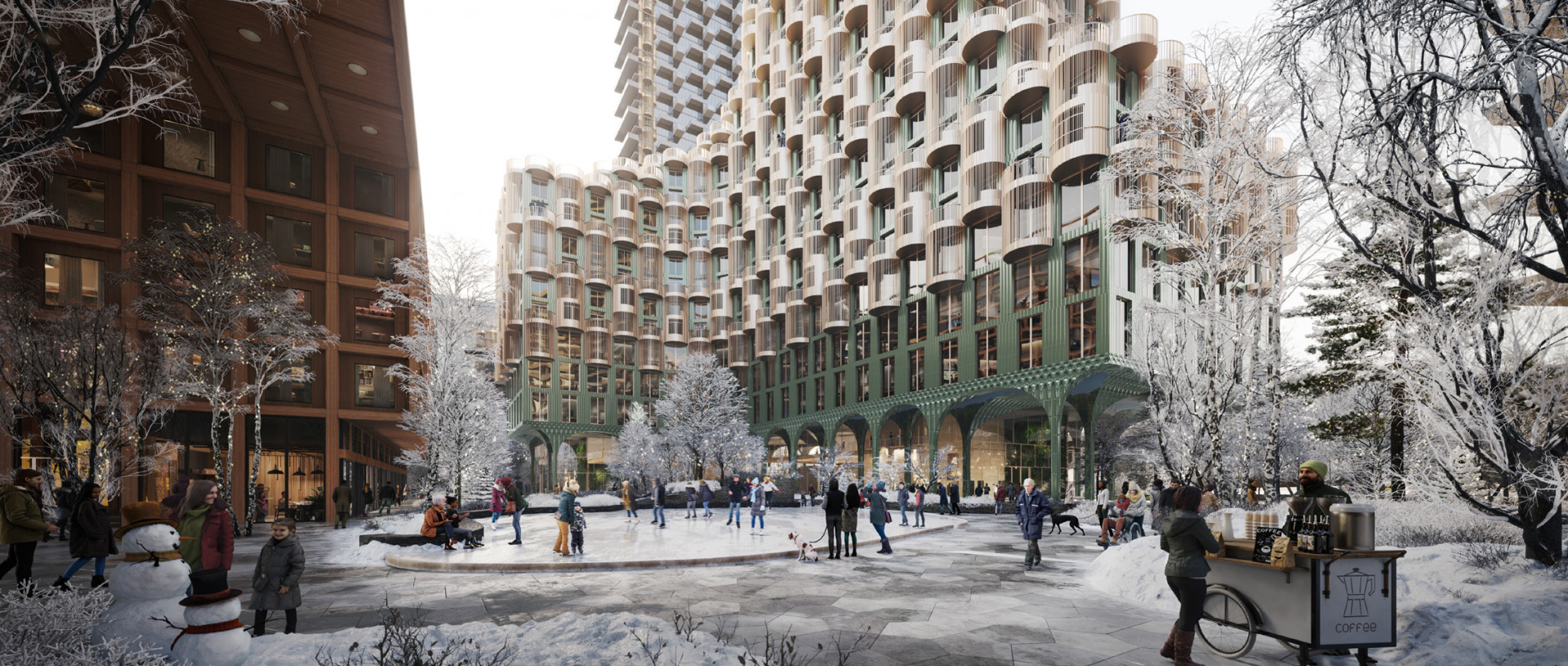 According to Urban Toronto:
A landmark cultural destination and multi-use arts venue will be part of the development, and will bring together space for the performing arts, Indigenous-centred cultural celebrations and flexible education spaces.
There's also a community hub with a wide range of programs and services for people of all ages.
And thanks to nearby Parliament Slip, Quayside residents will have access to countless amenities.
In the words of Waterfront Toronto:
Parliament Slip has potential to become a world class public destination for all-season recreation, entertainment, and dining—and a strong point of connection between the city and Lake Ontario.
Activities and entertainment on Parliament Slip include:
Kayaking and boating

Multiple swimming pools and ice skating rinks

A floating restaurant and dock with concession stands

Musical and artistic performances at a lake-side amphitheatre

A marine node with water taxis and shuttles
Quayside Conclusion
Arch Daily says it best:
Importantly, Quayside also aims to address the barriers of wealth, class, and race that have traditionally restricted access to the waterfront…
For example, the community will assist local businesses, provide local employment and help seniors retire in place.
20% of its jobs will also go to equity-deserving groups.
Toronto city councillor Joe Cressy, who represents the riding where Quayside is being built, shares his vision for the project:
Since day one, our objective with Quayside has been to create a new model for building a 21st-century neighbourhood — one that is truly liveable, affordable, and sustainable…
If that's not revolutionary, what is?
Want to know more about Quayside? Contact me below for details.
Wins Lai
Real Estate Broker
Living Realty Inc., Brokerage
m: 416.903.7032 p: 416.975.9889
f: 416.975.0220
a: 7 Hayden Street Toronto, M4Y 2P2
w: www.winslai.com e: [email protected]
*Top Producer (Yonge and Bloor Branch) – 2017, 2018, 2019, 2020, 2021