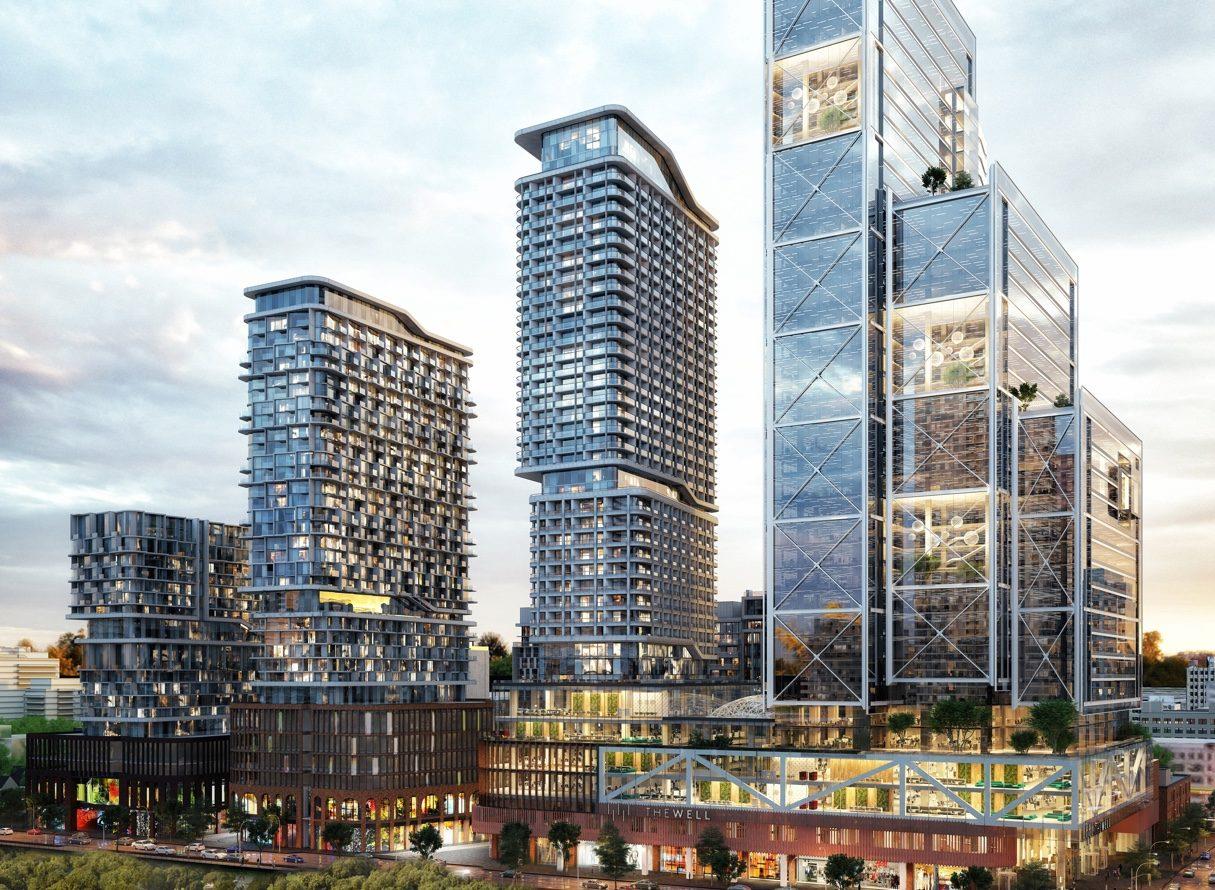 The Well Condos – Building Details
Status: Preconstruction
Builder: Tridel , Rhapsody Property Management Services , RioCan , Diamondcorp and Allied Properties
Address: 444 Front Street West, Toronto, M5V2S9
Neighbourhood: The Fashion District
Agent: Wins Lai, Living Realty Inc., Brokerage
Price: TBA
About This Project: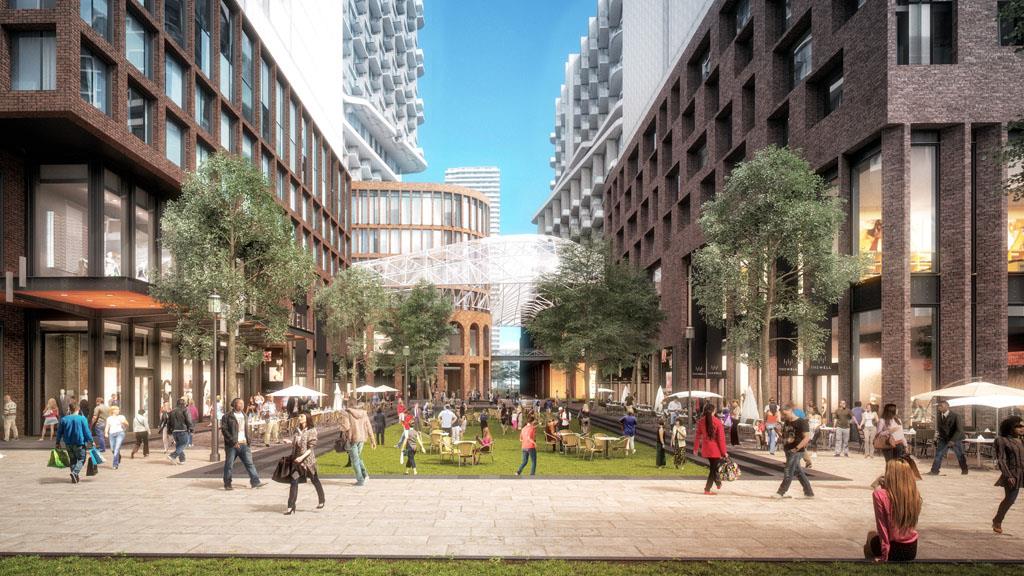 The Well Condos is an exciting mixed-use development project that will be located at the intersection of Front and Spadina.
Still in preconstruction, The Well has many qualities which make it unique. First, the project will consist of not one but seven different towers.
In addition to 1.43 million square feet of residential space (including both condos and rental suites), The Well also holds over 500,000 square feet of retail space, and 1 million square feet of commercial office space.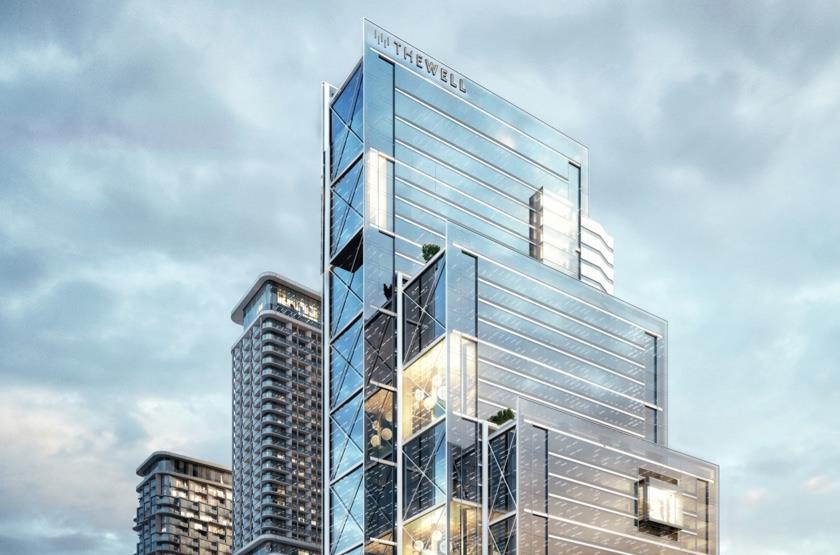 Six of the towers offer a mix of living and shopping, while the 7th and tallest will serve as a 36-storey office building.
Think of The Well as less of a condo project and more of a community. A place to live, eat, work, shop, and be endlessly entertained, all in the most beautiful and exciting part of Toronto.

Amenities
Since the project is still in preconstruction, a full list of amenities is not yet available. However, here's what we know so far:
Lower Level
The Market Hall boasts 89 food stalls where you can buy fresh local produce, seafood, cheese, and wine
It also features upscale cookware shops, a bar, and even classes in fine cooking
Furthermore, there are plans for nearly a dozen retail shops of up to 25,000 square feet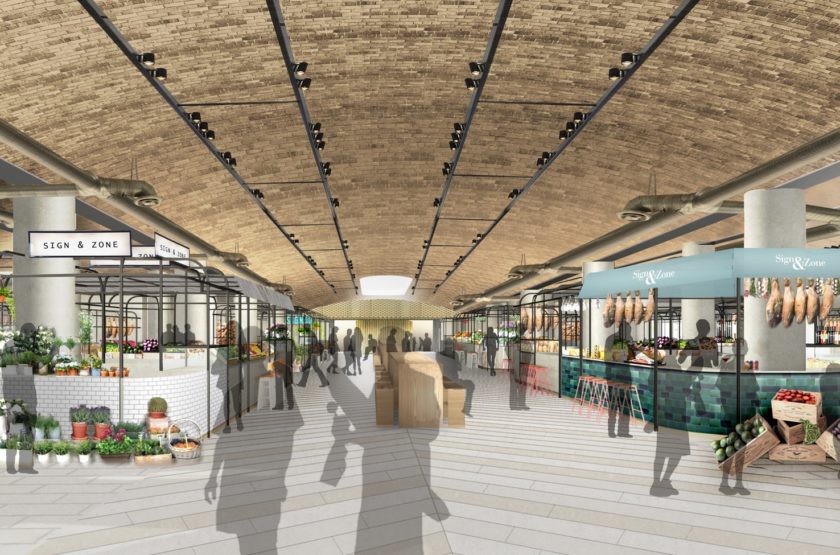 Ground Level
The ground level is dedicated to high-end retail
Besides local boutiques, residents can also find international anchor stores at one of 30 retail spaces
In addition to shopping, you can also enjoy a meal at 9 restaurants or 6 patios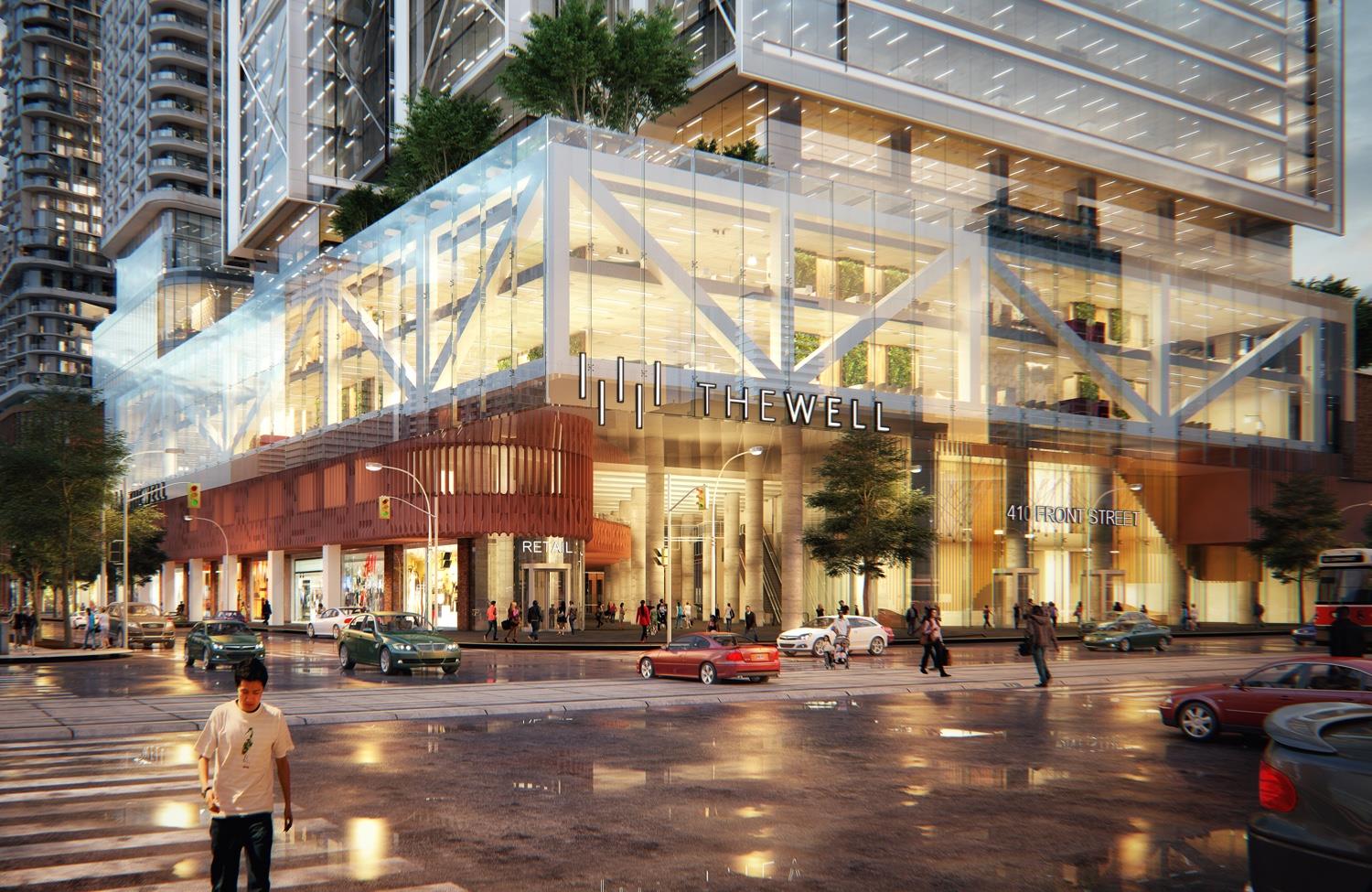 Terrace Level
The terrace level features 3 restaurants, 15 retail areas, a glazed canopy, and a series of bridges which make travel easier
Design
The Well Condos is designed by Hariri Pontarini and developed by Tridel, both of which are trusted names in Toronto real estate.
Its design pays tribute to Toronto's rich history, using industrial materials like metal, large glass windows, exposed brick, and natural wood ceilings.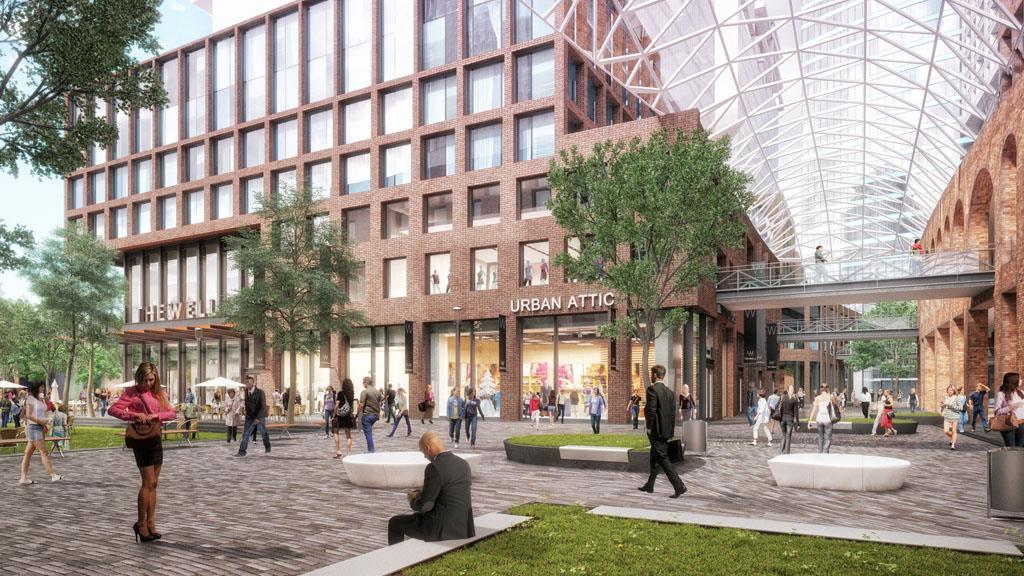 The 6 residential towers have 1587 units, including 792 single bedroom suites, 517 two bedroom suites, and 174 three bedroom suites.
Above all, The Well Condos is designed with community in mind. It uses common spaces (like the Market Hall or Food Hall) where people can eat, shop, gather and work.
About Front Street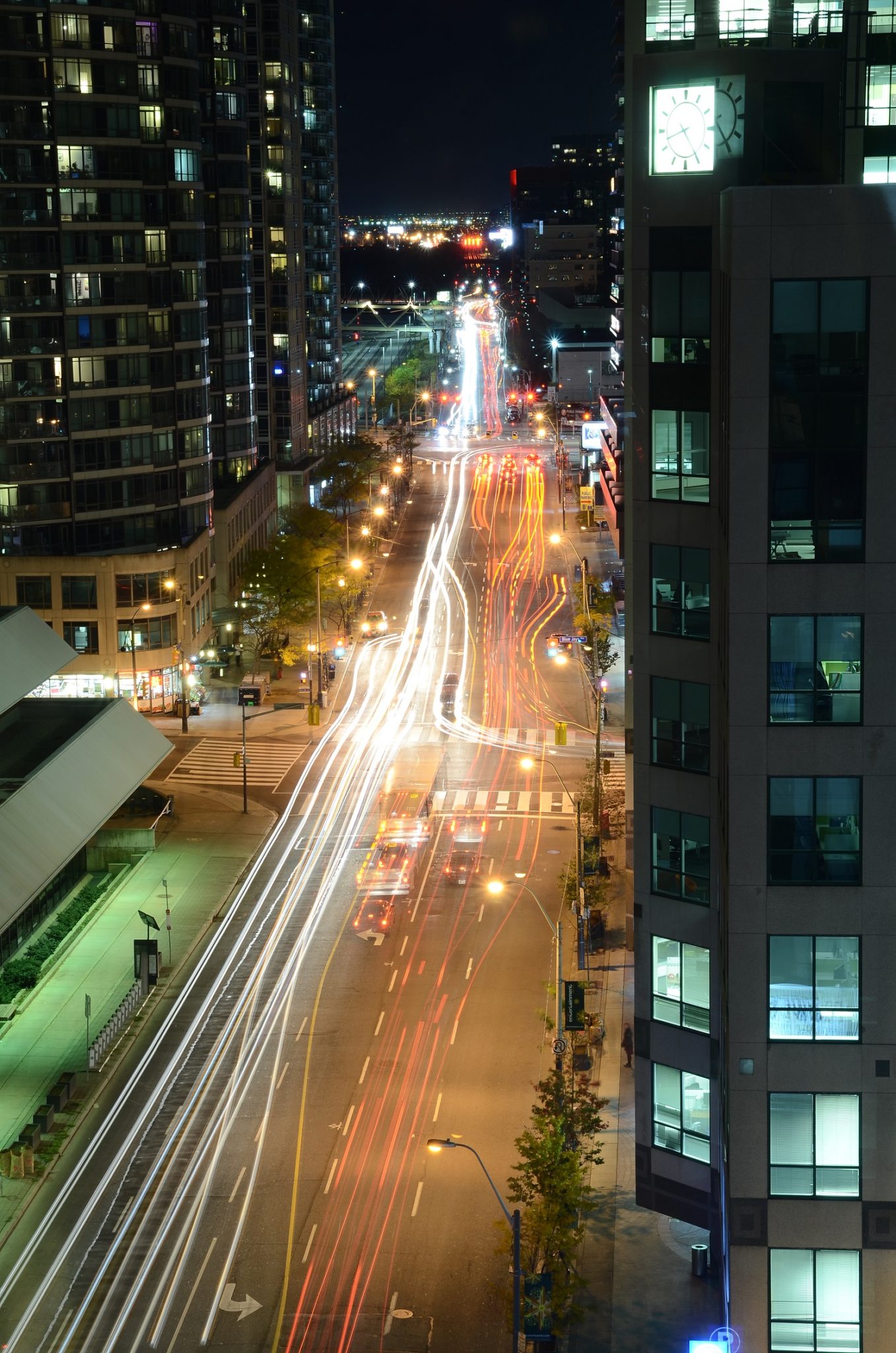 The Well Condos is a short distance from Toronto's Financial, Entertainment and Theatre Districts, so residents can expect the best in food, fashion, and live entertainment.
Highlights include: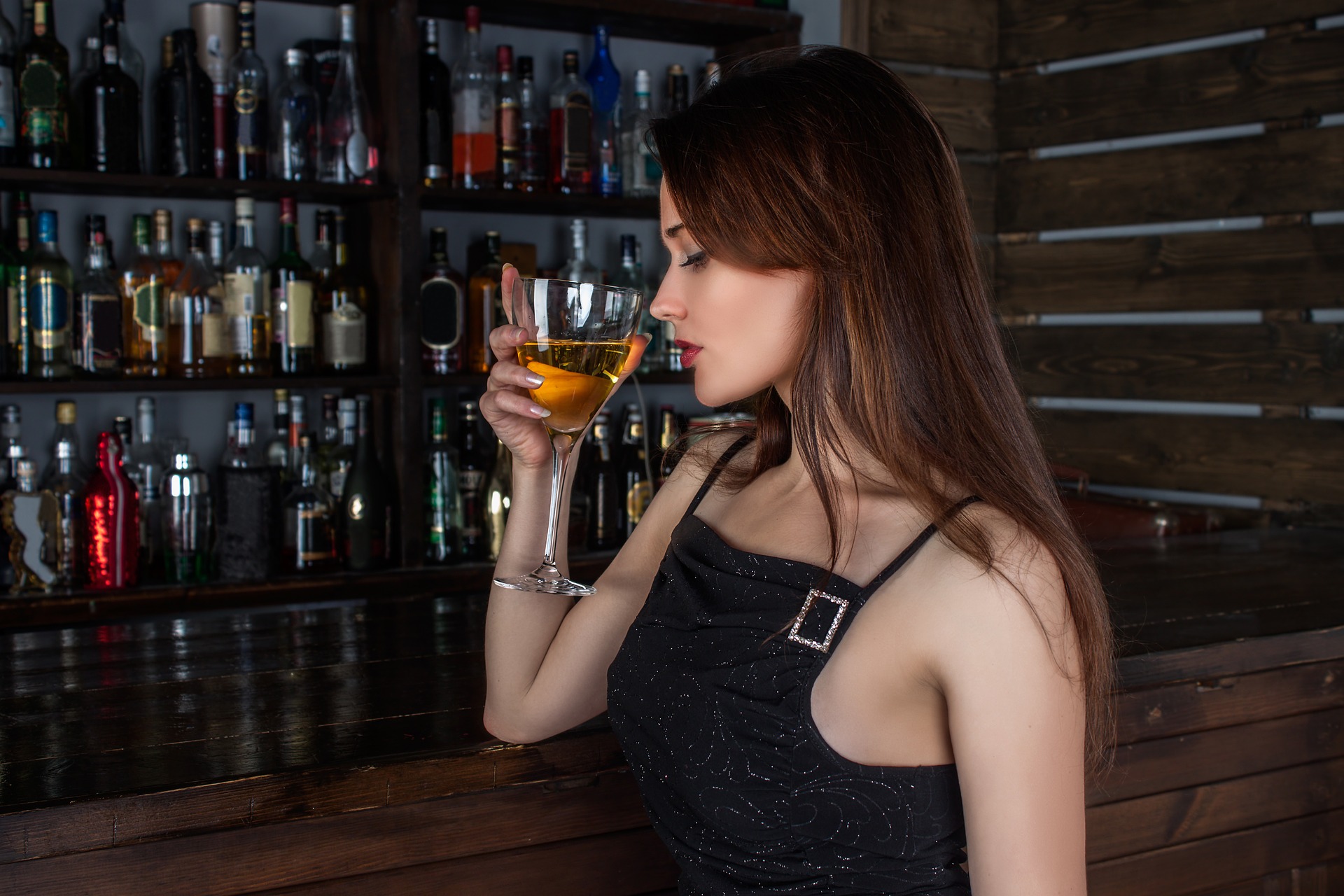 Other location highlights:
A 100% walking score (so you can ditch the car and do most errands by foot)
A 100% transit score (24-hour streetcar service, close to the Gardiner Express Way, and within walking distance of the TTC subway)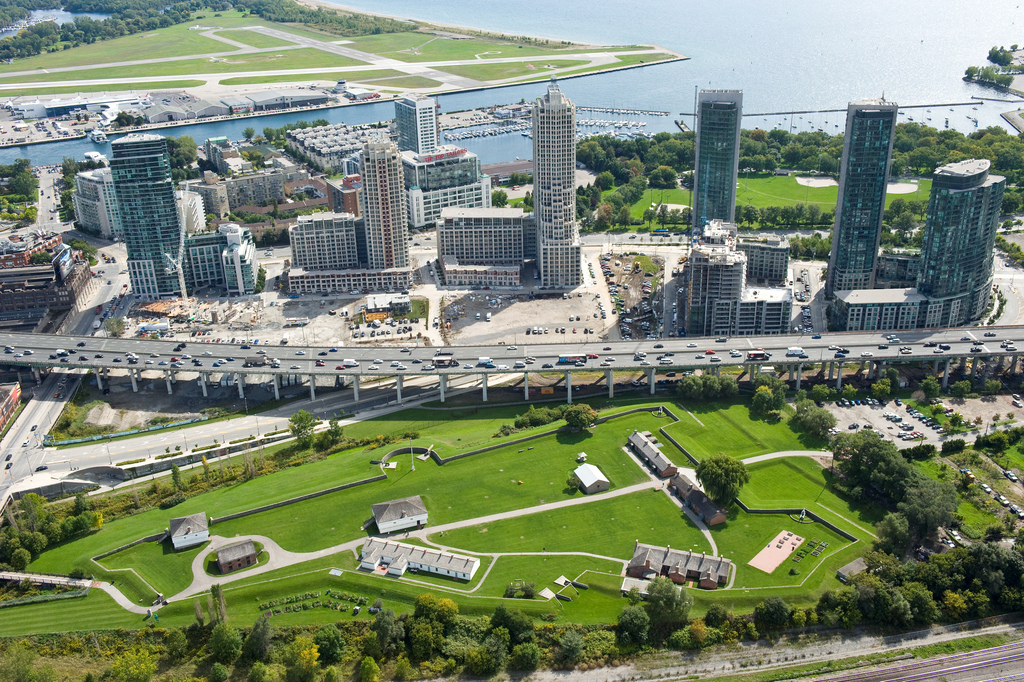 While the list of highlights is endless, maybe the biggest attraction is The Well's closeness to the Toronto Harbourfront, where you can enjoy breathtaking views of Lake Ontario all year round.
The Well Condos is currently in preconstruction, but given its location, design, amenities, and wonderful sense of community, registrations will fill up fast.
To learn more about this vibrant new community, contact me below for more details.