Overview: a look at how Toronto got its nickname, The 6ix, plus insights on various regions that make up the city.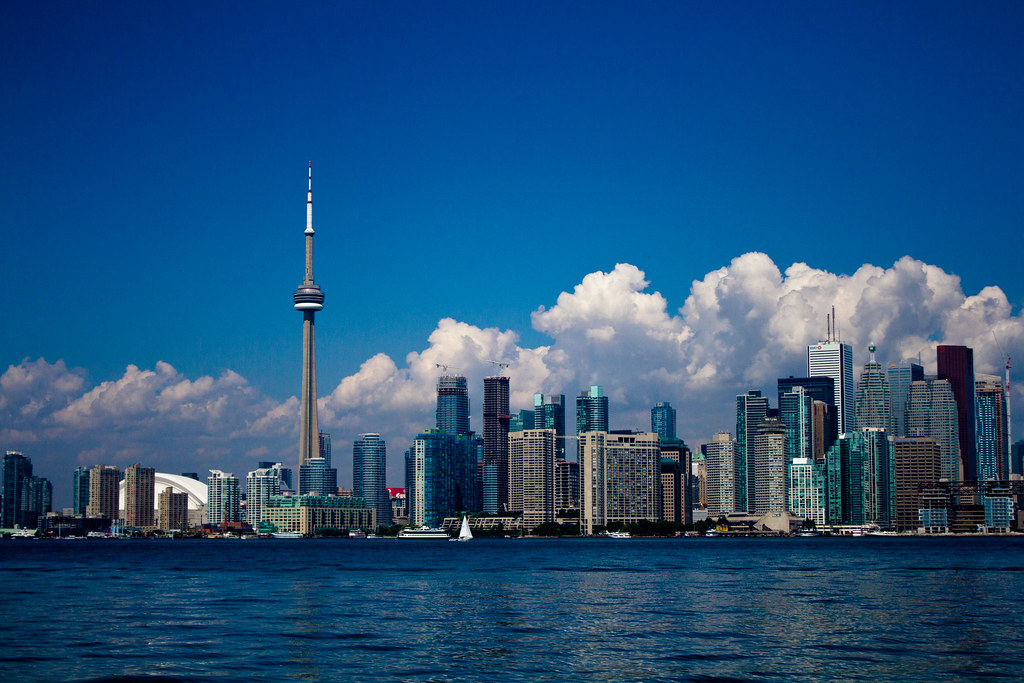 These include:
T Dot

T.O.

Toronto the Good

The Megacity

Queen City

Hogtown

Hollywood North

Broadway North

Baby New York

Muddy York

The Big Smoke
And recently, Toronto has been called The 6ix…or The Six…or The 6.
Why?
According to Narcity, it's a question many have asked:
"Why is Toronto called the 6?" was Google's top trending question of 2019 in Canada.
The answer?
Some believe it's based on Toronto area codes 416 and 647.
Others believe it's a reference to the 6 different municipalities that were amalgamated into Toronto in 1998.
The real answer is…Drake.
The 6ix (original spelling) was popularized by Toronto-born rapper Drake in his 2016 album "Views."
As he explains on The Tonight Show with Jimmy Fallon:
We were debating on The Four [from 416], but I went tail-end on them and went 6. And at one point Toronto was broken up into six areas (Old Toronto, Scarborough, East York, North York, Etobicoke and York)…
And there we have it: Drake's inspiration for The 6ix was the 416 area code, as well as the 6 areas that make up modern-day Toronto.
So let's take a look at these 6 regions that constitute the Toronto of today, starting with Old Toronto.
Old Toronto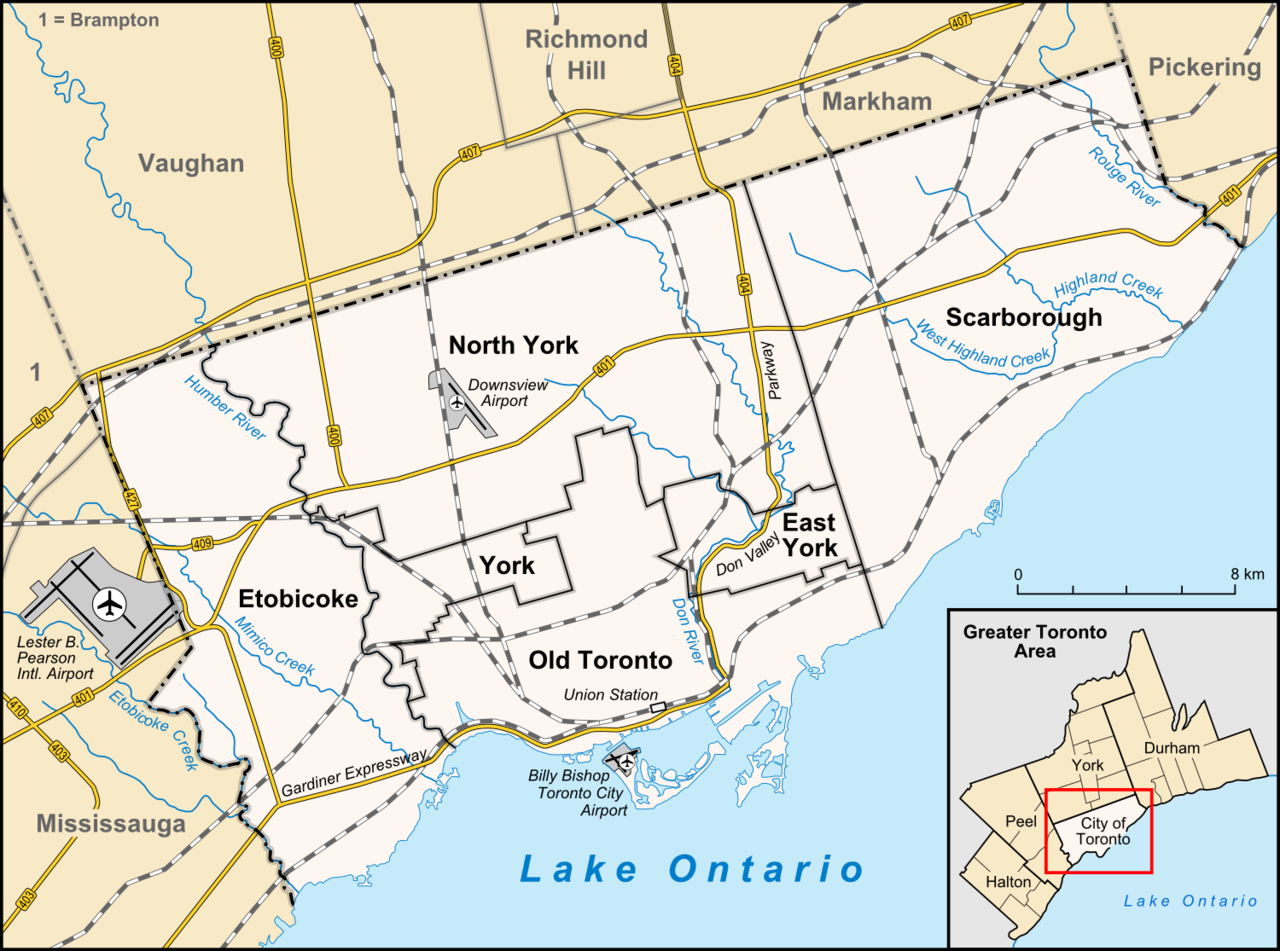 In 1998, The City of Toronto Act led to the amalgamation of Old Toronto (also known as Metro Toronto) and its constituents into the current City of Toronto.
Old Toronto's boundaries consist of York to the north, Etobicoke to the west, and East York to the east.
Today, Old Toronto contains the entire downtown core, including attractions like the CN Tower, Royal Ontario Museum and Yonge Dundas Square.
It also includes shopping hubs such as the Eaton Centre and St. Lawrence market, along with a fashionable food scene.
Neighbourhoods that comprise Old Toronto range from The Financial and Entertainment Districts to Rosedale and Yorkville.
Old Toronto offers diverse housing options, including expensive condos in the downtown core, cheap student residences in The Annex, and upscale mansions in Rosedale.
Scarborough
Destination Toronto declares:
A giant zoo, nature escapes and multicultural food scene come together in Scarborough. Located in the east of Toronto, this area is ideal for those who want to explore the great outdoors without leaving the city.
Those nature escapes include the famous Scarborough Bluffs, Toronto Zoo and countless parks, beaches and hiking trails.
Scarborough was first settled in the 1790s, became a township in 1850, a city in 1983, and was amalgamated into Toronto in 1998.
Today, it's one of the city's most diverse districts.
In fact, 56.6% of its residents were born outside of Canada.
For example, Agincourt has a large concentration of Chinese restaurants, while Kingston Road and Lawrence Ave E are home to Caribbean, African and Indian shops and eateries.
Only 35% of Scarborough residents live in rental properties, while the remaining 65% own their homes, with nearly half living in houses and the rest in high-rises or duplexes.
Etobicoke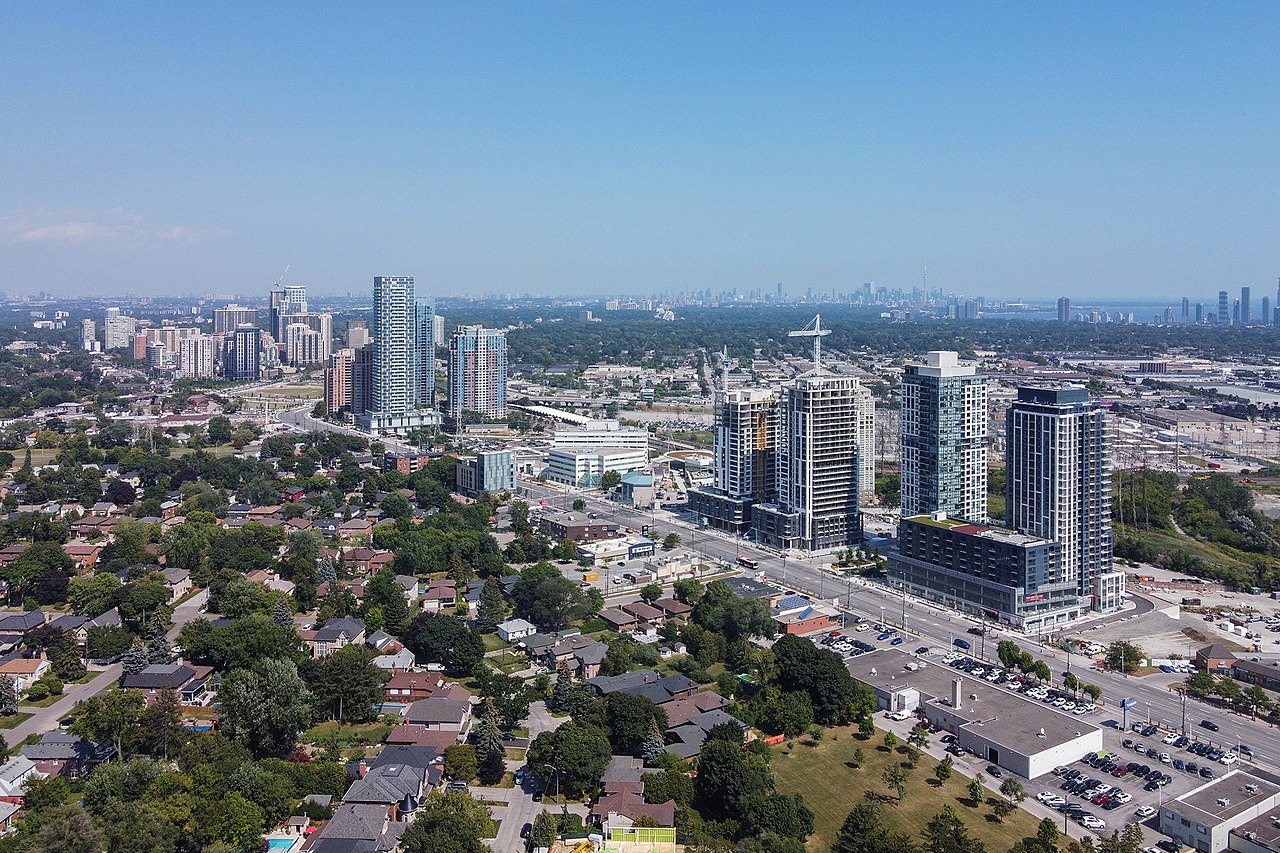 blogTO informs:
Etobicoke is a former suburb of Toronto covering a wide expanse of neighbourhoods (Rexdale, Mimico and The Kingsway among them)…
Its low population density is due to a mix of suburban homes and heavily industrialized zones.
It's also characterized by large main streets, shopping malls, and cul-de-sac housing developments, which further reduce population density.
But despite its suburban setting, Etobicoke is very accessible, being connected to several major highways, train stations, and containing parts of Pearson International Airport.
The region is usually divided into 3 large areas: Central Etobicoke, North Etobicoke and The Lakeshore.
North Etobicoke has a significant South Asian and African population, while South and Central Etobicoke contain a large European population.
The area is also home to amazing green spaces, countless outdoor activities and Woodbine Mall.
York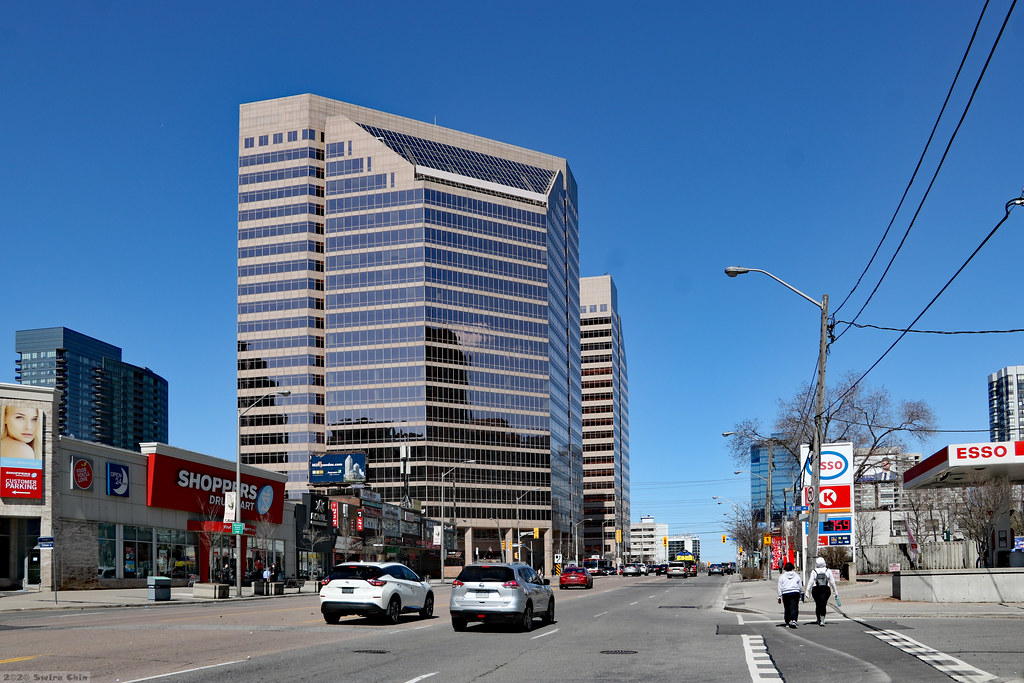 York township was created after the amalgamation of several villages in 1793, became a city in 1983, and was absorbed into Toronto in 1998.
It was also home to one of Toronto's first Black communities and currently has the highest population of Black Canadians in The 6ix.
But York's diversity doesn't stop there.
In fact, York is made up of several smaller eclectic and culturally diverse neighbourhoods.
For instance, Eglinton Ave W is dubbed Little Jamaica because of its abundance of Caribbean shops and restaurants.
Meanwhile, St. Clair West is home to an array of multicultural eateries, bakeries, bridal boutiques, vintage furniture stores and parts of Corso Italia.
York is also famous for its natural beauty.
Residents can walk or bike along the Humber River, watch the salmon run at Etienne Brulé Park, and feed the ducks at James Gardens.
According to the 2016 census, 51% of residents live in rental properties, while 49% own their homes.
About half of the population live in houses, and the other half in high or low-rise apartments.
North York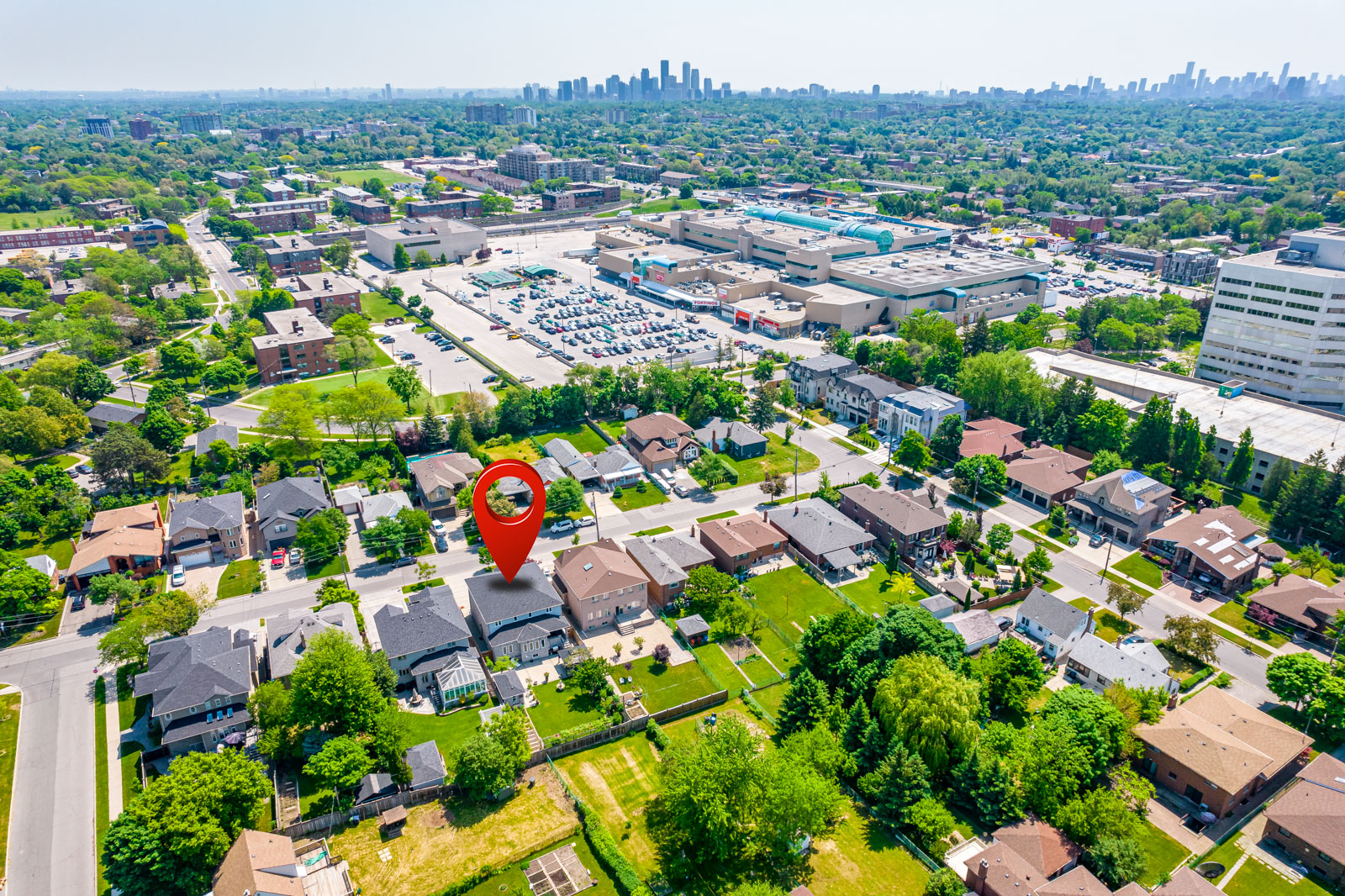 Carved out of York township in 1922, North York is nestled between Scarborough to the east and Etobicoke to the west.
It's considered an important economic hub, second only to Downtown Toronto, with healthcare being one of its biggest industries.
North York boasts several major hospitals, including North York General, Sunnybrook and Humber River.
It's also home to numerous malls, including the Yorkdale Shopping Centre, the mall of choice for international brands looking to make their Canadian debut.
Apple, Tesla, J.Crew and Kate Spade are just some of the big names to have launched their products there.
Besides retail, North York is a hub of arts, culture, science and education.
For example, both the Ontario Science Centre and Aga Khan Museum are in North York, as well as York University and Seneca College.
The region is also home to some of the wealthiest neighbourhoods in Toronto.
These include The Bridle Path, Hogg's Hollow and Lawrence Park, all of which boast multi-million dollar mansions.
East York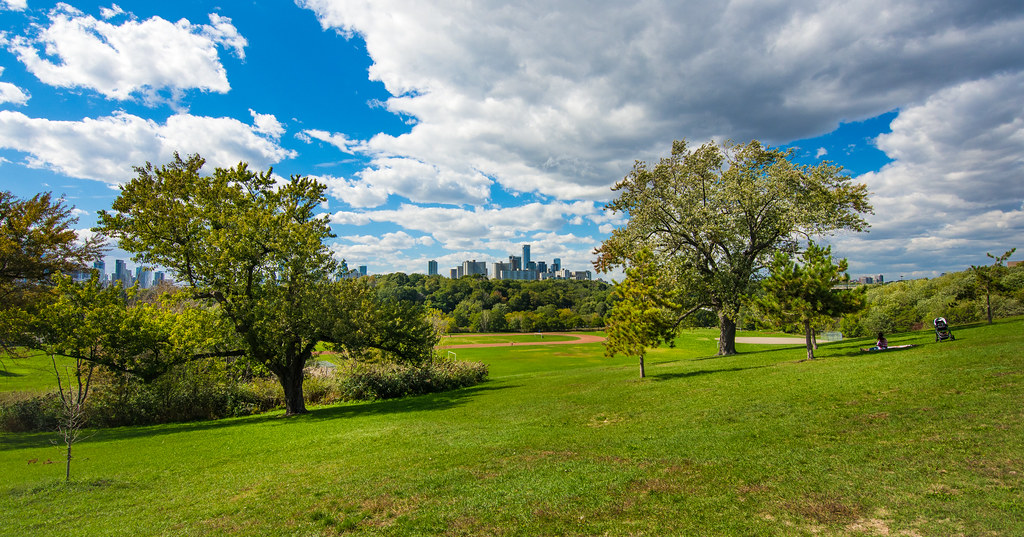 The region is known for its safe neighbourhoods, excellent schools, affordable housing and remarkable beauty.
Toronto Life reveals:
Residents report a strong sense of community, which is undoubtedly a result of their proximity to Coxwell Ravine Park, where people can picnic and dogs can roam as nature intended: off-leash.
In addition to breathtaking natural landscapes and dog-friendly parks, East York has pockets of food and retail.
Pape Ave is lined with multicultural eateries, while towards the south East York is packed with fruit markets, bakeries, cafes and clothing shops.
As a result of affordable housing and easy access to Downtown Toronto, the area is also attracting more and more young families.
Housing in East York mostly consists of detached and semi-detached homes, bungalows, and a large number of rental apartments between Broadview and Donlands Avenue.
While 56% of residents own their homes, the remaining 44% rent.
The 6ix Conclusion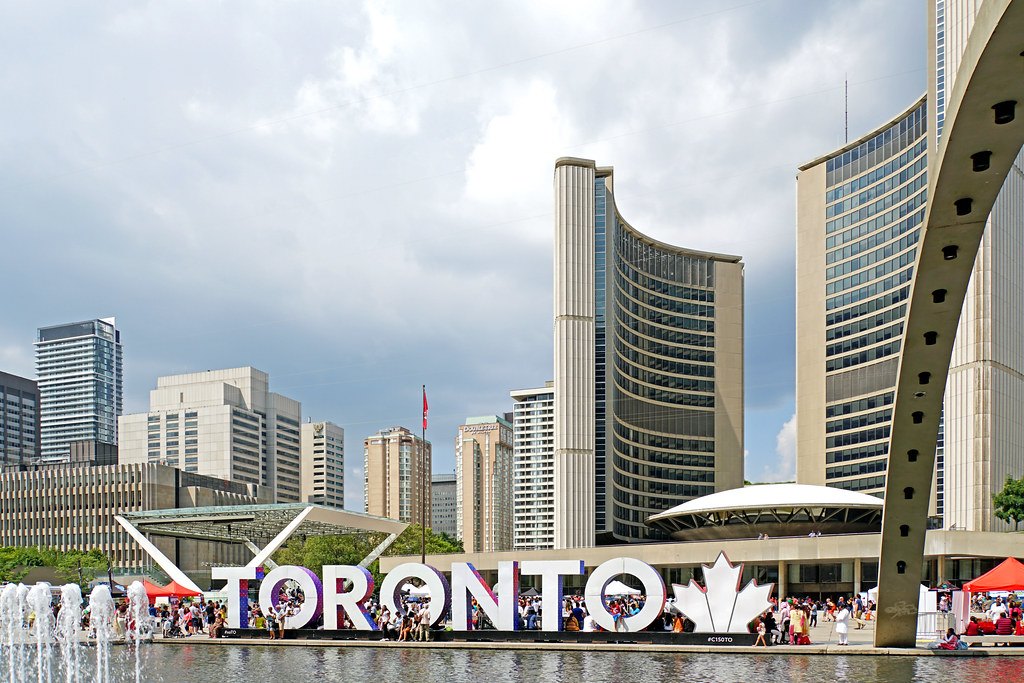 Although Drake didn't coin the term (that honour belongs to Toronto rapper Jimmy Prime), he did popularize it.
Regardless of who coined it, the term pays tribute to the rich history and culture of Toronto—a history that began in the 1700s and culminated with amalgamation in 1998.
Etobicoke, Scarborough, York, North York, East York and Old Toronto—each of these six (or 6ix if you prefer) regions have something that makes them special, and worth living in.
Looking for a home in The 6ix? Contact me below for details!
Wins Lai
Real Estate Broker
Living Realty Inc., Brokerage
m: 416.903.7032 p: 416.975.9889
f: 416.975.0220
a: 7 Hayden Street Toronto, M4Y 2P2
w: www.winslai.com e: [email protected]
*Top Producer (Yonge and Bloor Branch) – 2017, 2018, 2019, 2020, 2021