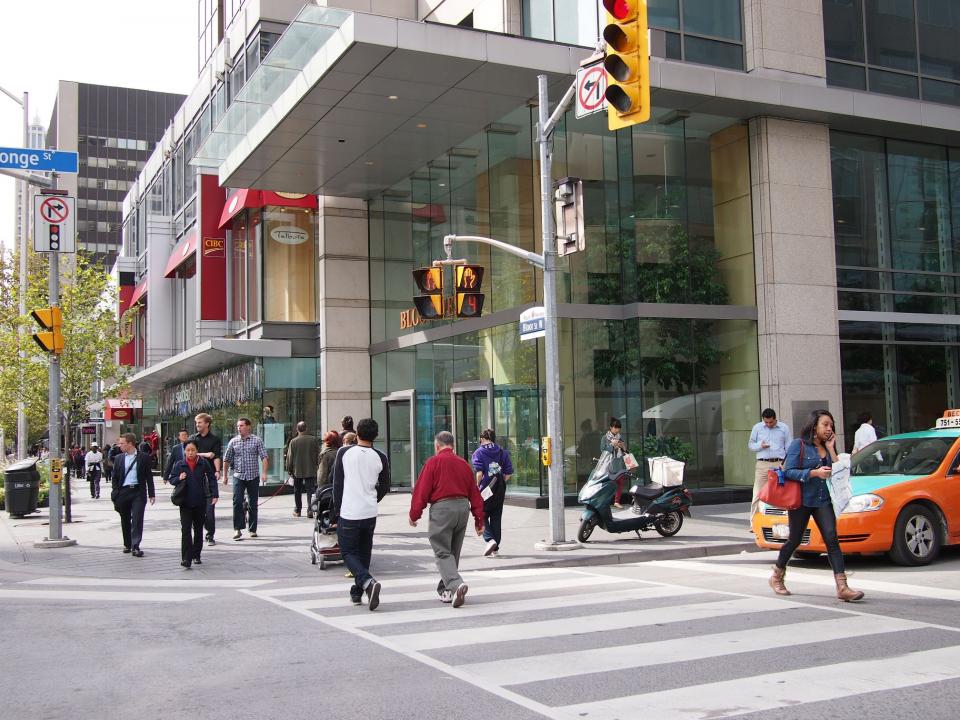 Yonge and Bloor – the busiest intersection in Toronto

Every neighbourhood in Toronto has its own unique character and I personally believe that the neighbourhood brings out your character because you live in the neighbourhood with the things that you like.
I'm a Toronto real estate agent that works in the downtown core and I live in the Yonge and Bloor neighbourhood. To tell you a little about Yonge and Bloor – it's the busiest intersection of Toronto. There are about 600,000 commuters that go thru this intersection on a daily basis. The two subway lines – Yonge- University and Bloor – Danforth line are the two lines that interchange and bring in traffic.
Since the area is so easily accessible there's a great mix of young professionals, empty nesters, international students, couples and eligible bachelors that live in.
Location
Minutes away from the University of Toronto – St. George Campus. It's also minutes away from the Yorkville – Annex where the mayor – John Tory lives.
Bloor Street – Yorkville is the home to the Mink Mile which has all the brand names designer stores. Toronto's finest. Gucci, Louis Vuitton, Tiffany, Prada, Burberry, Holt Renfrew and many more.
Yorkville also have the city's most expensive real estate, the Four Seasons residences, Prince Arthur Residences, The One Hotel Residences, 1 Bedford, Hazelton homes, paring at $1,200 per sq. ft. starting.
Yorkville has some of the finest restaurants from KasaMoto, STK, Dbar, The One, Sassafraz, Blu and Buca. The area is known to cater to the more mature and established crowd. Besides Pusateri's and Whole Foods that are already in Yorkville.
There will be two high end supermarkets coming into Yonge and Bloor – Eataly – which is going to be in the Manulife building and McEwan which is going to be located at 1 Bloor. Nordstrom is also in the process of opening up another location at 1 Bloor. The best thing about Yonge and Bloor is that the neighborhood has 100% walking, biking and transit score.
With regards to real estate there will be two major projects that are going to be going up on Yonge and Bloor this year.
One Bloor Street East – Move in Ready
The real estate development in both the commercial and residential side of Yonge and Bloor makes this the best neighbourhood to live in because of the walking score and easy access to transportation.
If you want to check out some cool real estate in the area. Feel free to come by our office at 7 Hayden Street and we can help you with mortgages and buying options.
Email me today to learn about real estate in the neighbourhood:
Wins Lai
Real Estate Broker
Living Realty Inc., Brokerage
m: 416.903.7032
p: 416.975.9889
f: 416.975.0220
a: 7 Hayden Street Toronto, M4Y 2P2
w: www.winslai.com e: [email protected]
*Top Producer, President's Award and New Home Sales Silver – 2017