Overview: 20 Collier St Unit 408 is a newly-painted 2 bedroom, 2 bath, 2 balcony condo with a full-sized kitchen, open-concept living and dining areas, and a fashionable Yorkville location.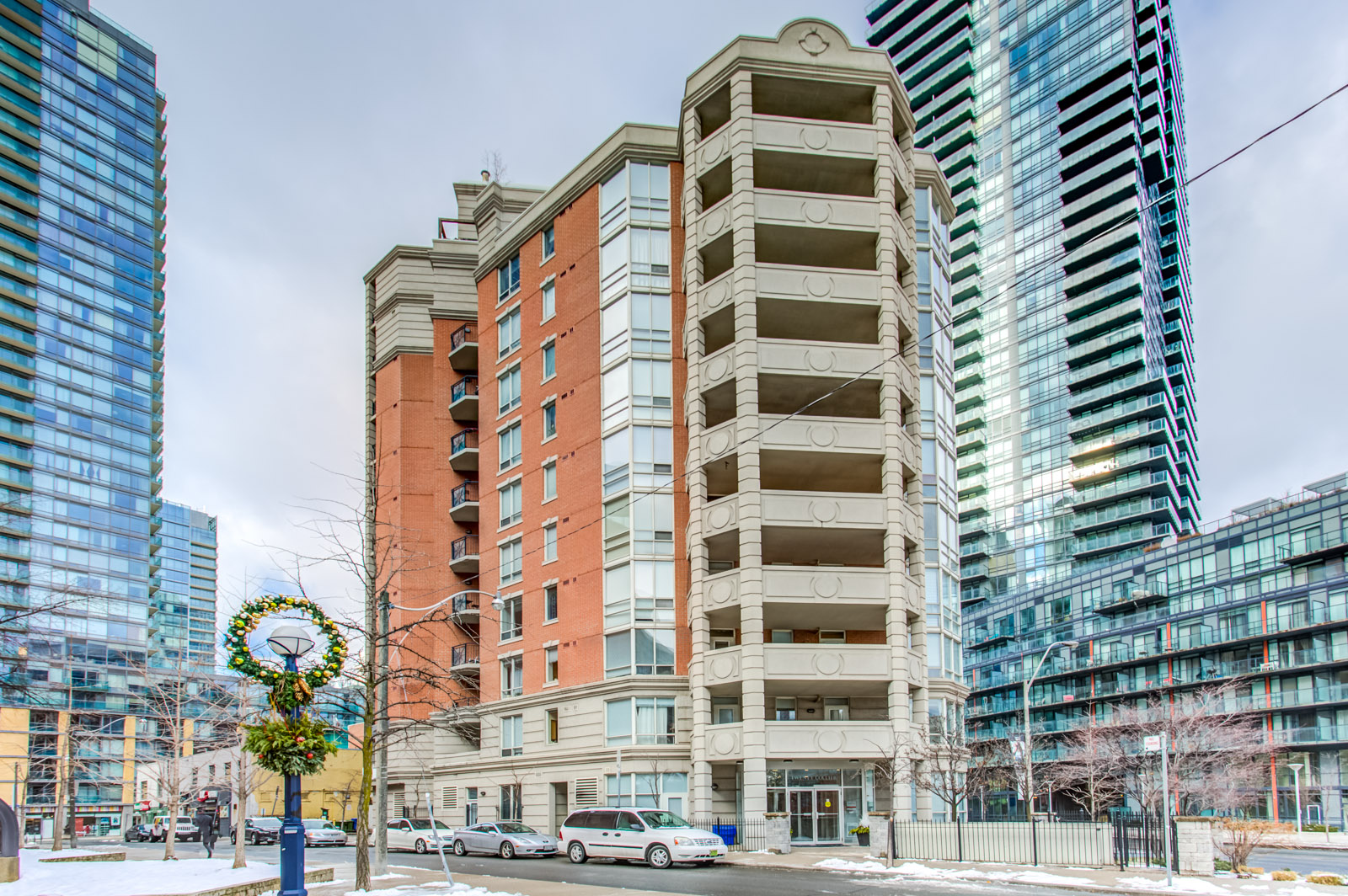 Building Name: Twenty Collier
Address: 20 Collier St – Unit 408, Toronto, ON M4W3Y4
Neighbourhood: Yorkville
Developer: Plazacorp
Property Manager: TSE Management Services
Year Built: 2003
# of Floors: 13
# of Units: 89
Parking: Underground (1 space)
Locker: Yes (1 unit)
Size: 951 sq. ft.
Rooms: 2 Bedrooms + 2 Bathrooms
Leased: $3,000 per month
Agent: Wins Lai, Living Realty Inc., Brokerage
Twenty Collier – Building Details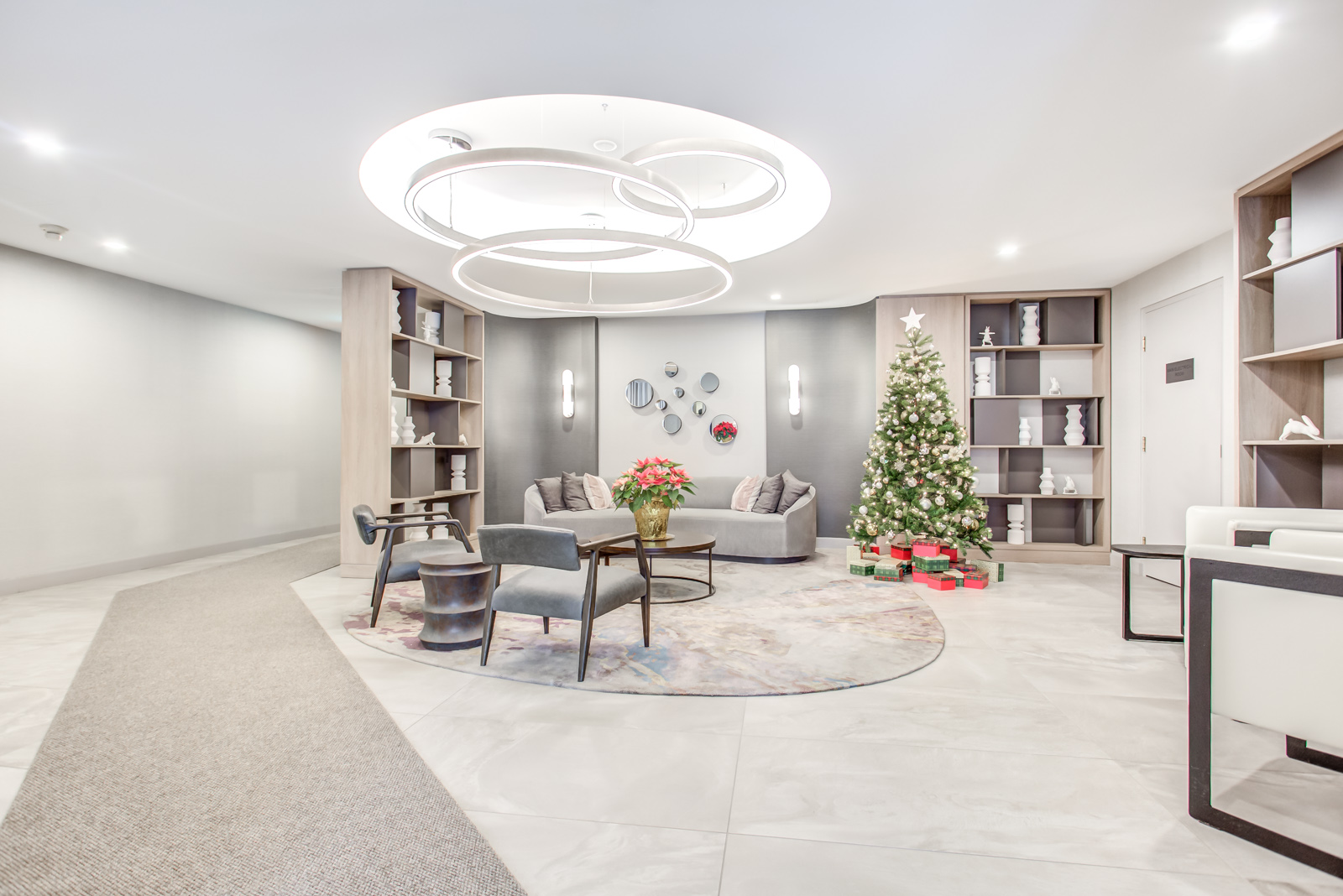 Twenty Collier is a 12-storey boutique condo of classic red-brick and gray concrete.
Its elegant tiered-balconies and corner facade jut boldly forth, making the small condo stand out even among high-rises.
Although Twenty Collier is a low-rise structure, it contains a large collection of upscale amenities.
But the condo's most charming amenity is its Yorkville location.
Victorian mansions, cobblestone streets, fine dining, magnificent museums, and the trendiest stores—you'll find them all at Yorkville.
20 Collier St Unit 408 – The Space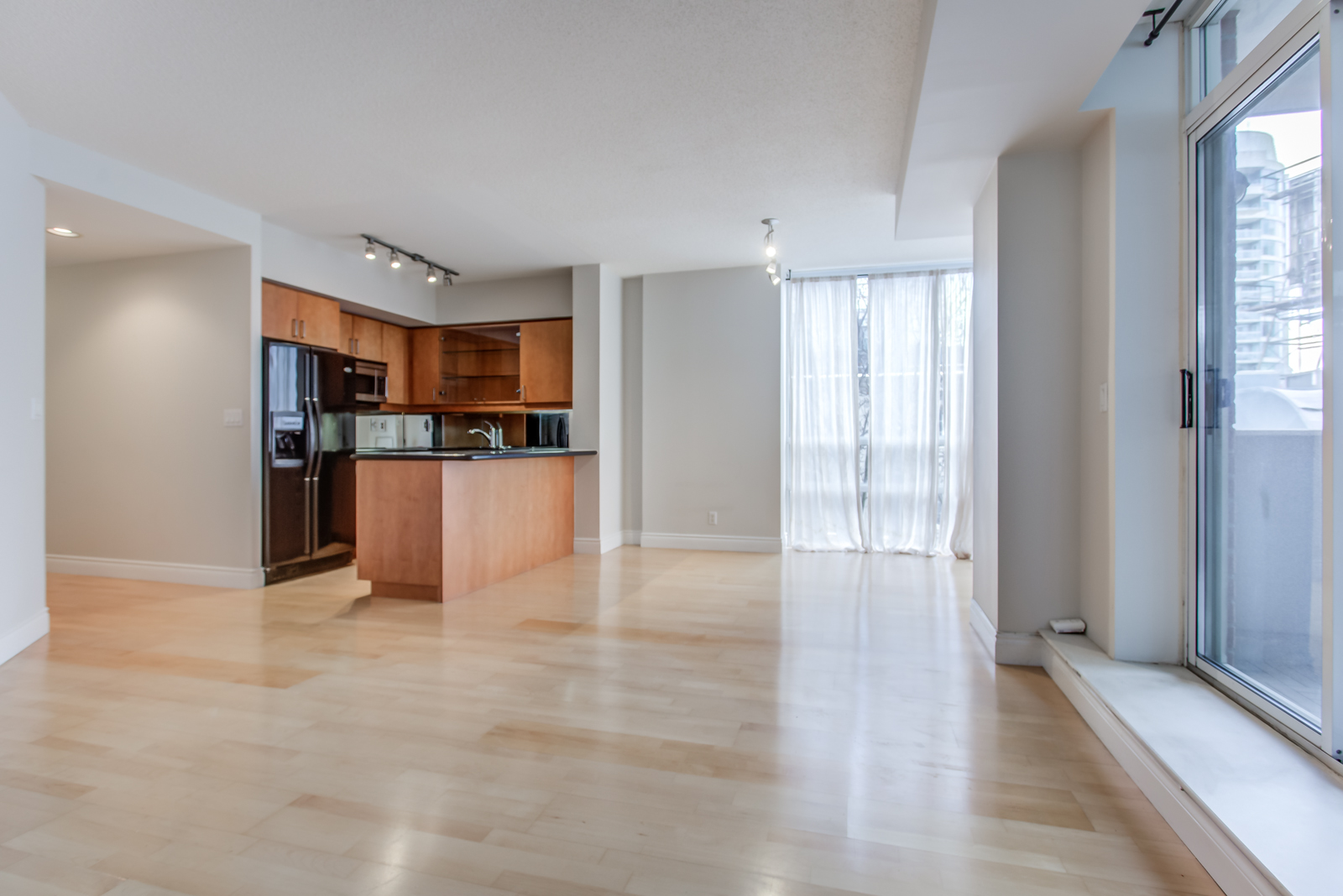 In fact, the 951 sq. ft. suite contains 2 bedrooms, 2 bathrooms, 2 balconies, and a full-sized kitchen.
And it flaunts plenty of stylish elements as well, such as sleek hardwood floors, pot and track-lights, and high-end finishes.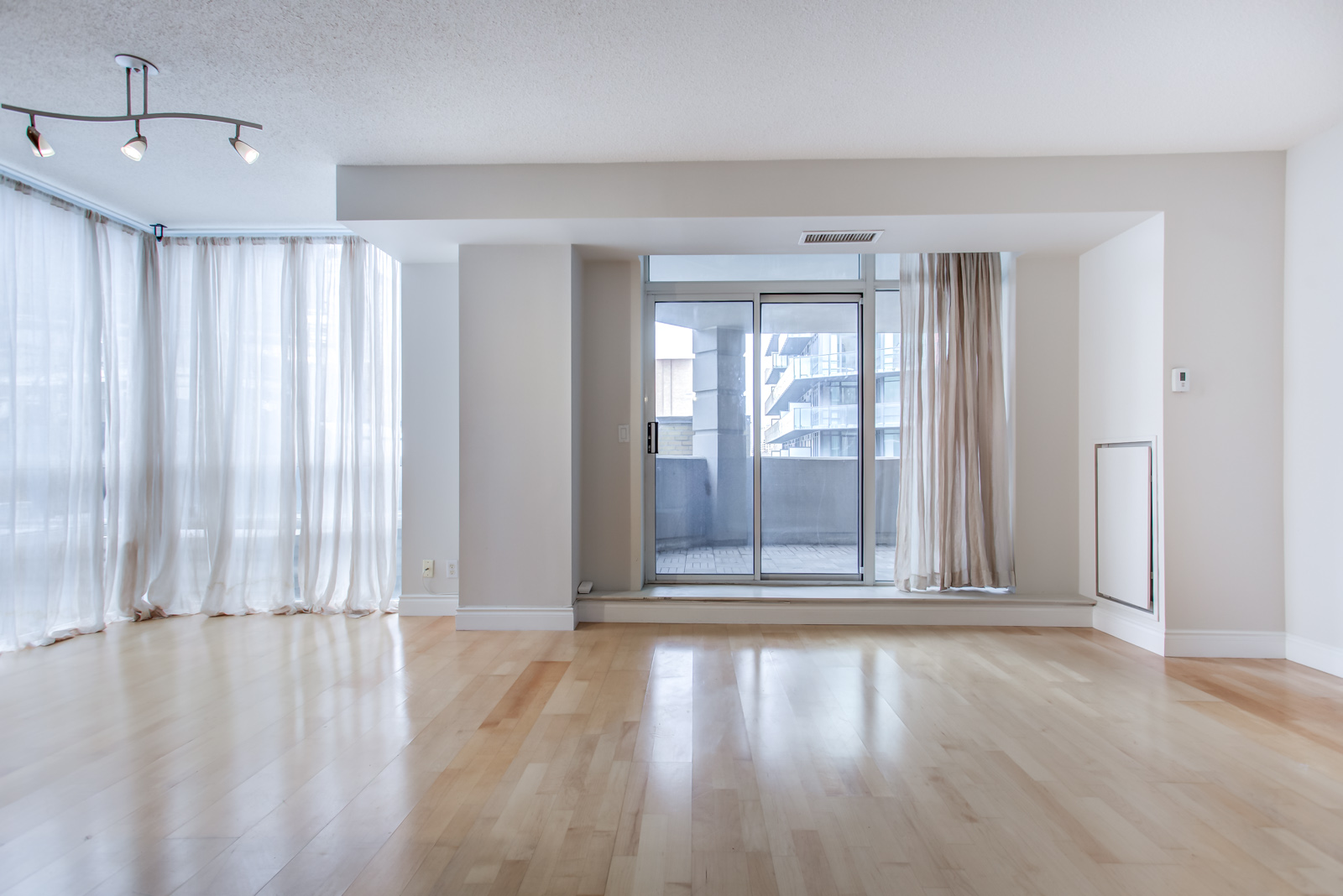 Another visual perk is its freshly-painted walls, which make the unit seem brand new.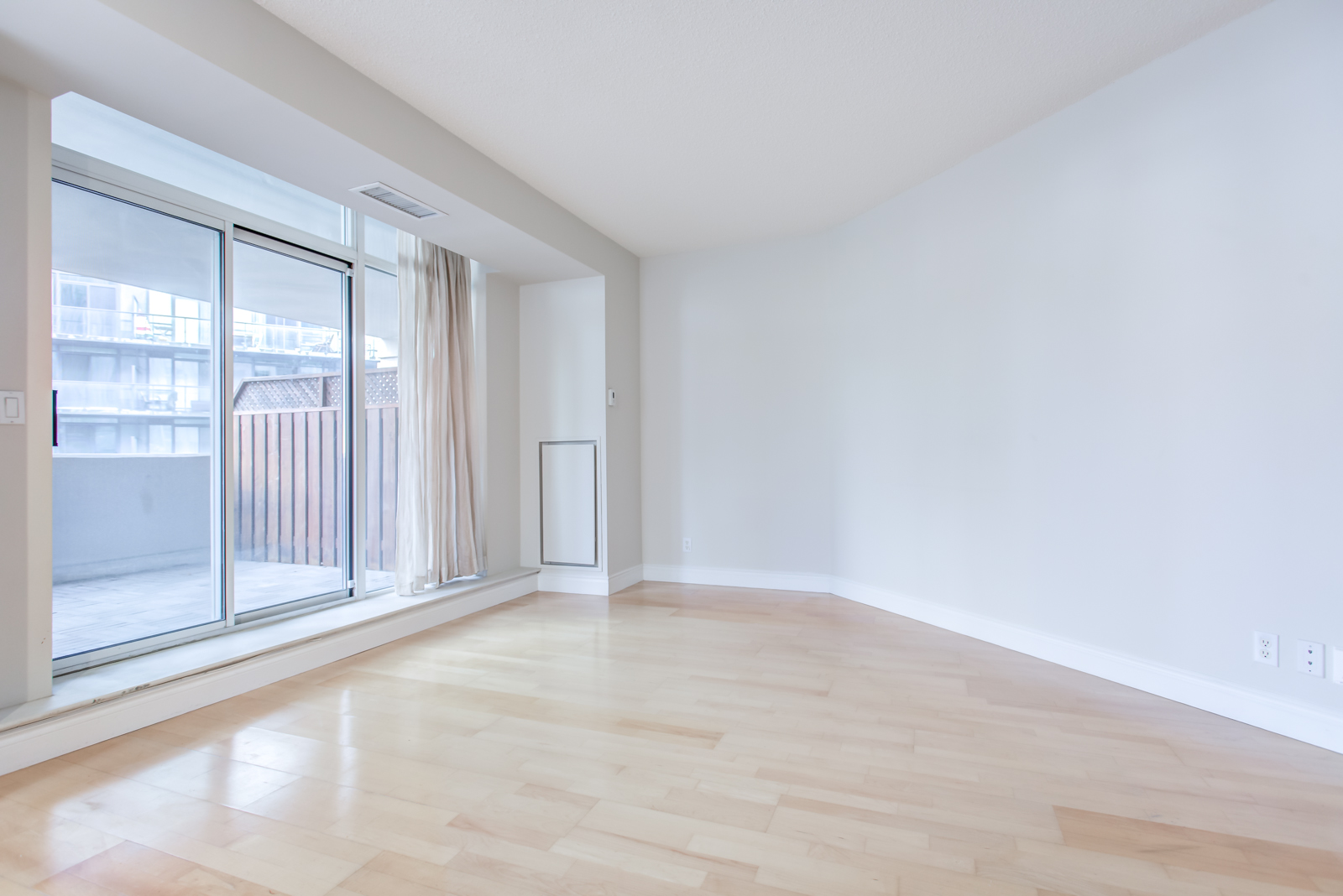 Because Unit 408 is so large and lavish, it's easy to forget you're in a condo.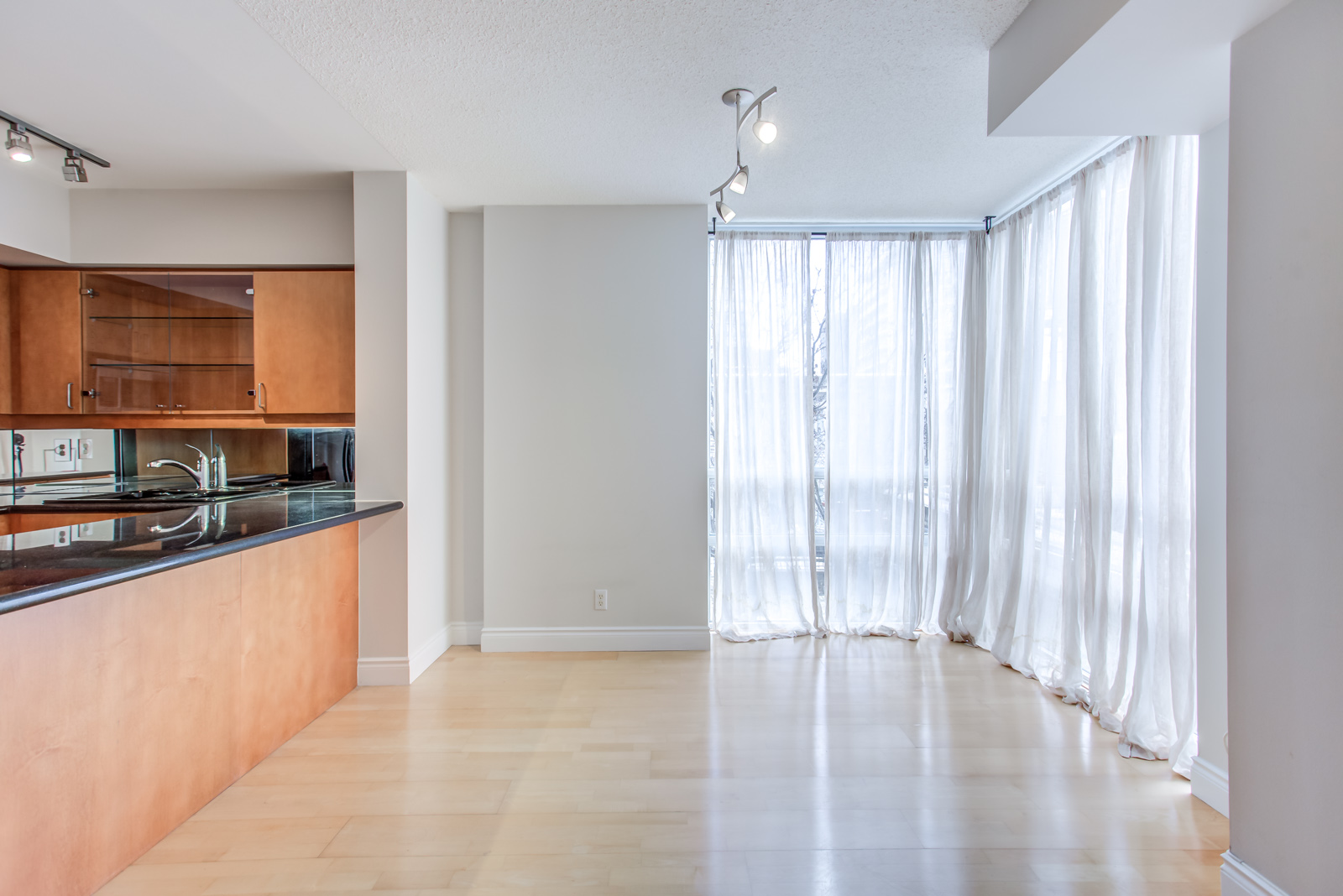 20 Collier St Unit 408 – The Kitchen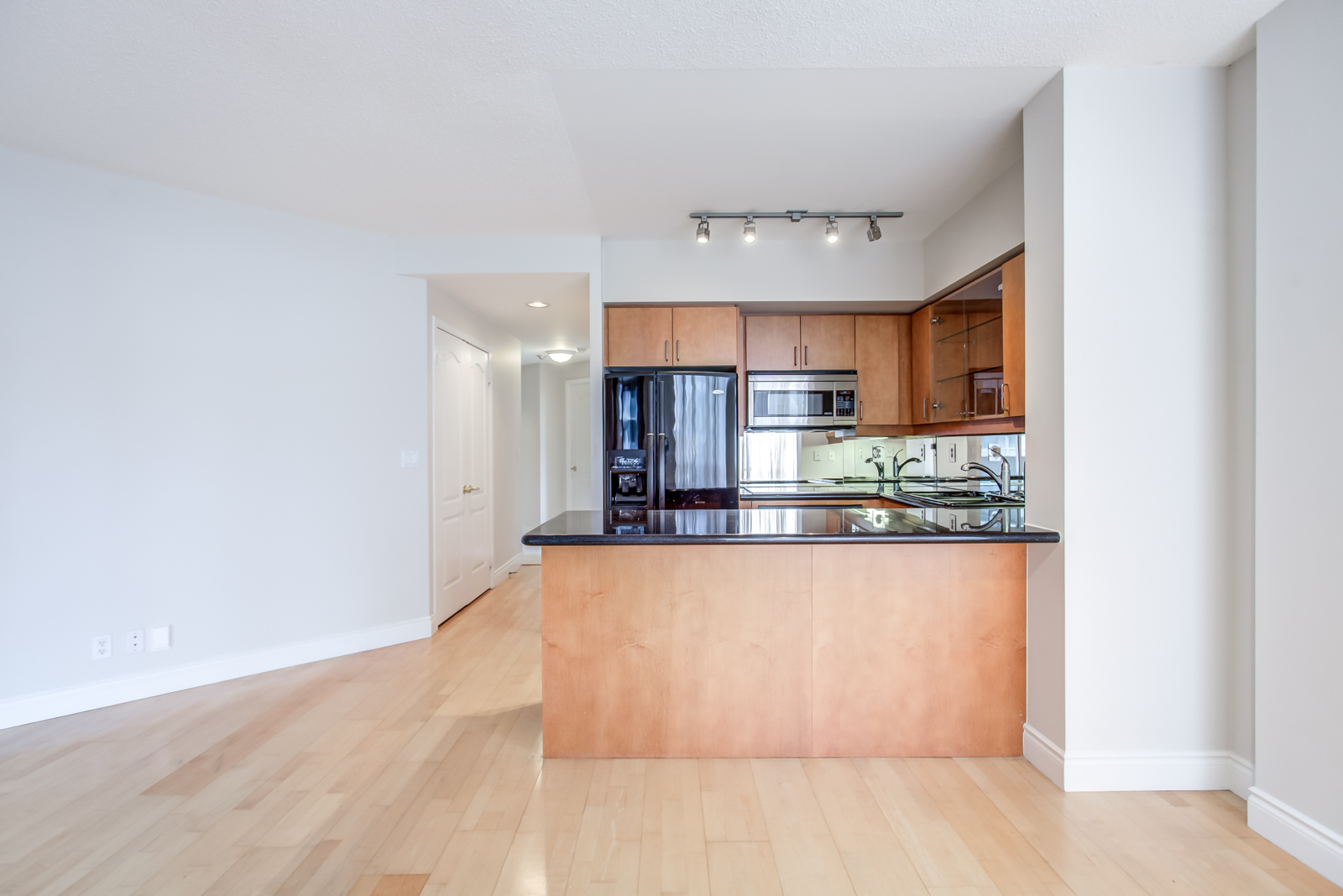 It's also massive, spanning 3 walls and boasting countless cabinets, cupboards, drawers and shelves.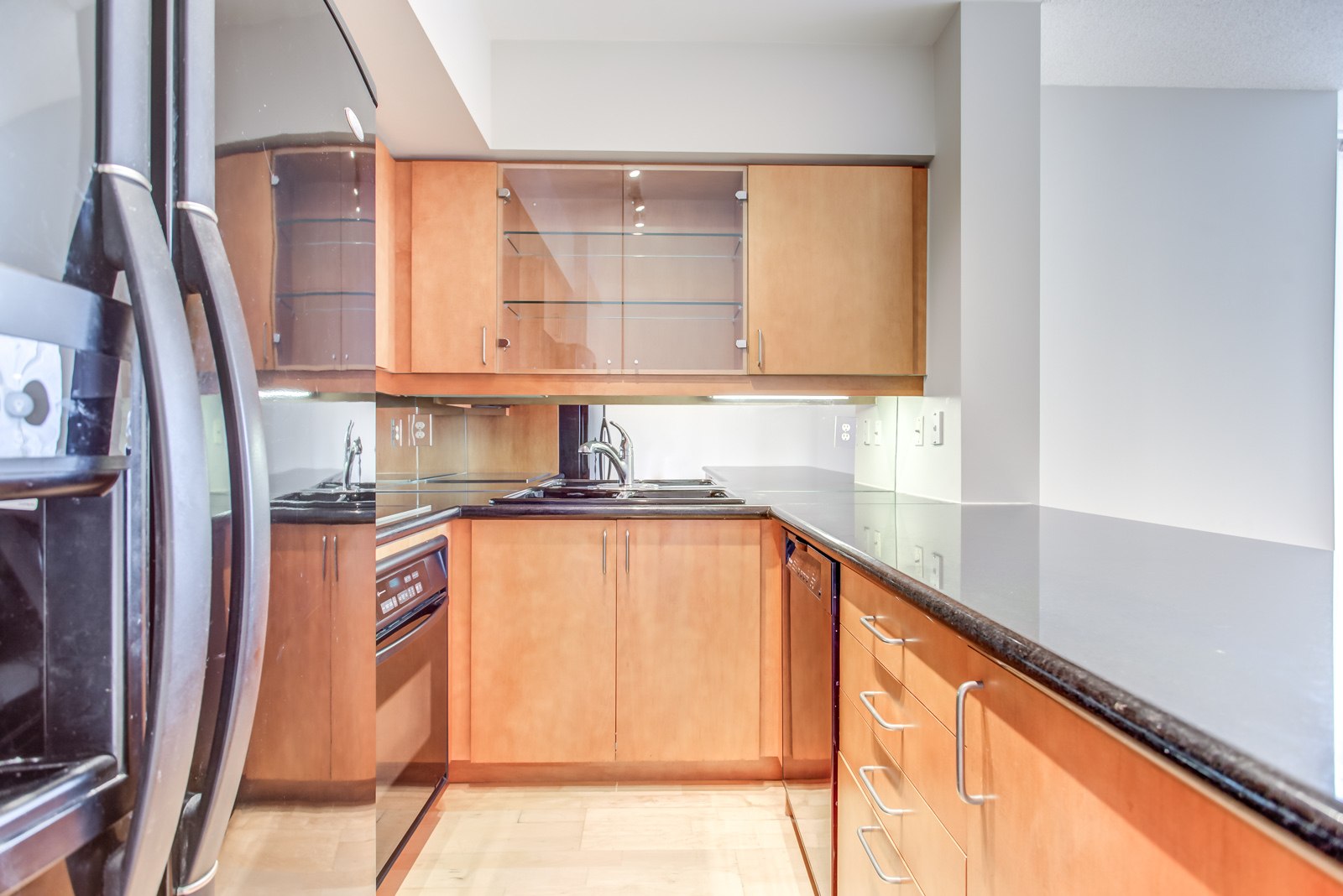 Black granite counters offset the kitchen's natural tones and catch the light, creating a rather dazzling display.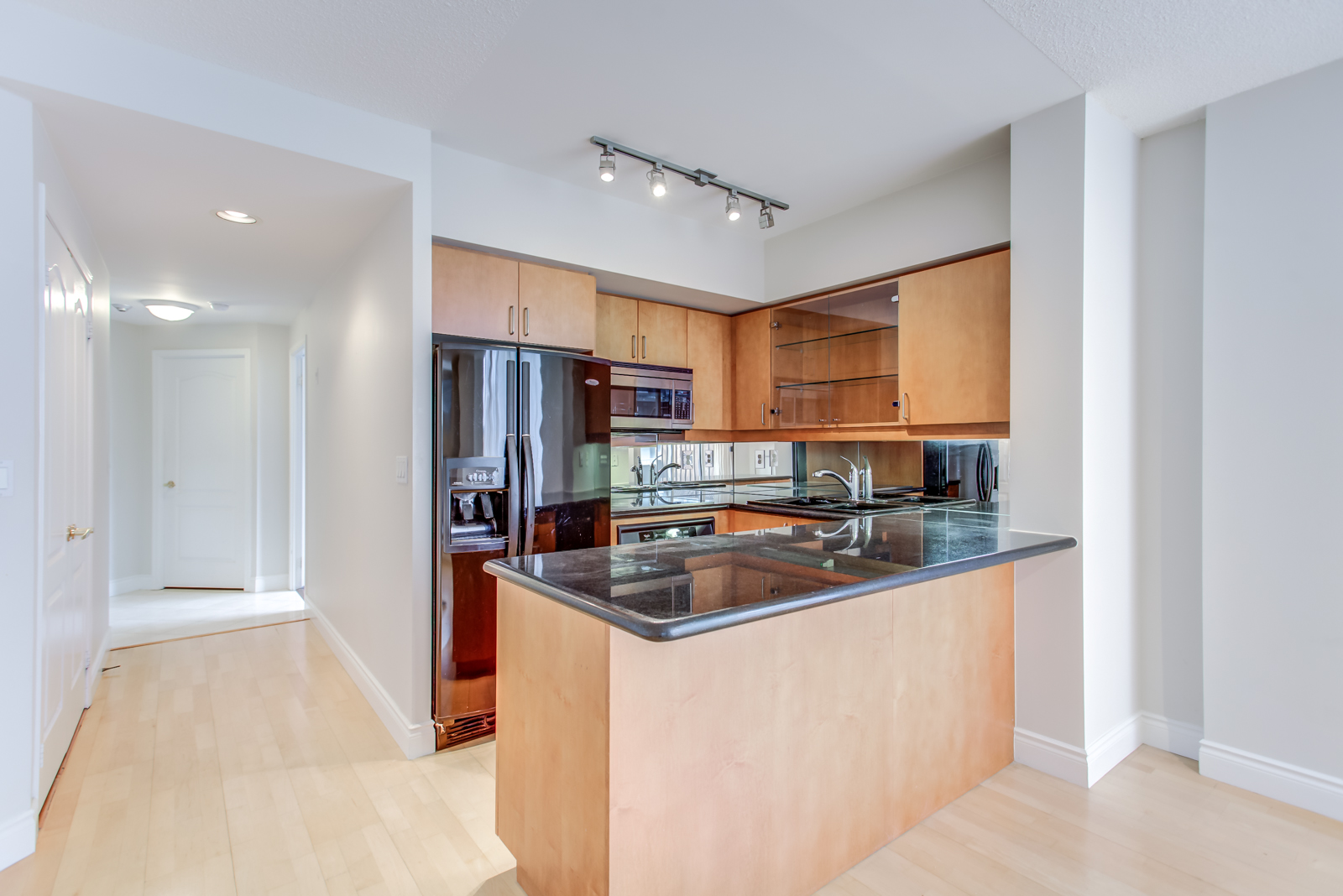 Unit 408 comes with the following appliances:
A black stainless-steel fridge, stove and rangehood

An oven, microwave and dishwasher

A stacked washer and dryer
20 Collier St Unit 408 – Master Bedroom, Bath & Balcony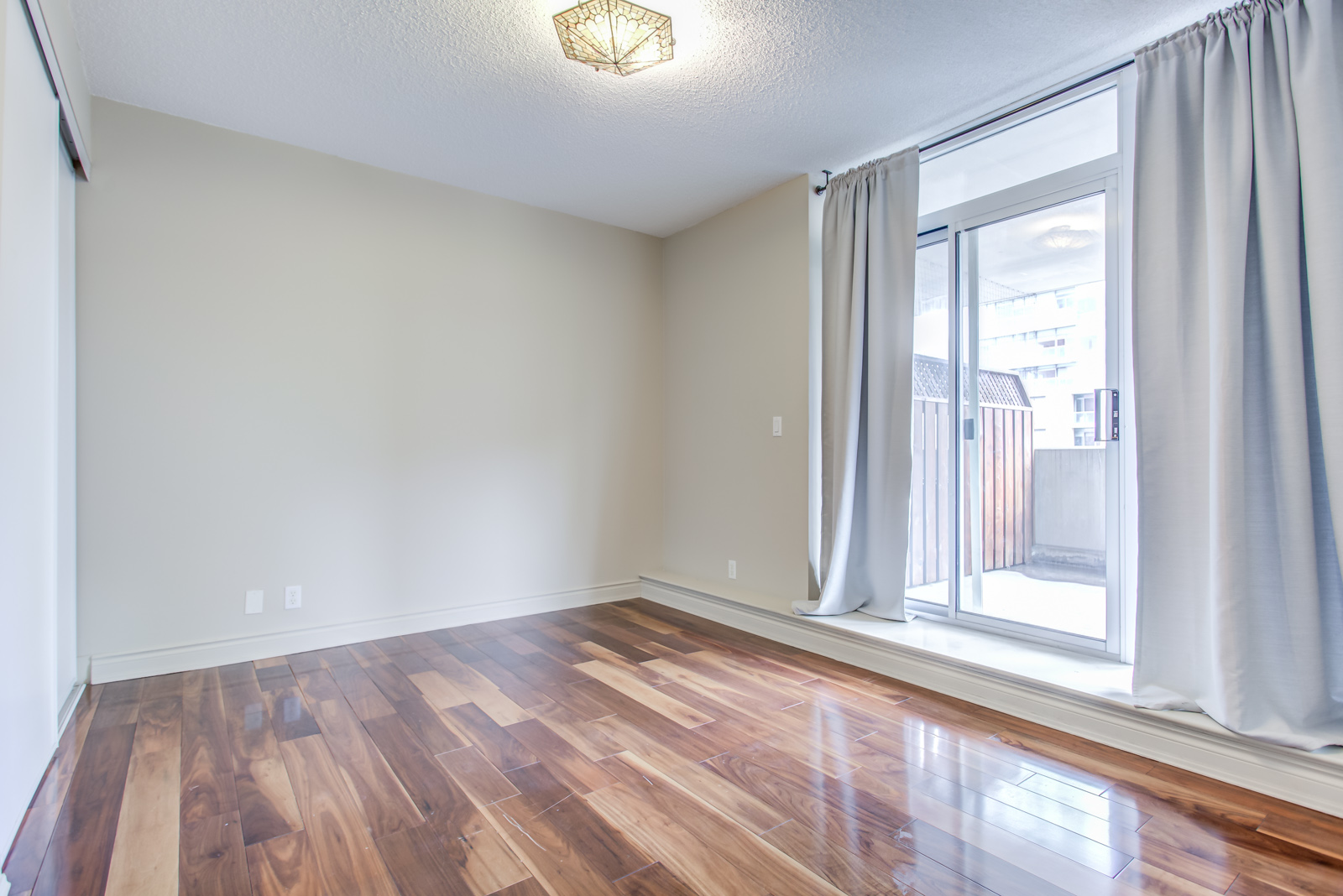 It's roomy, richly-illuminated, sports lustrous hardwood floors, and has a split-layout design that favours privacy.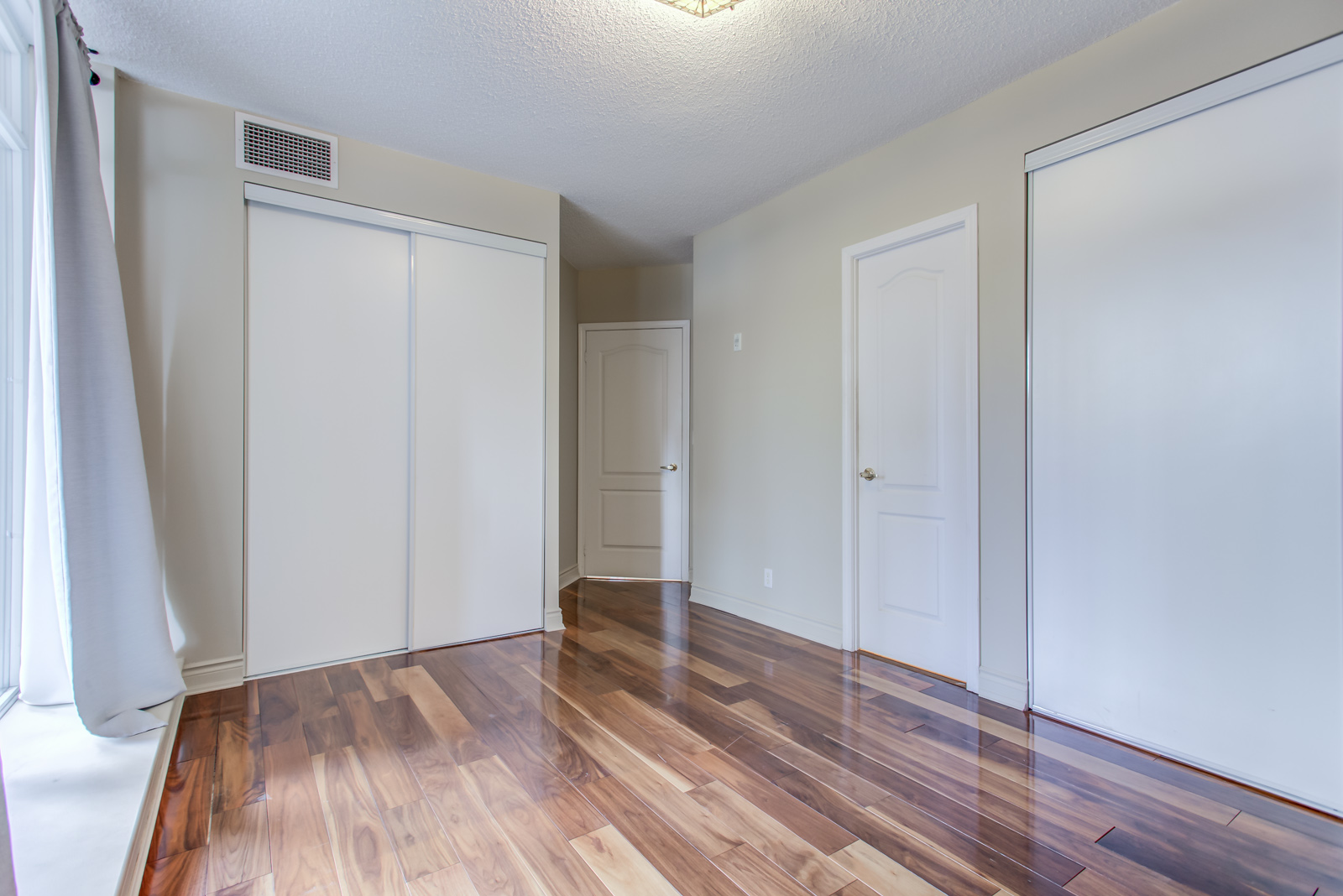 And because the master bedroom connects to the balcony, residents can simply pop out and enjoy the view.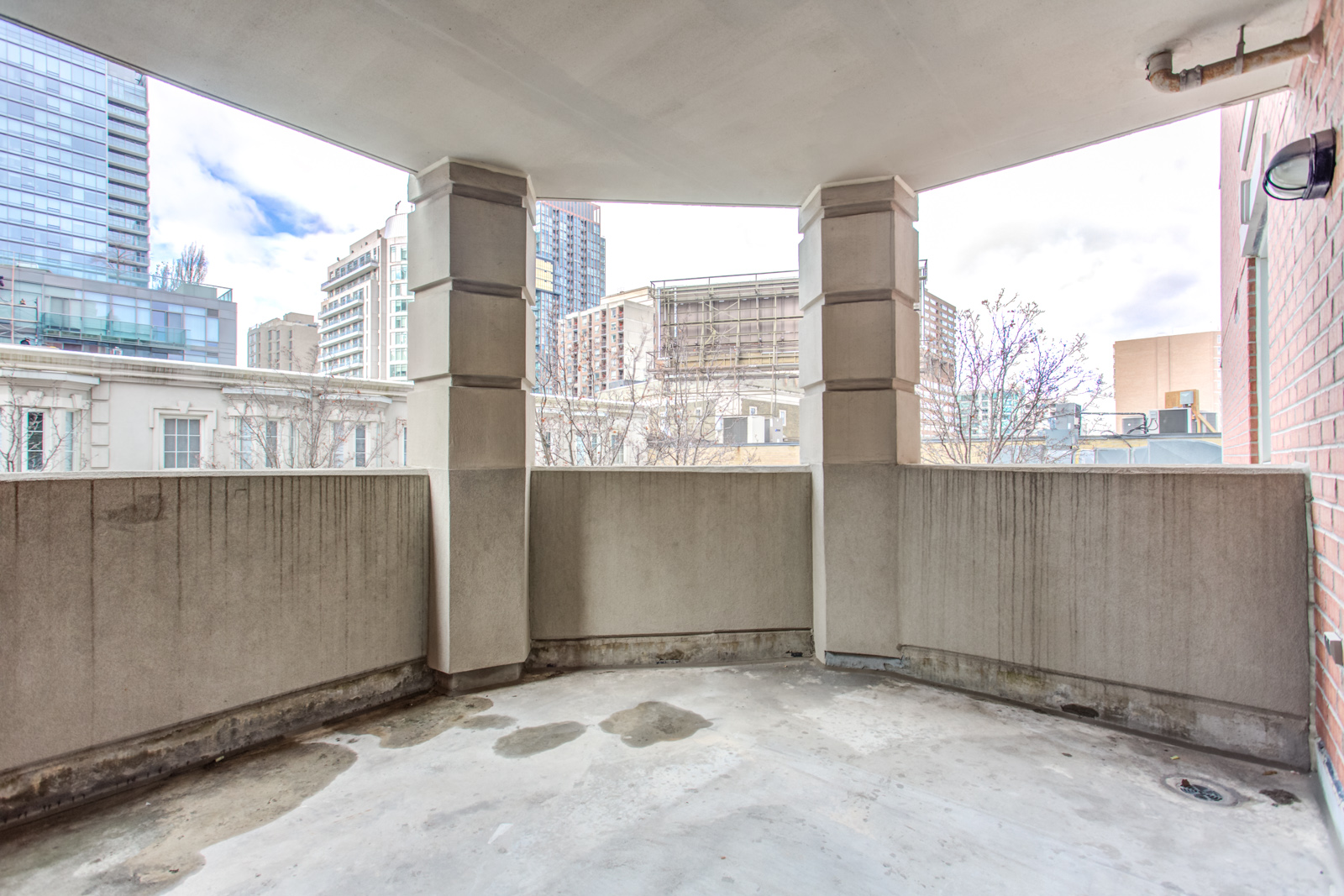 Boasting concrete rails and columns, the balcony is wide enough for several pieces of furniture.
The master bedroom also sports a large closet and 5-piece ensuite bath.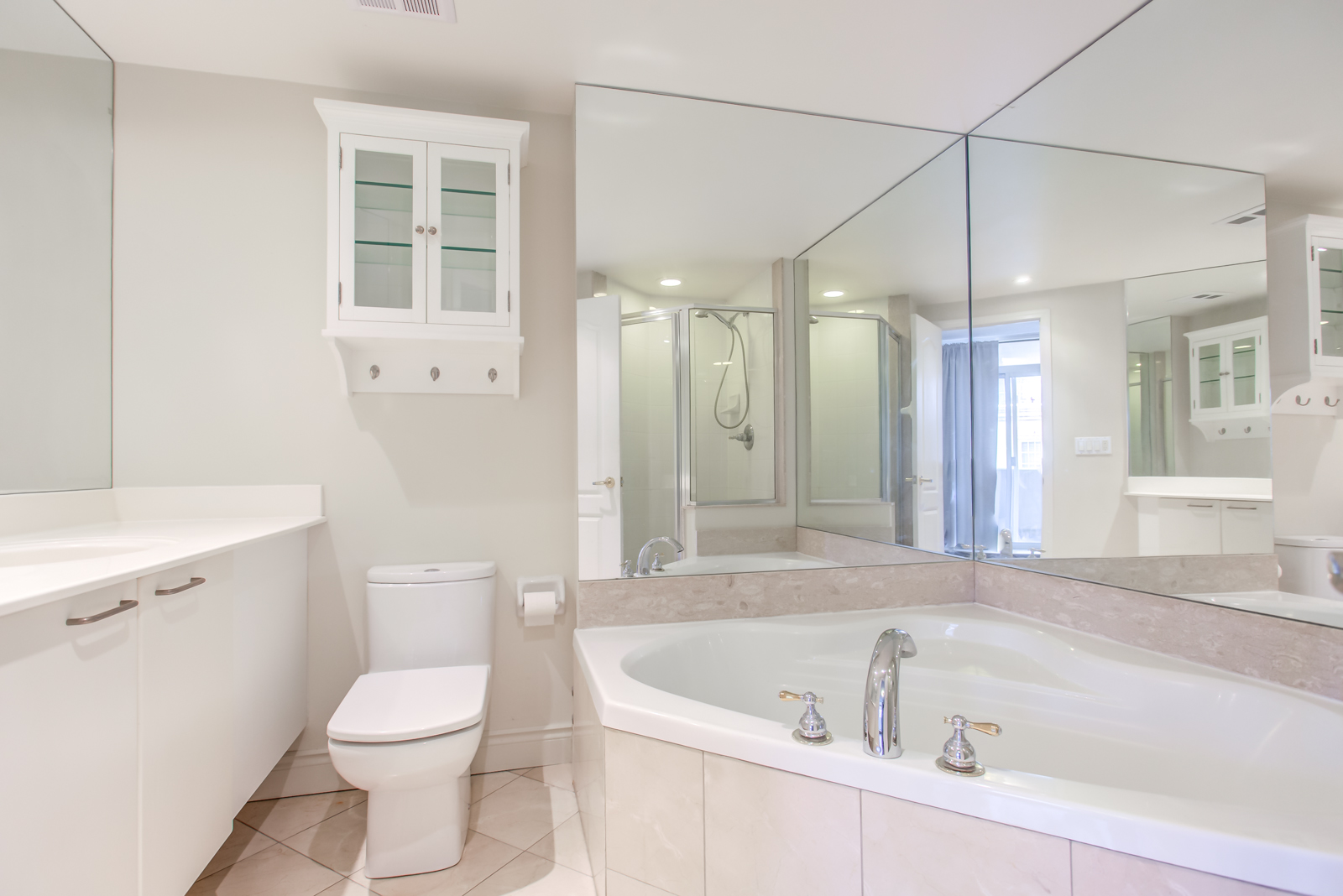 The 5-piece ensuite bath features a standing shower with detachable shower-head, a large sink and counter, a medicine cabinet and cupboards, and extra-long mirrors.
20 Collier St Unit 408 – Second Bedroom and Bath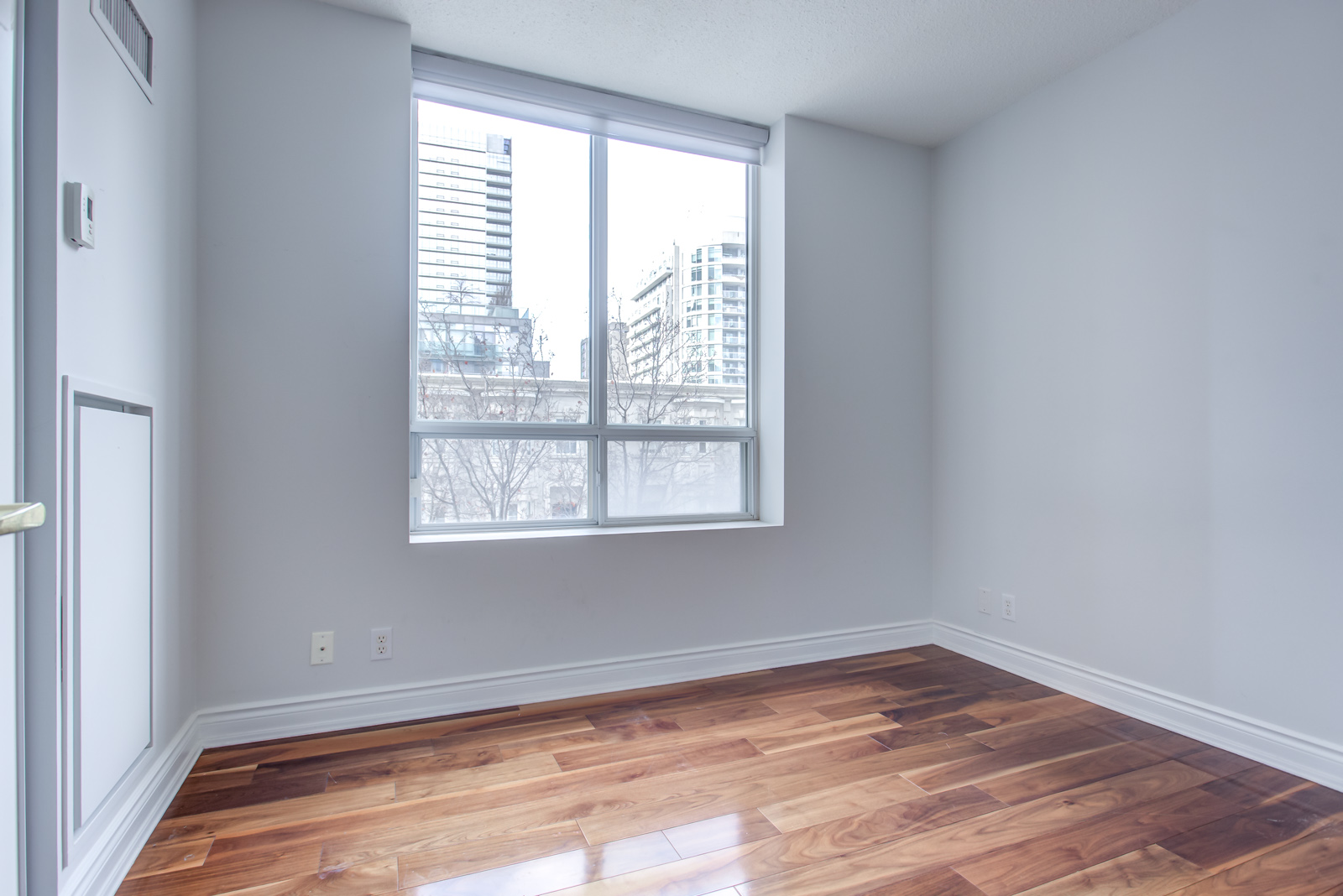 Although smaller, the second bedroom has the same glossy floors and freshly-painted walls as the master bedroom.
As a result, it looks almost brand-new and never-before lived in.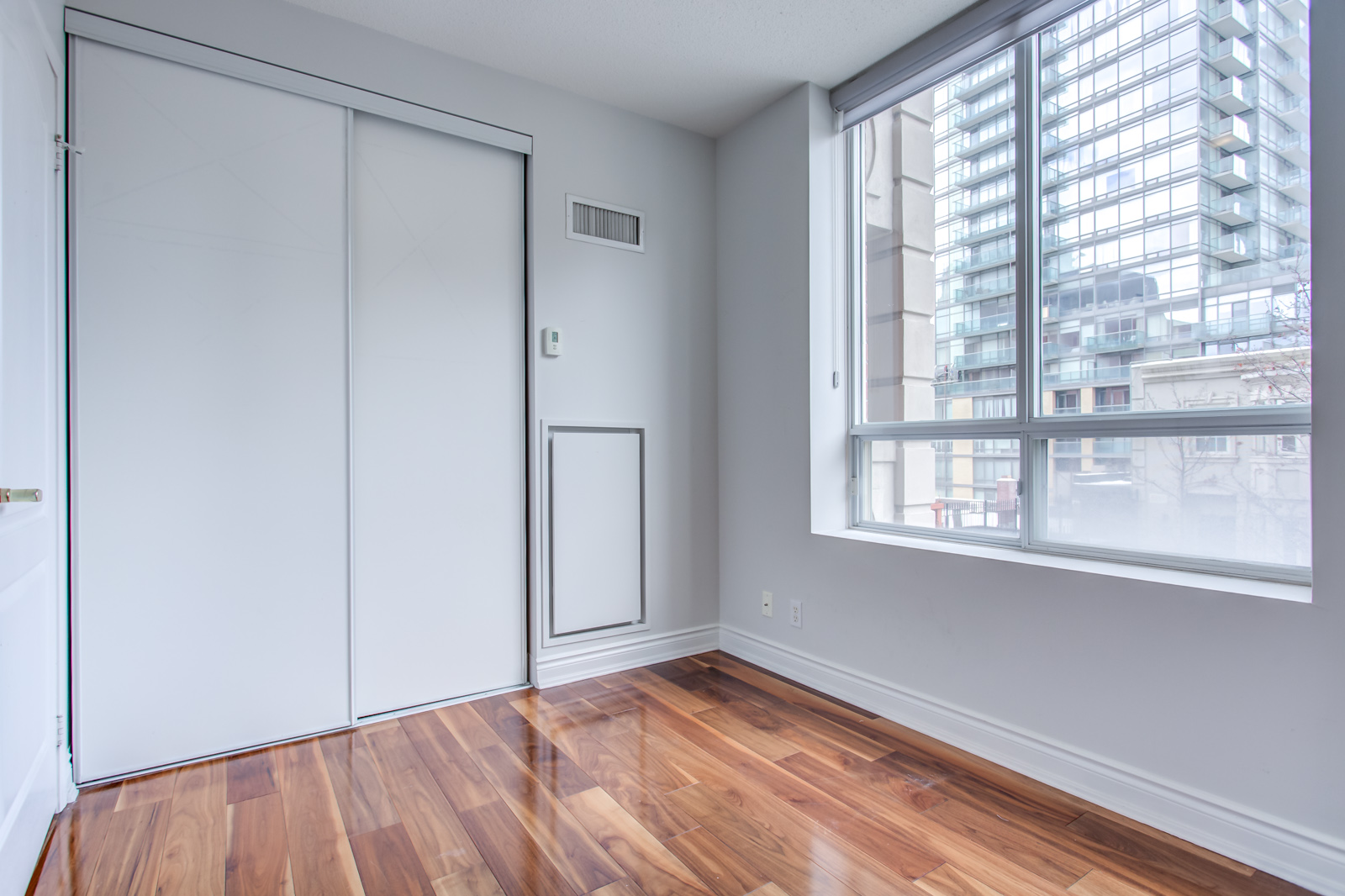 While it lacks an ensuite bath, there's one close by.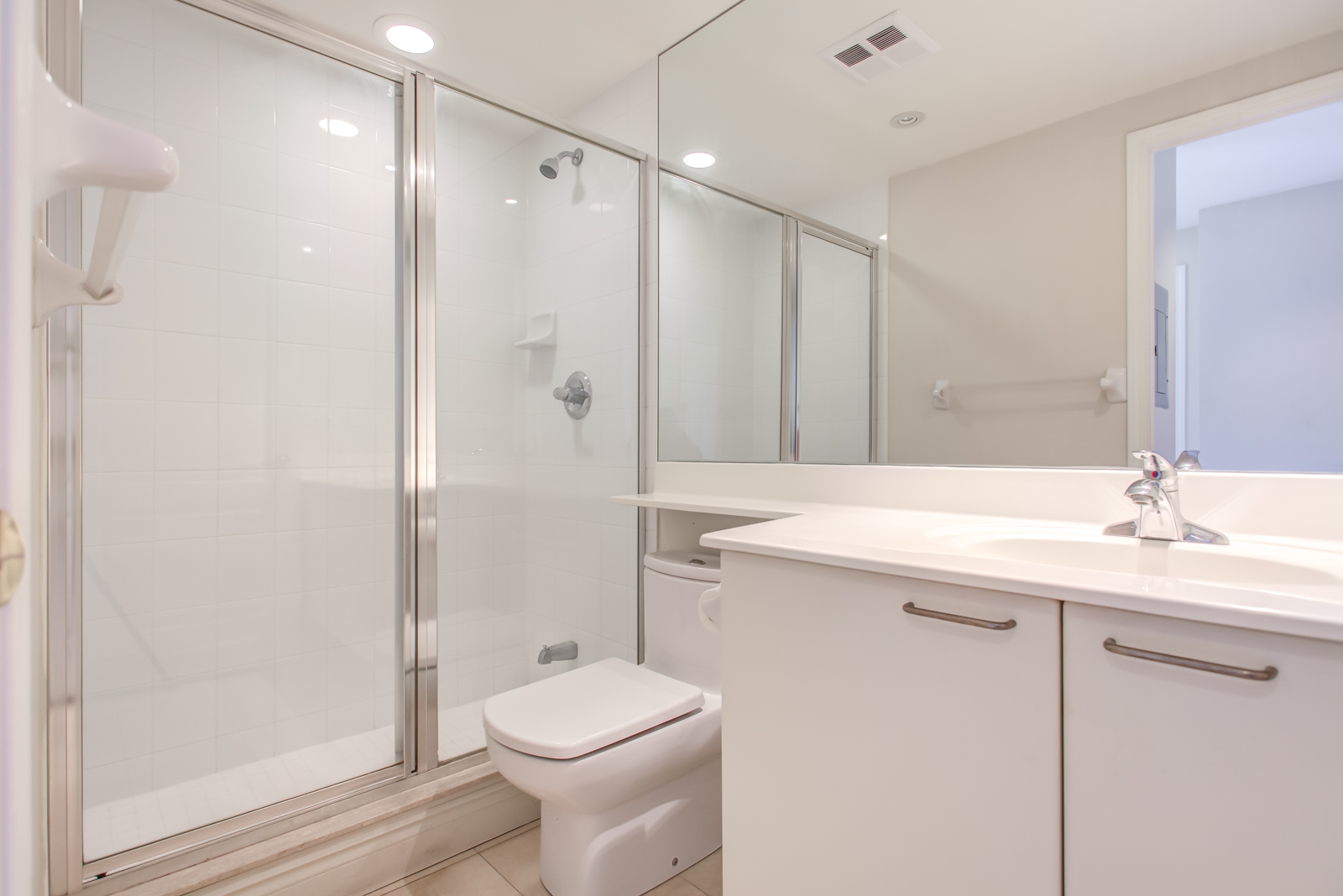 It contains a full-sized shower with glass panels, a sink and storage cabinet with an elongated counter-top, and a giant mirror.
20 Collier St Unit 408 – Balcony and Deck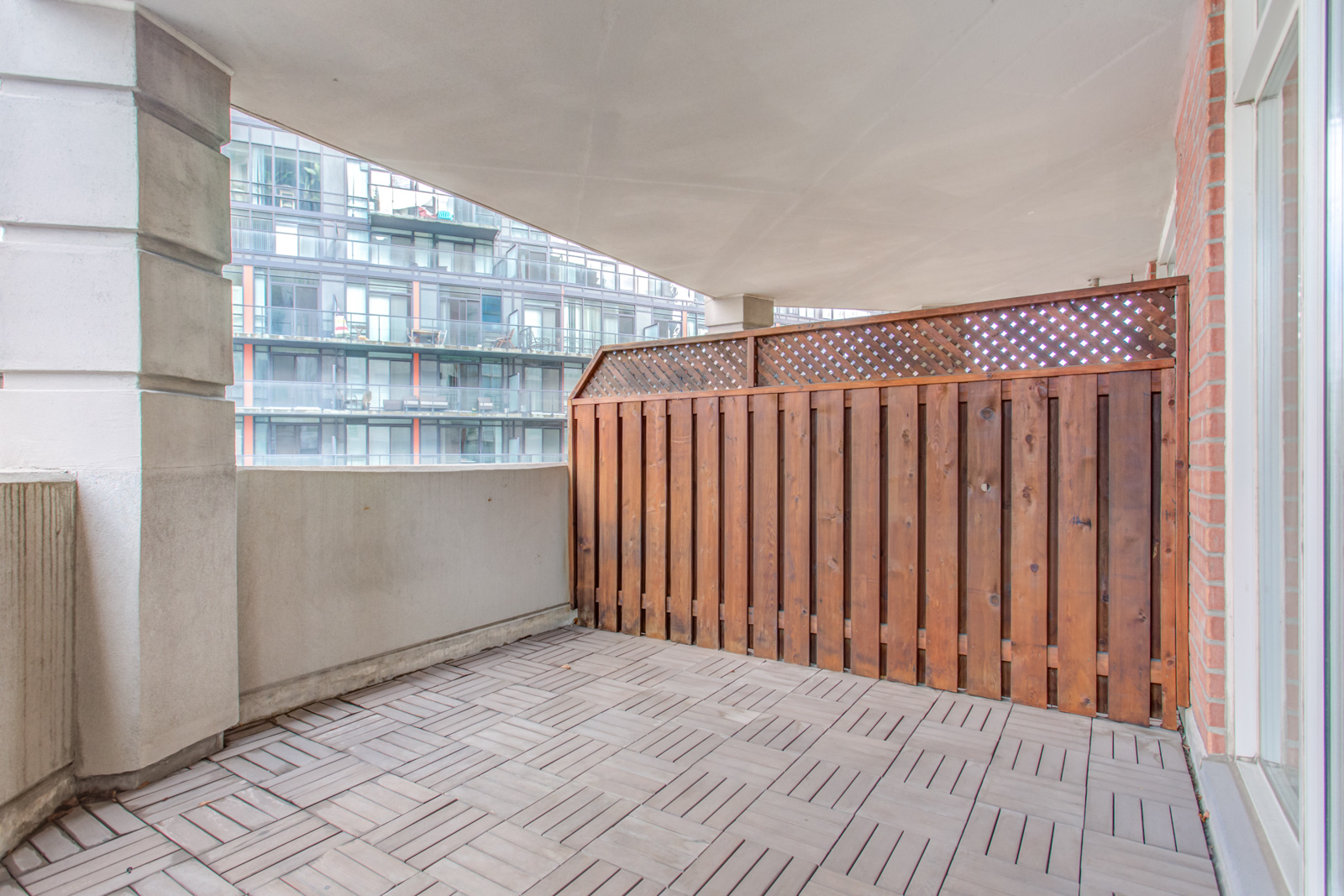 Because it's accessible via the living room and not the master bedroom, that makes it more of a social space.
Speaking of space, there's plenty of it….
Chairs, sectionals, sofas, tables, plants—this balcony can handle it all.
Twenty Collier – Amenities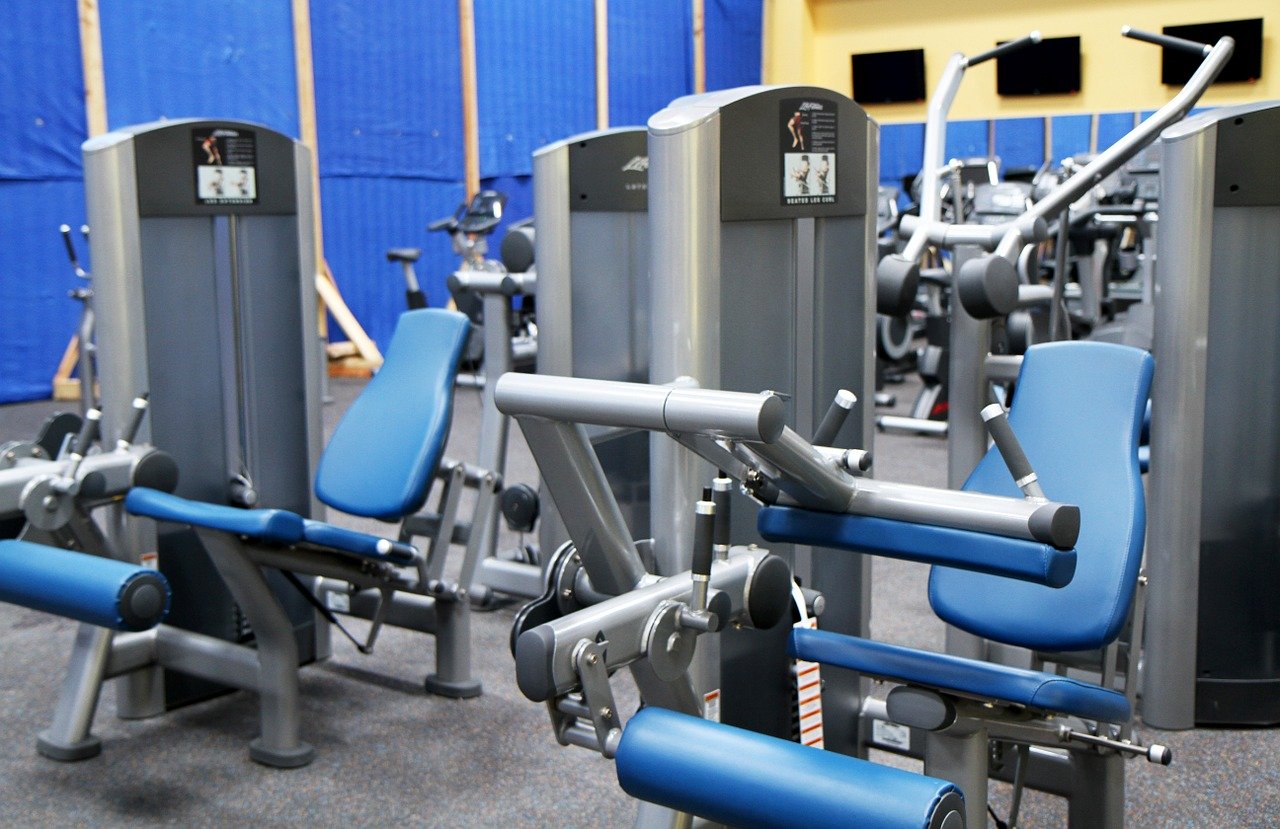 Twenty Collier comes with the following amenities:
Concierge and security services

Gym and exercise room

Party room and rec centre

Rooftop deck and garden

Meeting room and visitor lounge

Underground parking and bike storage
About Yorkville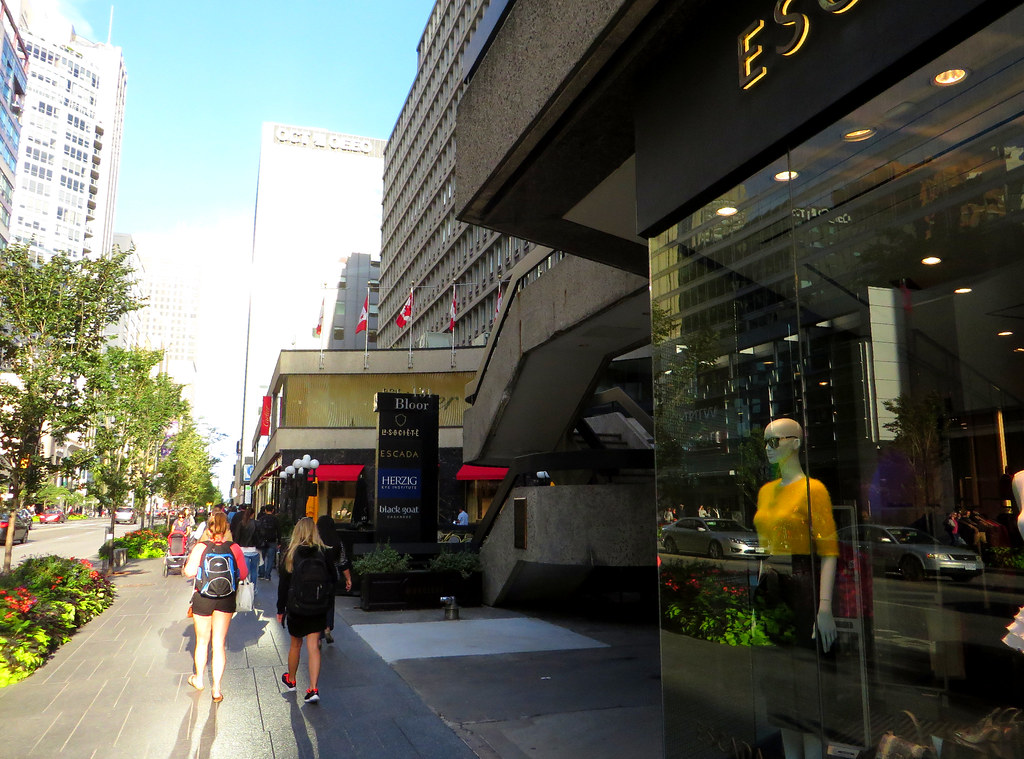 Yorkville is a remarkable neighbourhood with a rich history of arts, music, theatre and culture. 
It also has some of Toronto's (and Canada's) best restaurants, cafes and shops. 
In fact, there's so much to say about Yorkville that it's impossible to do it in a few paragraphs.
That's why I put together an in-depth guide. To know what makes Yorkville so special, just click this link!
Other Location Highlights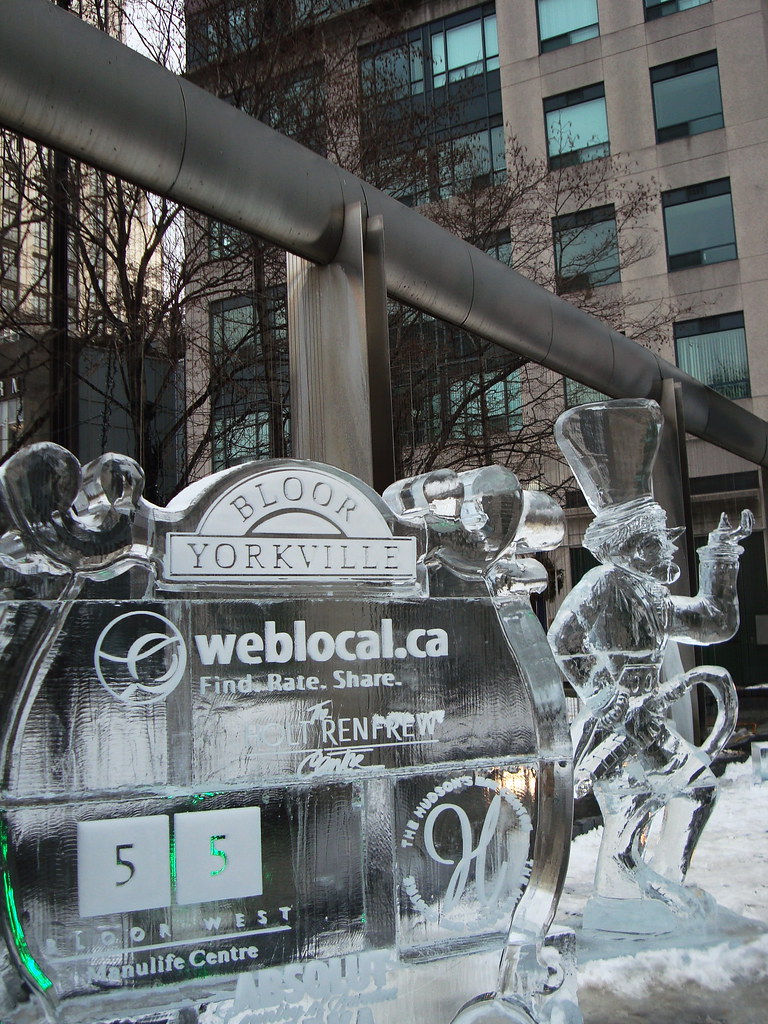 Steps away from Toronto's

best restaurants

, including Buca, Blu Ristorante and Sassafraz
Minutes from

Mink Mile

, "home to some of Canada's most prestigious retailers"
An

arts and culture

hub with over 26 galleries, museums and concert venues
Amazing

events

showcasing local art, music, photography, food, fashion and more

99 Walk Score, 95 Transit Score and 5-minutes from the Yonge and Bloor subway
The WOW Factor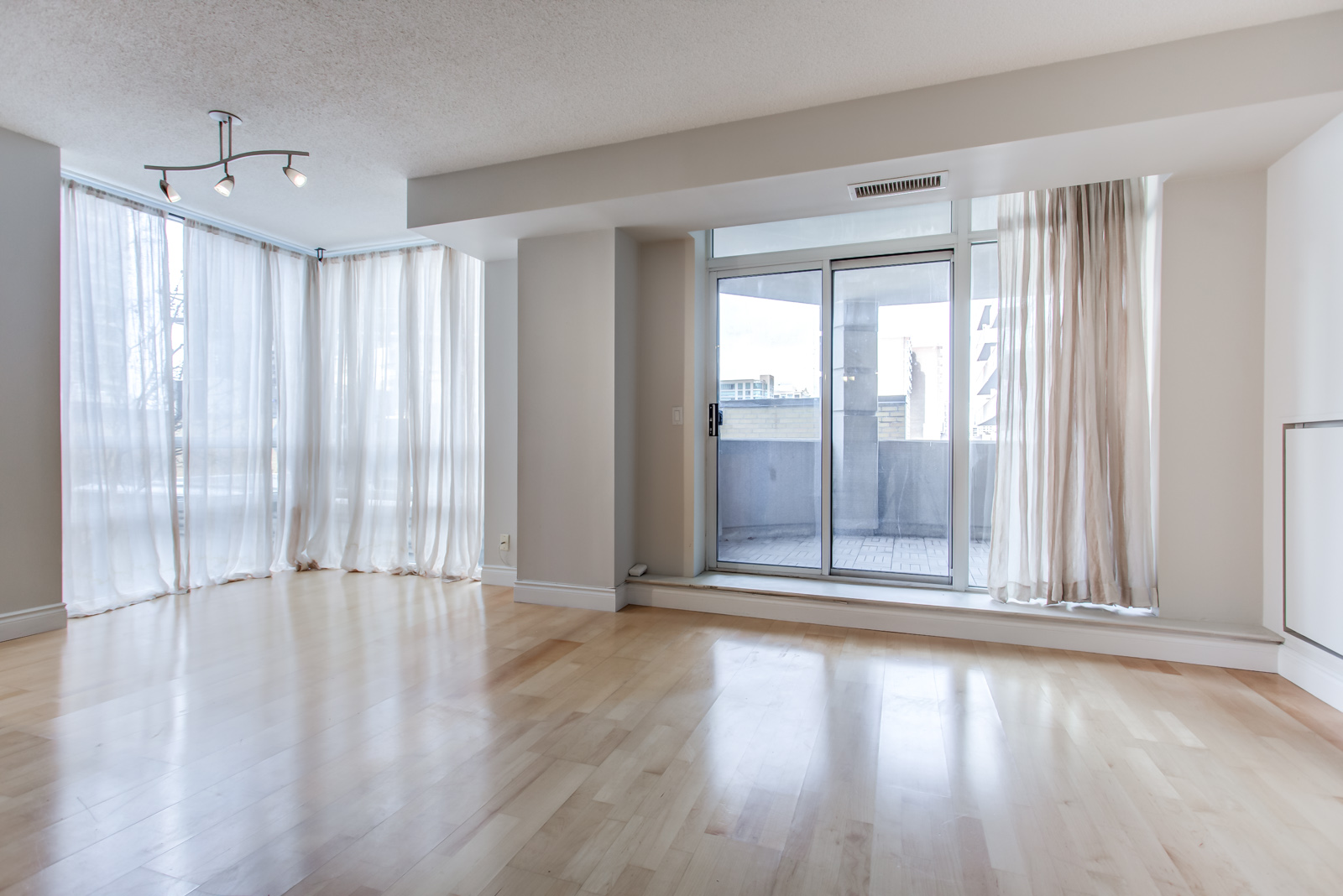 With 2 bedrooms, 2 baths and a full-sized kitchen, its 951 sq. ft. interior rivals most houses.
And it's the same when it comes to quality….
Glossy hardwoods, newly-painted walls, floor-to-ceiling windows, high-end finishes—Unit 408 doesn't hold back.
Add an extensive list of amenities and a location in fabulous Yorkville, and it becomes the perfect place to call home.
Want to know more about 20 Collier St Unit 408? Take the Virtual Tour or contact me below for more details.