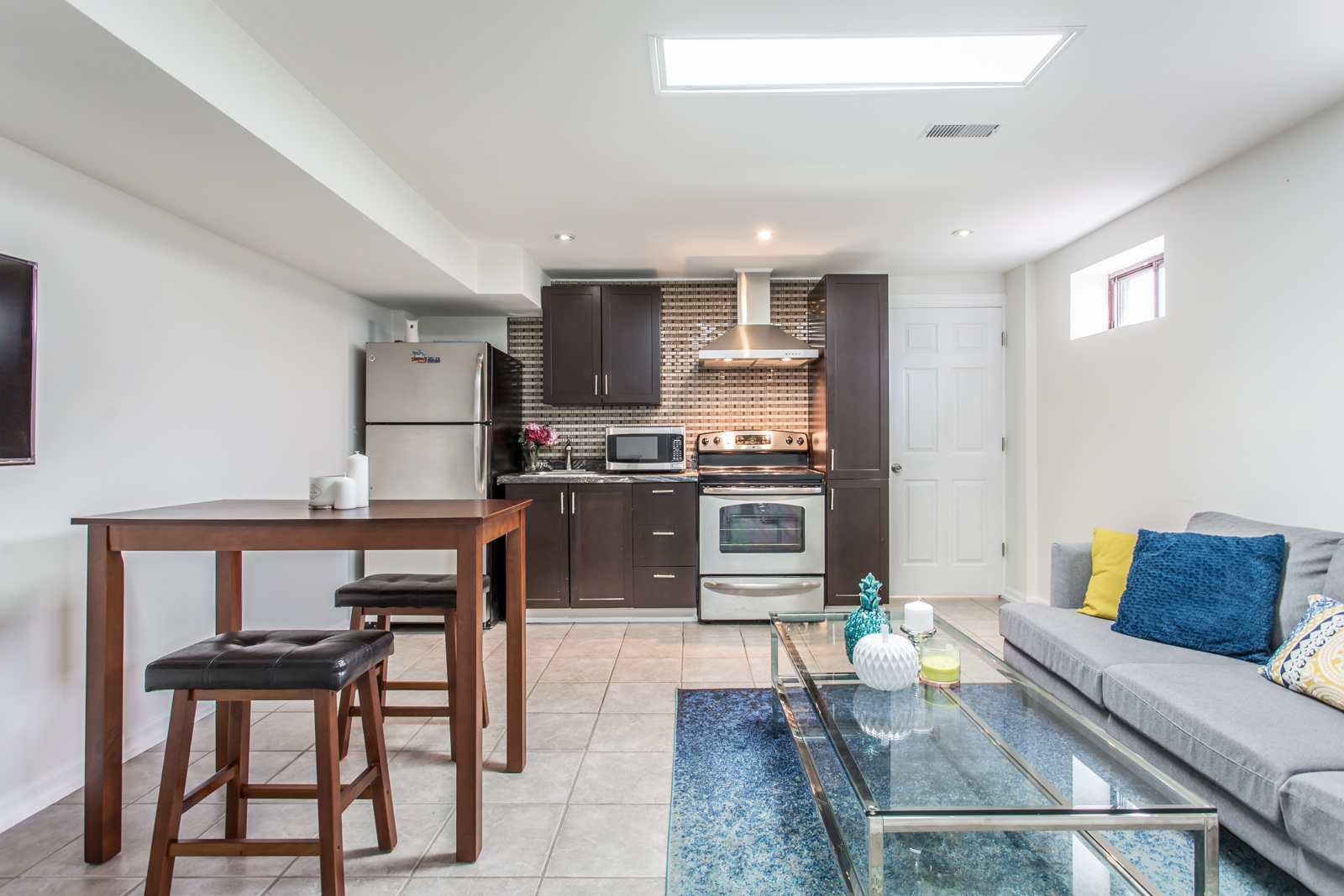 Building Details
Address: 9 Keywest Avenue, Toronto Ontario, M6E2A7
Neighbourhood: Oakwood-Vaughan
Parking: Shared
Laundry: Shared
Utilities: Included
Restrictions: No pets or smoking
Size: approximately 600 sq. ft.
Rooms: 1 Bedroom + 1 Bath
Leased $1,350 per month
Agent: Wins Lai, Living Realty Inc., Brokerage
About 9 Keywest Avenue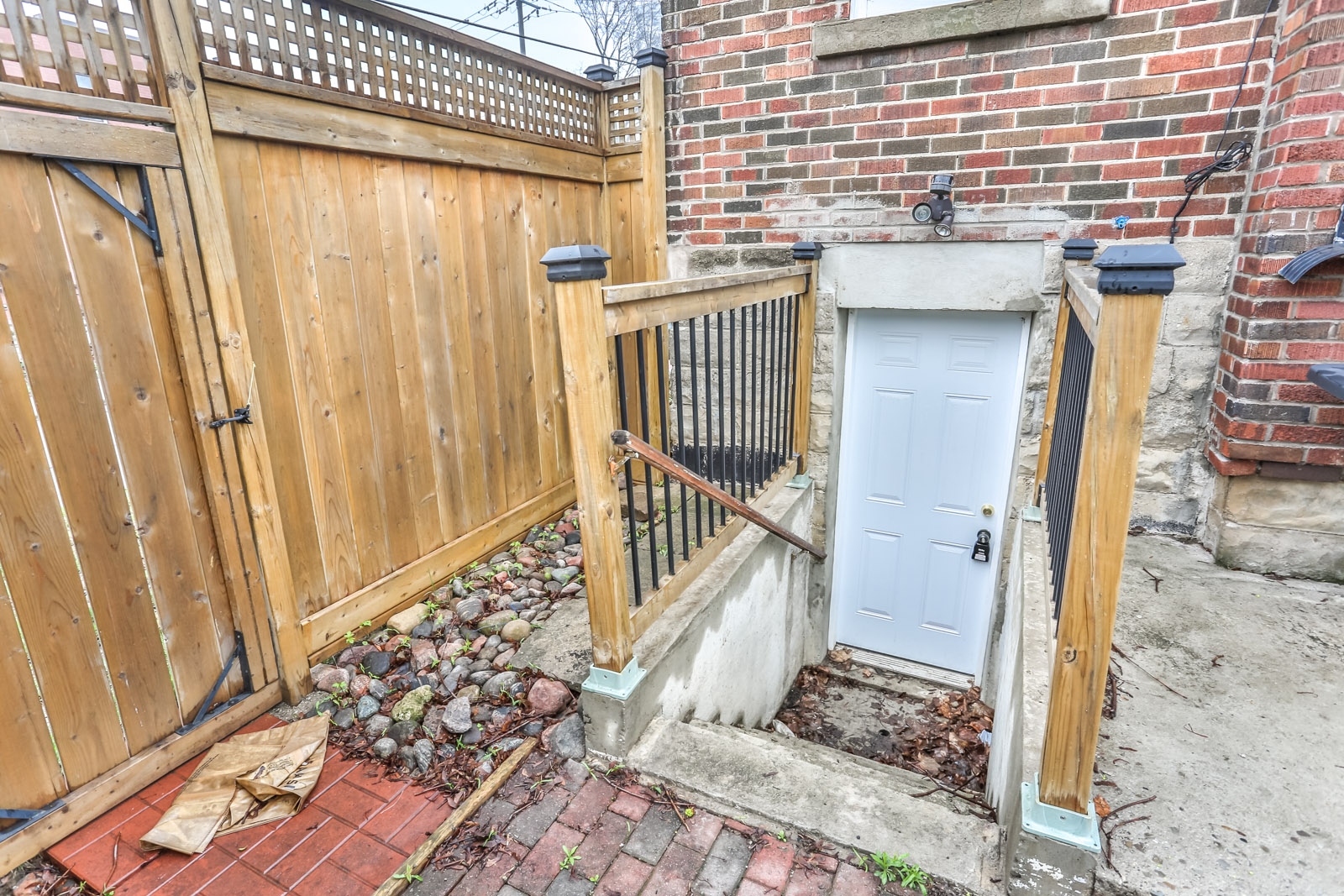 9 Keywest Avenue is a 1 bedroom, 1 bath rental located in the scenic Oakwood-Vaughan neighborhood.
Its spacious layout, ceramic floors and contemporary design infuse basement living with luxury, comfort and style.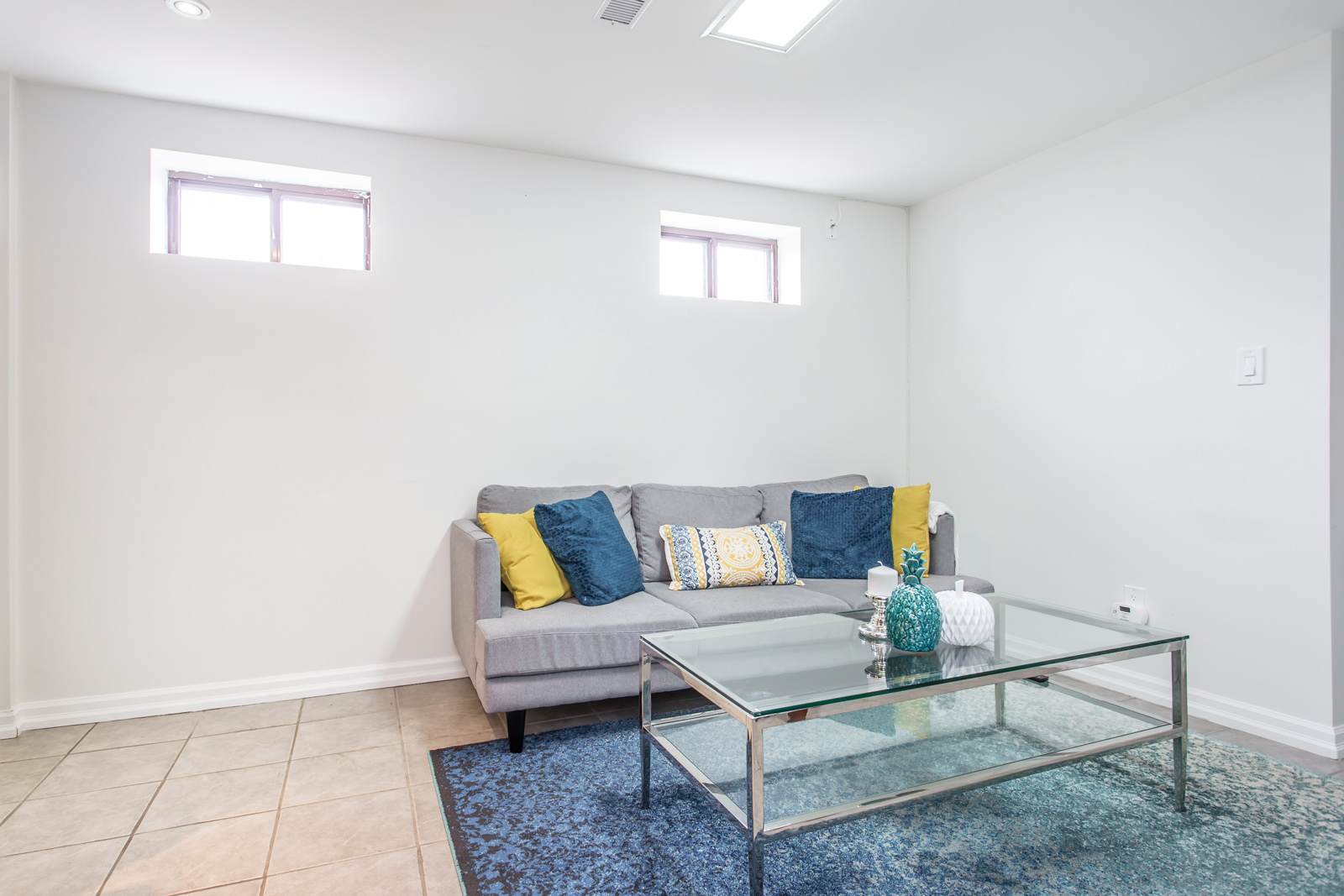 The living room is brightly lit, with two rear windows and recessed lighting in the high ceilings.
The matching grays walls and furniture exude sophistication, while colourful pillows add a splash of fun.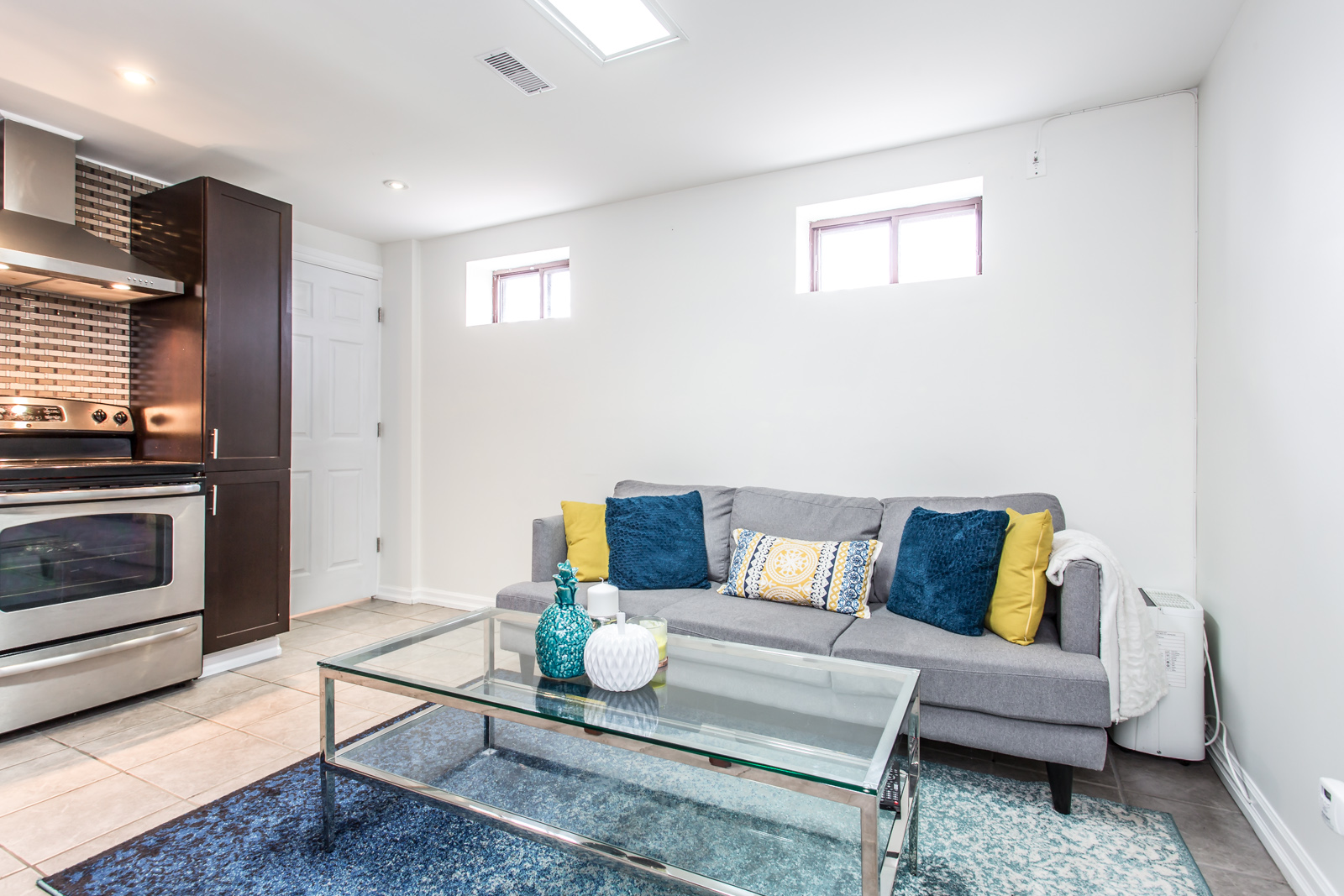 The dining room includes a gorgeous wooden table and leather stools, a cozy arrangement that makes meals more intimate.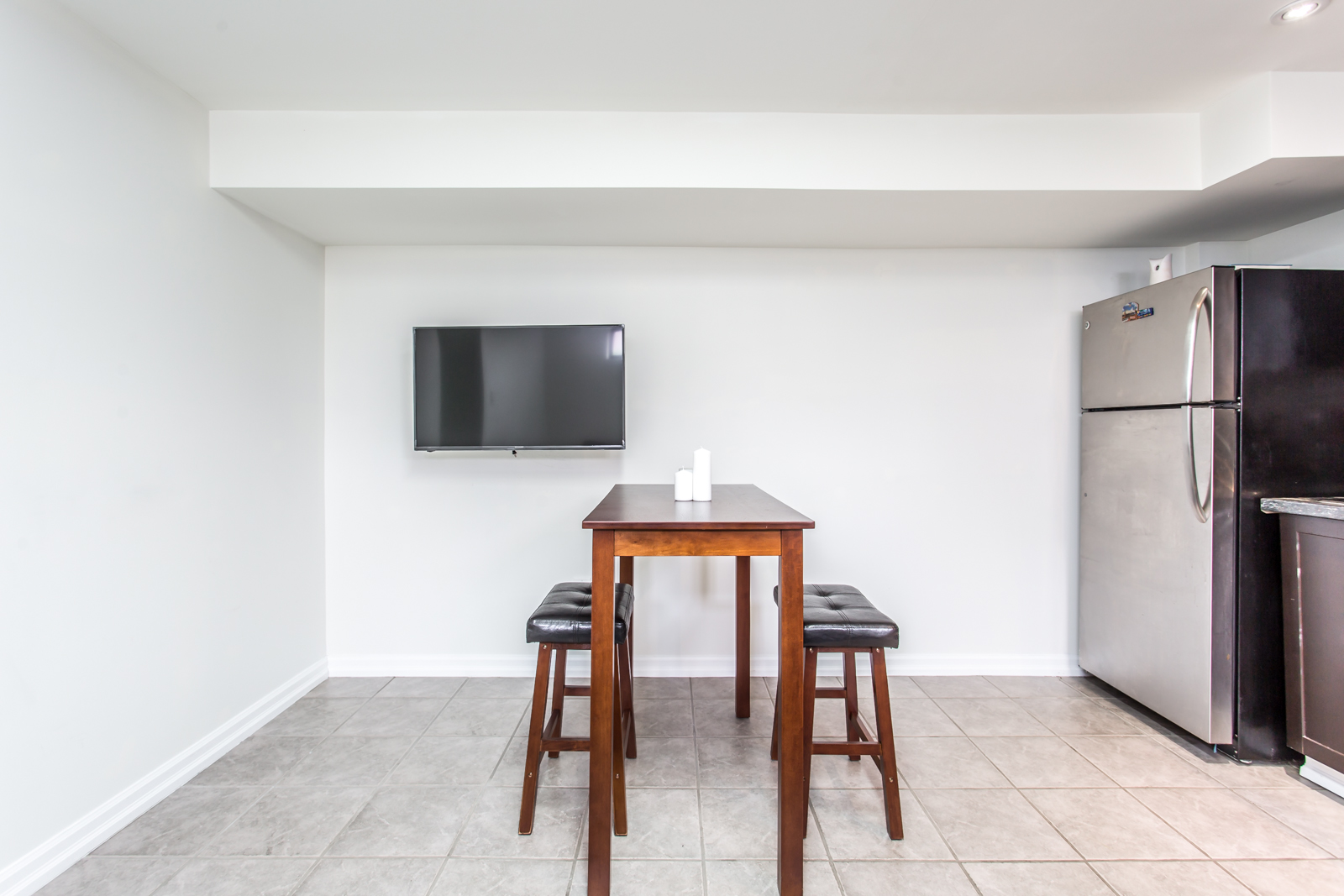 9 Keywest has a kitchen that would make anyone jealous. Sleek appliances, a stunning backsplash, rich lighting, and plenty of cabinets are just some of its highlights.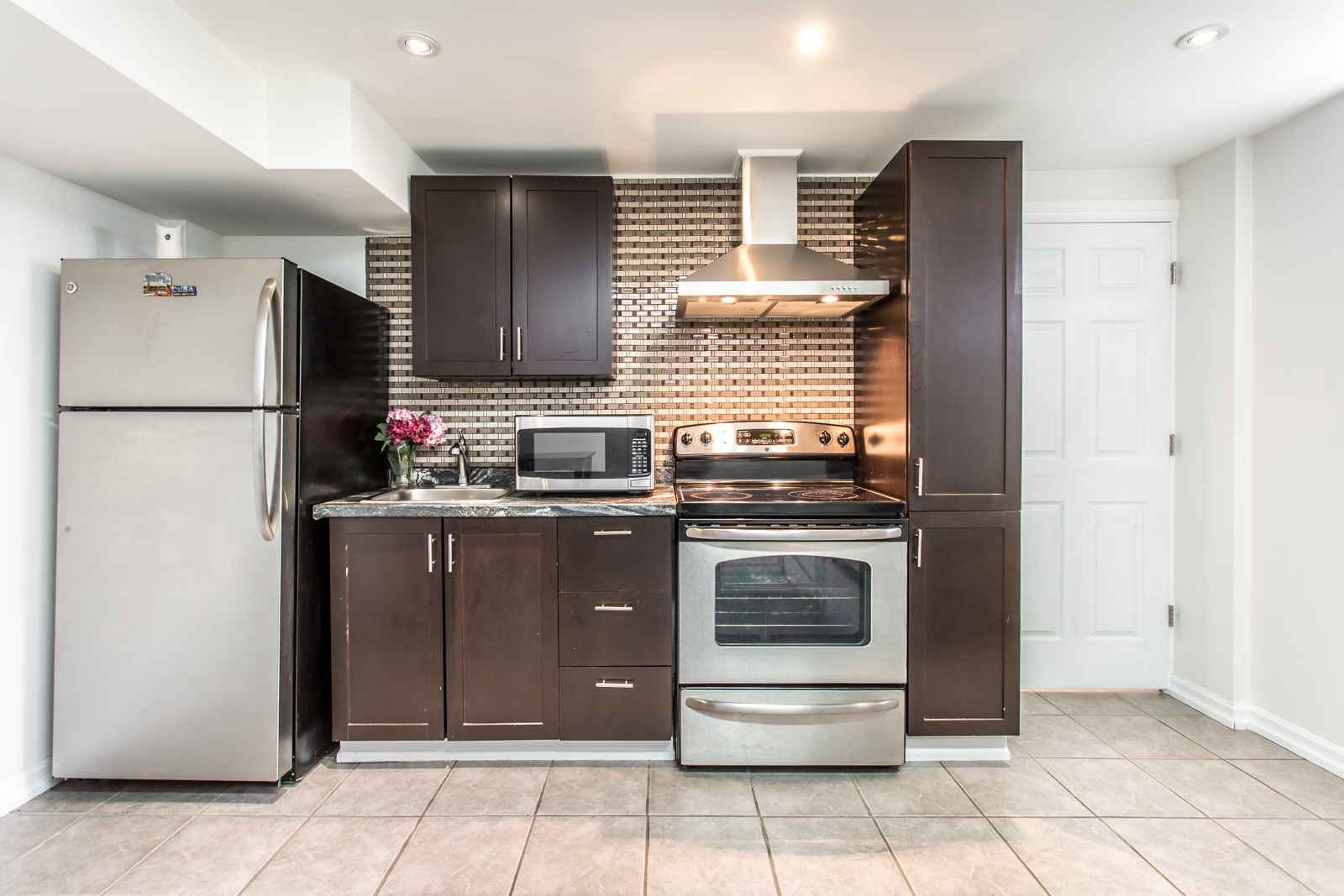 Appliances include:
A stainless-steel fridge, stove, microwave and range hood

A stacked washer and dryer
A large bed, fleecy carpet, stylish mirror, and exquisite table transform the bedroom into an oasis of comfort and luxury.
There's also a large dresser for all your storage needs.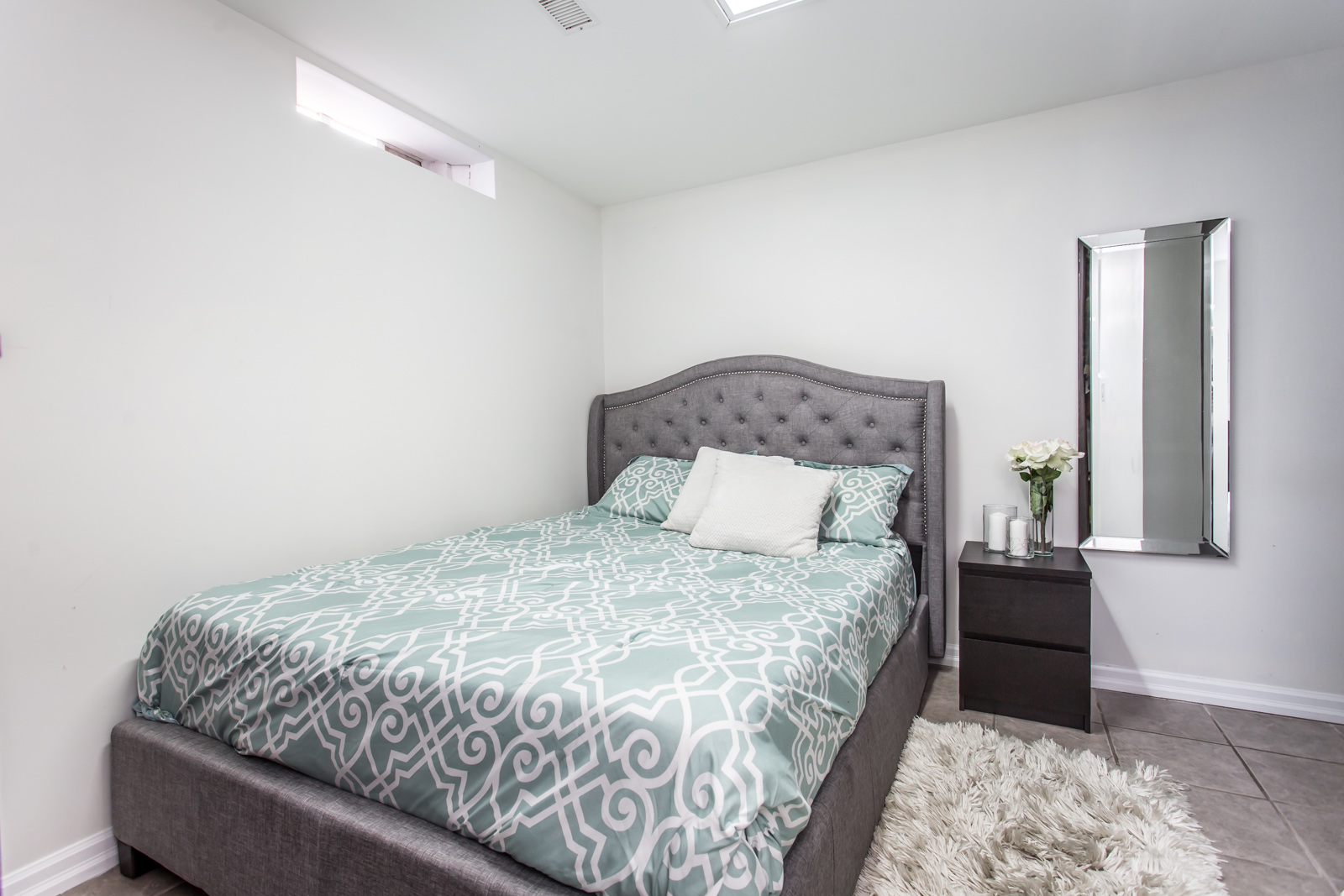 The 4-piece bathroom is practical yet elegant.
Residents have the convenience of both a large tub and shower, while mixed materials including wood, glass, brick, and ceramic only enhance its visual appeal.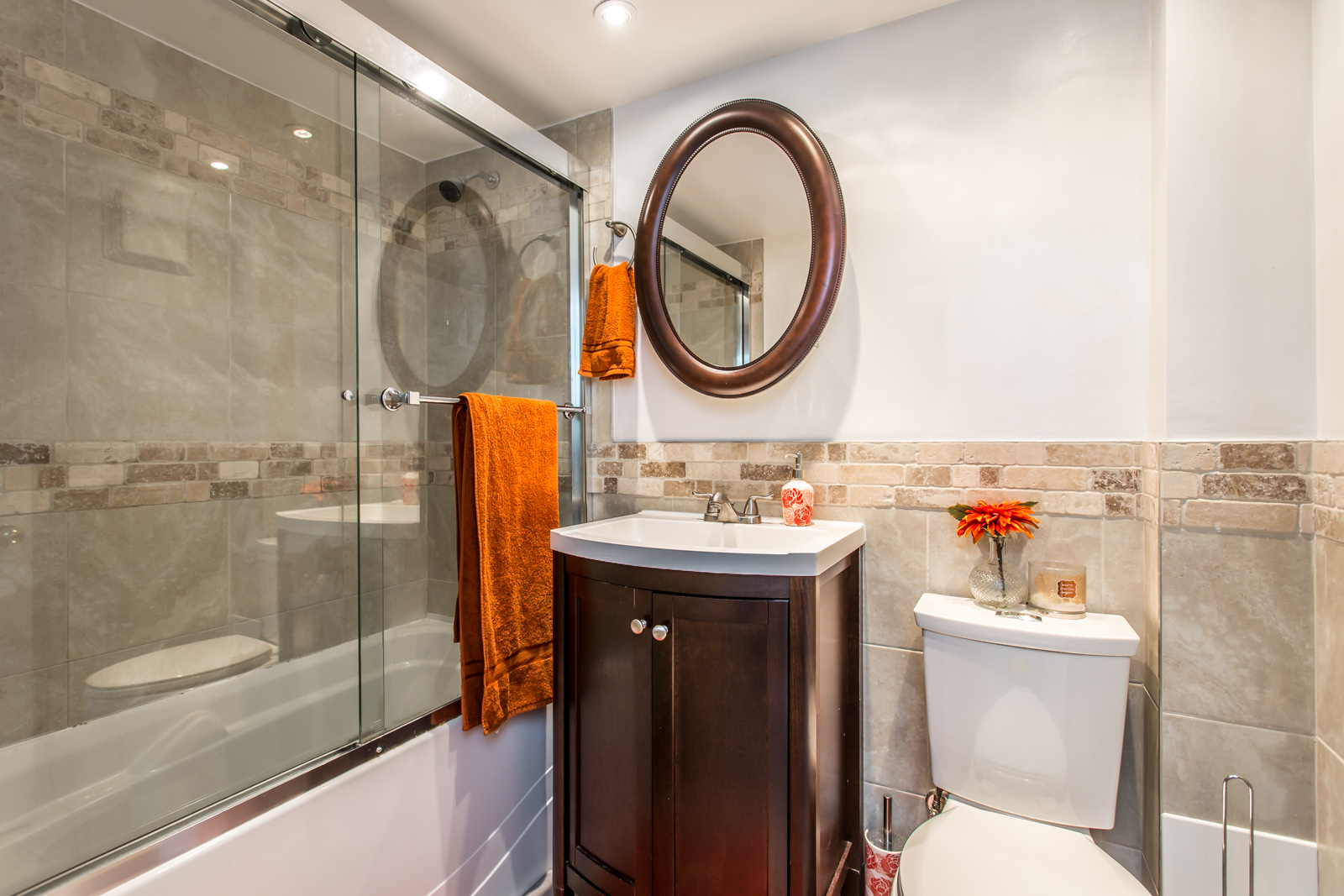 Finally, 9 Keywest Avenue has a massive backyard that's perfect for summer barbecues and social gatherings.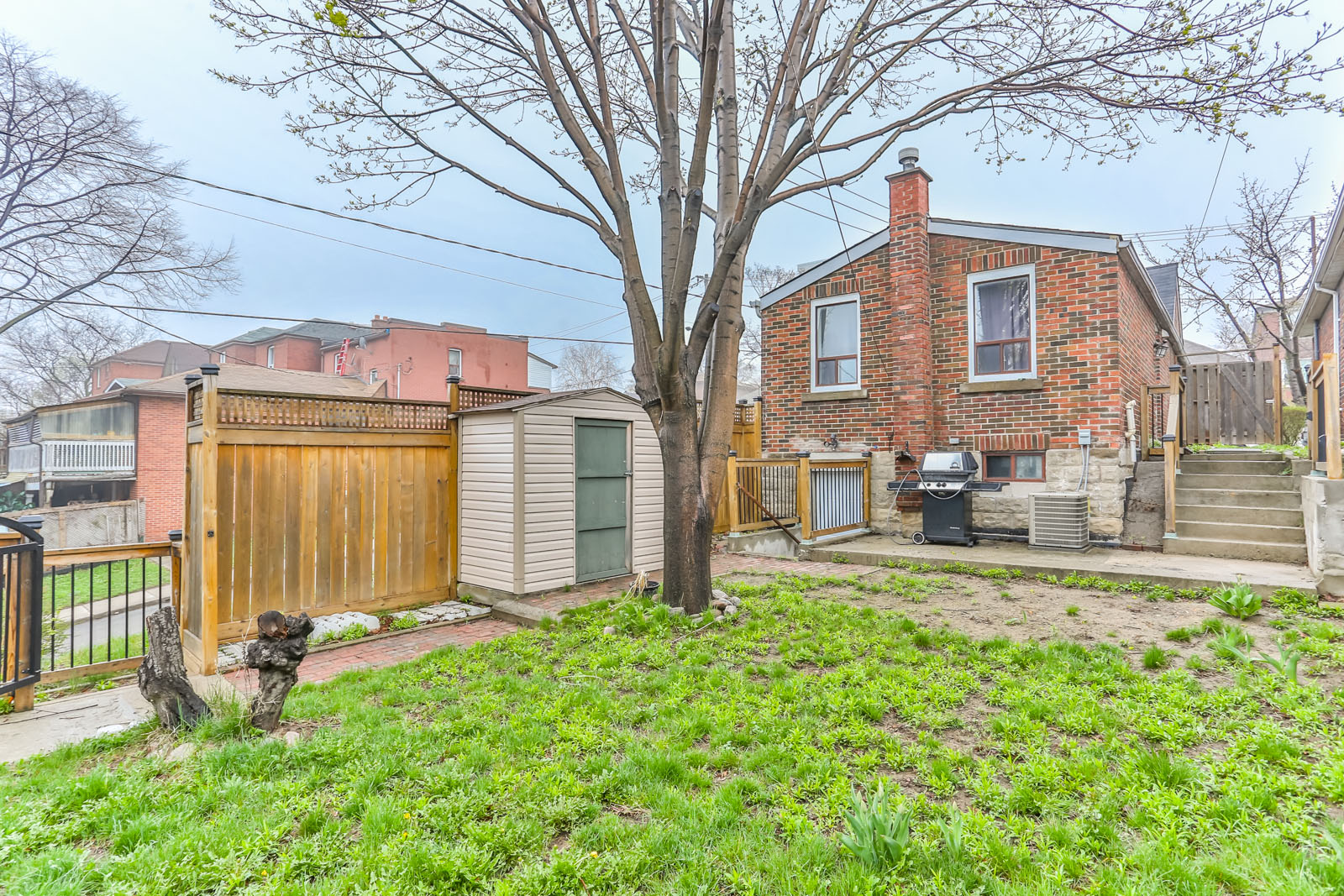 About Oakwood-Vaughan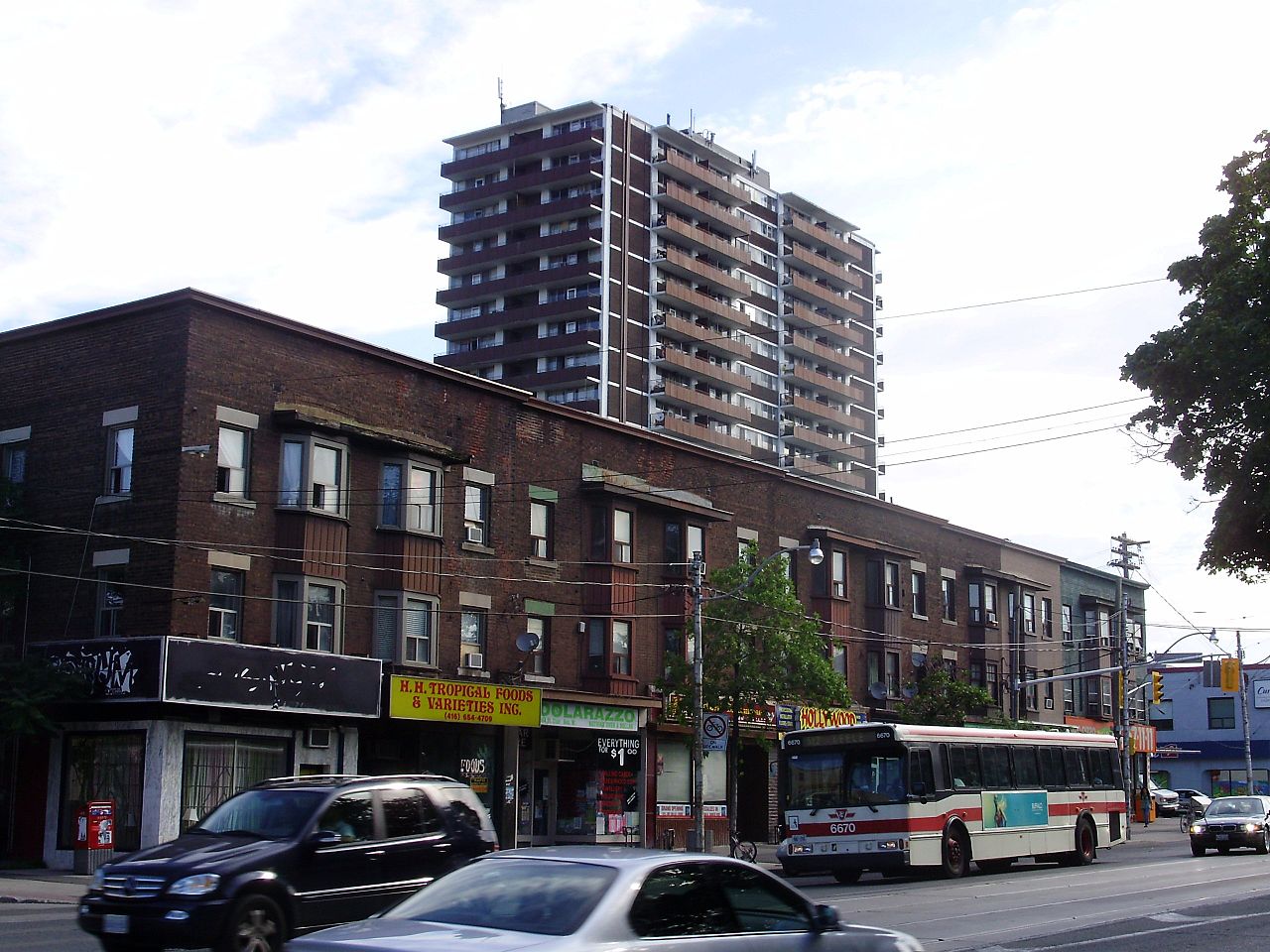 9 Keywest Avenue lies in Oakwood-Vaughan, a diverse and multicultural neighbourhood in the district of York.
This diversity can be seen in its Italian espresso bars, Jamaican restaurants, and Portuguese churrasquerias.
Due to a high rate of employment in the visual and performing arts, Oakwood-Vaughan has been officially designated as an arts district.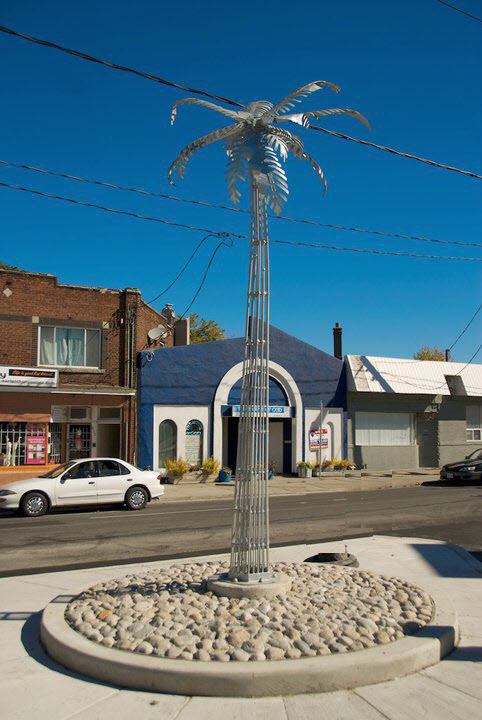 In fact, the neighborhood holds an annual arts festival, while the local library and arts centre provides homegrown artists and musicians a chance to showcase their work.
The area is also home to several parks, cafes, swimming pools, libraries, and a community centre.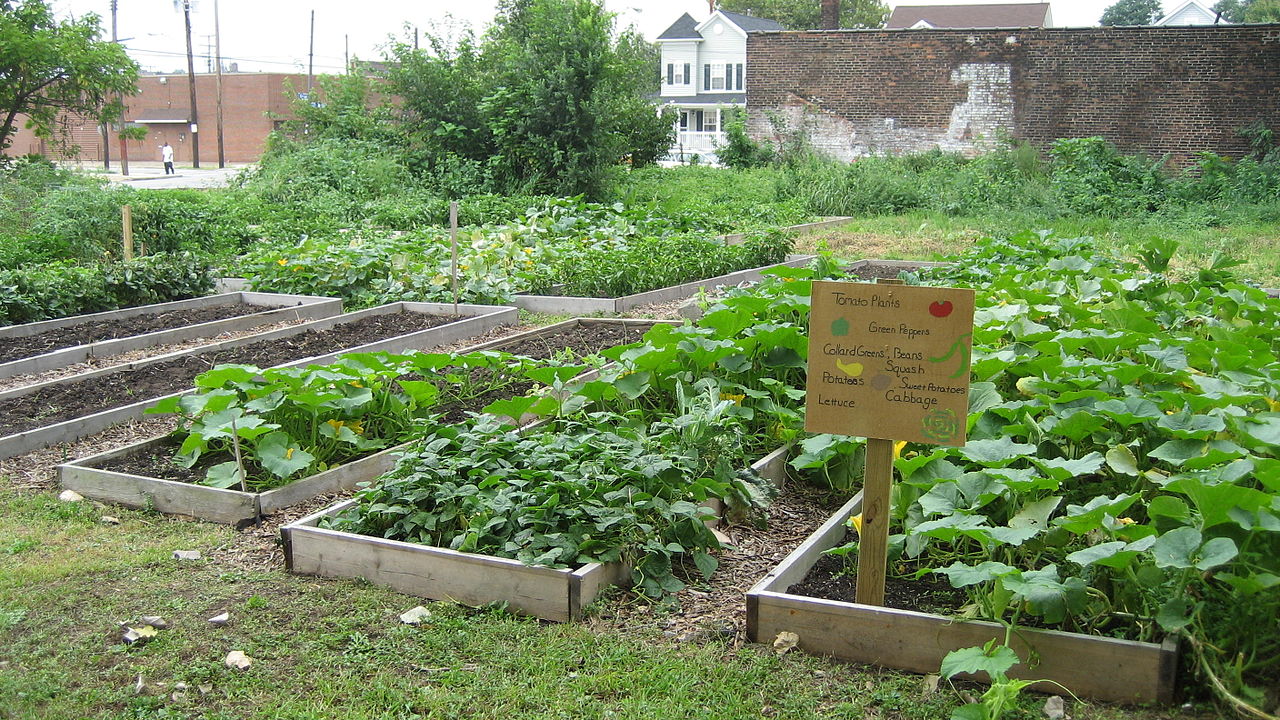 Other Location Highlights:
The WOW Factor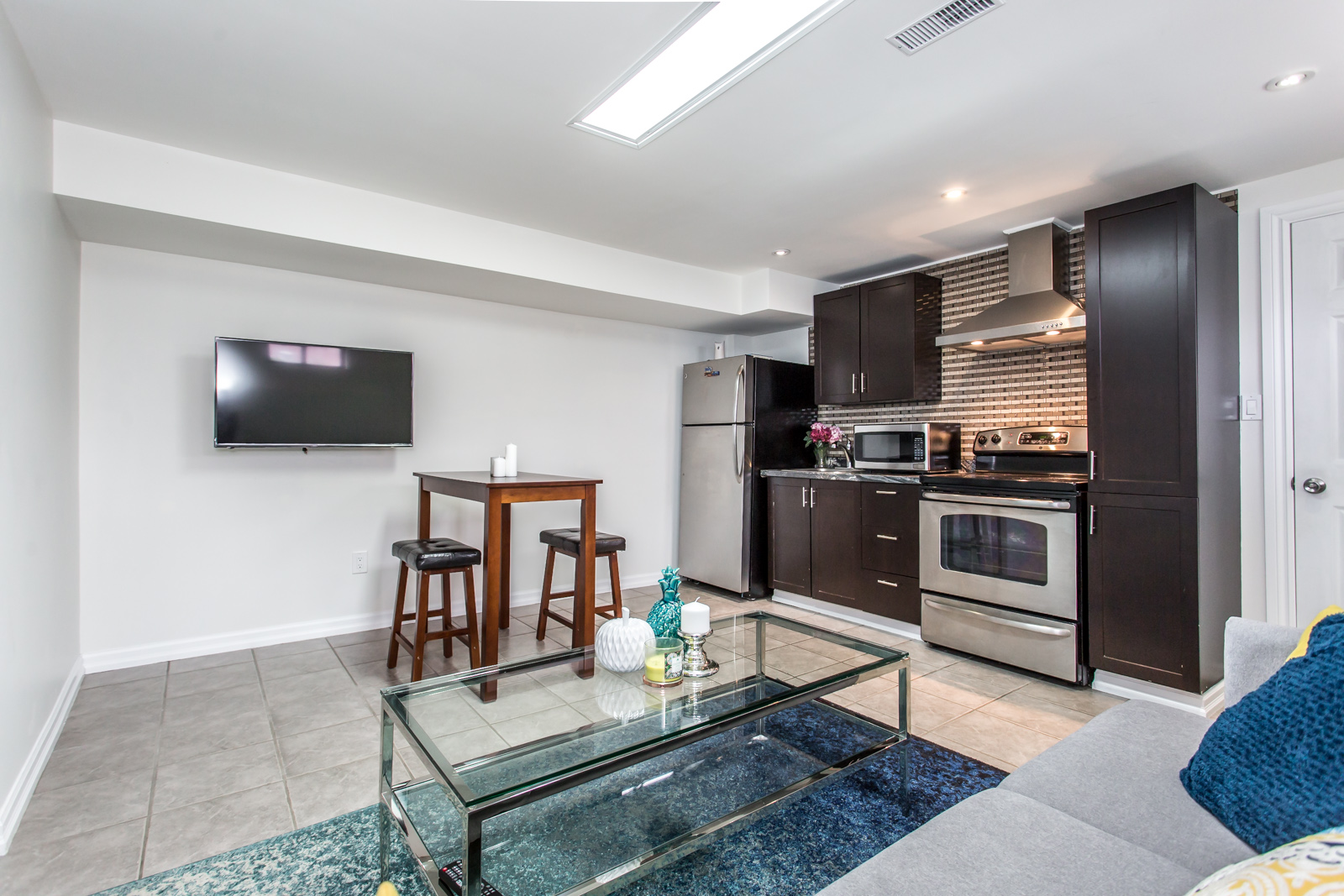 9 Keywest Avenue combines all the advantages of suburban living like privacy and greenery with easy access to urban amenities, thanks to the nearby bus stop and Eglinton West subway line. 9 Keywest is also close to the future Eglinton LRT.

The 1 bedroom, 1 bath basement is luxurious, comfortable and outfitted with every possible convenience, from its private entrance to its gorgeous kitchen.
Have questions about 9 Keywest Avenue? Contact me below for more details.