Overview: a case study of how I sold a $3.4 million Toronto penthouse, with insights on marketing, luxury condos, and the future of Toronto real estate.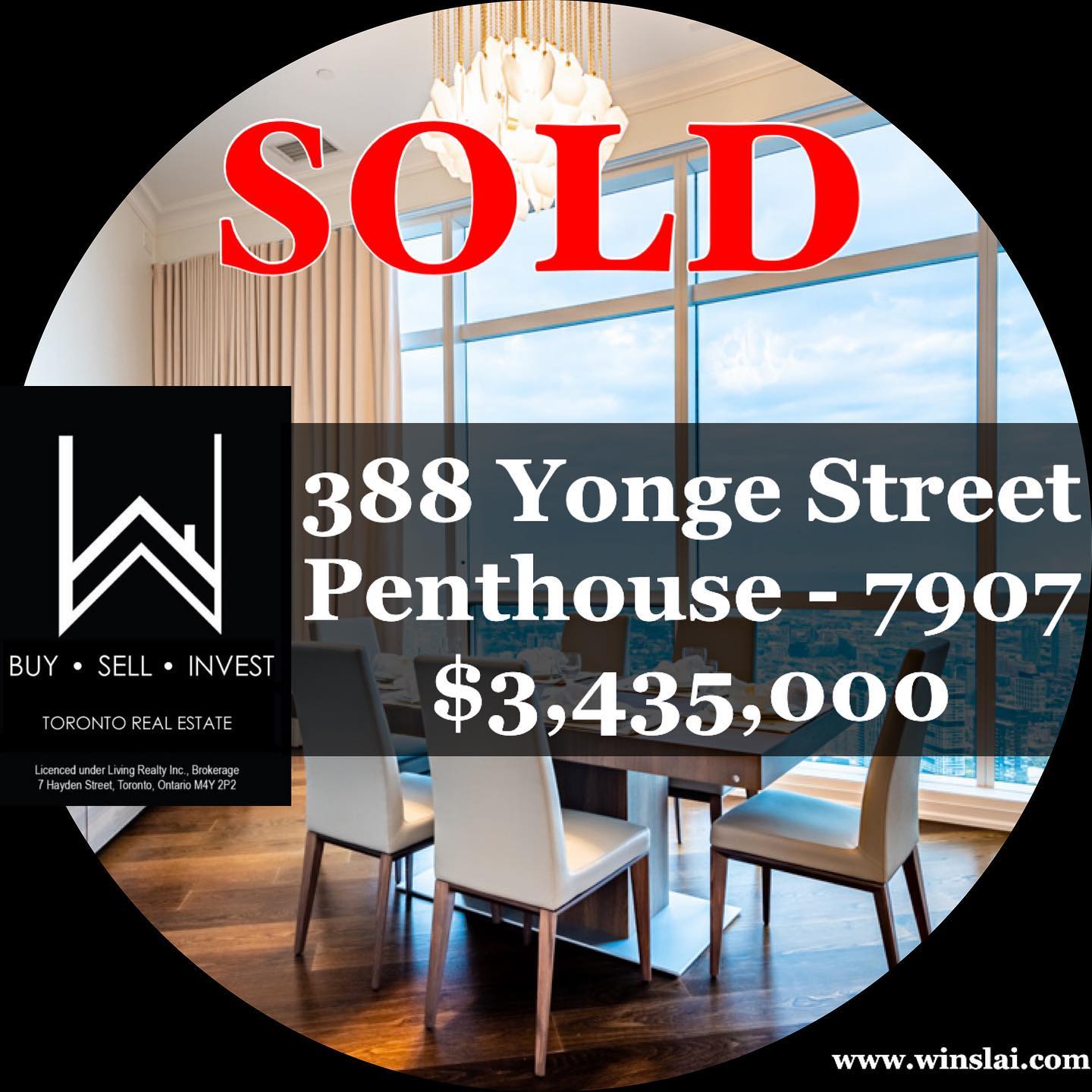 It's no secret that GTA home prices have been soaring over the past few decades.
In spite of ongoing health restrictions, job uncertainty and the prospect of interest rates hikes, buyers are still eager to get in on the housing market.
But what about the luxury real estate market, such as multi-million dollar penthouses?
Is there an appetite for those as well?
This case study of 388 Yonge St will prove there is, show what it takes to sell a luxury penthouse, and reveal what it says about the overall condo market.
Highlights Of A Multi-Million Dollar Toronto Penthouse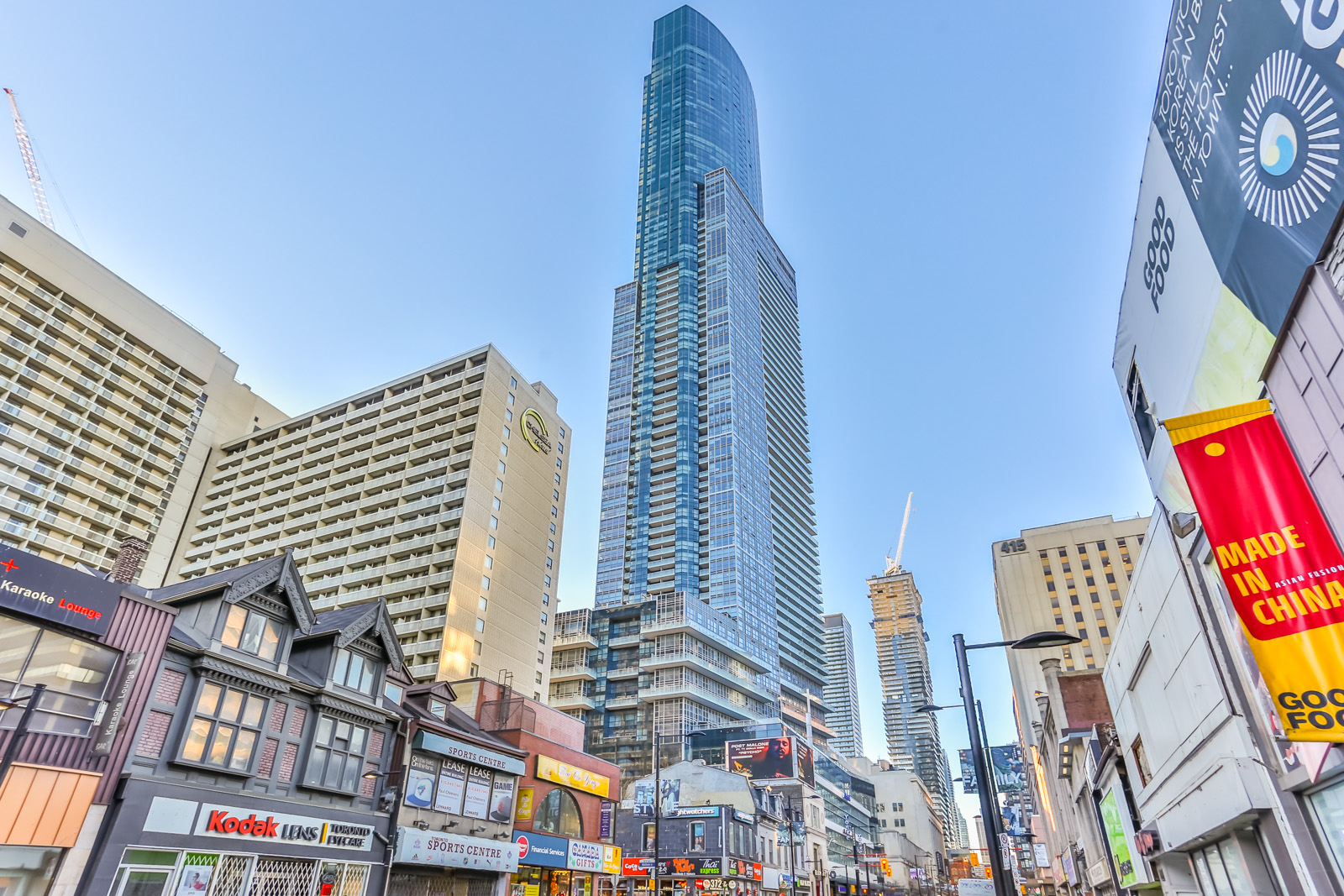 First, the penthouse is located in Aura Condos—the tallest residential building in Canada!
Second, there's the unrivalled amenities, including a 3-storey retail podium with over 150,000 sq. ft. of space, tenants like IKEA, a 40,000 sq. ft. gym and more.
Third, the penthouse itself is ultra-luxurious.
We're talking chandeliers, ceiling fans, dual fireplaces, motorized blinds, hardwood floors, marble counters, high-end appliances, and $300,000 worth of upgrades.
Residents also get their own storage locker and a private 2-car garage.
Finally, there's its Bay Street Corridor location.
The building is within walking distance of parks, universities, hospitals, subways, grocery stores, restaurants, cafes and several major malls.
Inside or out, 388 Yonge St offers the best in luxury living and convenience.
The Appeal Of Toronto Penthouses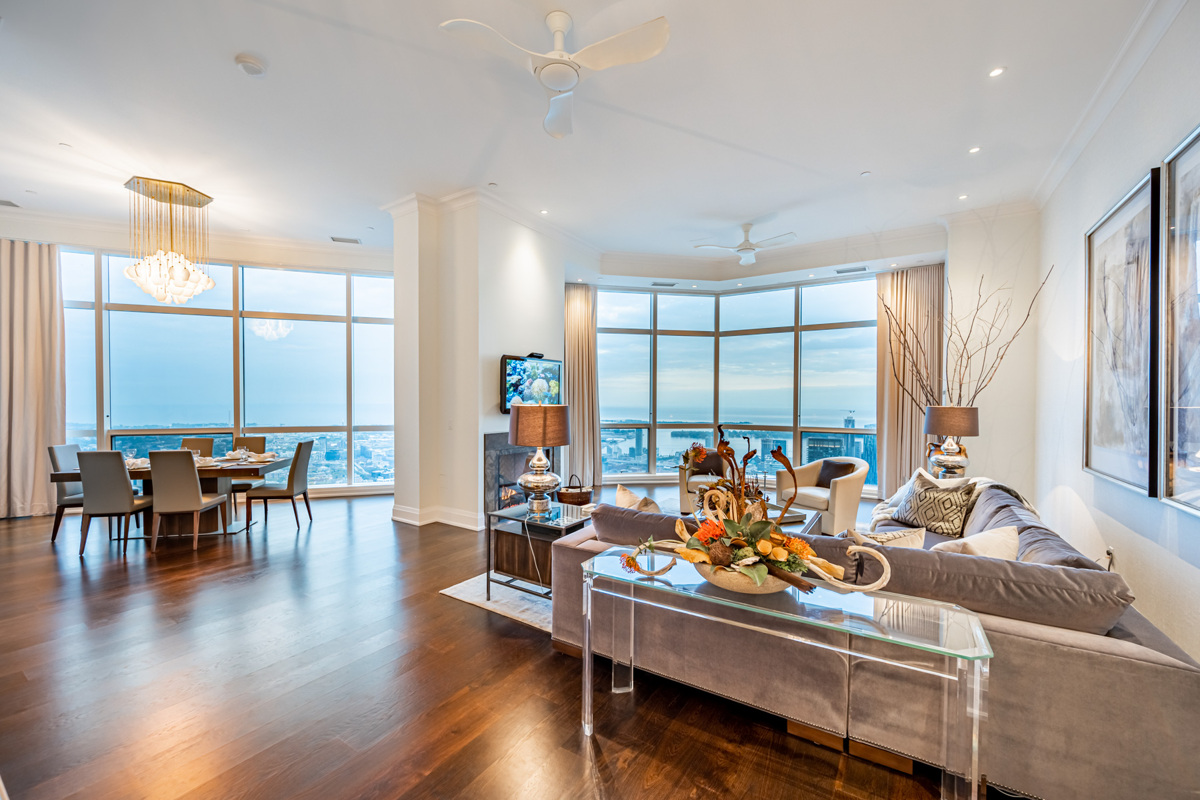 Two things: size and location.
A 3,000 sq. ft. condo is a rarity in downtown Toronto, so buyers are naturally interested when one becomes available.
In fact, the average size of a Toronto condo is only 647 sq. ft, while the average size of a 3-bedroom condo is 1,465 sq. ft. (less than half that of 388 Yonge St PH 7907).
The penthouse also boasts wall-to-wall windows with breathtaking views of the iconic Toronto skyline.
Besides its sheer size and opulence, Aura is a 2-minute walk from the College subway station and 5-minutes from the Eaton Centre—Toronto's biggest mall.
In short: the penthouse's size, luxury and location were the main attractions for buyers.
Plus there's the prestige of living in Canada's tallest condo…
What Goes Into Selling A Multi-Million Dollar Penthouse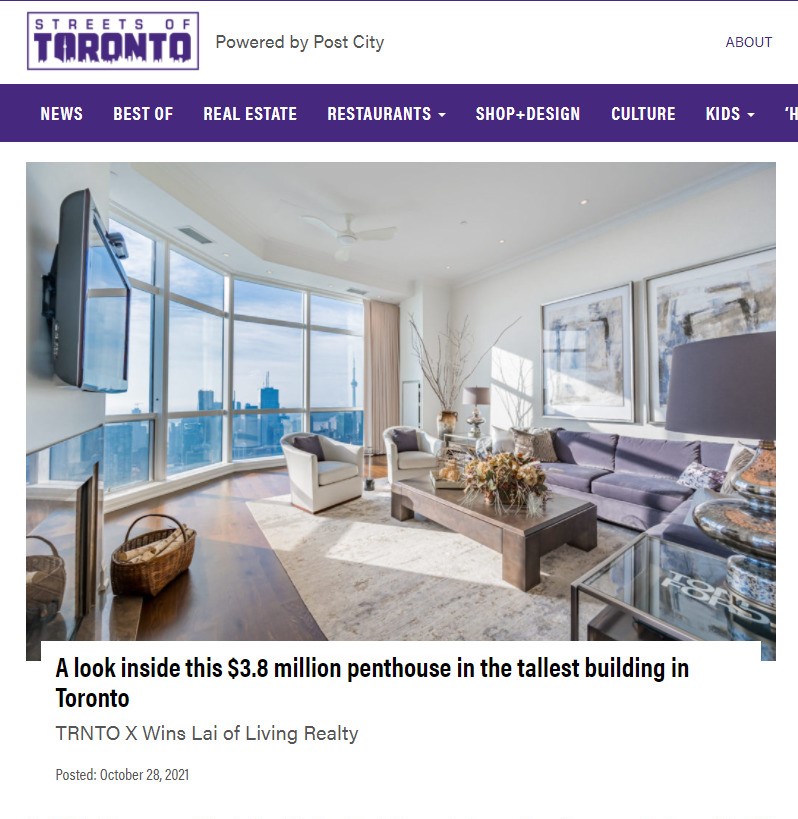 The vast majority of home buyers know that a multi-million dollar condo is out of their range, so they immediately move on.
The handful of buyers who can afford the high price tag require a more targeted approach.
That's why I pulled out all the stops on my marketing strategy for 388 Yonge St, including:
In addition to advertising, I took other steps to ensure the sale of 388 Yonge St.
For example: when a listing is over $2.5 million, the sales agent should be present for all showings, especially in an owner-occupied home.
That way, I can answer questions from both the buyer and seller, offer advice, and negotiate terms and conditions.
How an agent presents the listing is also very important when selling a multi-million dollar property.
Someone who speaks the buyer's language (in my case Mandarin and Cantonese), knows the neighbourhood, has experience selling homes in the area, and brings current market knowledge are all important to a successful sale.
The Luxury Condo Market Comeback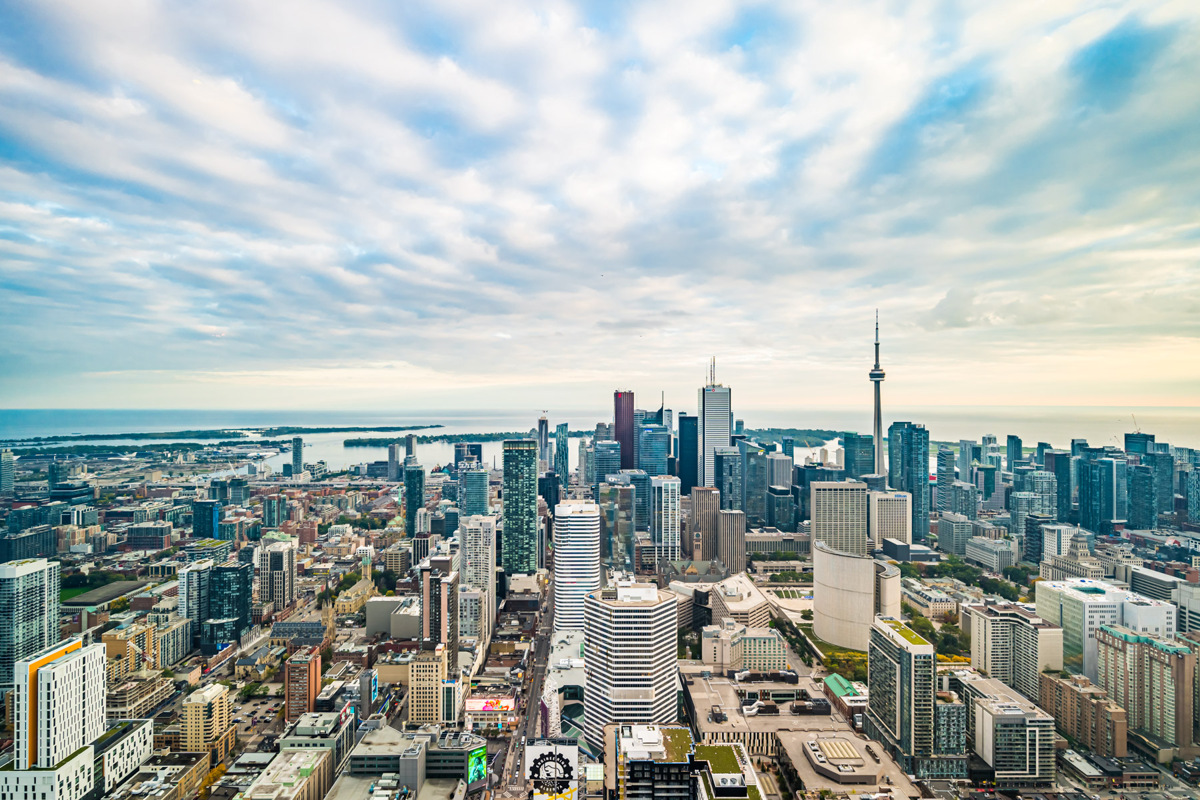 After all, it's just one condo.
The fact is I've sold 23 listings since the start of 2021—of which 19 were condos and only 3 were houses.
So I have firsthand experience of Toronto's condo market recovery.
Why "recovery?"
Because the condo market took a tumble when the pandemic hit in 2020.
Sales and prices plunged as people left the city for the suburbs and traded in high-rises for houses.
Since then, the condo market has rebounded, with prices soaring and sales surging.
While the entire condo market is making a comeback, luxury condos in particular are seeing their popularity boom.
This is due to the fact that most new and pre-construction condo units are getting smaller.
According to Canadian Real Estate Magazine:
Toronto's newest condos are nearly a full 40% smaller than the market's peak condo size seen in 1990.
So it makes sense that large Toronto penthouses like 388 Yonge St are seeing rising demand.
As Sotheby's reports:
Overall, the $4 million-plus residential real estate market (condominiums, attached and single family homes) soared 224% year-over-year to 805 properties sold in 2021.
Luxury condo buyers also have to deal with the same inventory issues plaguing regular condos, leading to greater competition and significant price appreciation.
As luxury condos grow in popularity, this won't change anytime soon.
Conclusion: The Future of Luxury Real Estate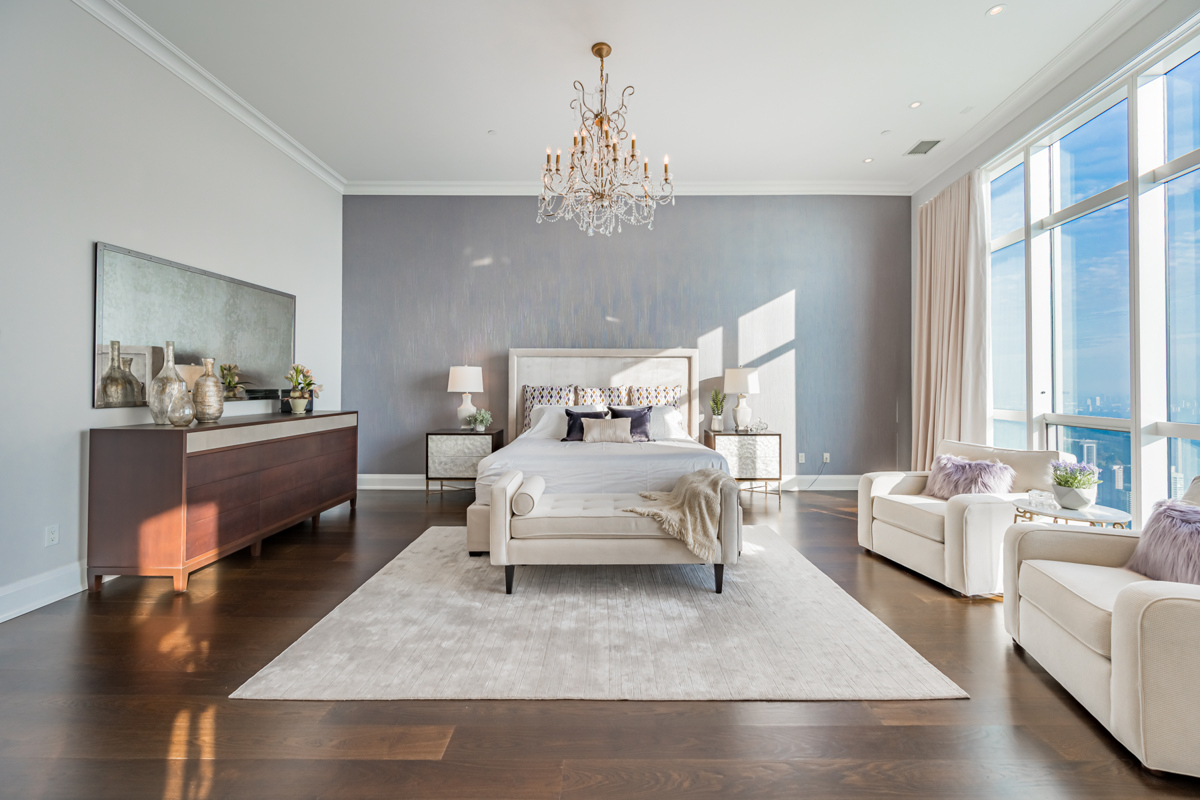 Blogs, emails, videos, social media, brochures—the list of marketing methods and mediums is long.
But it also requires people skills such as communication and networking, knowledge of the local neighbourhood, and strong negotiation skills.
By using these I was able to find a buyer for my client's listing.
But the sale of 388 Yonge St also speaks to a bigger trend: the revival of Toronto's condo market, and the growing popularity of luxury real estate—a trend that shows no signs of abating.
Interested in selling your penthouse or condo? I've got what it takes. Simply contact me below.
Wins Lai
Real Estate Broker
Living Realty Inc., Brokerage
m: 416.903.7032 p: 416.975.9889
f: 416.975.0220
a: 7 Hayden Street Toronto, M4Y 2P2
w: www.winslai.com e: [email protected]
*Top Producer (Yonge and Bloor Branch) – 2017, 2018, 2019, 2020, 2021