Overview: a look at the July 2023 GTA housing data, including home sales, prices and listings, plus the ongoing impact of rising interest rates.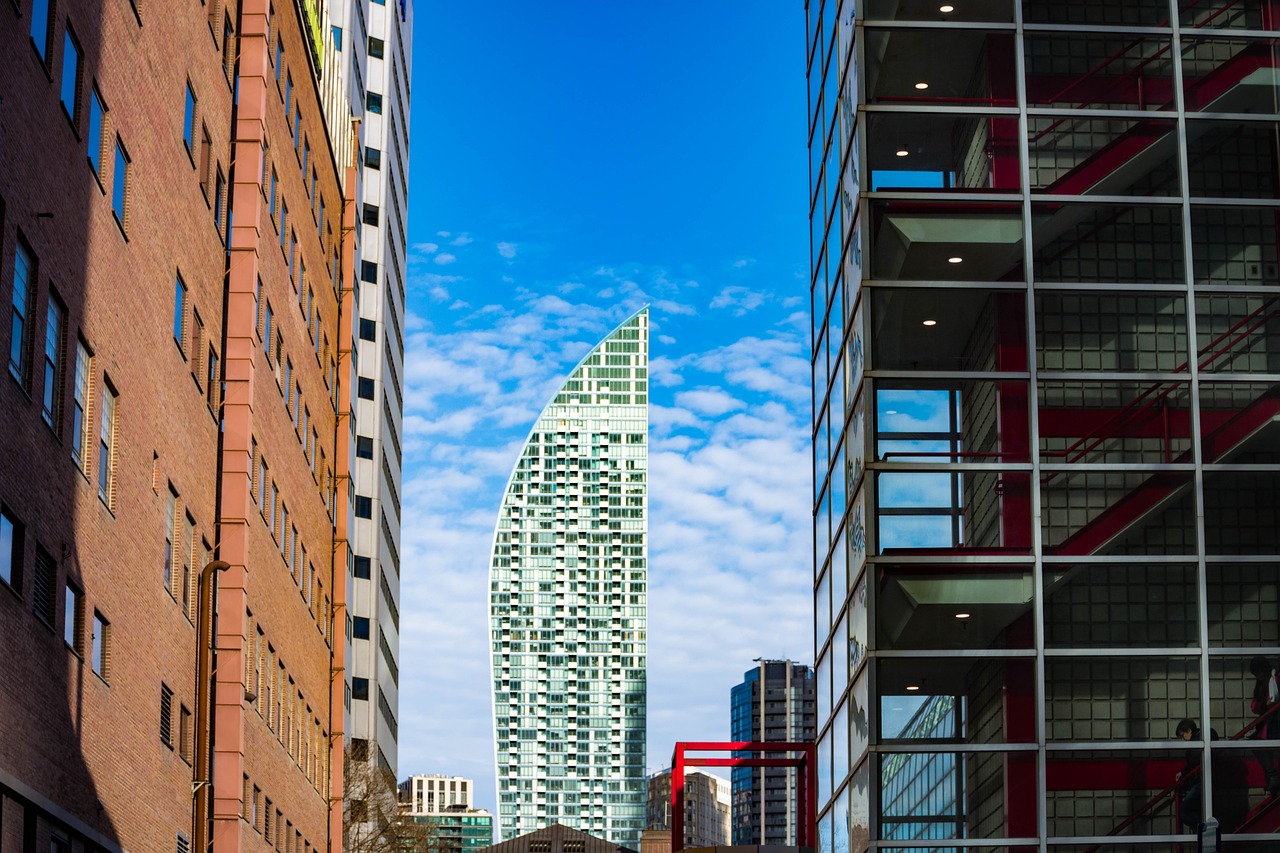 This headline from Yahoo Finance sums it up perfectly:
Toronto home sales and prices up from last year, but momentum slows
As expected, rising interest rates are causing GTA home sales and prices to cool down.
How will this affect those looking to buy or sell a home, as well as future home sales, prices and listings?
To find out, let's take a deep dive into the latest housing market data.
July 2023 GTA Housing Market Numbers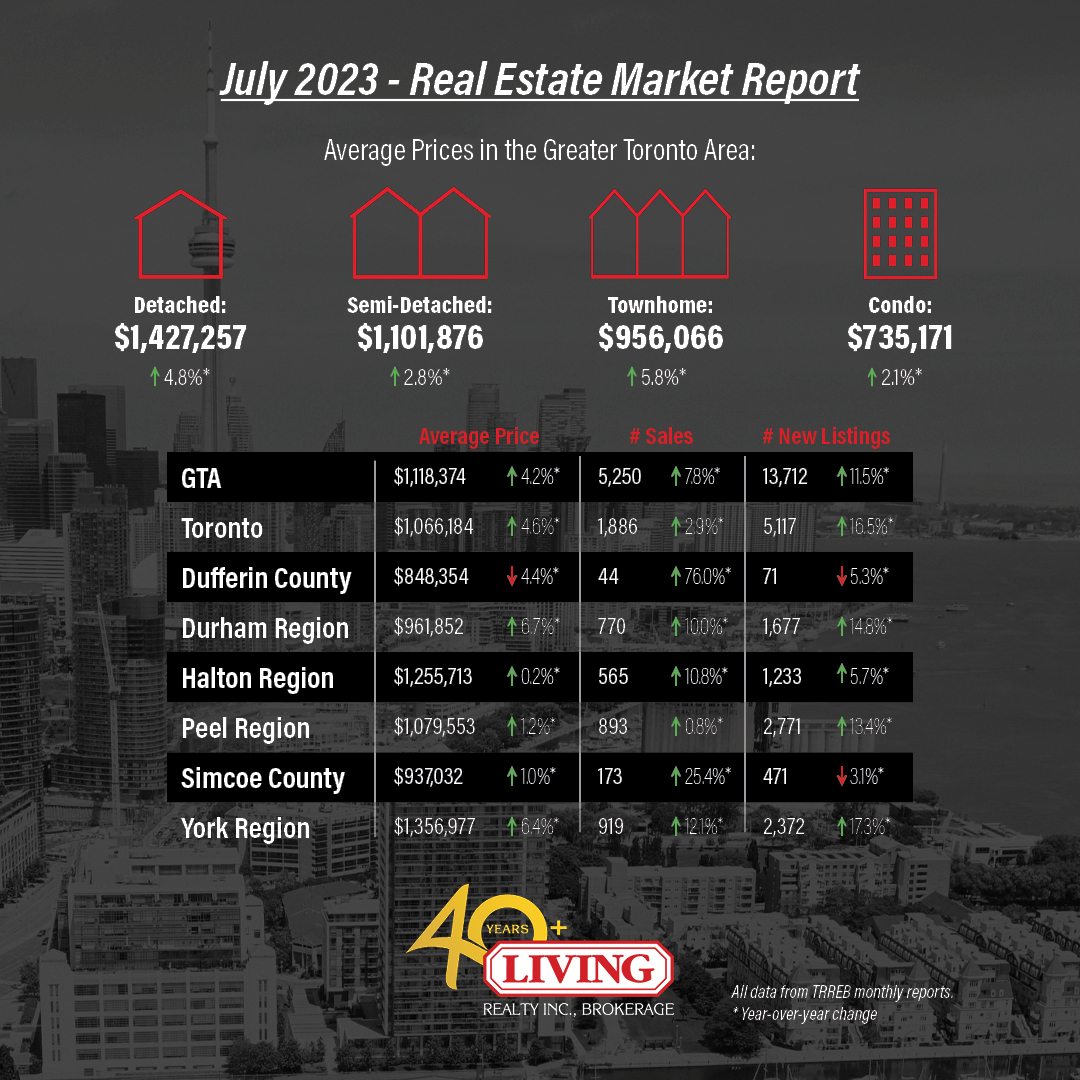 Here's a year-over-year look at the July 2023 figures:
GTA Home Prices:

up 4.2% to $1,118,374

Toronto Home Prices:

up 4.6% to $1,066,184

GTA Home Sales:

up 7.8% to 5,250

Toronto Home Sales: up 2.9% to 1,866
New Listings: up 11.5% to 13,712
According to the Toronto Regional Real Estate Board (TRREB):
Greater Toronto Area (GTA) home sales, new listings and home prices were up in July 2023 in comparison to July 2022.
With sales, prices and new listings all rising, it seems that the GTA housing market had an amazing July—but a closer look tells a different story.
For example, GTA home prices were down $63,746 from a month earlier, while Toronto home prices dropped by almost $60,000.
And despite an 11.5% jump in listings, sales declined month-over-month, leading the market to become "more balanced."
The reason for the month-over-month drop is higher interest rates.
In fact, as interest rates have risen over the past two months, both home sales and prices have fallen two months in a row.
All property types experienced year-over-year price growth, but what about month-over-month?
July 2023 Home Prices By Property Type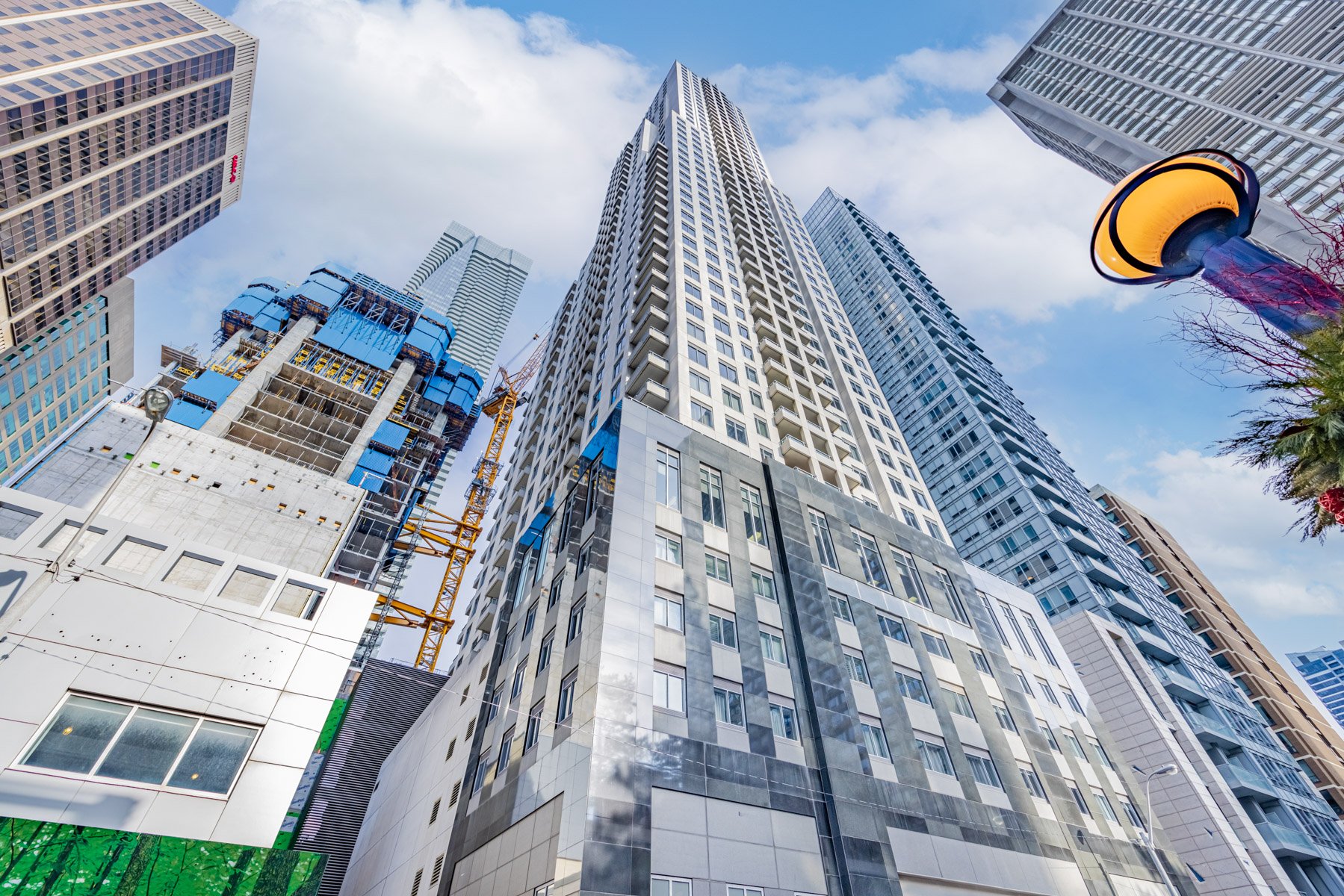 Here's a breakdown of July 2023 home prices by property type:
Detached Houses: up 4.8% to $1,427,257
Semi-Detached Houses: up 2.8% to $1,101,876
Townhouses: up 5.8% to $956,066
Condos: up 2.1% to $735,171
Every property made year-over-year price gains, but all fell on a month-over-month basis.
According to WOWA:
Semi-detached homes had the biggest monthly drop in prices, falling 9% monthly to an average price of $1,101,876.
In fact, semi-detached homes were down a full six figures ($112,996) compared to June.
Detached home prices also fell 7% or $103,740, while townhouses dropped 5% ($22,776), and condos slipped 0.5% ($4,224).
The reason for these price declines?
Rising interest rates, which have made mortgages more expensive.
As a result, many buyers are avoiding expensive detached and semi-detached homes in favour of cheaper townhouses and condos.
That would explain why Toronto condos outsold all other property types combined in July.
Which brings us to our next topic: rising interest rates.
The Impact Of Interest Rate Hikes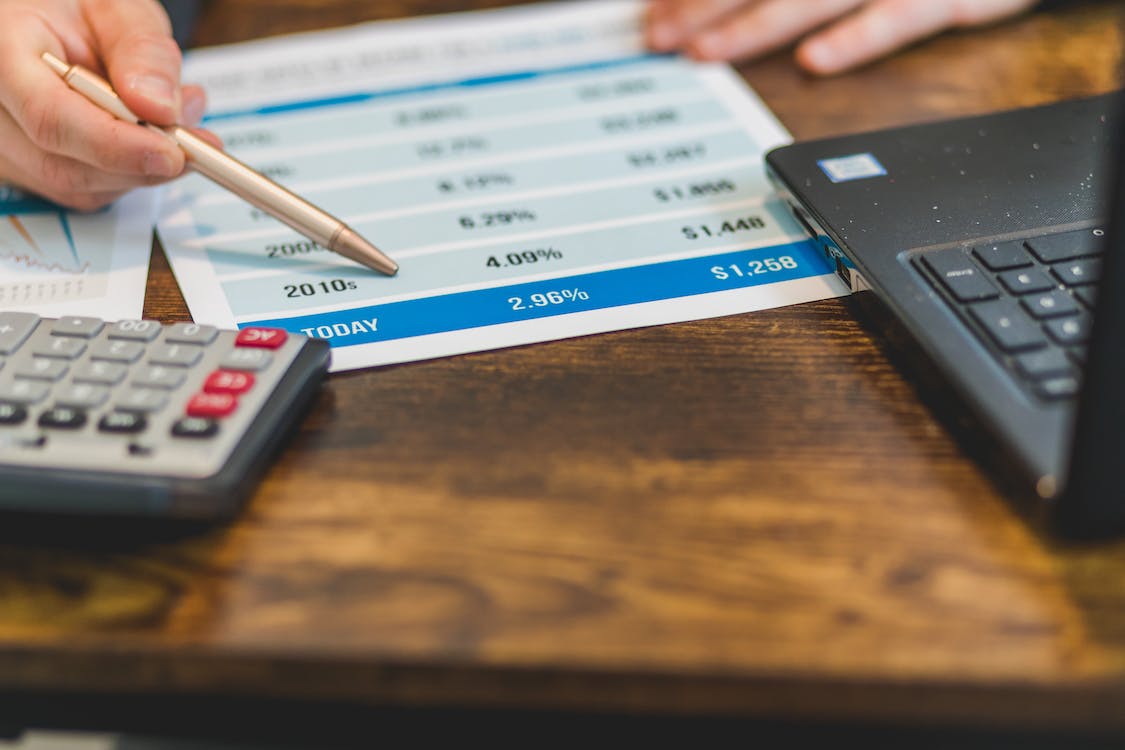 WOWA puts it best:
Almost as if on cue, Toronto home prices fell in July 2023 after consecutive rate hikes by the Bank of Canada in June and July 2023.
The impact of the July rate hike was immediate, causing sales to plunge 30% and home prices to fall 5% month-over-month.
Besides making home loans more expensive, higher interest rates make it harder to qualify for a mortgage in the first place.
The Star cautions:
Rate hikes will be felt acutely in real estate, experts say, as stress test qualifying rates are now above seven or eight per cent.
A more demanding stress test may be one reason buyers are staying out of the market, and why sales plunged 30% month-over-month in July.
However, one positive outcome of rising interest rates is a more balanced market.
An SNLR above 60% indicates a seller's market, while an SNLR below 40% suggests a buyer's market.
According to experts:
The GTA's SNLR has been roaming in between these two levels, with the 12-month SNLR trend at 51.5%.
That puts the GTA firmly in balanced market territory, with neither buyers nor sellers in charge.
So what should buyers and sellers do in a balanced market?
Advice For Home Buyers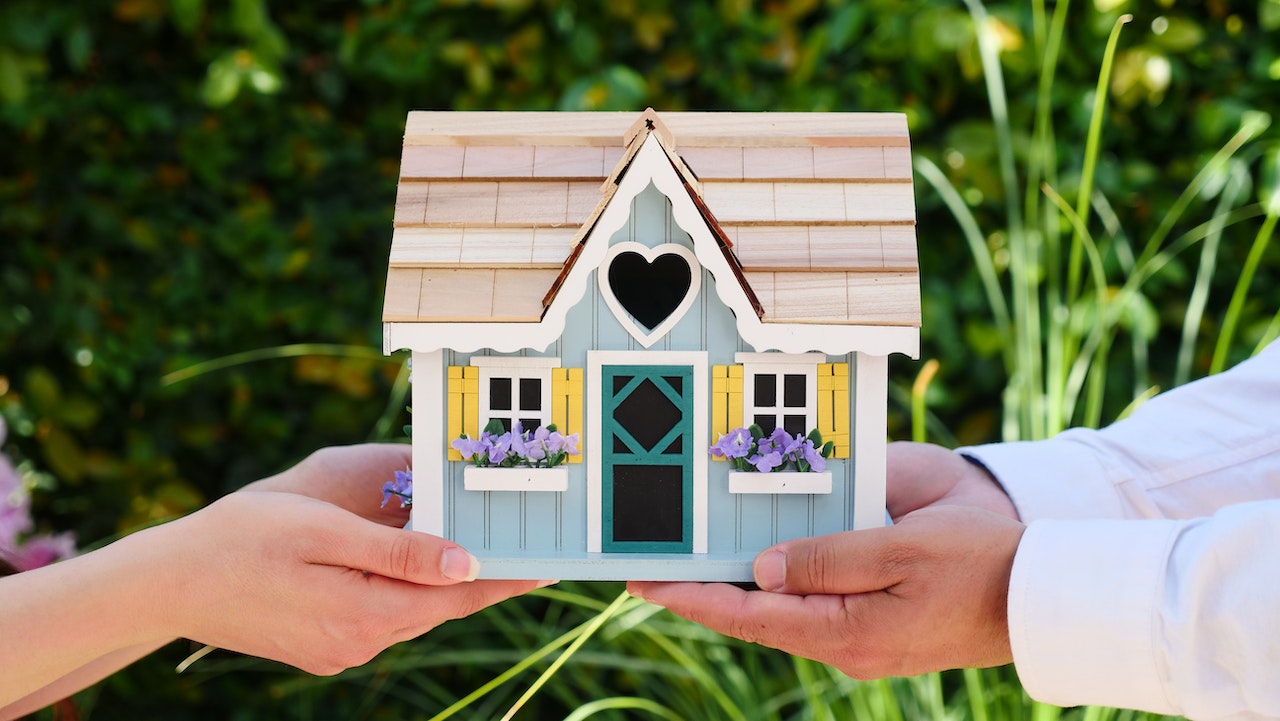 A balanced market means a healthy equilibrium between supply and demand.
While higher interest rates have made home loans more expensive, they've also freed up inventory.
Better Dwelling informs:
The most interesting impact is how rising rates are helping to shape inventory. It would be uncharacteristic for a surge of homeowners to upgrade with rising rates. Yet, there's suddenly a lot more sellers looking to unload property.
It makes sense that as interest rates rise, most homeowners would be reluctant to sell.
However, many sellers are doing just that, which would explain the 11.5% jump in new listings during July 2023.
Better Dwelling calls this a reflection of an "investor-dominated real estate market."
Investors are still listing their properties, and as higher interest rates cause sales to plunge, prices are following suit.
All of this is great news for buyers, who saw detached and semi-detached home prices drop over $100,000 month-over-month.
But it's not just houses that are on sale.
A headline from Storeys.com declares:
GTA Condo Developers Are Dropping Prices For First Time In 10 Years As Sales Slow
Besides discounts, developers are also offering incentives to lure buyers.
These include: lower deposit requirements, free parking, and credits for various closing costs.
So whether you're thinking of buying a house or condo, with more supply, less competition, and lower prices, now would be the time to do it!
Advice For Home Sellers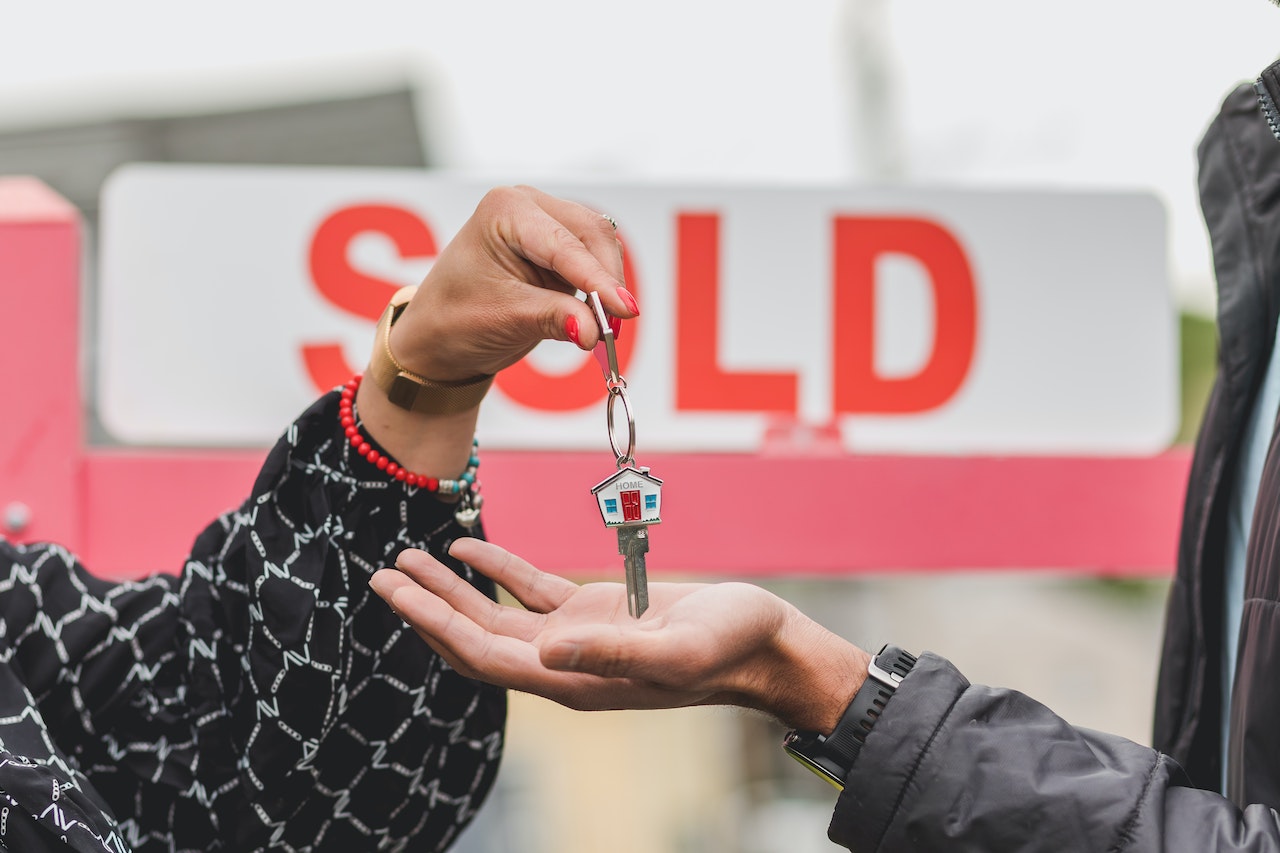 As stated above, investment-minded sellers are still listing their properties despite higher interest rates.
That's because these investors know that there are still plenty of buyers out there.
The Globe and Mail reports:
Although mortgage rates are much higher than a year ago, the competition for housing has remained strong. A record number of new permanent residents and newcomers are being admitted to the country….
Homeowners can take advantage of this growing competition by selling or leasing their homes.
Supply and demand is also on the side of sellers.
As Global News reveals:
Those that are on the market for a new home have been finding fewer properties to chose from…The lack of inventory is driving prices up…
A lack of choice for buyers is actually great for sellers, because it attracts more competition to their property and inevitably leads to higher prices.
WOWA offers proof of this:
Meanwhile, the average sales price to listing price ratio was 102% [in July 2023], meaning the average home sold for 2% over its asking price.
The fact that homes are selling for 2% above their list price shows that sellers are still making solid profits.
July 2023 Market Report Conclusion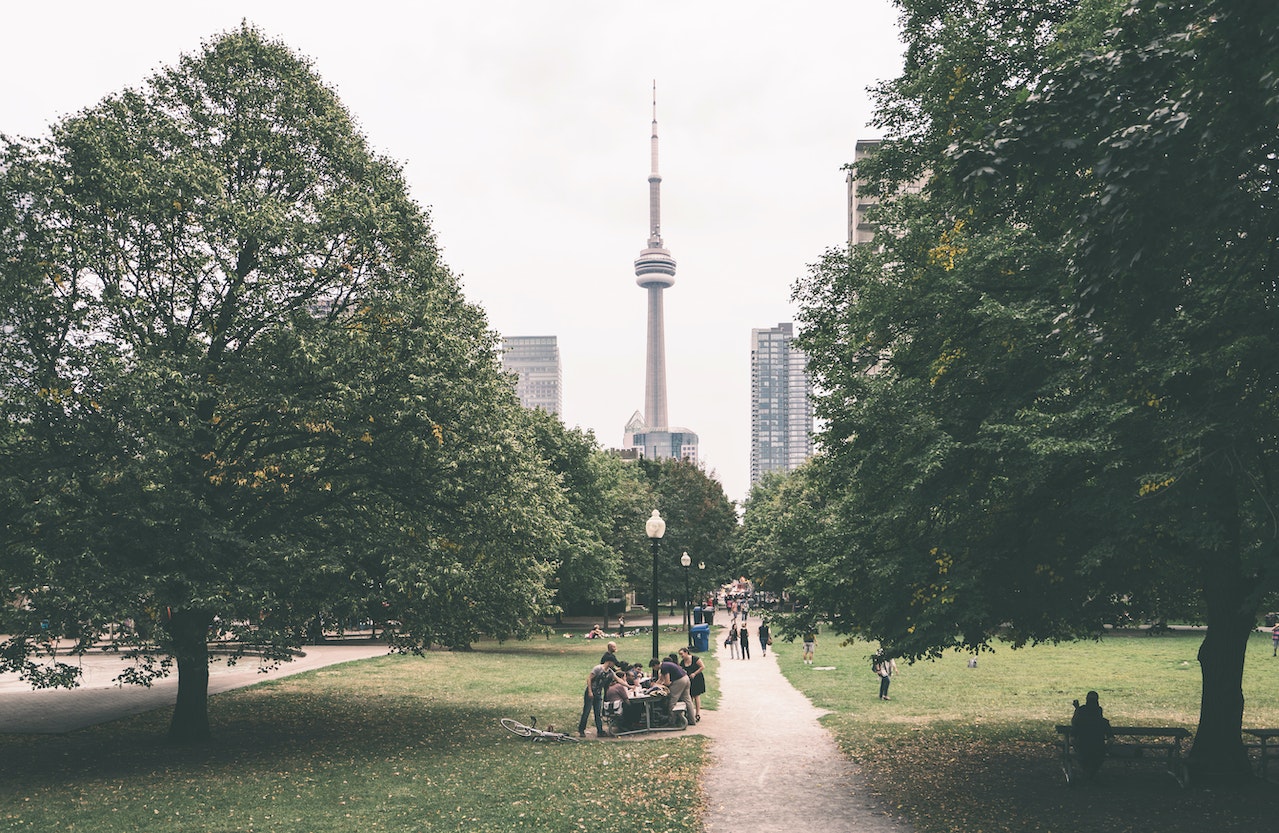 Just when the GTA housing market was gaining steam, two consecutive interest rate hikes caused it to lose momentum.
That's why home prices rose year-over-year in July 2023, showing long-term growth, but fell month-over-month, indicating a slowdown.
The market also became more balanced, with buyers enjoying six-figure discounts on houses, and sellers taking advantage of tight competition to sell above the list price.
The Bank of Canada's next interest rate decision is on September 6—and hopefully it brings some certainty to the market.
Have questions about the housing market? Contact me below for answers.
Wins Lai
Real Estate Broker
Living Realty Inc., Brokerage
m: 416.903.7032 p: 416.975.9889
f: 416.975.0220
a: 7 Hayden Street Toronto, M4Y 2P2
w: www.winslai.com e: [email protected]
*Top Producer (Yonge and Bloor Branch) — 2017-2022