Overview: a look at the June 2023 GTA housing market numbers, including sales, prices and listings, plus the impact of the BoC's latest interest rate decision.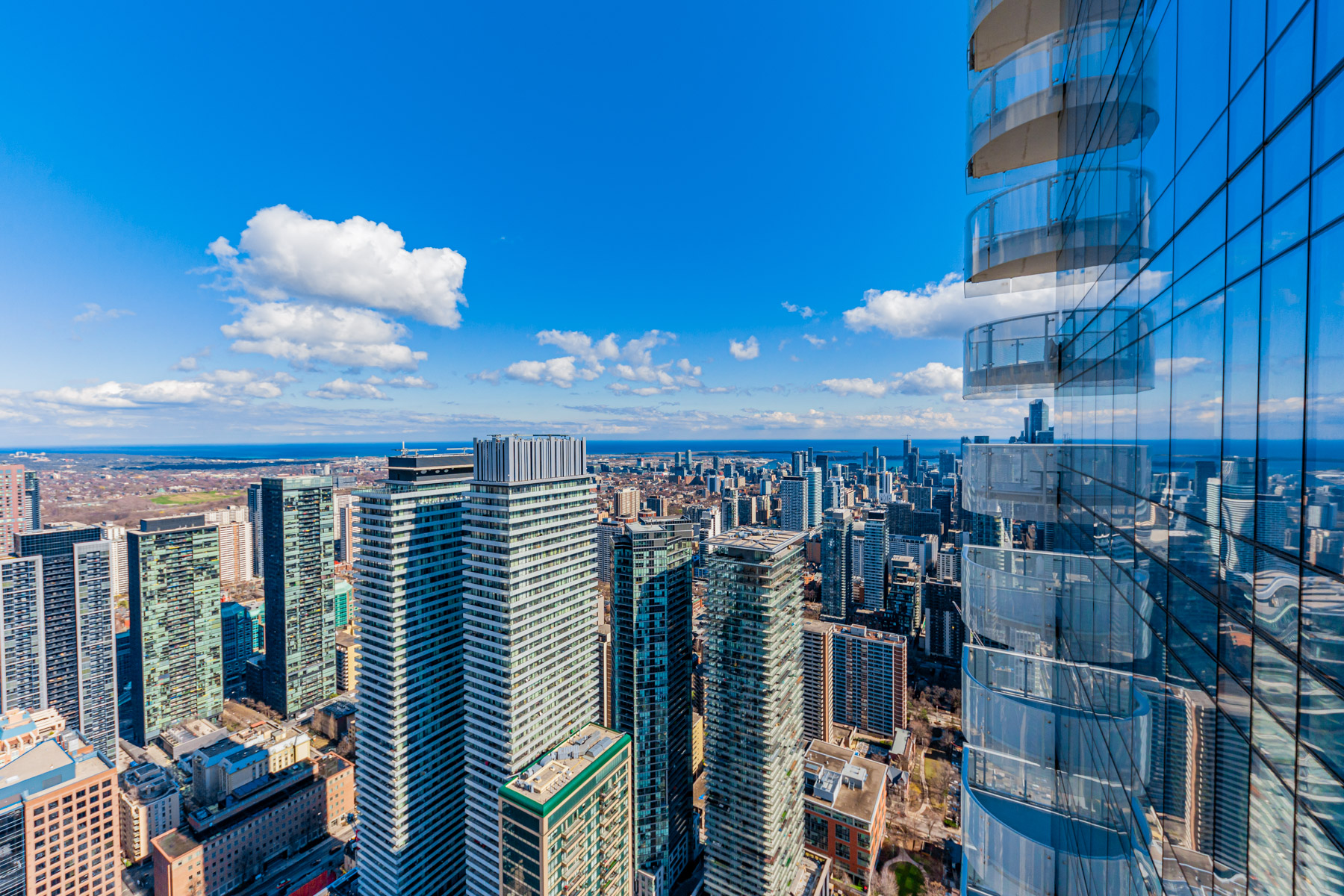 After holding steady since January, interest rates finally rose last month.
What impact did that have on the housing market?
And what affect will the Bank of Canada's latest interest rate hike have on future home sales and prices?
To find the answers to these questions and more, let's take a look at the latest housing market numbers.
June 2023 GTA Housing Market Numbers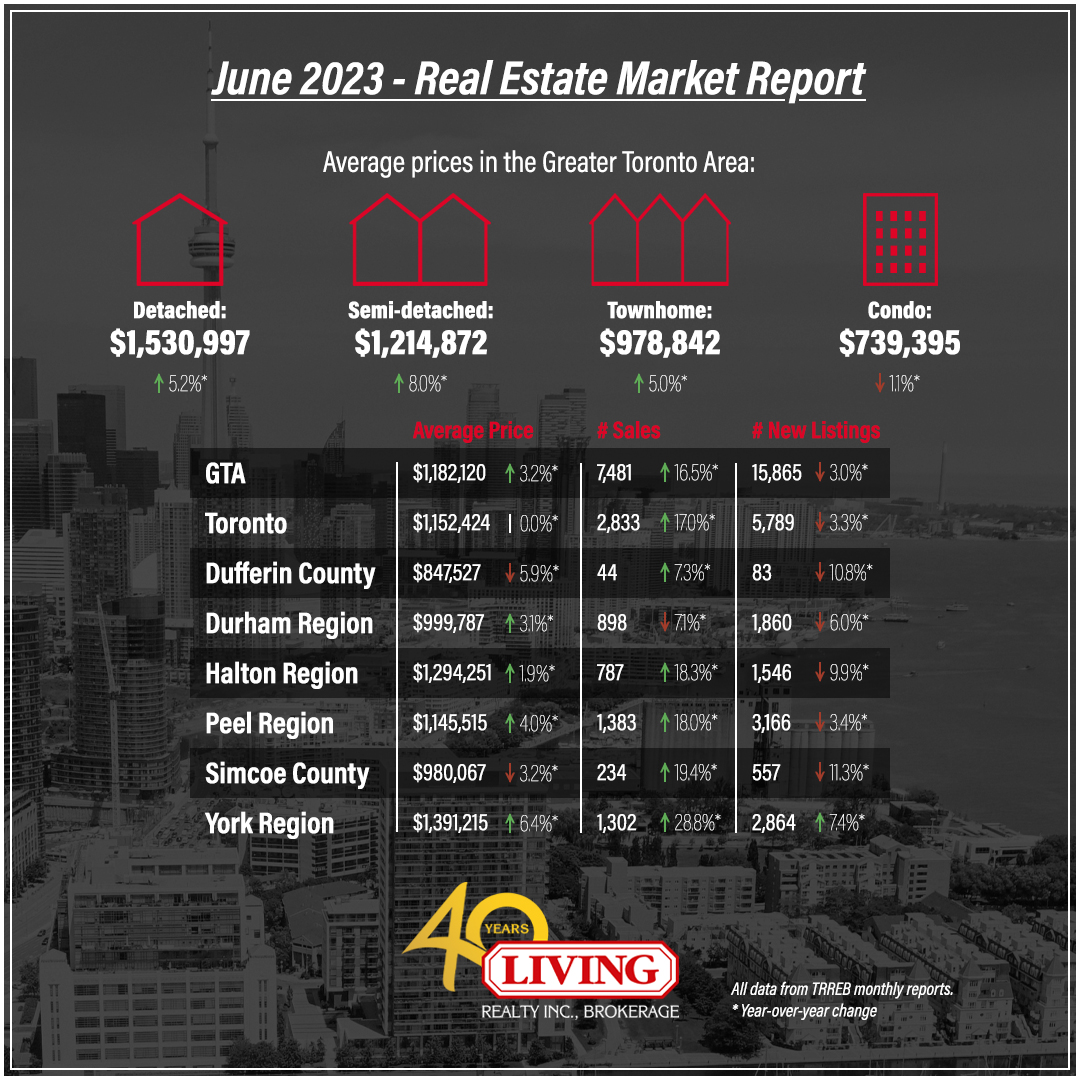 Here's a year-over-year breakdown of the June 2023 numbers:
GTA Home Prices:

up 3.2% to $1,182,120

Toronto Home Prices:

unchanged at $1,152,424

GTA Home Sales:

up 16.5% to 7,481

Toronto Home Sales: up 17.0% to 2,833
New Listings: down 3.0% to 15,865
Average Days on Market: down 6.7% to 14 days
The numbers provide some unique insights into the state of the housing market.
For example, GTA home sales rose 16.5% year-over-year, pushing prices up 3.2%.
Meanwhile, Toronto home sales surged 17%, but prices remained flat.
New listings were also down 3.0%, but available properties were snatched up faster as average days on market dropped 6.7%.
While GTA home prices rose year-over-year in June, they fell on a monthly basis.
CBC News reports:
The average home sold for $1,182,120 last month, up 3.2 per cent from the June before. However, the price was below the average of $1,195,929 that homes went for in May.
The reason, as Yahoo Finance explains, is interest rates:
Greater Toronto Area (GTA) home prices fell in June, the first drop in five months, as the Bank of Canada's move to restart its interest rate hiking campaign injected a measure of uncertainty into the market.
The BoC's rate hike also caused home sales to fall 6.9% month-over-month.
So what kind of homes were popular in June?
June 2023 Home Prices By Property Type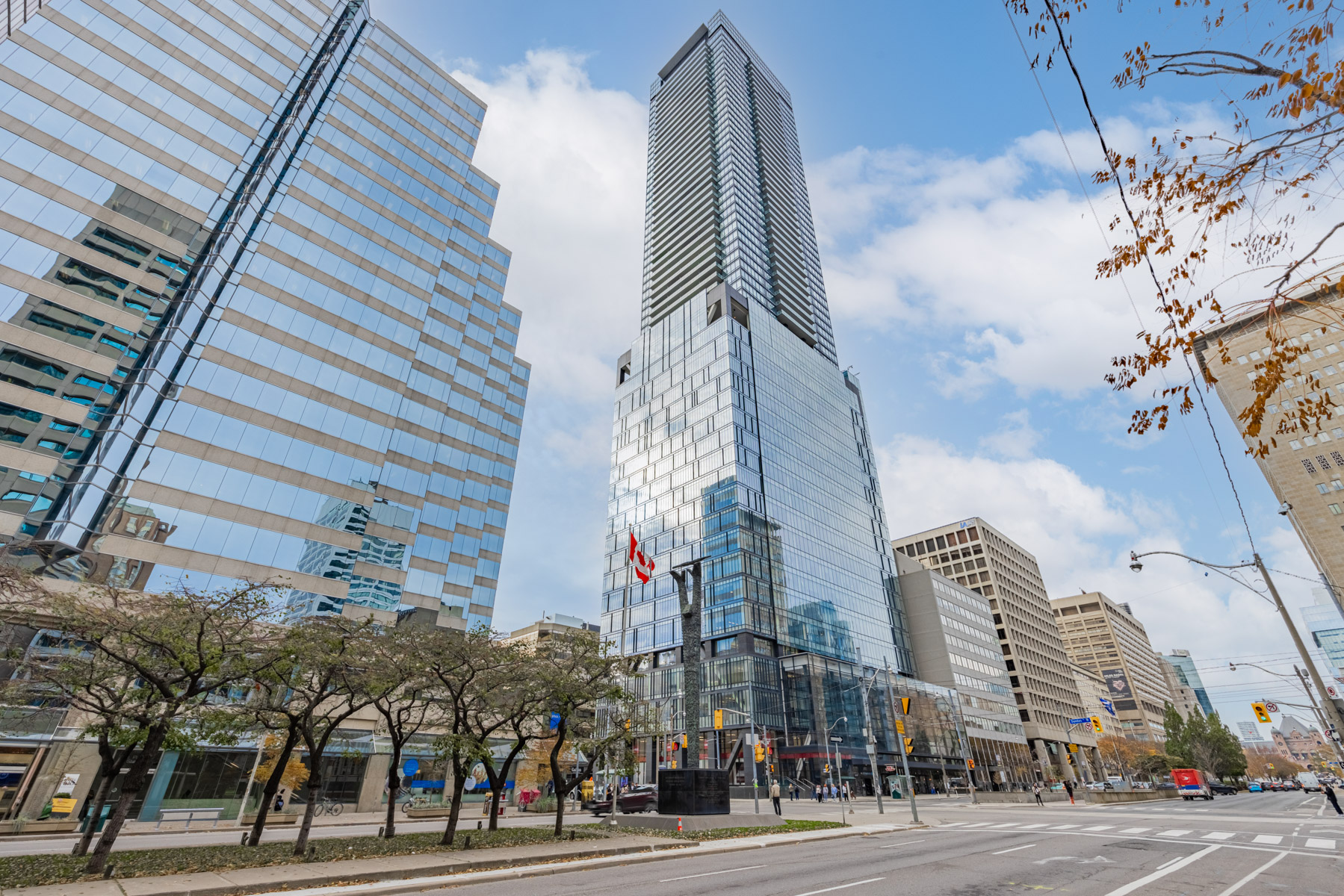 Here's how GTA home prices broke down by property type in June 2023:
Detached Houses: up 5.2% to $1,530,997
Semi-Detached Houses: up 8.0% to $1,214,872
Townhouses: up 5.0% to $978,842
Condos: down 1.1% to $739,395
According to WOWA:
For semi-detached homes, the average price was $1,214,872, up 8% year-over-year and up 1% month-over-month. That's the largest monthly and annual price increase out of all property types.
In fact, semi-detached homes were the only property type to post both yearly and monthly price gains.
Meanwhile, prices for all other property types fell month-over-month, including detached houses (2%), townhouses (3%) and condos (1%).
Judging from these numbers, condos performed poorly.
But those numbers don't tell the whole story.
Although condo prices dropped 1.1%, sales surged 27.2%, more than all other property types.
This suggests that rising interest rates and higher mortgages are pushing more buyers towards condos because of their affordability.
The Impact Of Renewed Rate Hikes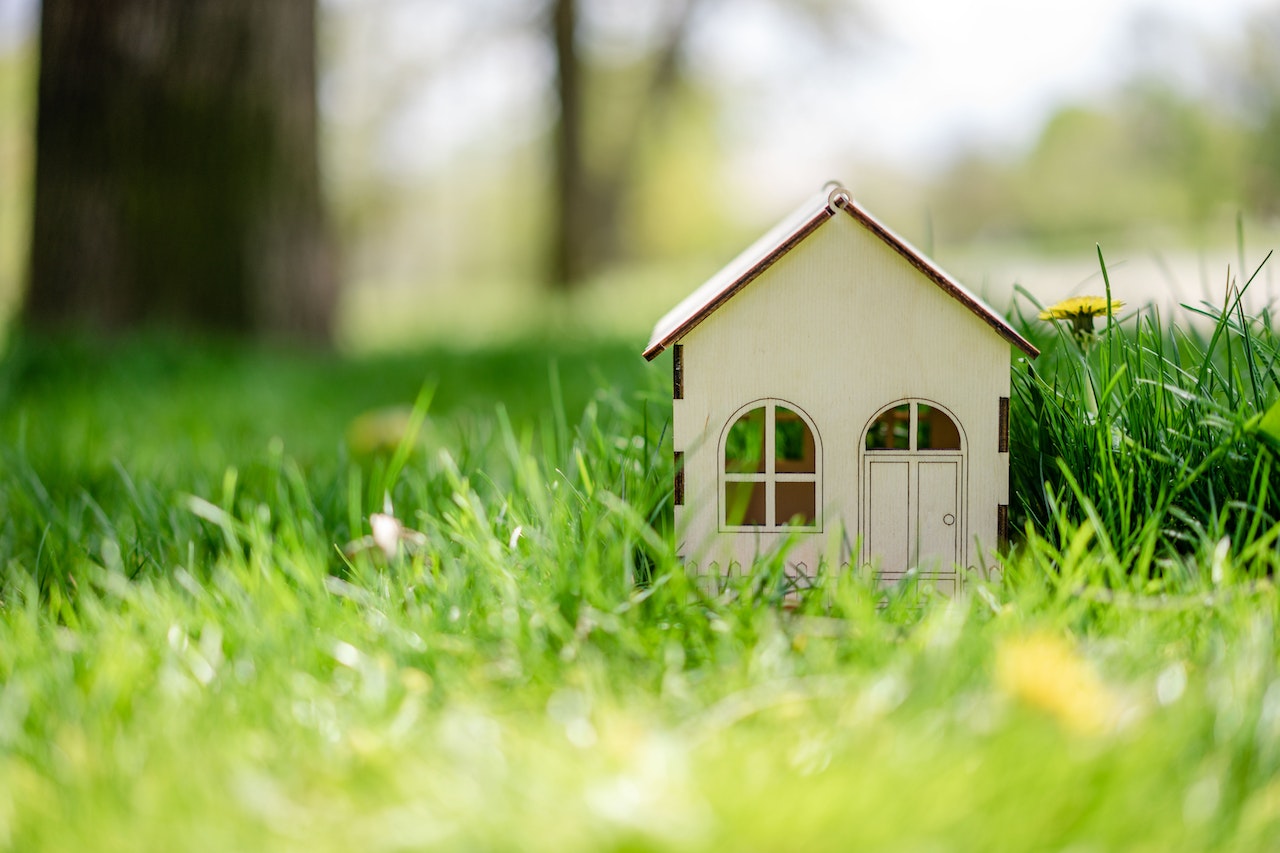 On July 12th, the BoC raised its key interest rate 25 basis points to 5%.
The rate hike is expected to put "some downward pressure on prices."
While lower prices sounds good for buyers, it's bad news for homeowners.
According to Global News:
Raising the interest rate increases the cost of borrowing for Canadians, particularly for homeowners renewing their mortgages or those with variable-rate loans…
For example, the average homeowner can expect to pay $100 more per month or $1200 per year.
And that doesn't take into account the June 2023 rate hike, or the other eight!
Investors will also feel the pain.
BNN Bloomberg reports:
The aggressive rate hikes by the bank has already caused some landlords to sell their investment properties as costs are simply too high to cover — and July's hike will be a breaking point for many other landlords.
We could see a lot more investors selling their properties.
That may seem beneficial to buyers, but rate hikes also discourage the development of new homes and rental properties.
So whatever inventory is added to the market will be offset by a lack of construction.
The question many are asking is: will there be any more rate hikes?
Although the BoC hasn't ruled out raising interest rates, one thing is clear: we shouldn't expect rate cuts anytime soon.
Where does all this leave buyers and sellers?
Advice For Home Buyers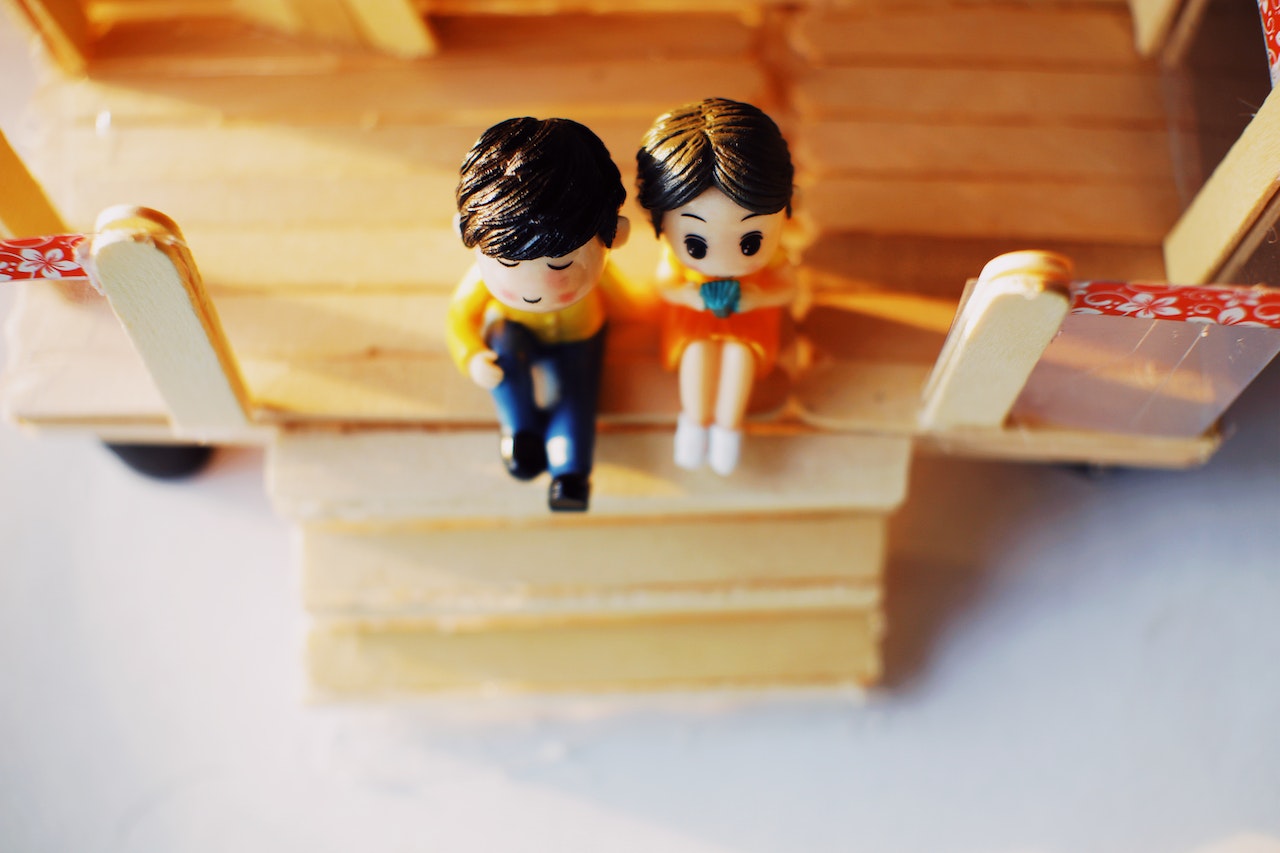 According to Yahoo Finance:
If sales continue to slow, the upside for would-be homeowners is that the market could be shifting into "buyers' market" territory, defined as housing supply exceeding demand.
If that happens, buyers can take advantage of lower prices, less competition and more choice.
Buyers should also act fast because immigration will make homes even more expensive.
The Star reveals:
Canada's rapidly growing population, which recently surpassed a milestone at 40 million, is contributing to inflationary pressure with spending and housing demand…
And since Ontario welcomes about 42% of all immigrants (with Toronto being the most popular destination), competition for homes will only increase.
While renting is an option, it's not an attractive one.
BNN Bloomberg cautions:

[Expect] rent to rise from here as interest rate hikes will force landlords to up prices in order to keep up with the higher mortgage costs.
Even if you can afford it, finding a place to rent is a "herculean task."
When it comes to what property type to purchase, new buyers should consider condos.
Condos were the only property with year-over-year and month-over-month price drops in June 2023, making them the most affordable option.
Advice For Home Sellers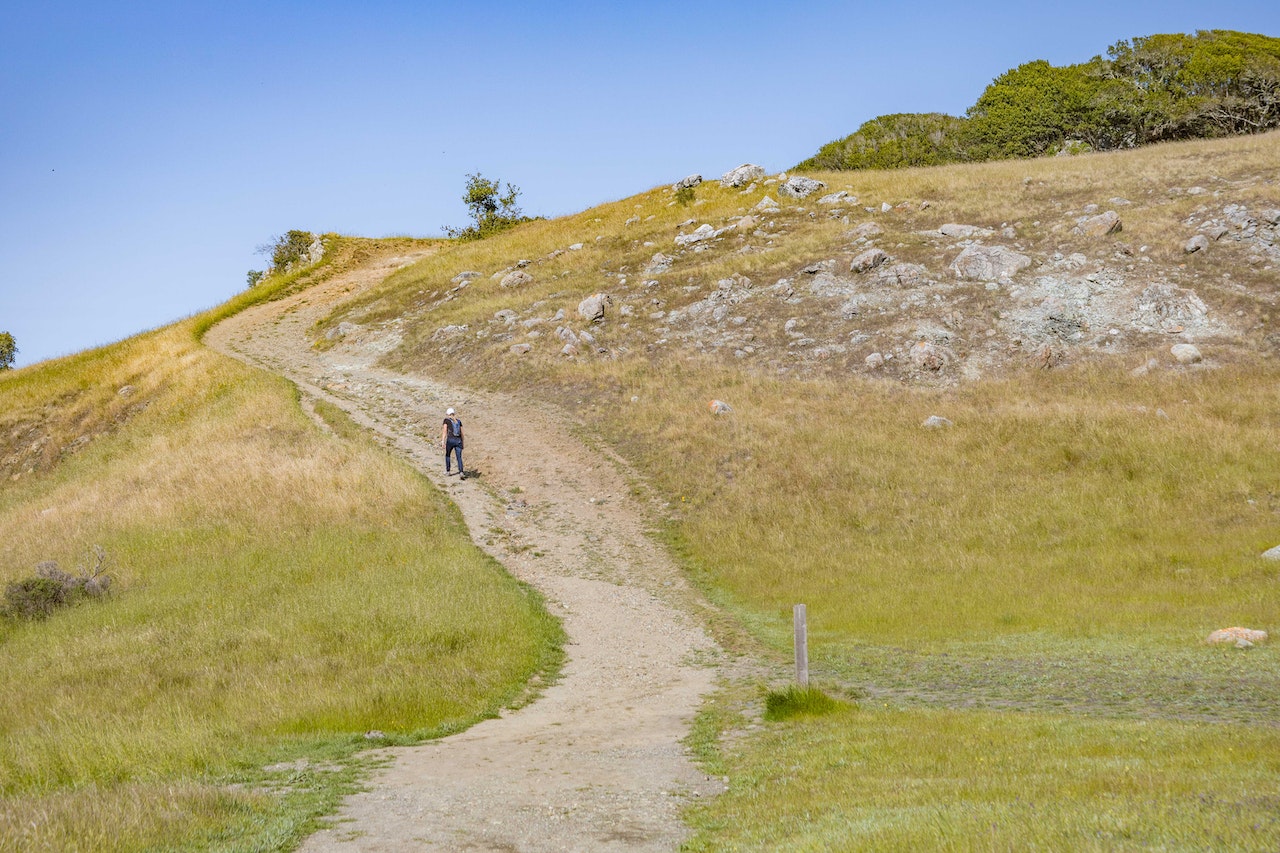 The June 2023 interest rate hike hurt sellers just as much as buyers, causing a slowdown in sales and prices.
This latest rate hike will only make things worst—and another rate hike is always a possibility.
Per CBC News:
Trading in investments known as swaps — which bet on future central bank moves — imply there is a better than 75 per cent chance of another small hike at the bank's next meeting on Sept. 6.
A 75% chance is remarkably high.
But even if that doesn't happen, high interest rates are here to stay, with the BoC predicting inflation will only reach its 2% target in the middle of 2025.
So what should sellers do?
First, if you're an investor with rental property who is struggling to meet your mortgage payments, then you should definitely sell.
Another interest rate hike may be the final straw.
Second, if you plan on selling don't delay.
Sellers still have time before the buyer's market kicks in.
According to experts:
It's hard to say specifically what metric makes something a buyers' market. But generally, we're still in a seller's market…
For example, properties are still getting multiple offers and selling in days.
However, competition is cooling and sellers should get into the market before conditions change.
June 2023 Market Report Conclusion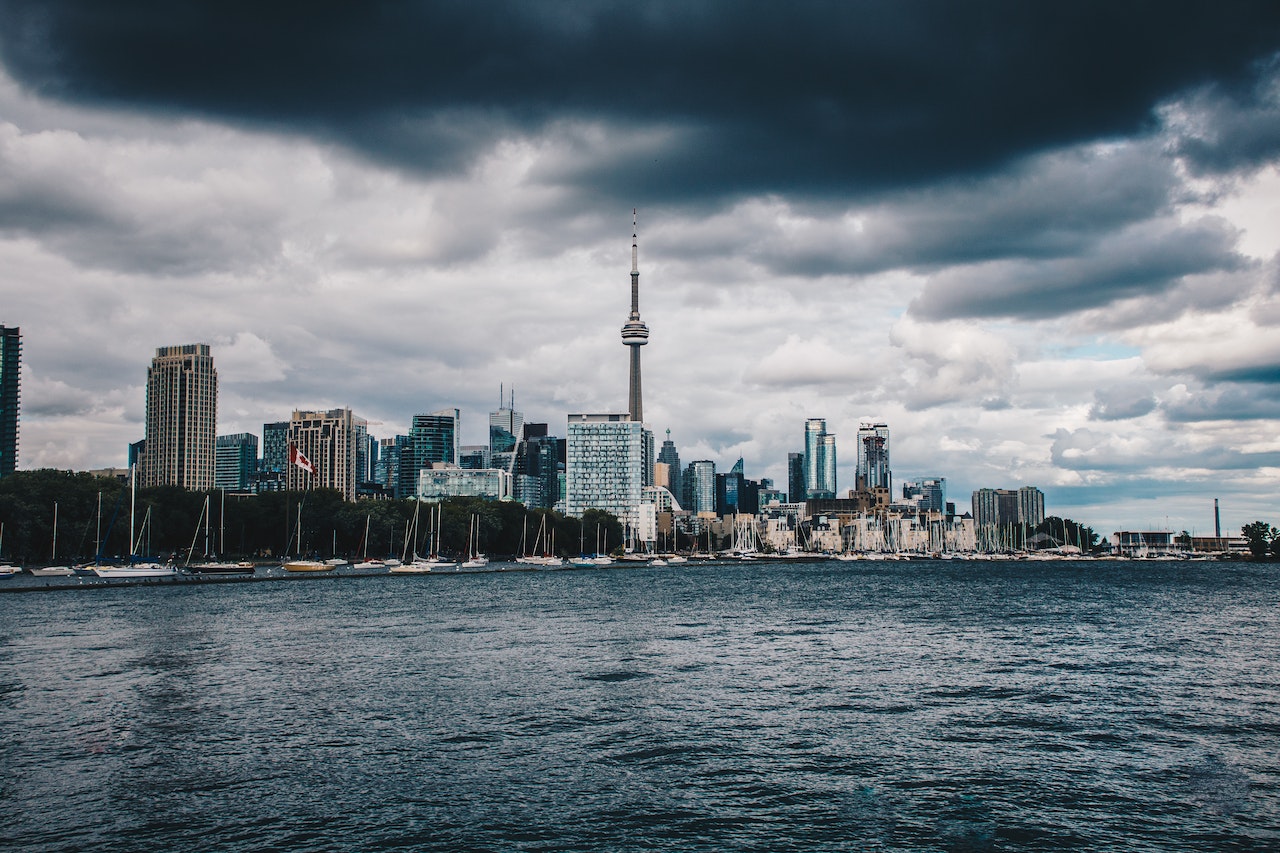 Just as the housing market was starting to recover, the BoC hit us with another interest rate hike.
The result: while GTA home sales and prices rose long-term year-over-year, they fell in the short-term month-over-month.
Worse, the rate hike has left buyers and sellers in a confusing position, with both waiting to see where the market goes before wading back in.
If that wasn't enough, the BoC followed up with another rate hike in July, which will certainly affect next month's numbers.
Have questions about the housing market? Contact me below for answers.
Wins Lai
Real Estate Broker
Living Realty Inc., Brokerage
m: 416.903.7032 p: 416.975.9889
f: 416.975.0220
a: 7 Hayden Street Toronto, M4Y 2P2
w: www.winslai.com e: [email protected]
*Top Producer (Yonge and Bloor Branch) — 2017-2022