Overview: a look at the February 2023 GTA housing market data, including home sales and prices, plus the impact of the most recent interest rate hike.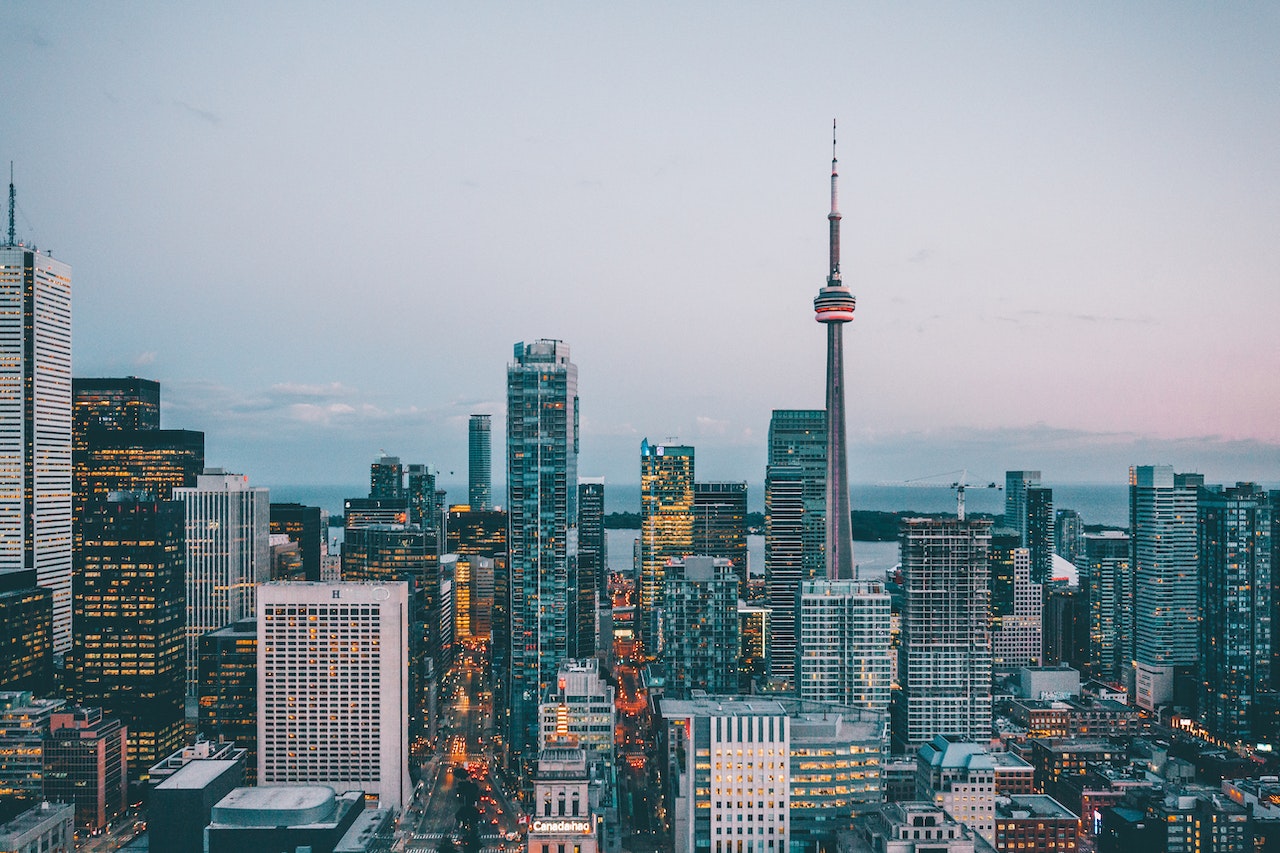 To put it bluntly:
Average Toronto home prices dropped by the steepest rate on record
Sales also plunged by half, and many homes were selling for under $1 million.
However, there are signs that the market is heating up.
In fact, with the Bank of Canada (BoC) deciding not to increase interest rates on March 8th, the GTA housing market could see a frenzy of activity over the coming months.
So let's take a look at how the GTA housing market fared in February, and where it may be heading in the future.
February 2023 GTA Housing Market Numbers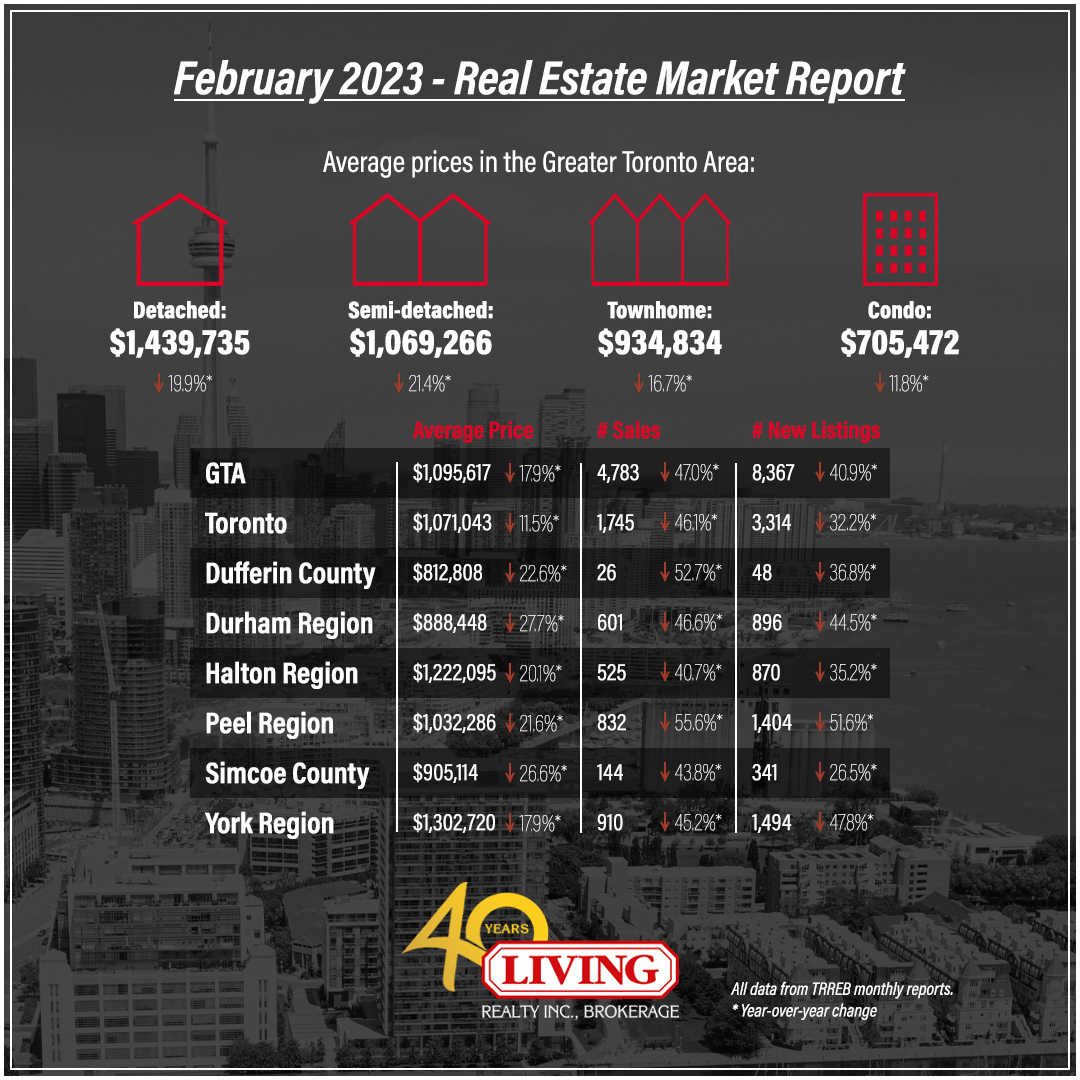 Here's how February 2023 compares to February 2022:
GTA Home Prices:

down 17.9% to $1,095,617

Toronto Home Prices:

down 11.5% to $1,071,043

GTA Home Sales:

down 47.0% to 4,783

Toronto Home Sales:

down 46.1% to 1,745
Home sales and prices were both down significantly in Toronto and the GTA.
However, it's important to note that these are year-over-year figures and that February 2022 was the last month before the BoC began hiking interest rates.
In other words: a year ago buyers and sellers rushed to get in before the rate hikes, which explains why the February 2023 declines seem so drastic.
As blogTO reports:
Homes that were going for an average of $1,334,062 across the GTA last year at this time are now selling for an average price of $1,095,617, marking the steepest price decline ever recorded…
That means people who bought a home in February 2023 paid $238,445 less compared to the same time last year.
Not only did they pay less, they also bought cheaper homes.
According to the Toronto Regional Real Estate Board (TRREB):
Many homebuyers have also decided to purchase a lower priced home to help offset higher borrowing costs. The share of home purchases below one million dollars is up substantially compared to this time last year
Which brings us to our next topic: home sales and prices by property type.
February 2023 GTA Home Prices By Property Type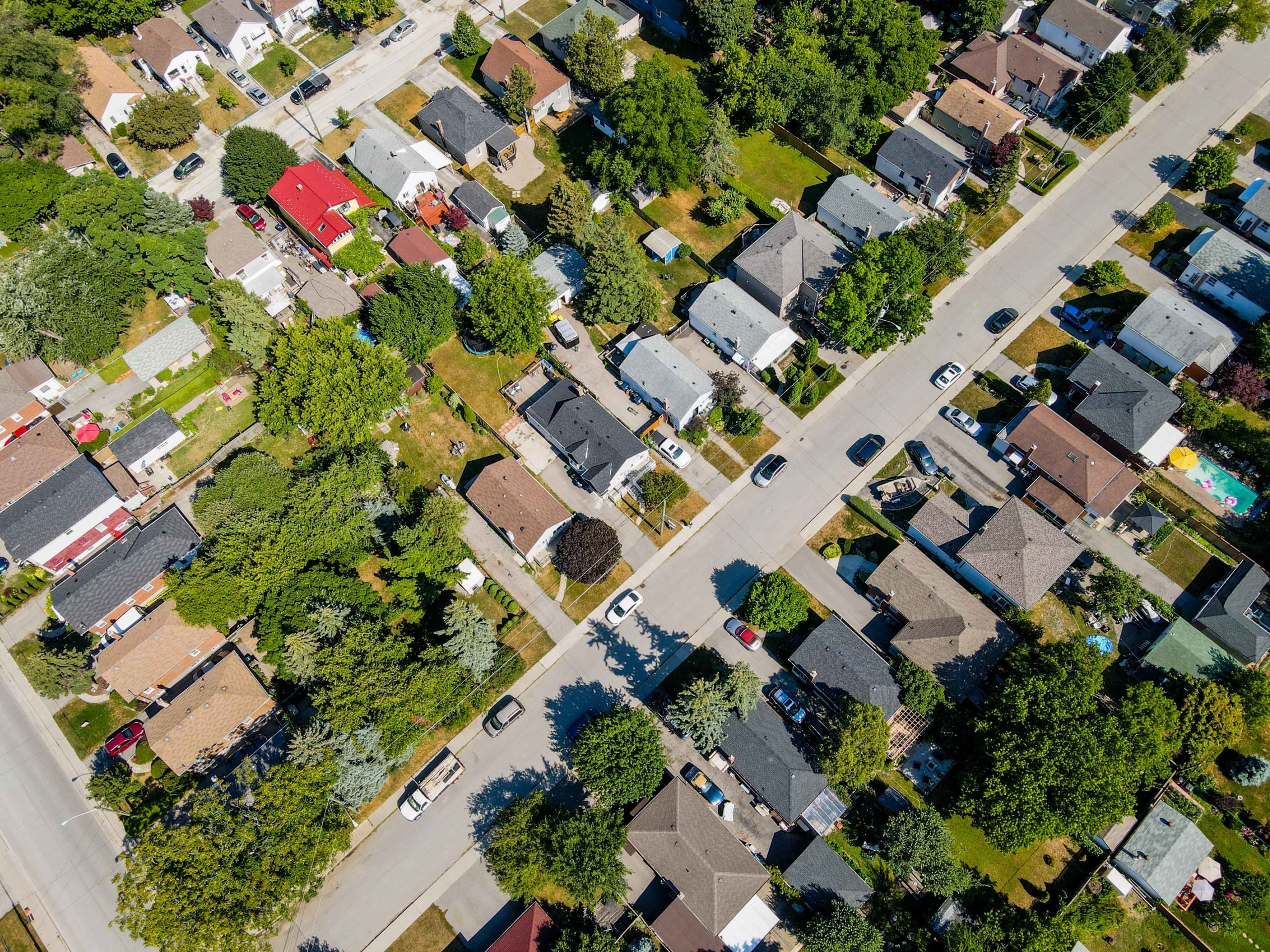 Here's a year-over-year breakdown of prices by property type:
Detached Houses: down 19.9% to $1,439,735
Semi-Detached Houses: down 21.4% to $1,069,266
Townhouses: down 16.7% to $934,834
Condos: down 11.8% to $705,472
Prices for all property types fell by double-digits, with semi-detached houses posting the steepest decline and condos the smallest.
TRREB informs:
The average selling price for February 2023 was $1,095,617 – down 17.9 per cent compared to February 2022. Some of this decline is attributable to the fact that the share of sales below $1,000,000 was 57 per cent in February 2023 versus only 38 per cent a year earlier.
So an excess of home sales below $1 million (i.e. condos and townhouses), dragged down the average sales price of all home types combined.
Despite falling prices, there are signs the housing market is heating up.
For example, while home prices are down year-over-year, they're up on a monthly basis.
Here's a month-over-month breakdown of price changes by property type:
Detached Houses:

up 7.3%

Semi-Detached Houses:

up 4.9%

Townhouses:

up 5.3%

Condos:

up 2.6%
In fact, all property types saw month-over-month price increases.
Does that mean prices will keep rising?
It all comes down to interest rates.
The February 2023 Market & Interest Rates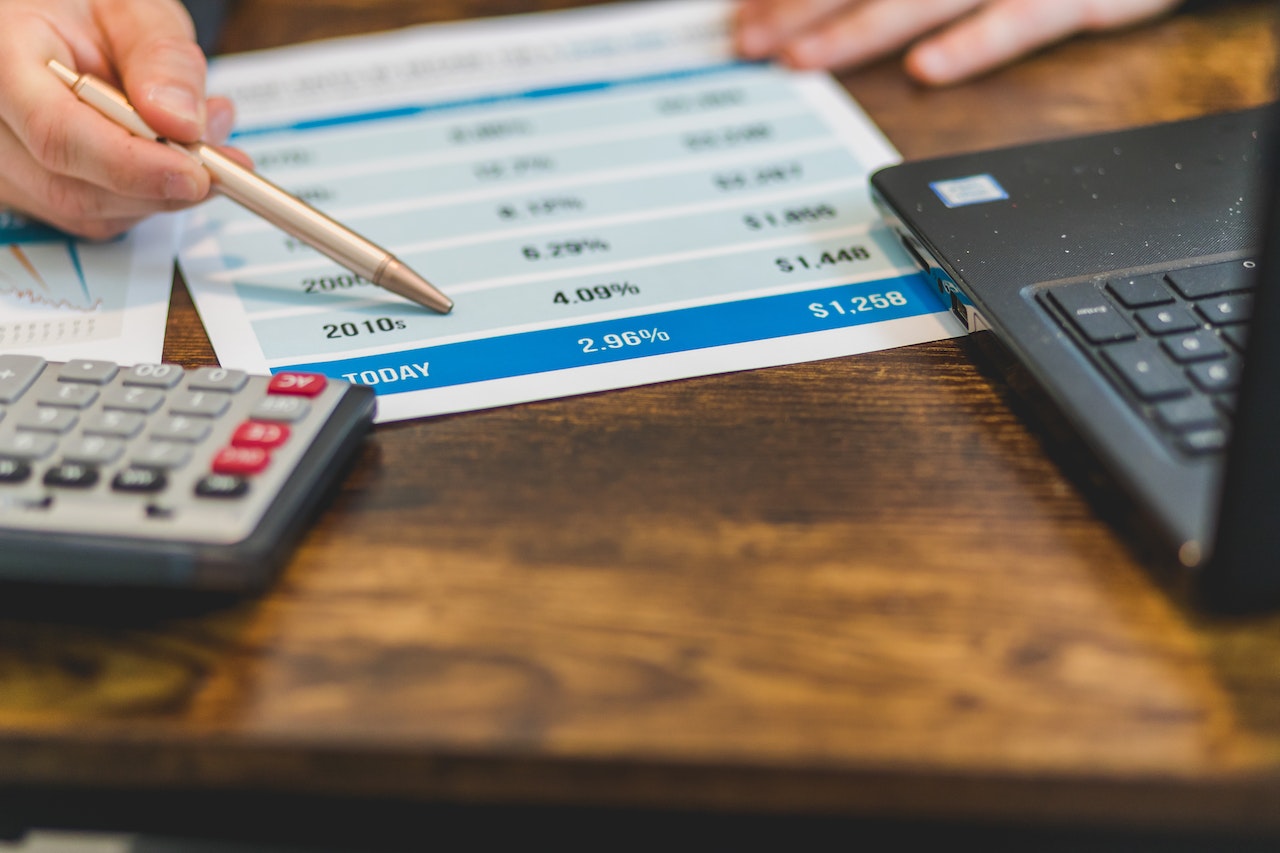 The last time the BoC raised interest rates was in January.
The 25 basis point increase (the smallest in a year) signaled a slowdown in rate hikes, which was confirmed at the most recent BoC announcement on March 8th.
According to a BoC press release:
At its January decision, the Governing Council indicated that it expected to hold the policy interest rate at its current level… Based on its assessment of recent data, Governing Council decided to maintain the policy rate at 4½%.
That January announcement is why home prices rose month-over-month in February.
Because buyers were confident interest rates would hold steady, they decided that February would be the ideal time to get into the market.
Better Dwelling concurs:
Many investors read this as the central bank not having the ability to raise rates further. In other words, this was as bad as it gets.
Due to the lack of inventory, including a 41% drop in new listings, there was more competition for homes, which resulted in higher month-over-month prices.
The Star explains:
…buyers are back but, across the board, there's not much for sale and, as a result, prices are high.
In fact, 32% of GTA homes sold for over asking price last month.
If interest rates are holding and prices are rising month-over-month, where does that leave buyers and sellers?
Advice for GTA Home Buyers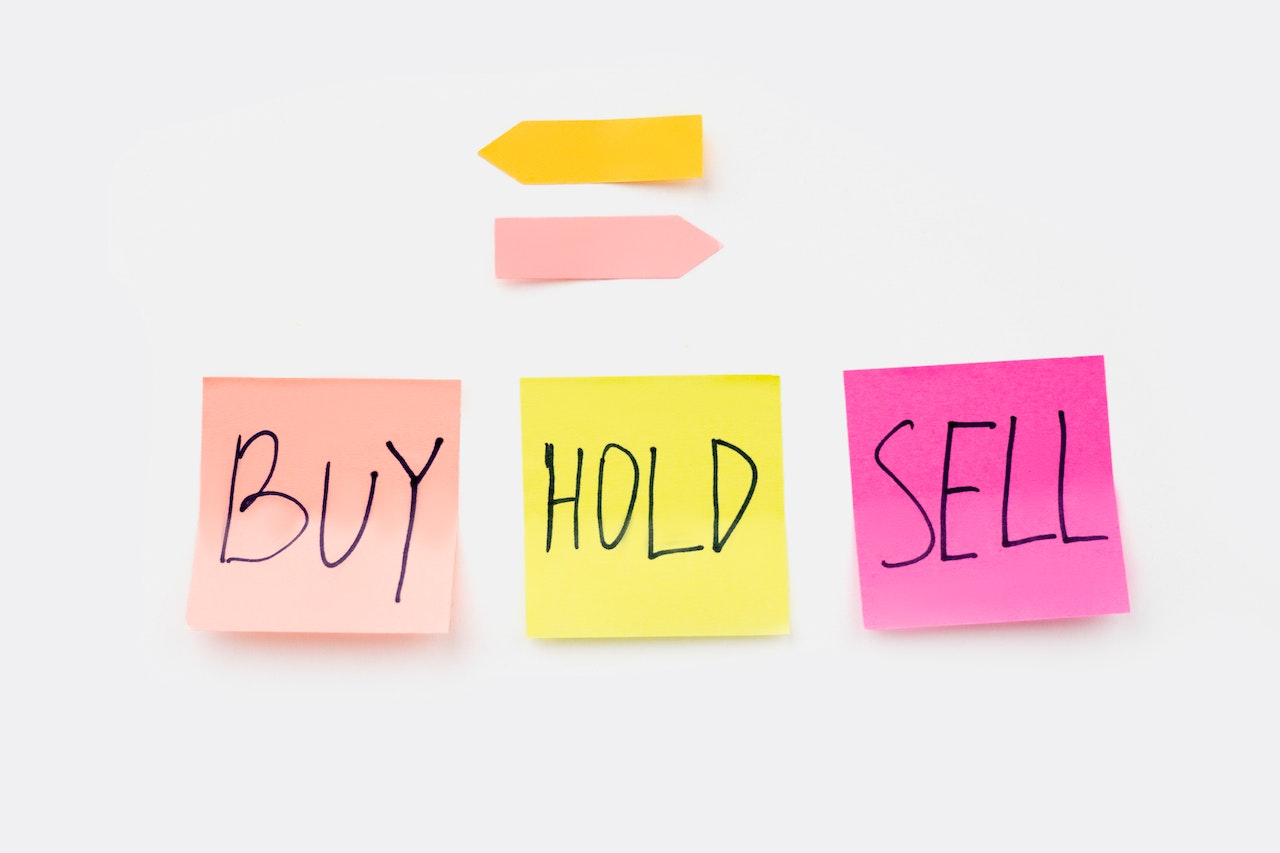 There's several reasons to buy now instead of waiting.
First, interest rates are holding steady, which offers buyer clarity on how high their mortgage payments will be.
Second, competition is likely to increase in the coming months.
An Ipsos poll suggests that 46% of first-time buyers intend to purchase a home this year, which can only mean greater competition.
This increased demand will run up against a constrained supply of listings and lead to increased competition between buyers…[and] eventually lead to renewed price growth…
As the data shows, this is already happening.
GTA home prices rose 5.5% in February 2023, while Toronto home prices jumped 8.4%.
Finally, the BoC has stated that pausing rates at 4.5% is conditional and it's prepared to raise them if needed.
The good news is that buyers can get pre-approved for a mortgage before a potential rate hike on April 12.
Daily Hive advises:
Anyone shopping for a home should get a pre-approval to hold today's rates for up to 120 days.
That would let buyers get in at current rates, and if rates drop further, allow them to qualify at a lower rate.
Advice for GTA Home Sellers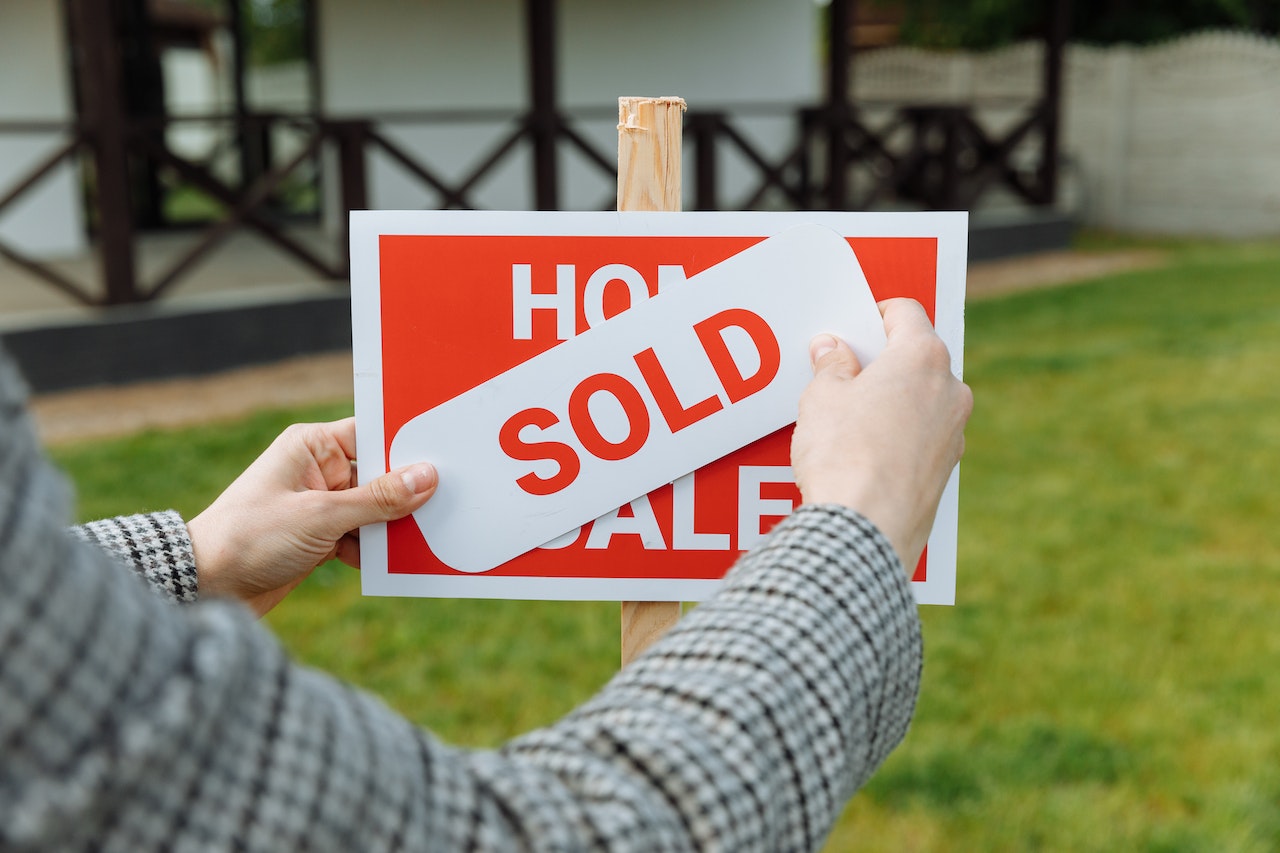 One reason for sellers to wait is the increase in buyer intentions.
As more buyers enter the market, it will lead to greater competition and higher sales prices.
Another reason to wait is the possibility of an interest rate cut later this year.
If that happens, it could ignite a buying frenzy.
But that's a big if, because chances are interest rates could actually increase.
CBC News reports:
But while the messaging out of Canada has been hinting that rates will hold steady for a while, the tone out of the U.S. has been that more hikes are coming.
The US may push its benchmark rate to 5.5%—or 1% higher than Canada's.
That would damage the value of the Canadian dollar and lead to more inflation, forcing the BoC to raise rates.
So more rate hikes aren't out of the question, and if that happens, home prices will fall.
Another reason to act now is that interest rates may have peaked and buyers are returning to the market.
In fact, February 2023 saw the return of bidding wars.
As one agent tells Global News:
[We] kind of thought bidding wars were over, but this year has really proven…they are back with a vengeance…
Finally, BNN Bloomberg warns that home prices may fall 10% towards the end of 2023, giving sellers an incentive to act sooner rather than later.
February 2023 Market Report Conclusion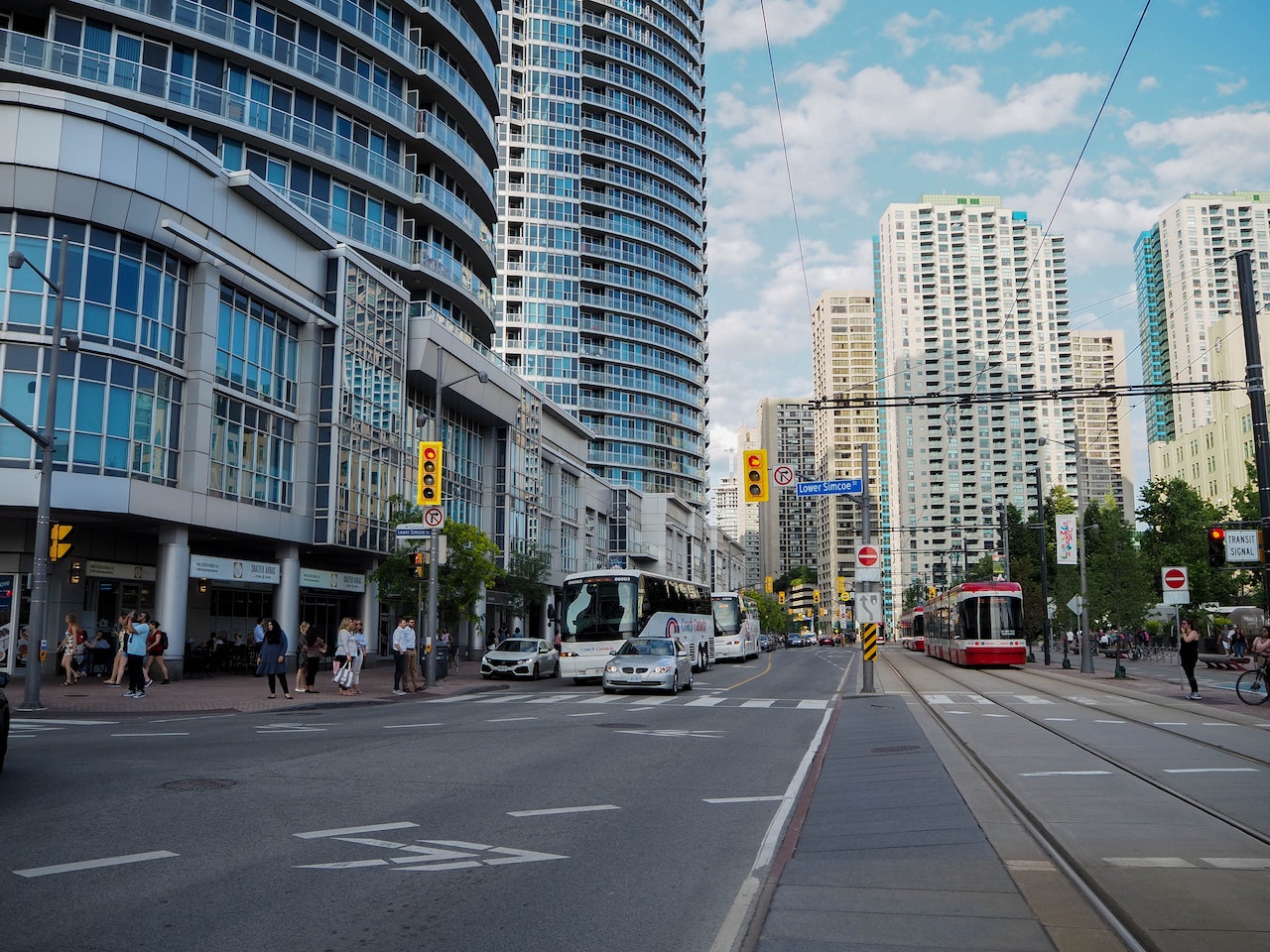 On one hand, home prices dropped year-over-year.
On the other hand, they rose month-over-month.
February also saw the housing market tighten, with the return of buyers and bidding wars.
Buyer intention is on the rise, suggesting that housing activity will pick up over the coming months.
Sellers can take advantage of this increased competition by listing their homes—or risk more interest rate hikes and falling prices.
Want to know more about the housing market? Contact me below for details.
Wins Lai
Real Estate Broker
Living Realty Inc., Brokerage
m: 416.903.7032 p: 416.975.9889
f: 416.975.0220
a: 7 Hayden Street Toronto, M4Y 2P2
w: www.winslai.com e: [email protected]
*Top Producer (Yonge and Bloor Branch) — 2017-2022